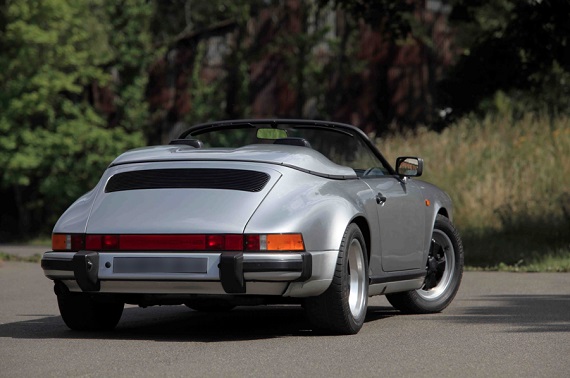 The 911 Speedster, Porsche's homage to the original 356 Speedster produced in the '50s, finds its way to our pages with good frequency. From the outset these have been sought by collectors and many remain in excellent condition. Even the rare example that has been put to use and shows plenty of miles typically remains in very good shape. Values, naturally, are also very high. When Porsche released the 911 Speedster the vast majority were fitted with the wider rear of the 930. And to my knowledge every Speedster we've featured here at GCFSB has presented in this standard configuration. Here we have one of the exceptions. Of the more than 2,000 911 Speedsters produced only 171 came with the narrow body of the 3.2 Carrera rather than the wide body. Suffice it to say we don't see these often, but here we have a Silver Metallic 1989 Porsche 911 narrow-body Speedster, located in France, which has traveled fewer than 19K kilometers.
Year: 1989
Model: 911 Speedster
Engine: 3.2 liter flat-6
Transmission: 5-speed manual
Mileage: 18,645 km (~ 11,585 mi)
Price: Price on Request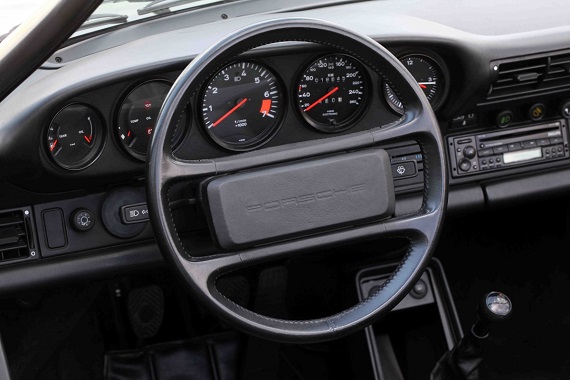 Exceptional and very rare 911 Carrera Speedster 3.2, "Narrow Body"
Left Hand Drive. 19.000 km.
Only 2 owners from new, current owner since 1995.

The Porsche Carrera Speedster 3.2 was produced to just 2.103 units in 1989.
Of the total, only 161 narrow body versions were produced, about 10 of them RHD.

This very rare Speedster LHD "Narrow body", full european specifications, was sold new in 1989 by the french Porsche importer Sonauto France to the Porsche dealer in Strasbourg. This car had only two owners since new. The second and current owner acquired the car in august 1995, when the odo counter was showing just 8.590 km.

Perfect combination of colors, superb new and original condition :
Body colour : metallic grey and black soft top
Interior : full black leather with black carpets
Chassis No : WPOZZZ91ZKS152199
Delivered : 04/1989 by Porsche Sonauto France
Mileage : 19.000 km only
Matching numbers
Steering : LHD
Speedometer : KPH
Original 16-inch Fuchs rims with new Pirelli P0 tire
French registration

Other features :
The car is in a new condition, maintained by the french Porsche specialist DMA Nanterre, and comes with properly stamped service handbooks and invoices, fully documented ownership, full Porsche and complete service history, original owners manuals, 3 sets of keys.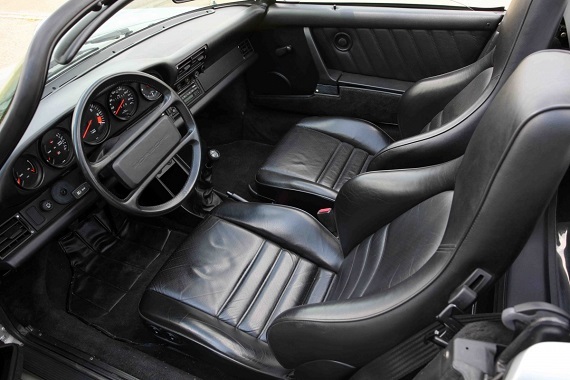 The narrow body makes for an interesting contrast to the standard 911 Speedster and in many ways possesses a more direct relation to the 356. It's also much more directly related to the Carrera Cabriolet. Most will likely prefer the aesthetics of the wide body – and I place myself in that camp as well – but at this point the rarity of the narrow-body Speedster does make them quite special and it's always nice to come across any car that we so rarely see. The one we see here doesn't really wow you with its colors, but the condition looks about as we'd expect for such a low-mileage Porsche. It's for sale by a private owner who has had it since 1995 so ideally there will be plenty of history to go with the car, a must for a collectible like this. How much is it worth? That's hard to say as mileage has shown to be a huge indicator of very high prices with the Speedster, i.e. those that eclipse $300K, and even with its low mileage this one still has quite a few more miles than those very high-priced examples, most of which have little more than a couple thousand miles on them. I'd assume a price above $200K is pretty likely. Whether it could reach those lofty $300K heights, I'm not so sure. Regardless, with so few extant I'm sure it will receive plenty of inquiries.
-Rob