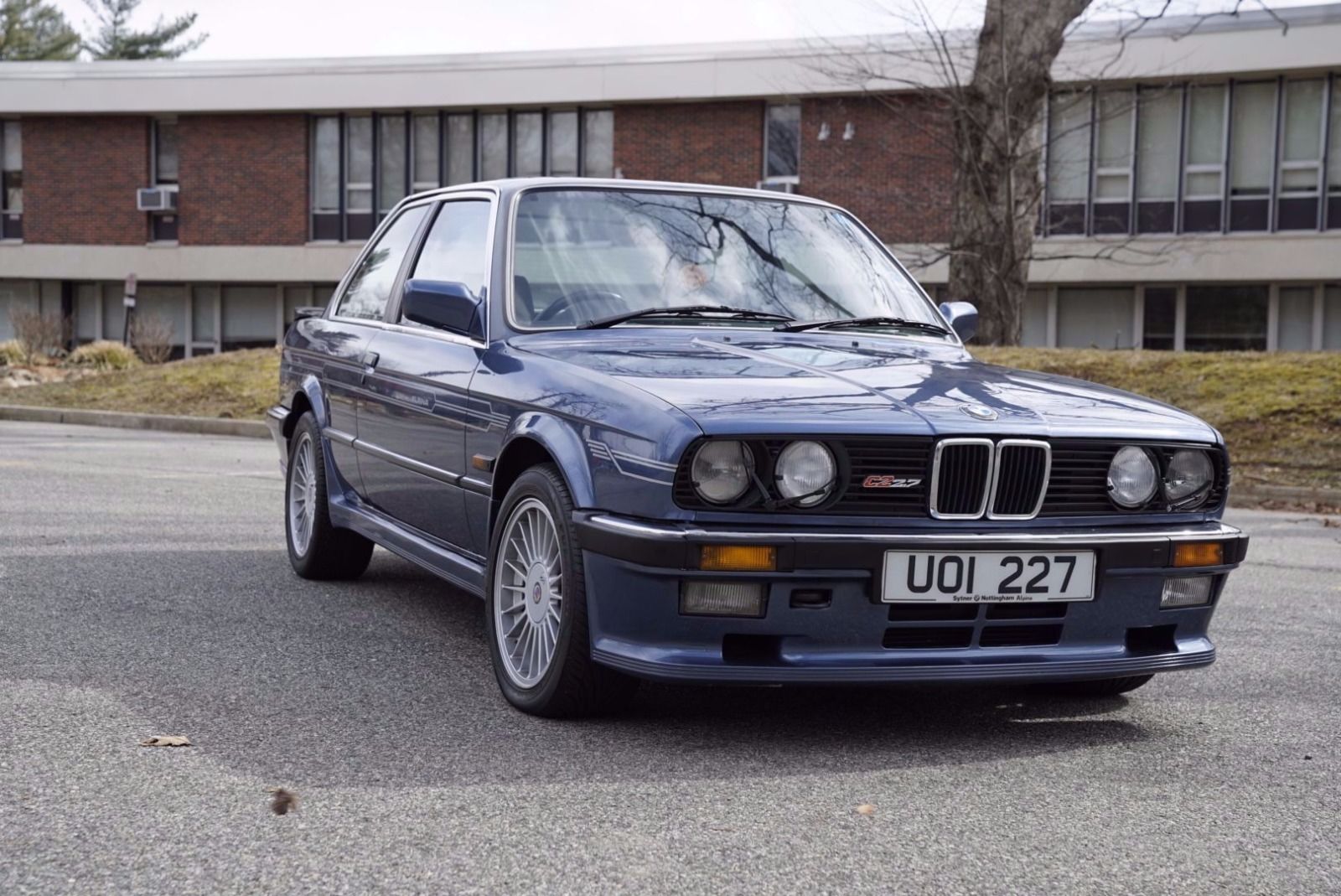 Edit 4/8/17 : One of our European readers found the link for this car on the Alpina Archives which backs up that it was an original distributor build in the U.K.. They also identified the body kit as the M-Tech 1 kit, which is not shown on the VIN check so was probably installed during the build. Still, few details of what Alpina bits are present in this build are shown by the seller, and it would be helpful if they could disclose the engine and suspension specifications.
A European-specification BMW E30. Low miles. Alpina details. On the surface, this is an immediate recipe for a budget-breaking model. But as I've discussed in previous Alpina posts, sometimes the details of the examples can lead to questions of authenticity. These questions have a massive effect on the value of the car, as do the particular configurations they're presented in.
So, here we have what is presented as a 1986 Alpina C2 2.7. The 2.7 was released in 1986 as a replacement for the C1 2.5. Power was up to 210 to keep up with the newly introduced M3, and with only 159 produced, the C2 2.7 is quite a desirable package that is rarely seen. But is this car all that it seems to be?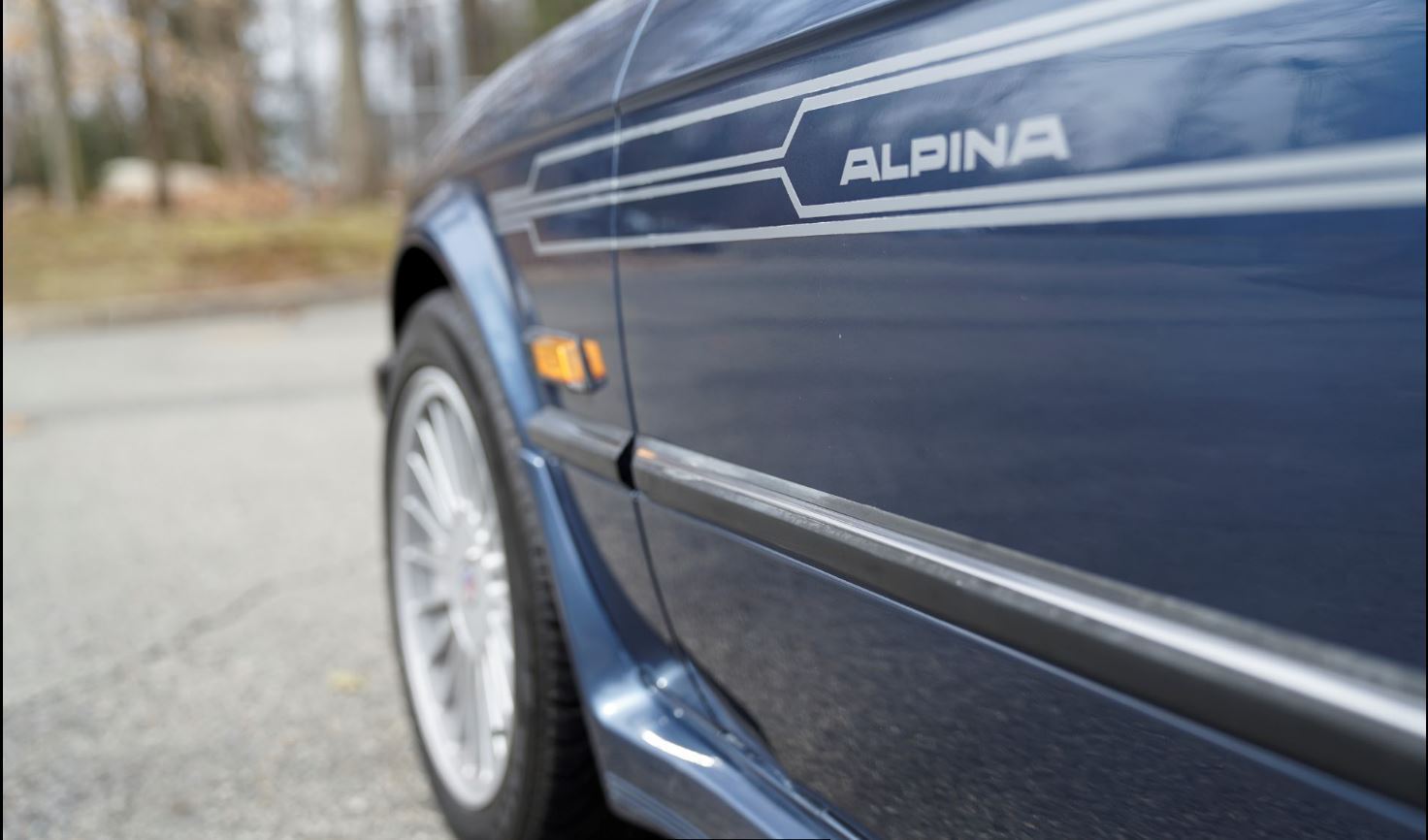 Year: 1986
Model: 325i/C2 2.7
Engine: 2.7? liter inline-6
Transmission: 4-speed automatic
Mileage: 64,251 mi
Price: $31,000 Buy It Now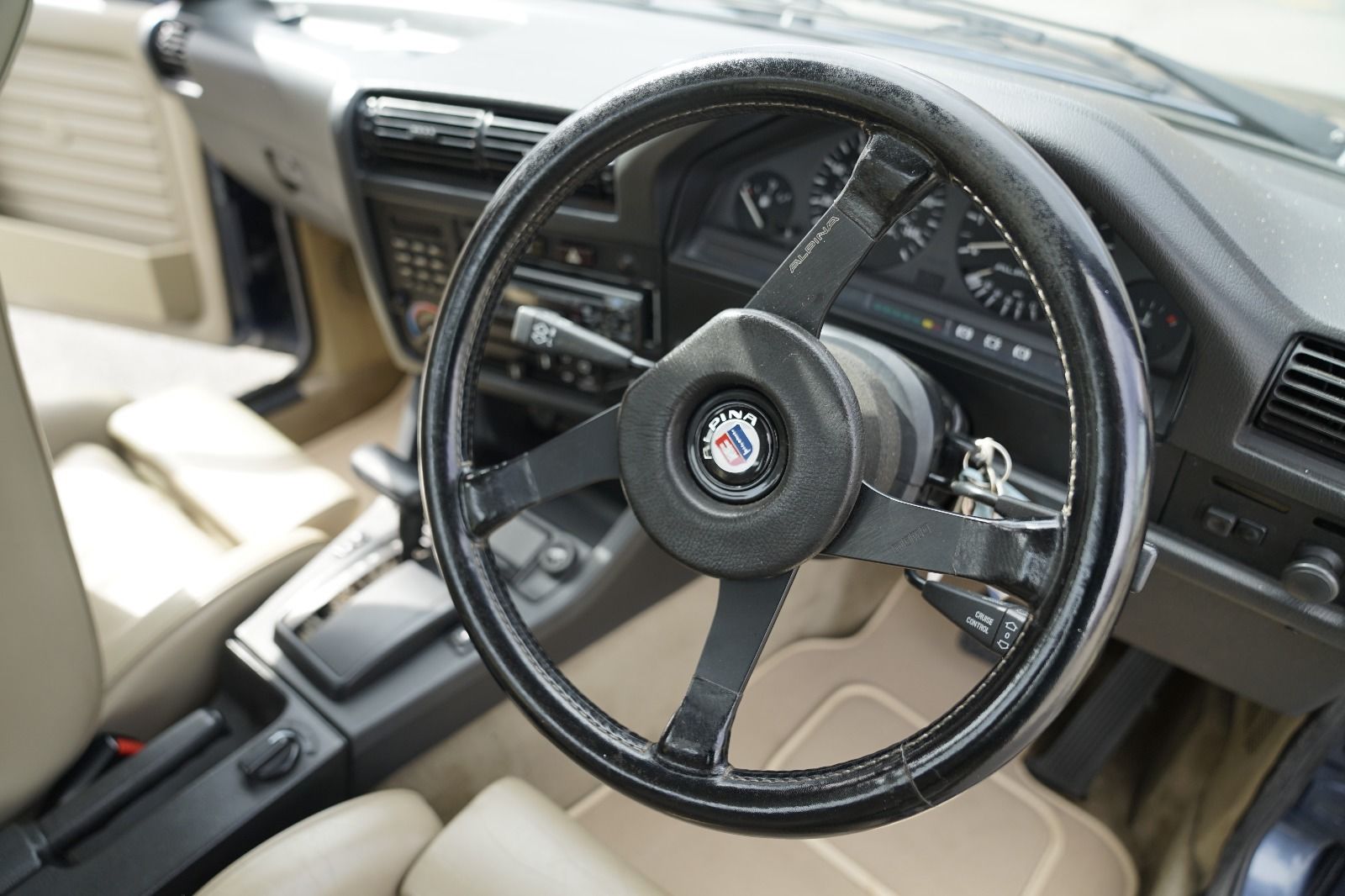 Magnificent, fully documented since 1986 C2 2.7 Arctic Blue build by Sytner Alpina legendary mechanic Mark Akins.

Imported from UK (RHD) in the Fall of 2016.

Full Customs and EPA docs and clean NJ Title in hand.

Piles of service records indicating three owners since sold new by Peter Sytner in December of 1986.

Refinished to a very high spec in original Arctic Blue by Classic Legends in the UK.

Not a spec of rust.
Straight body
Interior is perfect.
Super clean engine compartment.
Starts and runs beautifully
Original and rare Alpina 16″ staggered wheels are perfect, with locks

Since buying this car, as it needed nothing and was up to date with timing belt and water pump, etc, I've just changed the oil (more for fun than out of need) and installed a new top of the line battery.

If you are reading this and are considering bidding, you know what at Sytner built Alpina is. And you probably appreciate the lifetime worth of documentation including stamped service book from new.

So have a look at the pictures (I have many many more and will post when I figure out how) and get a good feel for the condition of this amazing and rare car.

Factory options from included build inquiry sheet:

Sport Auto Trans EH Gearbox
Limited slip 2.93
Sunroof
Cruise Control
A/C
Power Steering
ABS Brakes
Central Locking
BMW Sport Seats
Headlight wash/wipe
On Board Computer
Pop Out rear windows

A stainless Powerflow performance exhaust was added in 2009 by the previous owner to replace the original, which had at that point, after 23 years, had lived a good life. Other extensive records show oil changes, brakes, timing (cam) belts, water pumps, etc, etc all replaced at expected intervals and typically by the selling dealer.

Non smoking car. Garage kept and covered.

Check my feedback and do feel free to ask questions or come see the car in person in Allendale, NJ.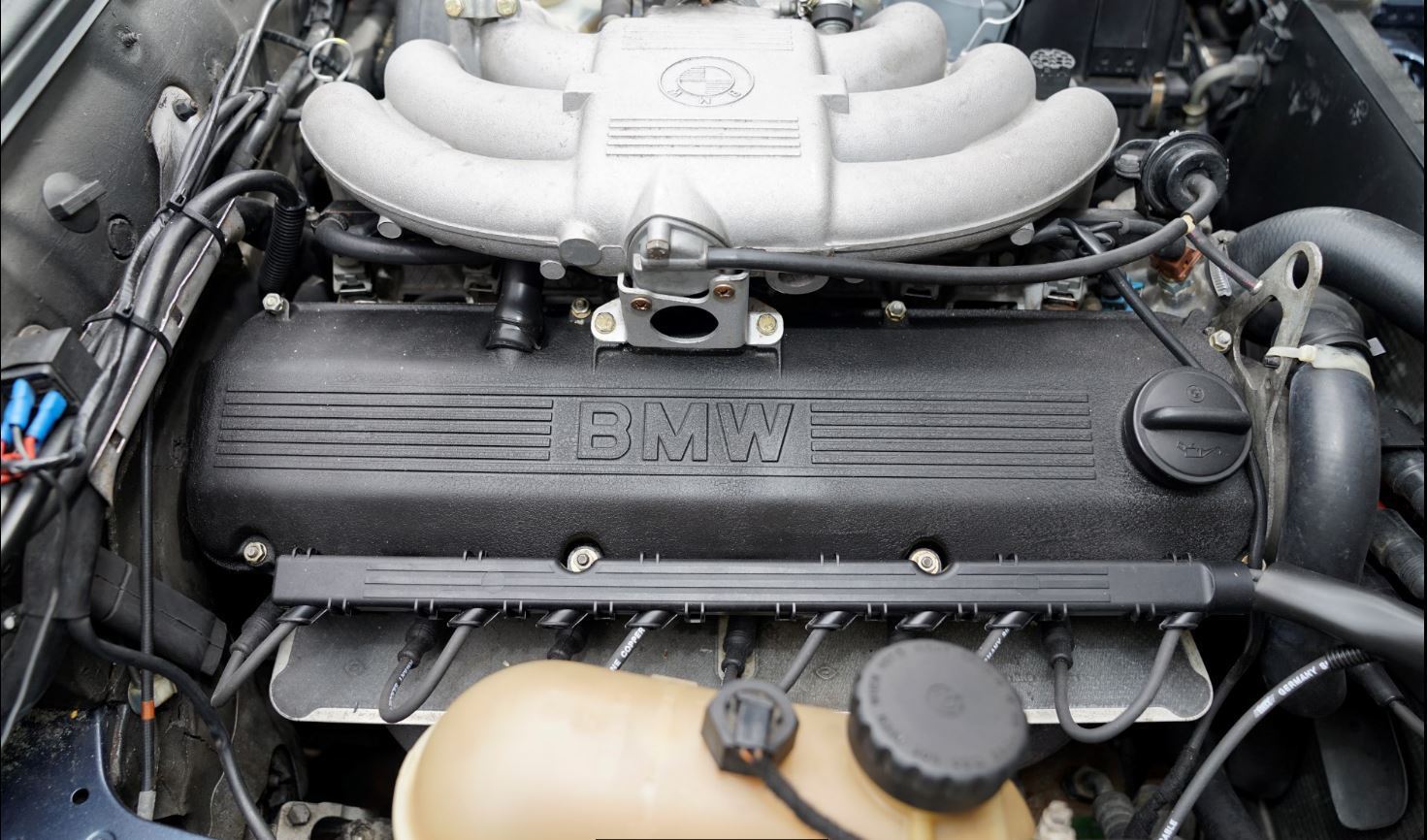 Immediately, several things looked off to me. The body kit, while striking, didn't look quite right. Neither did the color, or the wheels, or the stance, or the headlight wipers. Perusing the photographs prior to getting to the advertisement copy, I noticed one big problem – the VIN, which starting with WBA points to Munich rather than Buchloe. Yet one of the photos shows a Alpina numbered plaque, and the reciepts and mention of Sytner Group adds authenticity as they are still the official importer of Alpina cars in the U.K.. The color, Artic Blue Metallic, and interior, Pearl Beige Leather, are unusual for an Alpina, but not unheard of – indeed, #63 in the run is that exact combination.
Yet travel to the Alpina Archive and several things about this car will stand out as wrong. The plaque number is #0308, which falls out of line with the official numbers of the C2 2.7. The body kit is wrong; the front spoiler, although it looks much like the real Alpina unit, has brake ducts not present in the real C2's unit. The side skirts are also wrong for the model. And the rear spoiler should be a black rubber unit, but the one on this example is again incorrect for the model, as the proper one has "ears" that wrap down the sides of the trunk. Generally speaking, what is shown looks good, but strictly speaking it's not correct for a C2. I also have not seen any models with headlight wipers; they're neat, and the VIN check confirms that they're correct and original as an option on this car, but they don't appear on any other C2 I can find.
Luckily, I looked at a legitimate C2 2.7 not that long ago. Again, several things stand out as incorrect on this example in comparison to that one. The ride height looks too high, almost appearing to be a stock 325i setting. Wheels, too appear to be four front units rather than the lower offset staggered units I've seen previously. While the steering wheel looks correct, closer inspection of the Alpina plaque reveals it's also incorrect. Under the hood, the valve cover and intake do not wear Alpina badging, which matches the C2 2.7; however, this also makes verification of internal modification quite difficult. The seller has piles of receipts from the Sytner dealership, but ultimately fails to prove what Alpina modifications have been done to this car.
Why is this important? Well, because it's the difference between a $30,000 plus dollar example of an Alpina and a $10,000 example of a 325i. The VIN check confirms that this car is originally a Arctic Blue Metallic (045) with Pearl Beige Leather (206) produced very early in 1986. The car was equipped as a RHD English example with 4-speed automatic, limited slip, central locking, ABS, model designation delete, sport seats, electric sunroof and windows, rear headrests, cruise control and air conditioning, on board computer and headlight washers. In all, it's a well equipped model, and miles are pretty low. The overall condition is very good, probably the result of the repaint (which, of course, means that the Alpina decals are also replacements if properly done).
It is certainly possible that this car has the proper documentation that under the hood lies the bored out 325e motor used in the real C2 2.7s. Frankly, that would add some legitimacy to a period build in what otherwise lacks most of the proper Alpina details. What's the value of the car? With some stock examples of E30s treading into the high teens, this well equipped, low mileage car with period details should be worth a pretty penny. The real key lies in what actual, legitimate Alpina details were installed, by whom and when. Unlike AMGs, Alpinas are generally only considered to be legitimate if they were built in Buchloe – with the exception of the knockdown kits sent to Japan. To my knowledge, I've never heard of a dealer installed kit being given an official Alpina designation outside of that, but perhaps someone better versed in English examples could correct me. If the seller could disclose exactly what was done and when it would back up a higher value than a standard 325i. However, without that documentation you have to take this car as a pretty, period modded, and well equipped but box standard 3-series with an automatic transmission in right drive. Is it worth more than what the similar mileage, left drive, also very good condition legitimate C2 2.7 5-speed sold for? I think, in either case, that's a pretty strong reach.
-Carter