We haven't featured a race car at GCFSB since the summer, so it's about time we start throwing more competition vehicles into the mix. Given that the holidays are upon us, I'm sure many of you are making a list and checking it twice. I'm not making a list myself, but there's one list that I'm a fan of year round: Rennlist. The perfect place to scour for gift ideas for that special Porsche enthusaist in your life.
It might be a stretch for a gift, but this Porsche 968 for sale in New Jersey was a part of the IMSA Firestone Firehawk Endurance Championship, a race series limited to vehicles currently available in the showroom. Noted for their superb balance, the 968 was highly successful in this race series. This car, built in 1993, is not a recreation and has had a number of maintenance items addressed as of late.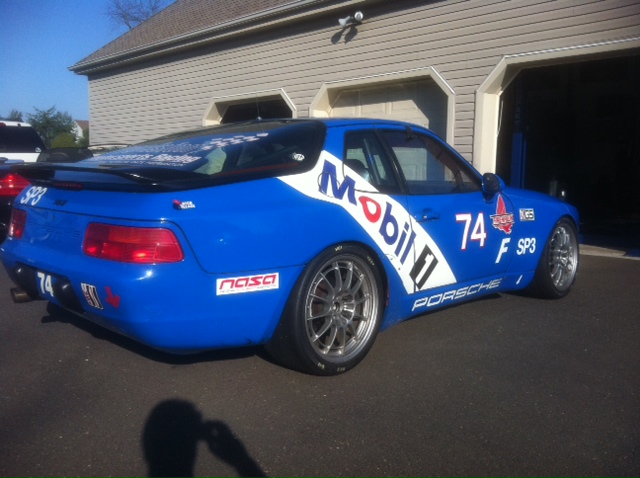 Year: 1993
Make: Porsche
Model: 968
Mileage: 24,000
Color: Blue
Price: $32,000
Transmission Type: Manual – 6 speed

Selling an authentic 1993 Porsche Firehawk 968. I've owned since 2003 and have over $85,000 in receipts to indicate the level of detail in maintenance and enhancements since purchase. This car was built by Dave White in 1993 to compete in the IMSA Firestone supported Firehawk series. The cage has the original IMSA stickers still in place. This is not a replica Firehawk that you see at the track periodically.

Currently configured for PCA SP3 or F Stock. This car has been exquisitely maintained by Precision Motorsport Racing in Califon NJ since purchase in 2003. All fluids changed after every race weekend. Corner weighted and balanced at least 3 times per season to optimize dialing in of suspension. Have all the spec sheets. Wired for cool shirt and helmet and radio.

Outline of major work done

Within the last 3 years:

Complete engine rebuild by Michael Mount with the best of everything. Approximately 25 hours since the rebuild.
Guards LSD
Moton Club Sports – 600lb front / 250lb rear spring set up
Clutch
Starter
Alternator
Power steering rack and pump
Borla exhaust
Battery
Replaced Fab A-Arm pins
Solid suspension bushings throughout
New window net
Schroth belts
Updated fire system
Belts
18 inch Enkei wheels

Within the last year:

New front rotors and calipers
New rear rotors
New Master Cylinder
Front hubs (Racers Edge)
Rear axles
Control arm pin servicing
Polybronze bearings & rear spring plates
Competition cars are a bit more complex than street machines when it comes to placing a value on them. A lot of variables come into play, such as the series the car was raced in, how many races it won, who drove it, who built it…well, you get the idea. Just like a road car, though, provenance and history are everything. While an eye watering amount has been spent on maintenance, this is par for the course with race vehicles. They are much more needy and run through parts and wear items more rapidly than your daily driver.
Similar to customized hot rods, owners of competition vehicles usually take a loss when it comes time to sell. While it may not bring $32,000, I'd wager to say that someone might snap this 968 up for close to the asking price, as it would be tough to recreate this at this price. Being an original vehicle from this endurance race series makes for a great conversation piece in the pit lane, as well.
-Paul