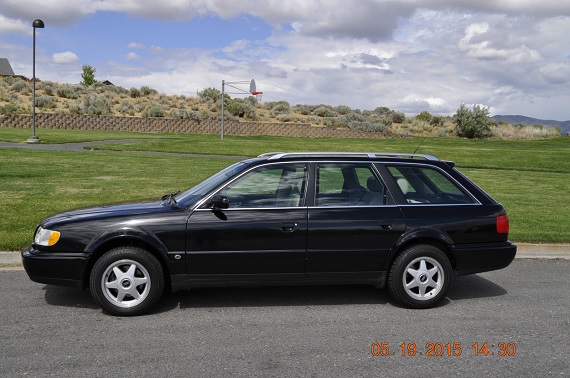 I believe in every C4 post I remark that it's pretty rare to find good example. That's especially true of the Avants, since even though they enjoy a coveted status amongst Audi fanatics there were only around 300 examples imported originally. Considering that the newest (and the oldest) examples are some 20 years of ski trips old, the likelyhood that you'll come across a good example is extremely low. Of course, I say that, and last month a remarkably excellent Avant popped up. A one owner silver example with lower miles turned up, and immediately I contacted my family member who has been on the lookout for one. "This is your one chance" I effectively said, since it was the only near perfect silver model I'd seen for sale post-2000. While it didn't work out in that case, here we are less than a month later; with an even better example of an incredibly rare car: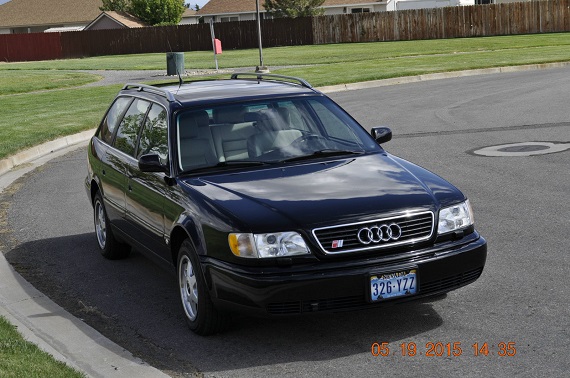 Year: 1995
Model: S6 Avant
Engine: 2.2 liter turbocharged inline-5
Transmission: 5-speed manual
Mileage: 44,260 mi
Price: $24,000 Buy It Now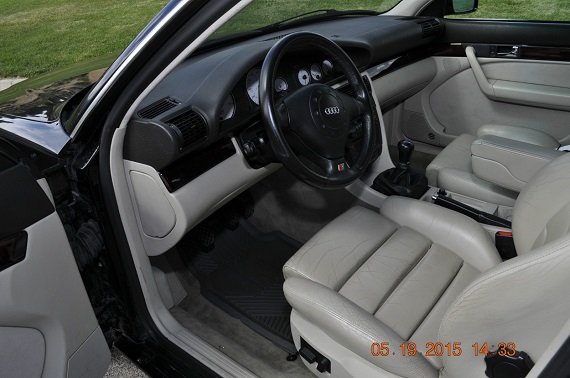 This is probably the lowest mileage 1995 Audi S6 around. 44.260 miles (5/19/2015). I am the second owner, however I drove this car for the first owner ,took it to be serviced, since 1997.
Front and rear seats heated. No leaks. Have all manuals. Original Radio and cassette work well. 2 speakers in rear doors do not sound. Third row seat for kids. Extensive service on 2014 by certified audi mechanic..

Questions and answers about this item
Q: When was the last time the timing belt was replaced? Also, when was the last time all the fluids where flushed/replaced…. transmission, differential, brakes, etc. Thanks
A: Thank you for your email. On 2/11/2014 service included Replace timing belt,water pump,roller bearing and crank seal,flush coolant,air filter,spark plugs,ribbed belt,engine fluids,inspect CV boots, flush brake fluid,mount and… Continue reading
May 22, 2015
Q: Are those the original wheels or is there another set?
A: Thanks for your email. Yes those are the original Audi rims. 15 inches .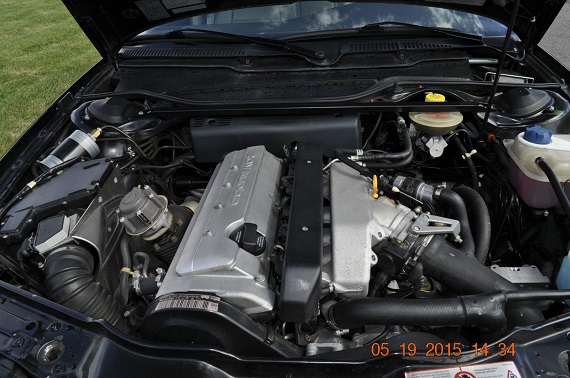 I'm still having trouble wrapping my head around the only 44,000 miles that this example has covered. Is that the lowest mile C4 I've written up? Close – I wrote up a 38,000 mile sedan last year at this time, but for an Avant in the U.S., it's certainly amazing. The seller notes that the car has had recent service including timing belt replacement and tune up. The story about being a driver for someone is interesting; the rear seats in the S6 aren't particularly spacious, making it an odd limousine choice – perhaps why the miles are so low. The car has some interesting features, such as the 3rd row seat and the optional, no cost Speedline 15″ All-season package wheels. They are, indeed, original optional equipment but very rare to find, especially in this condition. I'm not sure those two things makes the car any more desirable than it already was with low miles in this condition. Under the hood nearly looks like a factory press shot. However, the closeup of the hood does raise some questions for me; it looks like the area around the grill has a fair amount of uncharacteristic orange peel, leading me to think it may have been resprayed at some point. Also, although not ripped the Ecru interior shows typical aging that the seller of several of the C4s I've written up has managed to avoid. Still, that's nit-picking a truly impressive time piece. What's not nit-picky, though, is questioning the price. At $24,000, this is easily the most expensive C4 I've seen for sale again since the 1990s. It's also 250% the asking price of a really nice example in most cases. You could argue that it's an irreplaceable package, and in many ways I'd agree that's true – but you could also dress up a lesser example for less money. However, if originality, supreme condition, low miles and future collectability are on your list of things to do in your C4 ownership experience, here's your opportunity!
Thanks to our reader Jason for the great spot!
-Carter