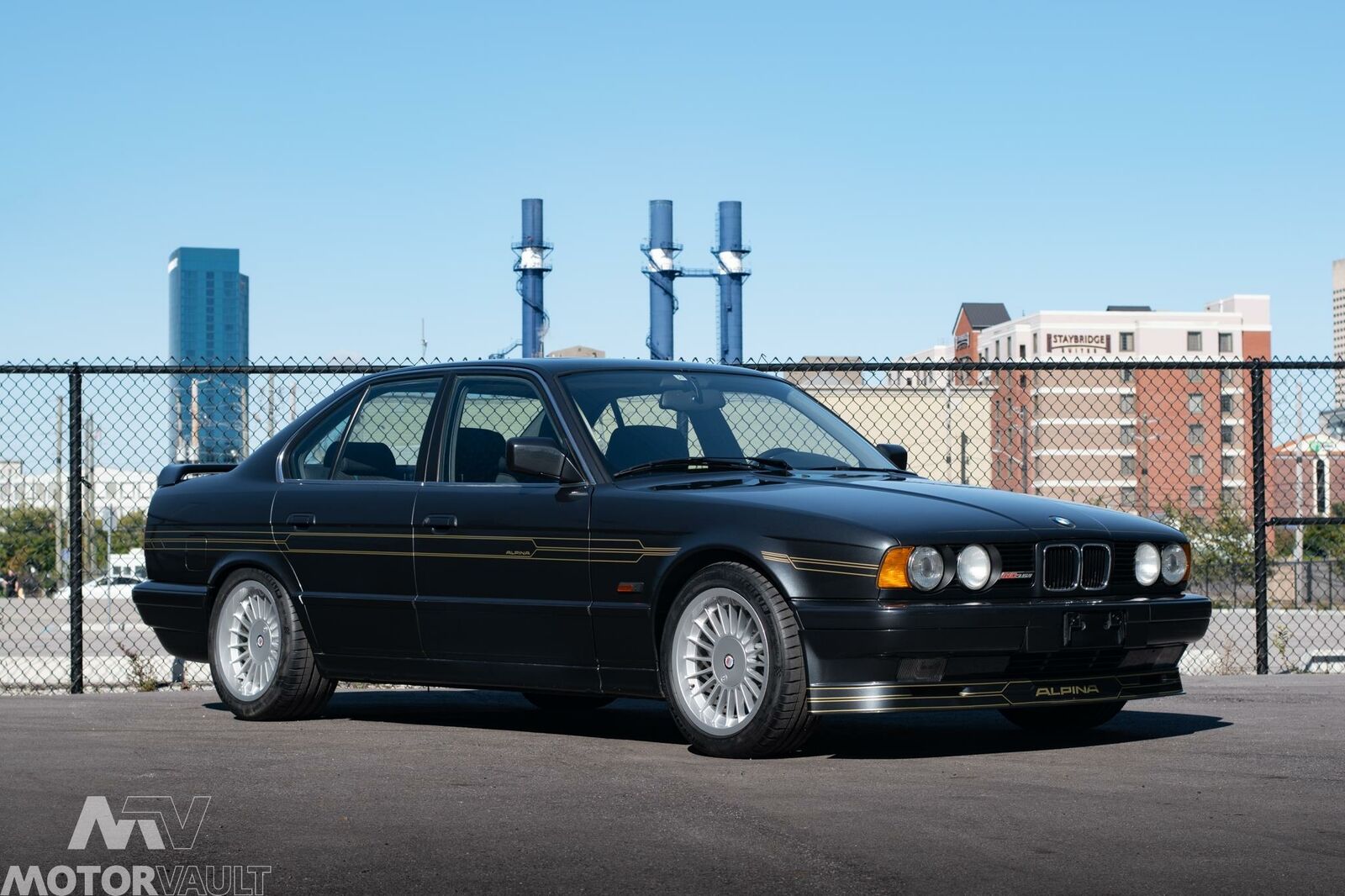 This E34 Alpina sold for $26,000 on 1/10/2022.
It's hard to imagine being the bottom of the totem pole at Alpina, but the 3.5/1 might just be that car. In part that's because the E34 lineup was so robust, featuring the cool 3.0 Allrad and the Learjet-channeling BiTurbo. When BMW ceased the production of the M30, V8 powered 310 and 340 horsepower 4.0 and 4.6 models replaced the inline-6. In comparison to those headliners, the 254 horsepower B10 3.5/1 seemed like an article more suited for the corner of page 2. However, consider for a moment that the B10 3.5/1's power numbers were nearly identical to the contemporary super-saloon S38-powered E28 M5 when it was launched and it helps to restore some clarity to the impressiveness of the products rolling out of Buchloe. Today chassis number 520 of the 572 3.5/1s produced is up for sale in Indiana: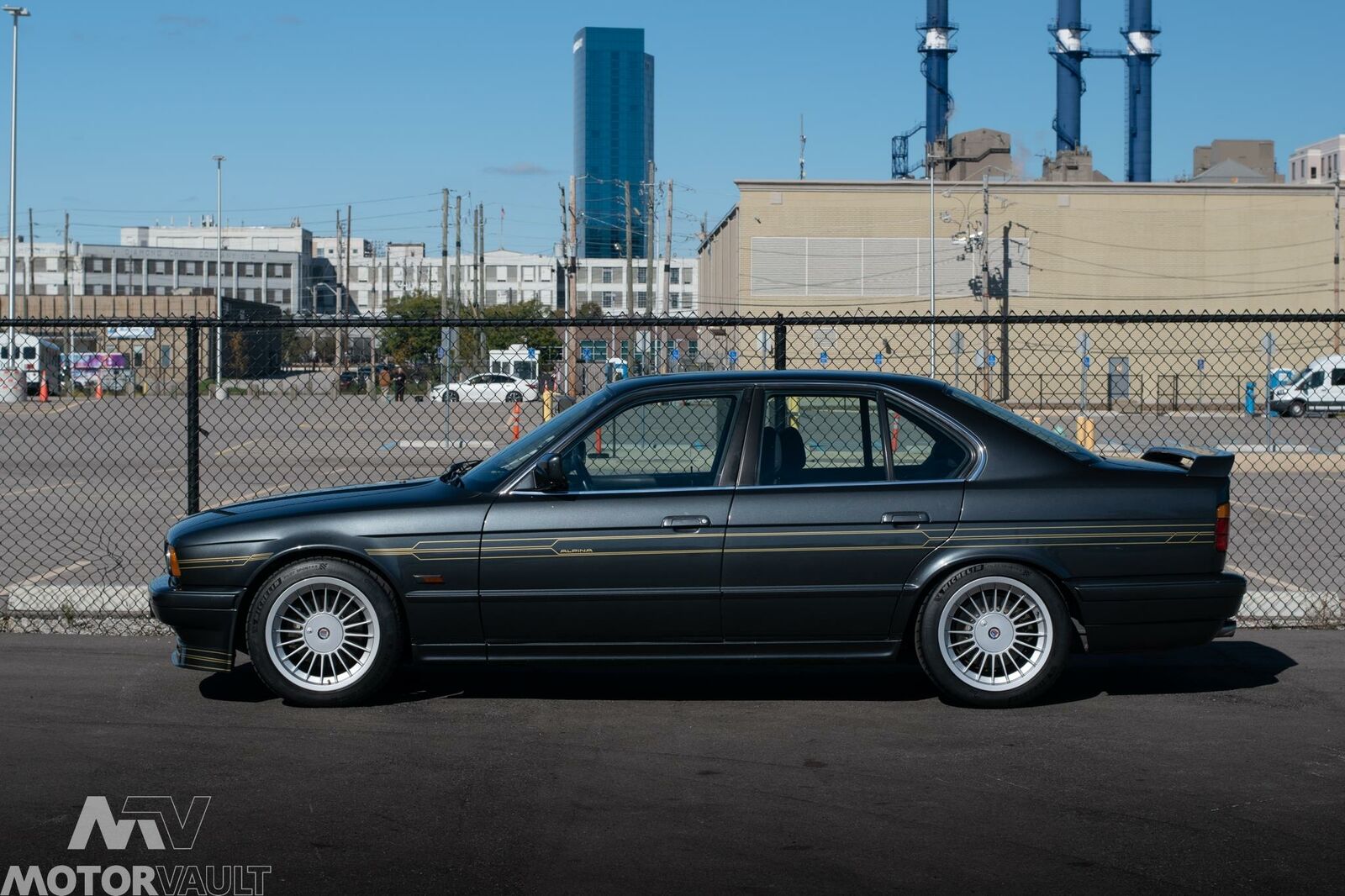 Year: 1992
Model: B10 3.5/1
VIN: WAPBA35012BB30520
Engine: 3.5 liter inline-6
Transmission: 4-speed automatic
Mileage: 84,800 mi
Location: Indianapolis, Indiana
Price: $26,000 Buy It Now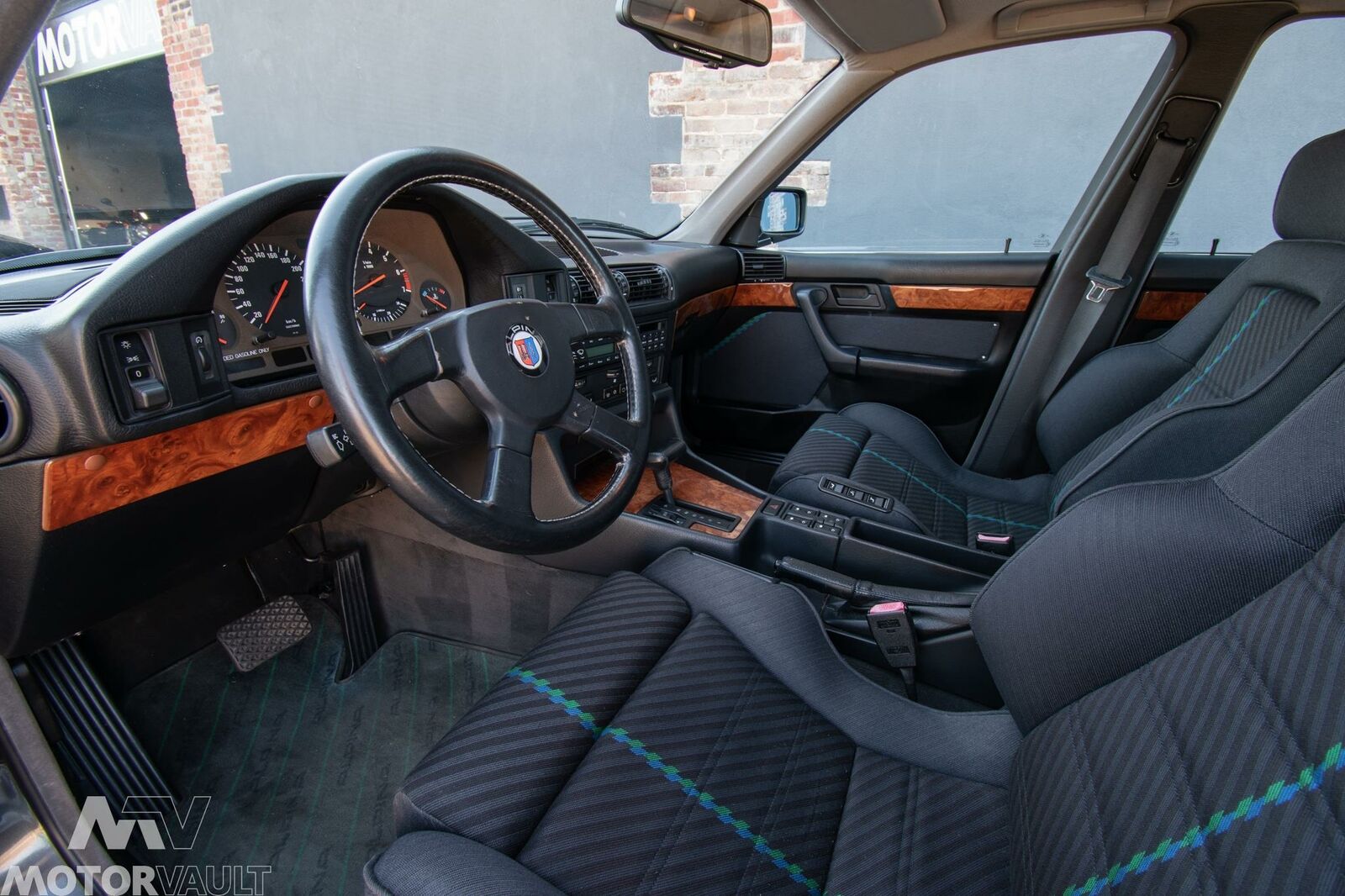 Vehicle Description
PRICE: $27,000
YEAR: 1992
MAKE: BMW ALPINA
MODEL: B10 3.5/1
VIN: WAPBA35012BB30520
MILES: 84,800
ENGINE: 3.5 L I-6
TRANSMISSION:
HORSEPOWER: 251
TORQUE: 240 LB/FT
CURB WEIGHT: 3,362 EST
EXTERIOR COLOR: DELPHIN GREY METALLIC
INTERIOR COLOR: ALPINA CLOTH

CLICK HERE FOR WALK AROUND VIDEOS AND ADDITIONAL PHOTOS

This Alpina B10 was originally delivered to Japan and is number 520 of 572 3.5/1's produced. The B10 is offered on a clean Indiana title and a Certificate of Delivery from Alpina.

Tires: Michelin Pilot Sport 4S
Date: 2021
Depth: 7mm

Factory Options:
– Diamond Schwartz Metallic Paint
– Alpina Cloth Seats
– Rear Headrests
– Twin Headlight Japan
– Limited Slip Differential
– Electric Sliding Roof
– Automatic Dipping Rear-View Mirror
– Air Conditioning
– Interior Light Package
– Radio BMW Bavaria
– HIFI Speaker System
– Instrument Panel Labelling in English
– Lateral Front Direction Indictors

Recent Service:

Dryer & Reinbold BMW (2/15/21)
Total: $798.71
– Fix Gas Smell, Exhaust Mount, & Bulbs
– Owner's Manual & Rubber Boot for Alternator
– Fresh Air Grille, Grommet, & Roundel

Tire Rack (4/22/2021)
Total: $1,073.10
– Michelin Pilot Sport 4S

Enthusiast Auto Group (8/5/21)
Total: $7,821.56
– Engine Oil & Filter
– Engine Air & Fuel Filter
– Spark Plugs
– Cooling System Flush
– Brake System Flush
– Power Steering Fluid Flush
– Differential Fluid Flush
– Remove Valve Cover & Adjust Valves
– Spark Plug Tube Gasket & Rear Cam Gasket
– Crank Shaft Drive Belt
– Alternator Drive Belt
– A/C Compressor Drive Belt
– Adjust Windshield Wiper Arms
– Rear Brake Pads & Rotors
– Rear Brake Pad Wear Sensor
– Fuel Door Hinge
– Alternator Cooling Duct
– Rear Subframe Bushings
– Rear Sway Bar Links
– Transmission mounts
– Power Steering Hose from Pump to Rack
– Remove all tint
– Alpina Deco Stripes
– Rear Roundel
– Distributor Cap & Rotor
– Air Mass Meter Boot
– Install and paint new OE Alpina spoiler Delphin Grey Metallic

Alloy Wheel Repair (8/10/2021)
Total: $750
– Refurbish Wheels & Center Caps

Bell Tire (9/7/2021)
Total: $128.79
– Spare Tire

__________________________

Please consider this an invitation to visit MOTORVAULT! If you have any questions or wish for more information about this vehicle or any other vehicle, please do not hesitate to call:

Brian Henry @ 317-520-4663
Josh Stiegman @ 317-643-1444
Vehicle Warranty

VEHICLE SOLD AS IS. NO DEALER WARRANTY IMPLIED NOR APPLIED.
About Motorvault

As a locally-owned small business, we strive to exceed your expectations!

With over 20 years of sales, consignment, brokerage and marketing experience of high-line and exotic vehicles, we opened our doors to work with like-minded enthusiasts.

We wanted to make the sales process easy. If you're looking to sell or buy your next daily, or in search of your next track car, MOTORVAULT is here to help.
Contact us for more details
(317) 522-8260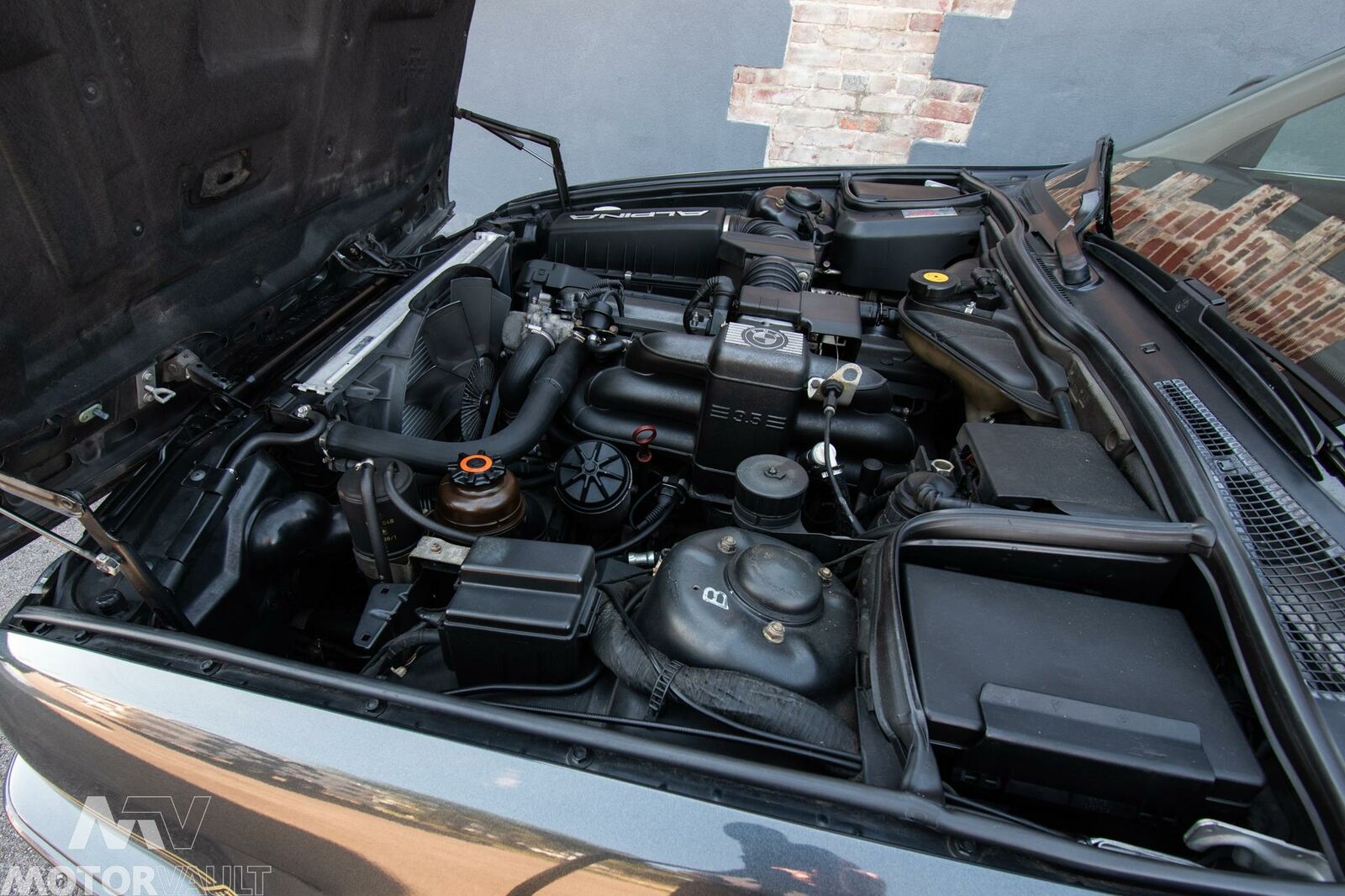 Number 520 comes from nearly the end of the 3.5/1 production run, and though it's now 30 years old it still looks quite fresh. The E34 is a handsome design that has really aged well in my opinion, and though this one has some condition issues it would undoubtedly still draw a crowd of appreciating fans. The downside is that, like a fair amount of Japanese Alpinas, it's an automatic – but it also has a lot going for it, from recent maintenance and an expensive trip through EAG's service department to refinished wheels with fresh Michelin rubber. Add those up and you're looking at over a third of the current asking price, which seems more palatable than a fair amount of Alpina-badged cars. If you don't mind the automatic, this one looks like it'd be a nice way to enjoy top-tier engineering without braking the bank totally.
-Carter