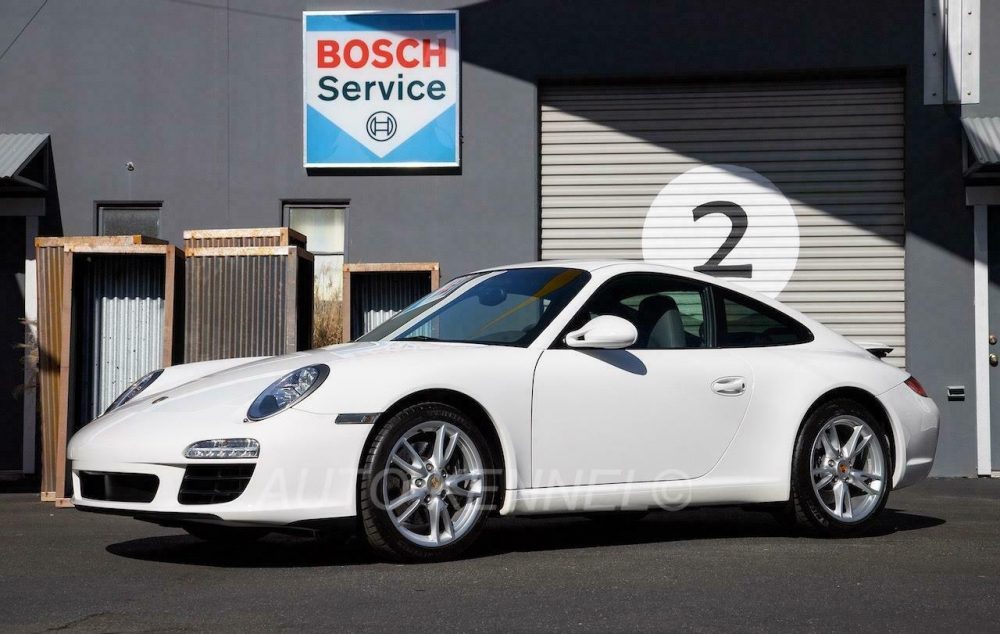 I think as much as I fantasize about daily driving a Porsche 911 GT3 or at least using it for all my mundane tasks that require driving, it probably isn't the best idea ever. Outside of the ride being extremely stiff, you plain old just put a bunch of wear on the car doing something any car could do. In a sense, it's massive overkill. However, you can still can get your 911 fix by being a reasonable person and do what most people do: just buy a Carrera 2. It is still an extremely capable and rewarding sports car, but it's also tame enough to handle the daily driving duties. Not to mention they are nearly half the price as a GT3 in the same chassis. Today, we might have one of these perfectly daily-driver 911s without spending anywhere near $100,000.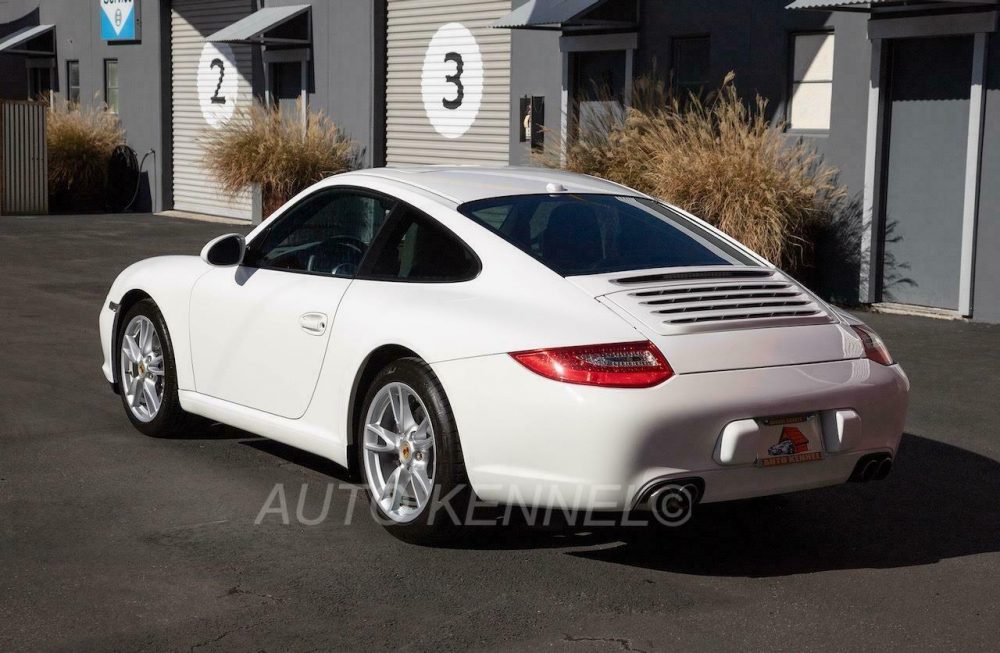 Year: 2009
Model: 911 Carrera Coupe
VIN: WP0AA29949S706159
Engine: 3.6 liter flat-6
Transmission: 7-speed Doppelkupplung automatic
Mileage: 27,688 mi
Location: Costa Mesa, California
Price: $61,990 Buy It Now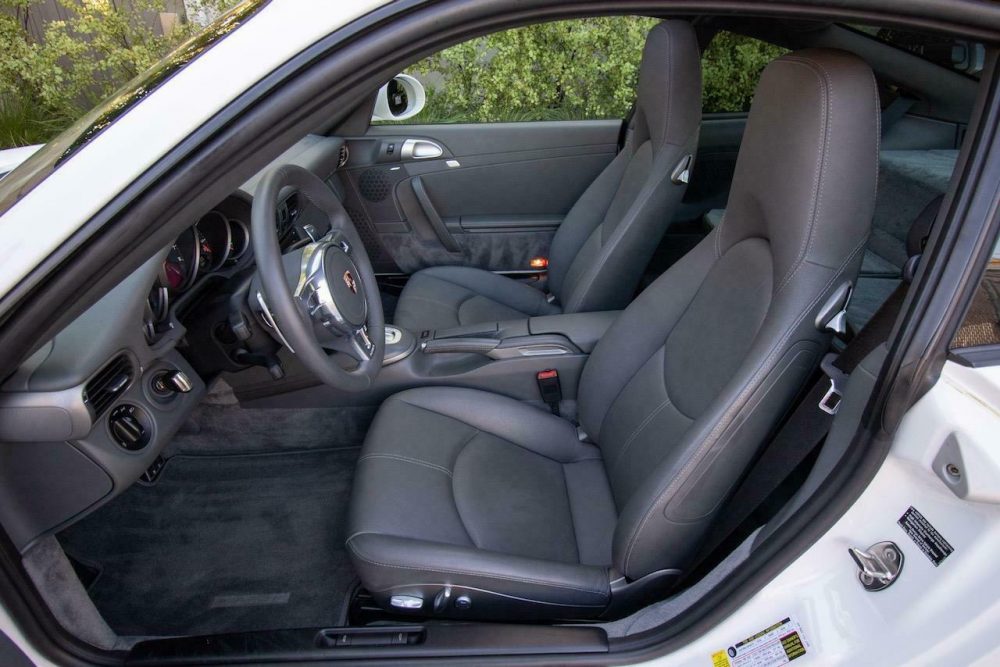 2009 Porsche 997.2 911 Carrera Coupe
PDK / Direct Injection Motor
Heated Seats / Launch Edition
Low Miles / Original Paint
PDK Service and Fresh Michelin Tires
Sport Plus Mode / HRE Wheels Available

27,700 Miles

Carrara White on Stone Grey Leather
7-Speed Dual Clutch PDK Transmission
Original Paint / Clean Carfax®
Clean and Clear California Title
Southwest from New

$63,990

The second generation Porsche 911/997 got several updates and improvements. This included a new more powerful engine thanks to direct-injection. The 3.6-liter Carrera got 345 horsepower, up from 325hp. This is nearly the same power as the previous 997.1 S model. The 997.2 base Carrera with PDK is faster 0 to 60 than the 997.1 S with a manual. Also, the IMS bearing was eliminated from this engine design. Furthermore, the bore scoring issues of the previous models were significantly reduced. New styling of the lights really helped finish off the already improved 997 looks as well as some further interior upgrades. This was also the introduction of Porsche's dual clutch transmission that is still the transmission of choice in today's new Porsches.

This 997.2 was built in June of 2008 and sold new on September 30th, 2008 by Porsche of Tucson, Arizona. It was one of the first 997.2 cars built for North America. It was ordered with the following factory options:

Porsche Doppelkupplung (PDK) Transmission
Self-Dimming Mirrors
Heated Front Seats
Heated Steering Wheel
Bose High End Sound Package
XM/Sirius Radio
PAG Launch Edition
Power Comfort Seats with Driver Memory

The MSRP was $85,620.

At a later date, the Porsche dealer installed the programming for Sport and Sport Plus mode as well as installing a newer factory steering wheel with paddles instead of toggles. The original steering wheel is available.

The first owner lived in Arizona and kept this 911 for 4 years and 15k miles before trading it back into the dealer. It then moved between 2 dealers for about a year before the next Southern California owner purchased it on November 15th, 2013, with 19,651 miles. This owner kept the car for a little over 2 years and added less than 1,000 miles. During their ownership, they serviced it three times at Newport Beach Porsche. This included the 20k mile service.

The current owner is a mature enthusiast who lives in San Diego, California. He purchased this Carrera on February 12th, 2016 with 20,242 miles. For the last 6 years, he's added just over 7k miles. The majority of those miles occurred on long drives to visit his son in Northern California. He serviced this Porsche at least once a year and sometimes more frequently. Services included:

Regular oil service and brake fluid flushes
Installed Sport/Sport Plus software and new ignition steering lock (01/19 @ 23,931 miles)
Upgraded center muffler with X-pipe bypass (original muffler available)
PDK transmission and clutch oil service (02/19 @ 24,714 miles)
Michelin Pilot Sport 4S tires (03/19 @ 25,161 miles)
Most recent oil service (08/21 @ 27,489 miles)

This low-mile Carrera is in excellent shape and clearly well cared for by its previous owners. The paint is original and verified with a paint meter. There are minimal signs of use. The glass is all original, including the windshield and wearing the proper factory stampings. All the exterior lights work. The factory 18" wheels have no significant blemishes and are wearing near full tread Michelin 4S tires. The front brakes are just under half-life and the rear brakes are at about a third-life remaining.

The interior is equally nice and shows hardly any signs of wear. The front leather seats have no tears or rips and just some light wear on the driver seat exit bolsters. The rear seats, headliner, door panels, and dash all look fresh. The carpet shows minimal use. All the gauges and electric controls function properly. Everything works.

This Carrera drives fantastically and feels tight. The power response is surprisingly good. With the addition of Sport Plus mode, the shifts are lightening quick including rev-matching on down shifts. This combined with the center muffler bypass makes for a great sounding and driving experience. The brakes work great with no squeaking or fading. The handling is crisp and responsive. This 911 could easily be used daily as well as driving on a twisting back road.

California registration is current to February of 2022 and it passes the strict California smog test.

This 911 comes with 2 main keys, all owner's manuals with vinyl case, original maintenance book, tool kit, air compressor, original amber side market lenses, and Porsche tire repair kit.

*Available for an additional fee:

Original steering wheel (airbag was used with currently installed steering wheel)
19" HRE 3-piece wheels with Michelin tires
Stock center muffler

For tons of pictures and our contact information go to the AutoKennel website. Just google "AutoKennel."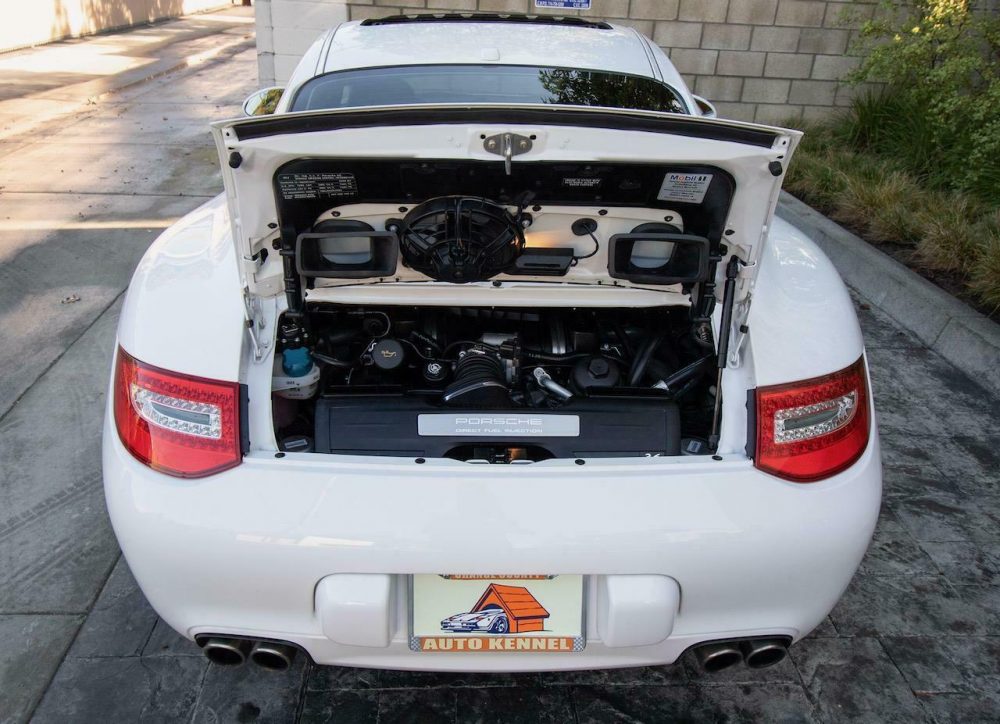 To me, the 997.2 is the sweet spot of the 911 right now. Modern amenities, great build quality, good tech, and fairly reliable for a 911. This example up for sale in California is finished in the classic Carrara White over Stone Grey leather and has the PDK box rather than a six-speed manual you might expect. It has some other options, but nothing too crazy that shot the sticker price way up. One thing to note is that it has the 18″ wheels with a little fatter tire, so if softer ride is what you are looking for, this is it.
I don't have any qualms buying this one sight unseen as Auto Kennel is a great dealer that always shoots straight on these cars, and the condition of the photos and description do a good job as confirming that. The asking price of nearly $62,000 might scare some people away as that is getting very close to GTS money. It all comes down to if you want a low-mile car with no stories, or go with the higher mile cars in the same ballpark. As much as I think this is a really outstanding example, that GTS sure is tempting.
– Andrew