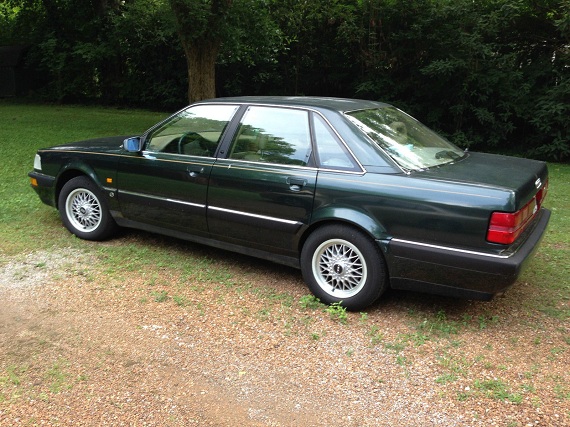 They say the devil is in the details; one of those details in the late 1980s and early 1990s Audis was the insulating foam designed to keep the cabin quiet. When the cars were new, the V8 quattro really was a big step up for Audi – significantly more refined in presentation than the Type 44 on which it was heavily based. But when I owned my 1993 V8 quattro – notably, in this same color combination of Ragusa Green Metallic and Travertine leather – the headliner was failing. Because that seemed to go hand in hand with the air conditioning also not functioning, I spent a fair amount of my time in the V8 with the windows down. Of course, this resulted in a rippling headliner spewing the contents of the sound isolation foam. This foam was pretty amazing stuff, I'm sure. Like everything else German, it seemed to do its job quite well until it didn't anymore – at which time it failed in spectacular fashion. Granules of this foam made it everywhere – not only covering the interior of the car, but also my clothes and hair. It was somewhat comical, as I was showing up for work appointments in this seemingly top of the line Audi covered in a fine mist of orange foam. It was as if an Oompa Loompa had attacked my Audi by suicide bombing, and I was walking baffled from the aftermath looking a bit like an orange version of the Peanuts character Pig Pen. What was particularly amazing about this foam though was where it chose to adhere to – in this case, it would stick to everything except the roof, and when you tried to clean it up it would ball into even stickier slugs that were near impossible to remove from whatever surface they found themselves on. Sound appealing? You too can experience this: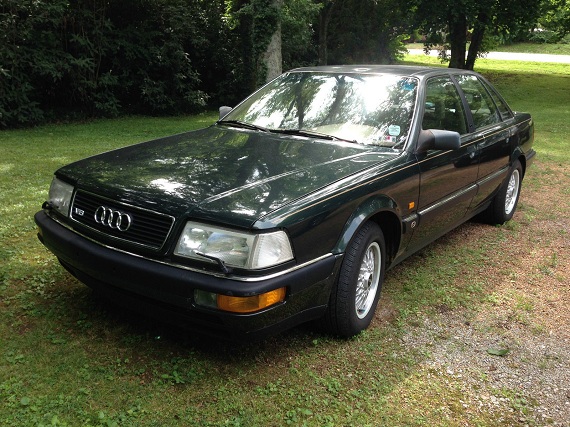 Year: 1992
Model: V8 quattro
Engine: 4.2 liter V8
Transmission: 4-speed automatic
Mileage: 92,000 mi
Price: $3,750 Buy It Now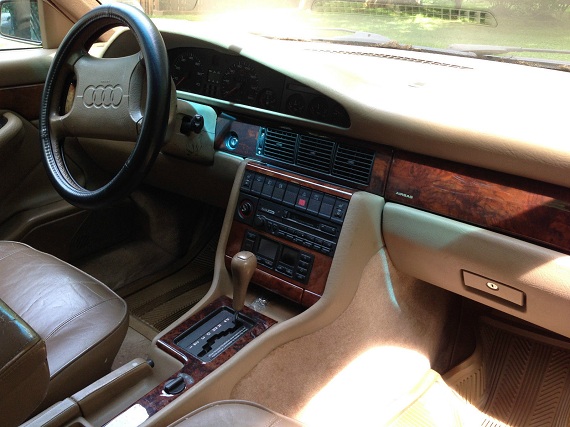 Very nice car only 92,000 original miles. Leather, AWD, 4.2 Liter engine, Automatic Climate Control, AM/FM/6 CD Disc changer, Sport & Economy modes, Michellin tires with every option available in 1992 on Audi. The car is agile and a thrill to drive it has great acceleration and handling. The car has been serviced regularly and is well maintained. The clear coat is thin in a couple of places, though the paint is in tact. Never wrecked, needs a new headliner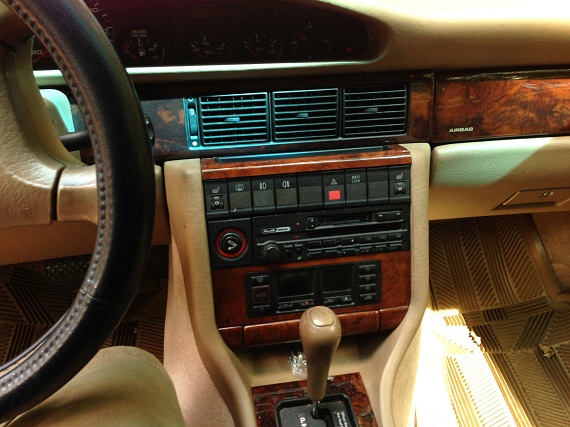 I like the "needs a new headliner" line stuck in the end there. In hindsight, I probably should have taken the car immediately to a shop and had them fix the headliner and my problems would likely have been significantly reduced. But the Audi V8 quattro is all about having stories, and that's one of the many I have from my ownership. Despite this I find this car indescribably appealing. It pulls me back a decade to when I was proudly looking at my new acquisition, feeling though I had "made it" in the Audi community. Truth be told, when I showed up at events in the V8 more people said "how is that thing still running?" or "what is it?" than "good for you!" or "that's awesome!" You'll spend a fair amount of time fixing it, sourcing parts made from unobtanium, and explaining that indeed, yes, the name of the car is Audi V8, not A8. Now a decade later, some appreciation for this top-spec model has grown but they're still a bargain compared to their equivalents both in racing and road. For a long time, the dreaded V8 timing belt replacement was the most expensive Audi repair you could imagine (note: you'll want to immediately do it on this one unless there is a recent receipt), but in comparison to the repairs on some of the newer Audi products it's downright affordable. But if you're on the fence about Audi V8 ownership, you're not ready for it – you have to be fully committed, as in mental institution committed, to buy one of these cars.
I still want another one.
-Carter