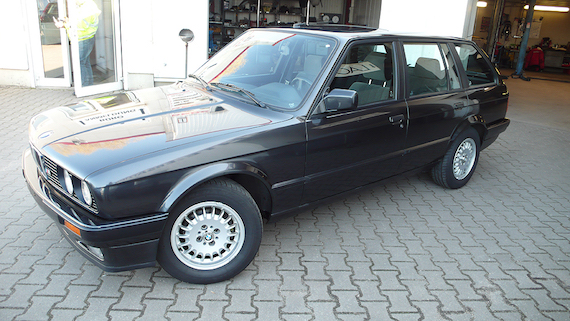 The US-market never received the touring (wagon) version of the E30 3-series. But these cars are now old enough to import under the 25 year rule, which means you can find a steady trickle of these popping up on eBay for sale over here, and various accounts of enthusiasts' attempts to bring them over. And no wonder: the E30 estate is a handsome and utilitarian looking car, practical and quite stylish.
The E30 was offered in Europe with a wider range of engines than we received here, so there a variety of different longroof options to choose from.  There were two four cylinder models (a 1.6 liter and a 1.8 liter), two six cylinder models (a 2.0 liter and 2.5 liter, with the latter also being available in "iX," all wheel drive spec), and a 2.4 liter naturally aspirated diesel inline six. This particular car is a 316i, the entry level model. While the car is currently located in Germany, it's being advertised on US eBay to tempt American E30 fans with a taste for forbidden fruit.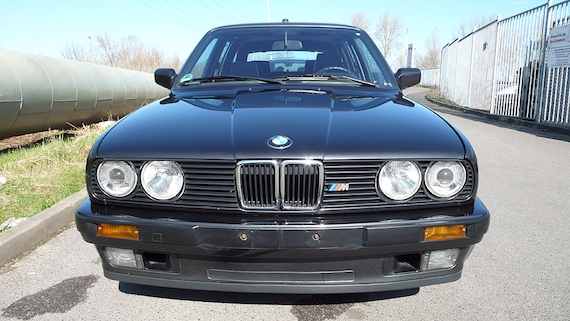 Year: 1992
Model: 316i Touring
Engine: 1.6 liter inline-4
Transmission: 5-speed manual
Mileage: 78,000 mi
Price: $9,990 Buy It Now or Best Offer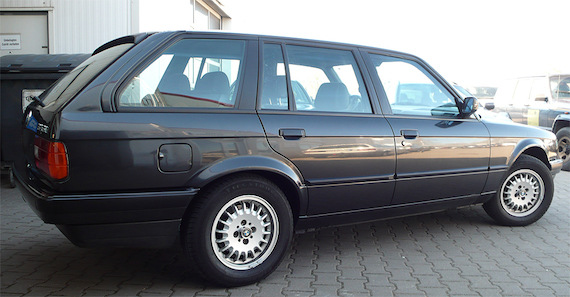 For sale is a beautiful black 1992 Wagon with no rust and no dents at all.

After being owned by BMW in the 1st year, the Wagon was sold to his owner who kept it till last year. The booklet of service records shows maintenance till km 115k, while now the odo has 125k km = 78 k miles. German biannual roadworthiness check – TÜV – stating flawlessness at 115k km in Sept. 2015, valid till September 2017. BMW was registered and when sunny in traffic till last week.

I did not find any dents or any repaints. Accident free. I did not find any rust, other than the tiny surface rust shown inside the trunk door. All 4 doors are 100% clean and so are the notorious jackpoints. A Touring like this will hardly come again, I haven't seen one.

The 1,6l engine starts right up, purrs, drives and stops just as a well maintained car. Whatever you touch from door handles to clutch pedal feels like 2 or 3 years old. No noises, drops or flaws any kind known. You can easily register as is as a classic car. (Just watch out if you are in CA…)

Please note that this BMW is located in Berlin, Germany, and sold where is. I can ship into Baltimore or L.A. port for about US $1.500.

If you press buy it now or submit an offer you enter a legally binding contract of purchase! Please feel free to send your phone number, so we can talk. Thanks.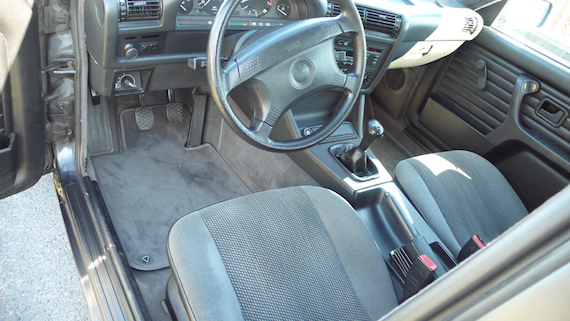 This car looks like a very solid survivor, and has a relatively low 78k miles on the odometer. The Diamantschwarz paint presents well and is said to be original, with no rust on the body except a small amount inside the trunk door. The cloth interior looks tidy and the car is said to run and drive well.
The car is powered by a 1596cc SOHC inline four good for about 102 hp. It comes with a proper five-speed manual gearbox, ABS brakes, cloth seats, manual sunroof and a driver's side airbag. And a stuck-on "M" badge at the front, which the next owner should remove ASAP. There's no A/C, and the windows are hand crank only. This is truly a bargain basement package.
So is it worth the $10k asking price? No, I don't think so. It's a neat curiosity, but way overpriced given the skimpy spec on offer and especially so considering it's still across the ocean. Now if it were a 325iX on the other hand, that would be another matter …
– Craig