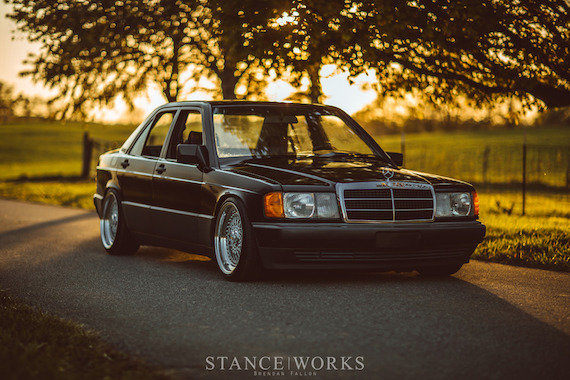 I'm a purist at heart. I like older cars that have survived into the present while remaining practically bone stock and unmodified. But I also realize that there are many different ways to love and appreciate cars, and the stance scene – with its lowered ride heights, deep dish rims and negative camber -  is just another of them. So even though I don't quite understand it, or find it all that appealing, I respect the craft, and the obsession that goes into creating these cars. This modified 190E caught my eye on the Benzworld classified forum. It's riding low, but not too low, and while the wheels really don't quite fit, they are at least very handsome. And with an "Avantgarde" interior taken from a European spec car, the inside on this one's a bit of a treat too.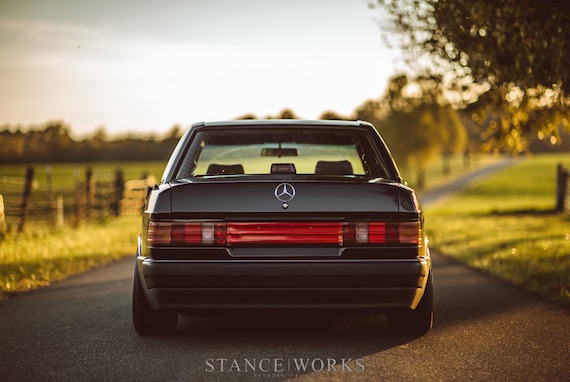 Year: 1989
Model: 190E
Engine: 2.6 liter inline-6
Transmission: 5-speed manual
Mileage: ?
Price: $10,000 OBO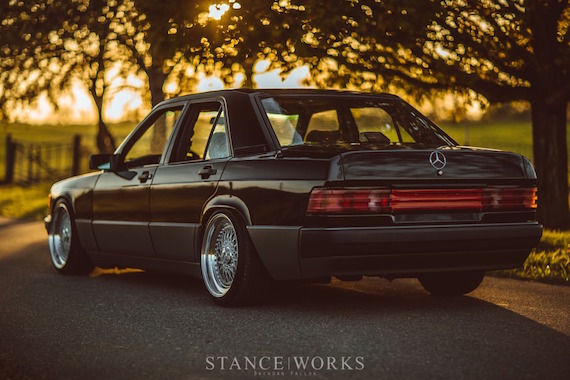 Hey everyone,

The time has come for me to let go of my 190e. I never planned on this, but Im trying to downsize and work on some other projects and need to let this one go.

This car was featured on Stanceworks earlier this year, the feature can be found here: On The Inside – Chris Hayden's Avantgarde-Package 1989 Mercedes 190e

There is also a full build thread which can be found here: A Junkyard Save – 190e content – StanceWorks

1989 Mercedes Benz 190e 2.6 5speed

Exterior:

3m Gloss Black metallic wrap
Euro Bosch glass headlights
Fifft all red taillights
BBS RS 198
Designline Caps (not part of sale)
Re-painted front grill

Interior:

Full Avantgarde Rosso interior from a '93 (only rear produced for Europe only)
Italvolanti BBS 3 spoke steering wheel
After market head unit (factory included)
All factory wood has been wrapped in a Black burl wood ( some could be re done)

Engine/Trans:

Motor was taken apart and gone through when I first got the car
3.0 Cam
Spec stage 1 clutch
lightened single mass flywheel
stock automatic diff (needs to be swapped for an LSD)

Suspension:

Front Bilstien Sport shocks and H&R springs
Rear CaTuned 30 way adjustable Coils
front has new bushings and tie rods.

Brakes:

400e Calipers
Stoptech slotted Rotors
EBC Green pads
Stainless Lines

I think thats everything for modifications but I could be forgetting some things.

The car comes with its flaws though.

Body work under the wrap isn't the best.
Heat and AC do not work (blower works if I remember)
2nd gear synchro is going out and likes to pop out during lift. still engages and drives fine.
Needs an exhaust(never bothered me)

Different prices for different setups.

AS is $10,000 OBO

Without RS's $8,000 OBO

Without Interior $7,000 OBO

Without interior or RS's $6,000 OBO

Other combinations can be done.

Located in Fairfax, Virginia

Please text me for any questions or interest. 3013129251

Thank you for looking!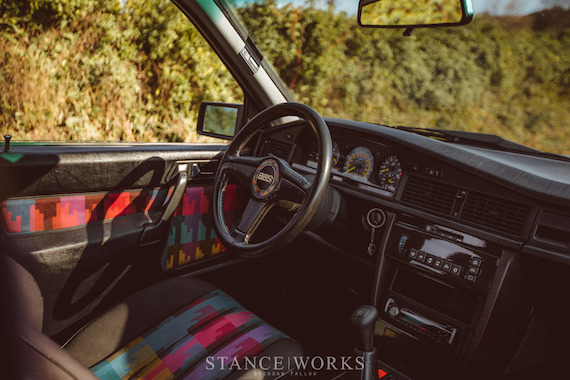 The W201 "baby benz" can be bought quite cheaply these days, giving you all the build quality and solidity of an S-class of the same period, but in a much smaller package. I used to commute to work in a stock 2.6, and it made me me feel like a million dollars, even though I paid very little for it. The 4-speed automatic in mine was perfectly fine for cruising, but I always wondered what a manual transmission would have done to liven the car up a bit. Mercedes did make them, they just weren't often optioned that way.
This car has that manual gearbox, as well as a neat BBS 3-spoke wooden steering wheel and a snazzy looking interior transplanted out of a European "Avantgarde Rosso" car. The Avantgarde spec was a cosmetic trim package offered in Europe to celebrate the 10th anniversary of the 190E. The funky, modern-art inspired "Arcade" print on the seats and door cards is really cool, and quite sought after by enthusiasts. The car rides on Bilstien Sport shocks and H&R springs, and has brakes from the 400E. Miles are not listed in the ad.
Condition of the car looks good, although potential buyers might want to ask for some more "candid" photos than the ones included in the ad, which have surely been retouched. The seller does note that the exterior is vinyl wrapped, and that the paint underneath is not so great. He wants $10k for the complete package, with some other prices suggested for those interested in taking the car without some of the accessories. I don't know much about the value of cars modified in this way, but that does strike me as quite a lot of money for a 190E. Perhaps readers more familiar with the scene will be able to chime in on whether that's reasonable or not. Still, it's a neat looking car.
– Craig