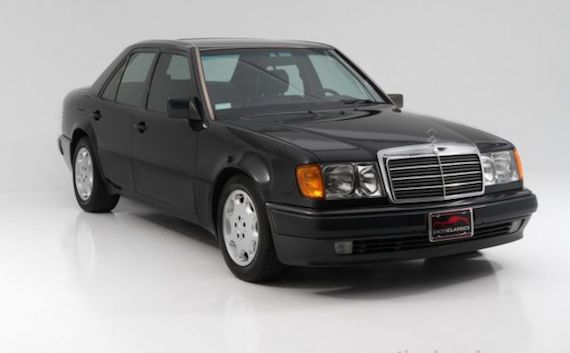 This 500E for sale in New York looks particularly handsome in black over black leather with the Euro market headlamps, just itching to be let loose to eat up some serious highway miles at a rapid pace.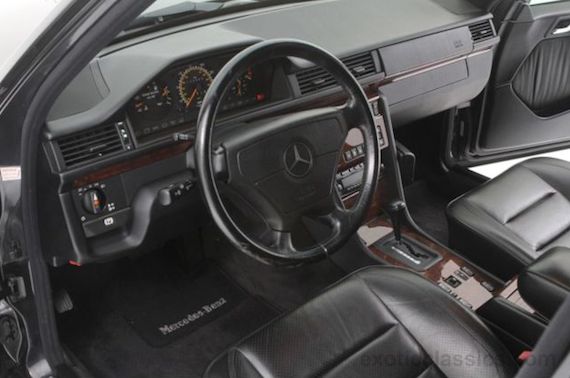 Year: 1992
Model: 500E
Engine: 5.0 liter V8
Transmission: 4-speed automatic
Mileage: 39,989 mi
Price: Reserve auction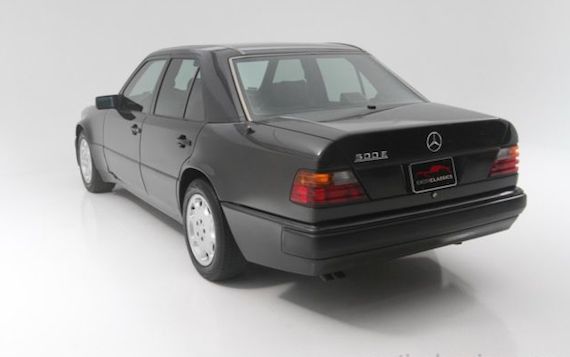 Exotic Classics is proud to offer this 4 owner 1992 500E with less than 40,000 miles.From 1990 to 1994 (model years 1991–1994), Mercedes-Benz sold a high-performance version of the W124, the Mercedes-Benz 500E. The 500 E was created in close cooperation with Porsche; each 500 E was hand-built by Porsche, being transported back and forth between the Mercedes plant and Porsche's Rossle-Bau plant in Zuffenhausen, Germany during assembly — taking a full 18 days to complete each model. Design began in 1989 and into 1991. Called '500E' through model year 1993, for model year 1994 it was face-lifted along with the rest of the range and renamed to 'E500.' The 500E had a naturally aspirated 5.0L V8 engine derived from the 500 SL roadster. Sports car braking performance also came from SL components: front SL500 300 mm disks with 4-piston calipers came installed on the 1992 and early 1993 cars. The later 1993, and all 1994 cars came with the upgraded 320 mm set taken from the 600SL. Rear brakes on all years were 278 mm brakes from the 500SL.

In the USA, the 500E came fully equipped, with the only options available to the buyer being a dealer-installed CD changer and an integrated cellular telephone. The 500E was only with four seats in left hand drive, with the four leather seats supplied by Recaro (the fronts heated). Called the "Wolf in Sheep's Clothing" by the press, performance tests of the day yielded impressive results: 0–100 km/h (0–62 mph) times of 5.5 to 6.0 seconds and acceleration through the quarter-mile (0.4 km) in 14.1 seconds at 163 km/h (101 mph). The top speed was redline limited at 6,000 rpm to 260 km/h (160 mph). It was rated at 16.8 L/100 km (14 mpg) in the city and 13.8 L/100 km (17 mpg) on the highway.With its aggressive stance: 1.5 inches wider track, 0.9 inch lower profile, flared fenders, side skirts, front air-dam and wide tires, the 500 E is easily distinguished from its lesser brethren. Because of its look, limited numbers, hand-built construction, and unique pedigree, the 500E is already considered a "classic", even within Mercedes-Benz.It is little-known, but 120 cars were produced between January and approximately May 1995, as last-request cars for special customers before the series ceased production. These last cars were produced in the Porsche Rossle Bau building alongside Audi RS2 sport wagons, as that production contract went into full swing with the same work-staff that built the 500E and E500.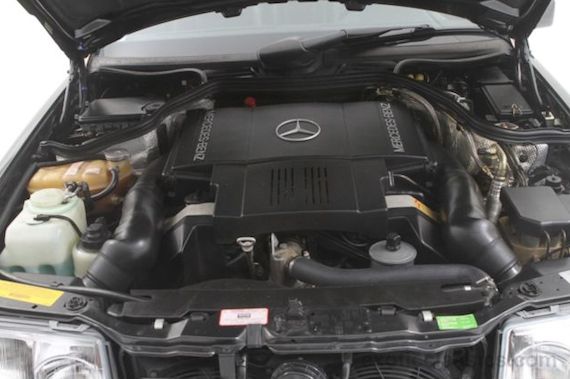 It's still fairly possible to get a 500E/E500 for reasonable money, if you are brave and are willing to procure a car with over 100,000 miles on it. That's not to say by that point the car would be useless, but you know going in that this won't be a cheap vehicle to run on most fronts. This 500E, however, won't come cheap. I would expect the reserve is nearing somewhere around $30,000, as the best examples are crossing that line these days and then some.
-Paul