Warning!
This post is in our archives. Links in this post may have been updated to point to similar cars available to bid on eBay.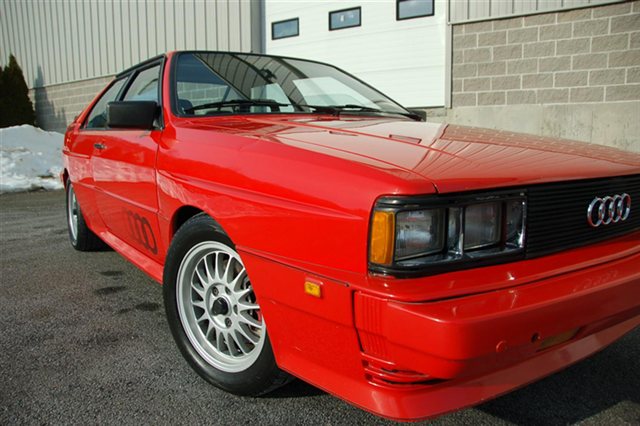 Plenty has been said on this page and others about the now legendary status of the original Quattro, so if you're looking for a history lesson it won't be here. However, what the quattro does represent is great collector value in comparison to contemporary 911s and slightly later E30 M3s; a unique car with plenty of character that took the automotive world on a different path. Quattro values have been steadily increasing over the past several years, and while they are hard to find on these shores in good condition for sale they do come up from time to time. The last 1983 Quattro we featured had lost some of its originality in favor of driveability; today's car retains some of that originality and shows well in Tornado Red: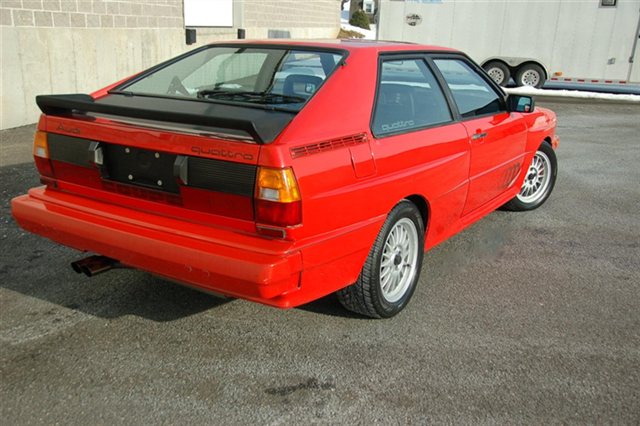 YearModel: Quattro
Engine: 2.2 liter turbocharged inline-5
Transmission: 5-speed manual
Mileage: 92,872 mi
Price: Reserve Auction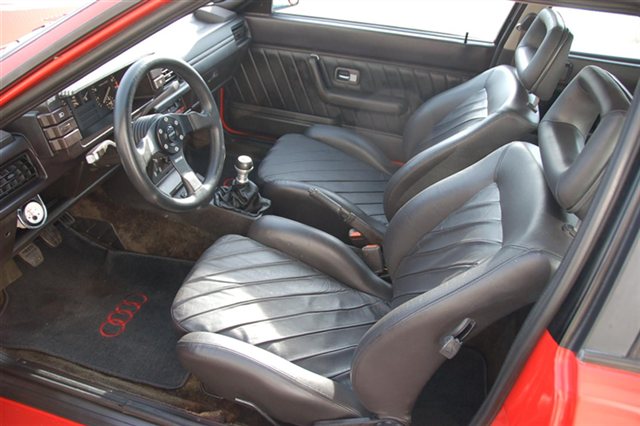 Vehicle Overview
***Due to the recent activity of fraudulent second chance offers on eBay, we strongly urge you call us at 914-217-4817 to verify any second chance offer.***

For more than a quarter of a century, Hunting Ridge Motors and Mark Starr have built a reputation as one of the country's premier new and pre-owned luxury and exotic automobile dealers. It began in 1980 when Mark began importing Mercedes Benz, Porsche, Ferrari and race cars from all over Europe, and has now expanded to include many other makes such as Land Rover, BMW, and Audi.

A proud and well respected member of the Lotus community, Hunting Ridge Motors has become one of the most respected performance car dealerships in the Northeast. The organization's reputation for providing quality vehicles and top- notch service is the reason why Hunting Ridge Motors continues to be at the forefront of the automotive enthusiast and collectors market.

You deserve only the best should not expect anything less. We promise to provide you with the best buying experience available. Feel free to call one of our sales associates with any questions. We are here to make your automotive dreams come true.

1983 Audi UR Quattro Coupe finished in Red with Mocha leather interior. In the Eighties the Audi quattro took the motoring world by storm, being the first car to use a turbocharged engine in conjunction with four wheel drive. The quattro dominated the World Rallying Scene and positioned the car as the ultimate must have for any serious driver. Dubbed UR the German word for "Original or The First" the UR quattro is set to rise in values by motoring pundits and represents a superb blend of practicality, capable performance and investment in the Classic Car World. This 92k mile example was originally owned by the late Robert Snodgrass Jr., the President and CEO of Brumos Porsche and Brumos Racing. Snodgrass was an icon of sports car racing in the United States and Europe. It is reported that only 764 of these incredible cars were ever imported to North America making it rare and extremely desirable. A Porsche 911 was priced at $31k in 1985. The UR Quattro was $35k. With recent repairs including a rebuilt head, new timing belt and water pump, clutch and rear main seal as well as a conversion to 134a air conditioning update. The paint is believed to be original and a bit sun faded but still shines and shows well. There are a few cracks to the dashboard. The body is a solid, accident and rust free example having spent most of it's life down South. It comes fitted with a sun roof, power windows, Stebro stainless exhaust system, air conditioning, oversized later model wider alloys and more. The unique original five cylinder turbo charged engine is mated to a manual five speed transmission with locking differential. The car is priced to sell. All serious offers will be considered and should be directed to Mark Starr @ 914 217-4817.

In the spirit of the auction process, we do not disclose our reserve price. We have been selling cars for many years and price our cars fairly. As a result of our low prices, they sell quickly. Therefore, PLEASE DO NOT ASK OUR RESERVE PRICE. Please feel free to contact us to learn more about huntingridgemotors. We will consider all reasonable offers and will end the auction early if we can reach an agreement. We reserve the right to end any auction early for due cause. If you have questions about any of our auctions, please do not hesitate to contact Mark Starr at 914-217-4817. Cars shown by appointment only.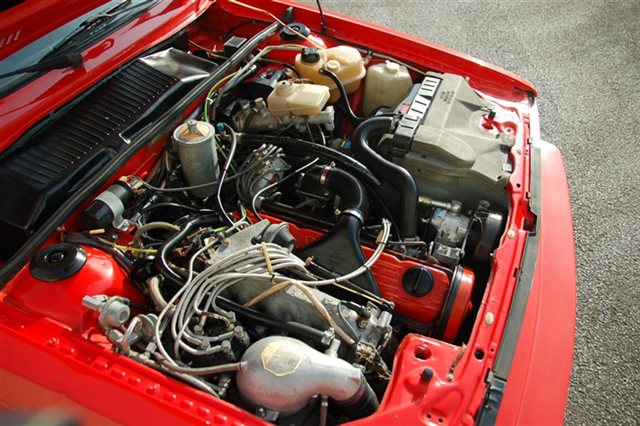 Well, like most dealers, the lack of information is more overwhelming than the rarity of the car. In the description, precious characters are wasted on frivolous information that could be omitted in favor of actual service record dates and information. Serious buyers of Quattros generally know as much about the model as the seller, if not more. However, the fact that it was owned and related to Brumos Racing should tell you that it was probably well kept for a time, and probably also explains the substantially lowered ride height as well as the quite rare to see 7″ Ronal R8s. Those R8s aren't nearly as popular as the 8″ variant, but there are certainly less of them out there. The Brumos/Snodgrass connection has to be one of the more interesting histories for these Quattros and an enthusiast will appreciate the connection, although I'd love to know more about it. The car has some odd issues present, such as the headliner on the sunroof being screwed into place. Further, it's fairly obvious to any Audi fans that the engine has been apart recently as the painted valve cover is a glaring change from stock. That's not necessarily a bad thing, but does point to at least some work being done and an enthusiast owner in the recent past. I'd venture a guess that the motor – or at least the boost level – isn't stock. The Stebro exhausts are also some of the best sounding systems on these cars and not cheap.
Though it's claimed to be showing age, the paintwork appears pretty good if not a touch too good in spots, but the future owner still would want to do a thorough check for rust on such an early model. The Quattros came with no fender liners, so thee seams in between the fenders and engine bay tend to rust as do a few other choice spots. The seats also look better than any other Quattro I've seen recently, even those with lower miles – again, not necessarily a bad thing but points to some attention to them. Regardless, these small details would be covered by a pre-purchase inspection anyway, and the car genuinely looks like a very strong driver. The auction is still on reserve in the low teens with plenty of time to go; that's a strong starting point, as values have been in the mid-teens at best for examples of similar condition. I'd expect the seller has the reserve set at $16,000 – $17,000 which is probably a touch high for the actual value of the car – but as I so often say here, go find another. You could really haggle over the $1,000 – $2,000 premium a dealer like this will expect to charge, or grab a rare to see and great condition Quattro and enjoy it now. If I were seriously in the market, I'd do the later as values are expected to continue to rise and Audi has been proudly expressing interest in the original and game-changing model once again.
Thanks to our reader and Quattro enthusiast Martin for sending this our way and some of the astute observations!
-Carter