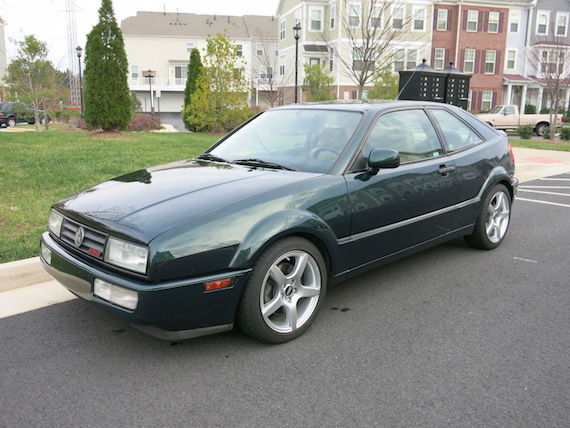 The clean 1992 Volkswagen Corrado SLC we featured last month is back up on offer at no reserve. Here's your second chance if you've always wanted one of these 1990s coupes.
The below post originally appeared on our site September 12, 2015:
While the Scirocco has come and gone as the sports car in the Volkswagen lineup, the Corrado was the short-lived model that would prove to be the end for sports coupes in the US market. Always a looker, this car became a serious contender when the 2.8 liter VR6 engine was slotted under the hood a few years after its debut. For three short years, enthusiasts of German coupes had a credible, less-expensive option than your usual six-cylinder BMW 3 series coupe. The object of many fan boys, this Corrado SLC for sale in Northern Virginia has escaped the ravages of modifications that plague many VWs from the 1990s and looks right at home on BBS wheels that are well-proportioned to the car.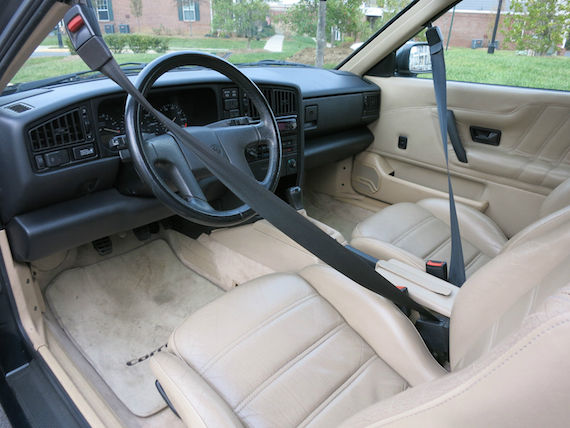 Year: 1992
Model: Corrado SLC
Engine: 2.8 liter VR6
Transmission: 5-speed manual
Mileage: 112,700 mi
Price: No reserve auction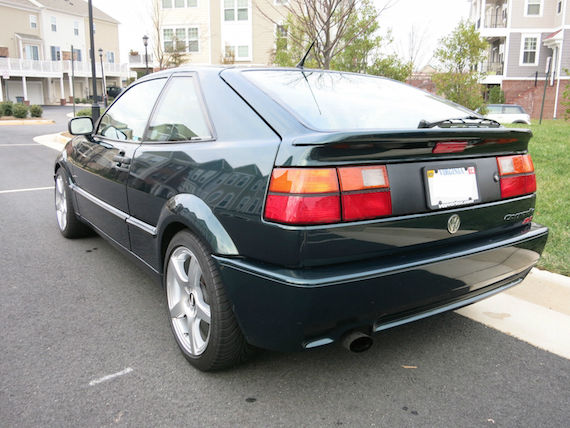 Second owner, purchased in November 2007 from the original owner, complete with all dealer maintenance and service records. This is a rare corrado as it is an SLC with leather, but no sunroof. The headliner was replaced roughly 10 years ago and is in pristine condition. It is classic green pearl over tan leather. This is my fourth Corrado and by far the best one I have ever seen. I am only selling it because I just do not drive it anymore and can't justify keeping it any longer. This needs to go to a new home where it will be enjoyed and appreciated.

In the eight years that I have owned it, I have done the following:

Oil pan gasket
Fuel filter
Akebono Performance Ceramic brake pads front/rear
ATE brake rotors front/rear
Wheel bearings front/rear
Ball joints
Control arm bushings
Tie rod assemblies
Left and right front axles
Vacuum hoses
Left and right door handles
Ignition switch
Door striker pins
Miscellaneous interior trim pieces
Coolant hoses
Auxiliary water pump
OEM front windshield with new trim and water channels
Kenwood eXcelon KDC-x591 with iPod integration
Alpine Type S 5 ¼" front speakers, 4×6″ rear speakers
JL Audio HD400/4 amplifier
JL Audio 10w1 subwoofer in a stealth box
16×7″ BBS RD wheels
205/45/16 Sumitomo HTR-Z summer tires
Bilstein Sport struts/shocks
H&R Sport springs
New strut bushings/bearings
New sway bar end links
4-wheel alignment
VF Engineering Stage 1 Supercharger (6 PSI)
Polished V9F blower
Forge 007P diverter valve with spring kit
Distributor rotor and cap
Eurosport 8mm spark plug wires
Valve cover gasket
Bosch spark plugs (1 heat range cooler)
42dd high-flow catalytic converter
Bosch O2 sensor
BFI Stage 0.5 motor mounts

The interior is in excellent condition with no broken pieces and completely working seatbelt motors. The exterior is in great condition for a 23 year old car with only minor rock chips and a few dings/scratches on the doors. There are some marks on the lower part of the front bumper from the previous owner. Detailed pictures can be provided upon request.

Virginia safety inspection expired 11/2014, but emissions is good through 11/2015 (it has never had a problem passing).

Now for the few things that are not working properly:

Air conditioning leaks refrigerant when it is refilled. It was like this when I bought it and I never cared enough to fix it. The car was previously converted from R12 to R134a, and I have a feeling one of the O-rings wasn't replaced and is causing the leak.

The heater core cracked after I replaced the coolant hoses, as I didn't realize I had a valve in the original hose that was installed as part of the recall. I drove 10 miles and then it started leaking, so I have a feeling it may have been on its way out. I have a new heater core and hoses that will come with the car, but I didn't have a chance to install them.

The rear spoiler no longer automatically extends at 45 MPH, nor does the cruise control work. This started happening about 4 years ago sporadically, but for the past few years it has never worked. The spoiler will extend and retract via the switch, however, as the motor works fine.

There is a tiny, little spot of rust (about 1/4″) near the rear window half under the trim on the driver's side of the hatch. It has been like this since I bought the car and has never spread. Otherwise completely rust-free (as I don't drive the car in winter or the rain). See the last picture.

Either the front motor mount bushing has gone bad, or the front crossmember bushings need to be replaced. The engine has a little more movement than normal under quick applications of throttle.

There is a small oil leak from the oil cooler seals and/or the oil pan gasket.

Other than that, this is the most pristine Corrado you are likely to find. Please contact me with any questions before bidding. Vehicle is for sale locally, so I reserve the right to end the auction early if necessary.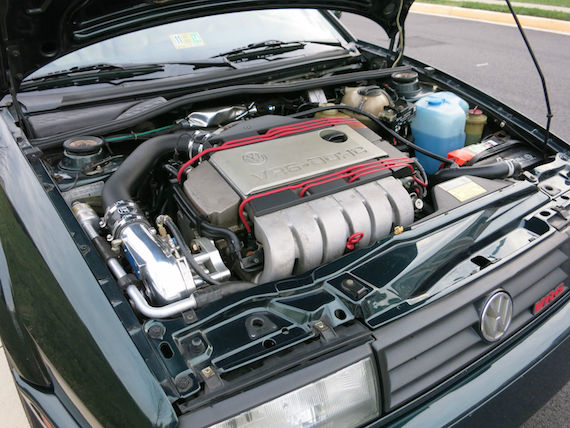 We saw a Corrado SLC with similar mileage sell for $7,800 about a year ago. An SLC in good shape with mileage in the low 100k range will typically pull in the $6,000 to $8,500 range. Values haven't really shot up on these within the year so I'd suspect this one will probably wind up somewhere in that range. While you can get into plenty of used 3 series coupes for that money, there's something I just love about the chunky styling of the Corrado. It wasn't with us for very long, but it made a bit impact amongst the VW faithful and satisfies my hunger for driving something different.
-Paul