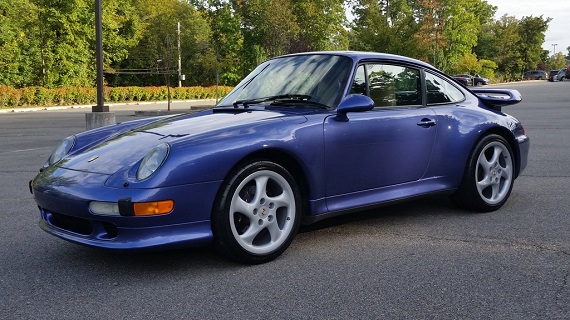 Another interesting blue Porsche 911. Last week I featured a 911SC and a 964 in very different shades of blue and today we have a 993. I guess I just need to find a 3.2 Carrera and then something from the water-cooled generation to get some completeness! Blue is one of my favorite colors on a car so it shouldn't be too much of a surprise that so many of them catch my eye. Like with many colors, over the years Porsche has provided nearly the entire landscape of possible variations of blue from which owners could choose, from wild pastels like Mexico or Riviera Blue to the very subtle like last week's Glacier Blue 911SC. Whether light or dark the color tends to work really well providing an interesting alternative to any of the very common silvers, whites, and blacks, but without necessarily veering into showy territory. Here we have another rarely seen variant that this time drifts a little toward the purple side of the spectrum, though only slightly: a Zenith Blue Metallic 1997 Porsche 911 Carrera S, located in Brooklyn, with Tan interior and 65,400 miles on it.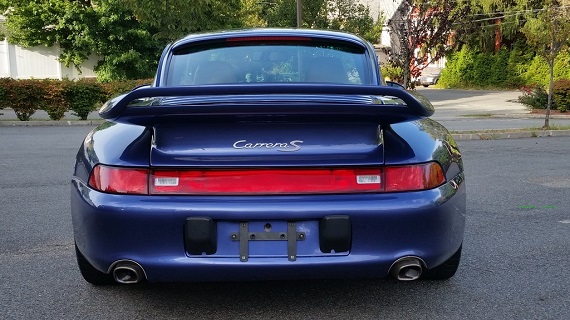 Year: 1997
Model: 911 Carrera S
Engine: 3.6 liter flat-6
Transmission: 6-speed manual
Mileage: 65,400 mi
Price: Reserve Auction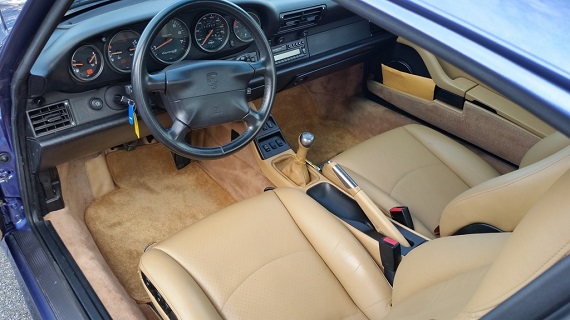 Thanks for looking at an amazing example of a 1997 Carrera S in a stunning and rare Zenieth blue metallic. Great condition in and out, no major dings dents or scratches, everything is in proper working order, a/c keeps you cool at best, a charge would be a good idea. Car is also fitted with the optional hollow spoke technology wheels. Runs and drives excellent with great power. All books and tools are present with only one key. Tires have plenty of tread but are old. This car turns heads everywhere and color is the biggest compliment. Please bid with confidence you will not be disappointed. If you are the winning bidder that means you bought the car! If you want to inspect the car you must do so before auctions ends. $1000 deposit is due upon auction end and balance is due with 5 days. Car is being sold as is where is. Please message me with any questions or leave your number.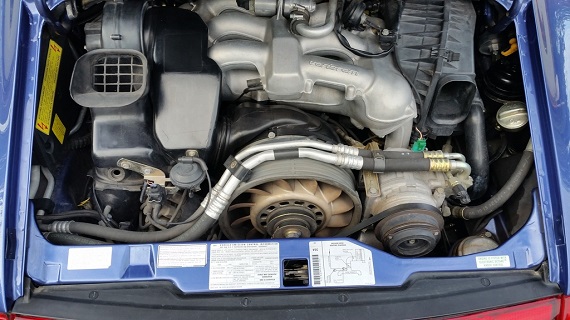 This 993 is a looker and with the Aero package installed it comes across as one of the better 993s I can recall seeing. Zenith Blue is one I can't say I previously have come across, but it's a really nice shade that seems to work excellently with the lines of the 993. There are colors that work well through contrast with trim pieces – we see these a lot with the 930 – but the 993 lacks many of those contrasting exterior items and this shade of blue benefits from that lack. It drapes the entirety of the car in a wonderful shade that itself shifts from light to dark and provides its own contrast. Outfitted with a Tan interior the total package looks really nice and this is definitely a case where I think an all black or grey interior, which are very common with an exterior color like this, would have been a let down. Lovely! There are some blemishes that the seller has documented in the pictures and, given the overall care apparent with the rest of the car, those blemishes seem somewhat out of place. But they certainly are something to have in mind for potential buyers. Also, the seller makes no mention of the Aero package and we don't see it listed on the option code sticker so I assume that was added on by a previous owner. It looks really good on the widened rear of the S, but those interested in having a perfectly original collector might need to consider its replacement. That brings us to price: current bidding at the moment of $57,600 is low for a Carrera S, likely due to those aforementioned blemishes, so we'll have to see where this goes. Given the rare color and general market for the 993 this 911 should attract a good deal of notice and while at nearly $60K we can't really say it's flying under the radar, it isn't yet garnering the expected attention either. That leaves it in an interesting place and perhaps for someone less interested in the long term collectability of this 993 it could make for an excellent driver.
-Rob