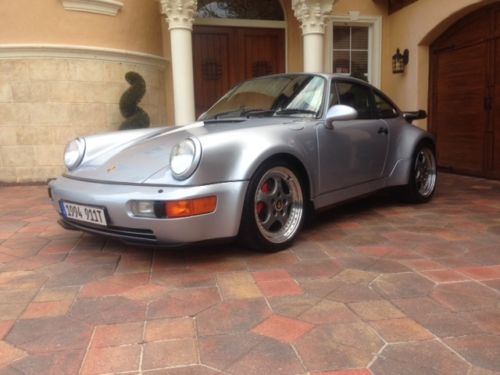 After a hiatus from posting them here we are two weeks in a row that I will have featured a 1994 Porsche 911 Turbo 3.6. I spoke previously about seeking out interesting examples and while the car we see here isn't as interesting a color combination as the Amethyst Metallic over Magenta Turbo 3.6 from last week there are some aspects that still make this one an interesting proposition. For starters, its $189,000 asking price is well below the nearly $315,000 asking price of that Amethyst example. That is in large part due to the mileage differences between each car – 68K versus 28K – and in part due to the rarity of that Amethyst color combination. Polar Silver certainly is not as rare, though it is not incredibly common on these cars either, but it remains very well regarded among 911 fans, especially for the 964, and always attracts a good deal of notice.
Year: 1994
Model: 911 Turbo
Engine: 3.6 liter turbocharged flat-6
Transmission: 5-speed manual
Mileage: 68,200 mi
Price: $189,000 Buy It Now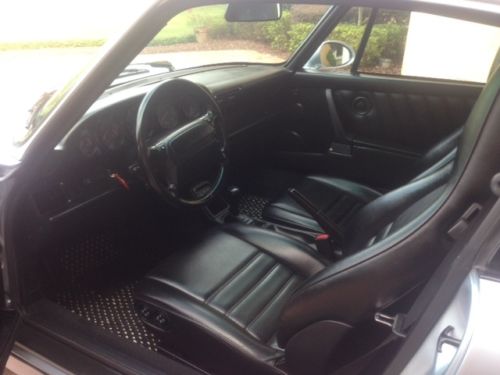 STUNNING 1994 3.6 Turbo for sale Private owner

I'm the 3rd owner of this beautiful (inside and out and engine) collector 3.6 Turbo…very limited & rare. clean car fax/ no accidents …car was just gone through within the last year and had over $18k+ done on her (to much to list)…runs like a charm, and sounds mean…leak down done shows less then 1% each cylinder…Original Speedline wheels restored with etching (seal grey centers)…priced very reasonably @189k .. 68200 miles (don't let miles fool you…this car is stunning and strong)…car is just now being listed for the 1st time…all books, records, certificate of authenticity etc…these aren't getting any cheaper…

(engine, books, records, certs etc)
New Ralph booth center caps
New Fabspeed headers, heat ex changers, exhaust system
New Rarely 8 straight through muffler
New oem k27 turbo
Original Speedlines wheels retored
New Michelin's pilots sports
Blisteins adjustable shocks
Coco mats , original mats
New tail light lenses & originals
Original exhaust & suspension parts
Cult werks splitters
All books, services records, certificate of authenticity etc
Air pump, tools
New Hoses, seals, gaskets, push tubes, etc etc..(gone through open check book)

Will be happy to discuss car with serious buyers
Please message me with any questions or leave your number
Full payment is Due within 7 days of auction ending by Wire Transfer.
I will release or ship the car once paid in full. Vehicle is Sold As Is, No Warranty written, expressed or implied.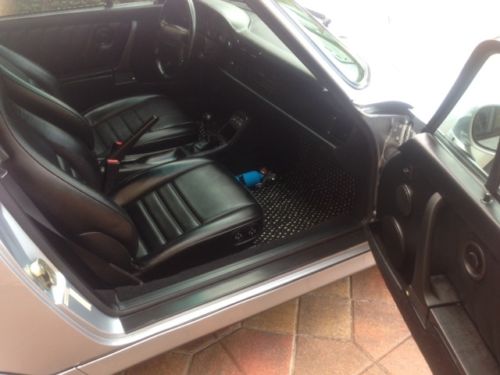 Ok, so at $189K we aren't exactly engaging in bargain basement shopping here, but as recent auctions have indicated the market for the Turbo 3.6 has been (pardon the pun) accelerating rapidly. This Polar Silver example fits into the "driver" category given the mileage, but it sounds as if the seller has a good deal of documentation on hand (though we could use some better photos), which should make prospective buyers feel more comfortable about the significant outlay. If your interest lies purely on performance you can undoubtedly find much cheaper examples by foregoing the air-cooled market and finding a good 996TT or 997TT. The price will be significantly lower. Hell, you could get one of each. But for many that is all beside the point. Air-cooled 911s have their own particular appeal and that comes with a steep price, especially when the car in question is one of the most sought-after of the breed. If your desire is for one of the holy grails of air-cooled performance AND you want to be able to enjoy putting some mileage on the beast, then an example like this one may be just the sort to have an eye on.
-Rob