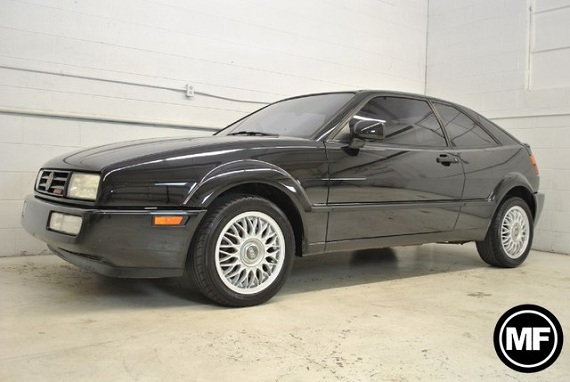 It's been an interesting week or two for Corrado fans over here at GCFSB – but we haven't gotten the cars we wanted despite seeing a few. Most recently was Nate's white 1991 G60 model; it had potential and looked clean, but universally there were some things we didn't like and the price was out of line – plus it was an automatic. Earlier in the week, I wrote up a sweet track-prepped 1992 SLC VR6; awesome if you were planning on some hot laps, but you'd need a trailer since it didn't look to be easily road-legal – that really limits its use and appeal. Then we had the somewhat poorly modified Tuner Tuesday example of a 1992 SLC VR6 that I spent most of the post demodding. So today I hope to rectify our "good" Corrado drought with two nice examples. They also both buck my normal description and complaint of Volkswagen owners; they're clean (even inside!), relatively original and maintained. Which would you choose?
Year: 1992
Model: Corrado SLC VR6
Engine: 2.8 liter narrow-angle VR6
Transmission: 5-speed manual
Mileage: 108,307 mi
Price: Reserve Auction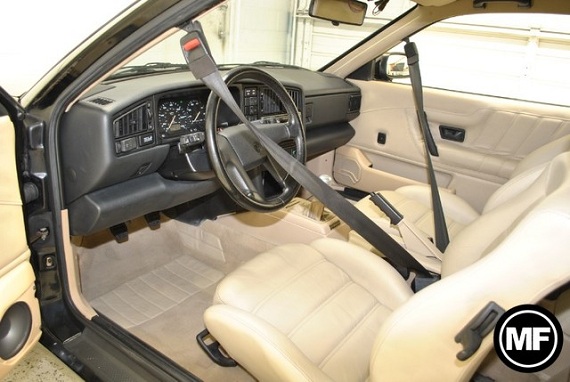 Description
1992 Volkswagen Corrado SLC SLC

This is a very nice, rust free, Southern 1992 Corrado SLC. Corrado SLC's are becoming very hard to find in original honest condition. This car took Matt Ford, Owner of MF Auto, nearly 10 years to track down. He wanted an original paint, rust free SLC. We found it in 2009 and it had sat since roughly 2000. The car had been well taken care of and had only a little over 100k miles put on it since new. This car has been mechanically restored with no expense being spared. The list of work completed is as follows:

-Updated timing chains and MK4 metal head gasket

-spark plugs

-All gaskets (oil cooler, filter housing front and rear main seals, valve cover gaskets etc)

-All cooling (crack pipe, thermostat and housing etc)

-New Radiator

-Heater core

-Clutch

-Front wheel bearings and hubs

-front cv boots

-Spark plugs

Mechanically you would be hard pressed to find a more up to date and proper SLC. This car drives extremely well and is as close to a new Corrado as I can remember from the early 90's. It runs and shifts smooth and drives down the road with no rattles or vibrations. The original BBS wheels are in good shape with no bends and the tires have roughly 50% life remaining. The AC blows cold and all electrical components work as they should.

This vehicle has some great options including power windows, power mirrors, power spoiler, sunroof, leather interior, 4 wheel disc brakes, foglights with no cracks, Euro e-code headlights with no broken tabs, and much more. The stereo in the car has been upgraded to a premium sound system. Part of this sound system includes a rare Alpine CDA-7949 copper chassis head unit with JBL GTO series component speakers up front being ran with an amp. There are no rear speakers in the vehicle.

This Corrado is a survivor and original, excellent condition. The paint is all original and has a deep, glossy shine. Some minor imperfections to be expected from a vehicle of it's age and mileage, including dents dings and light scratches but overall in well above average condition. The interior is also in great condition. The carpet and seats are free from any rips, tears, or excessive wear. The rear center console is missing the insert, missing the rear parcel shelf and the driver's door is missing the speaker grille. This is a NON-smoker vehicle free from any foul interior odors. The headliner has also been recently replaced.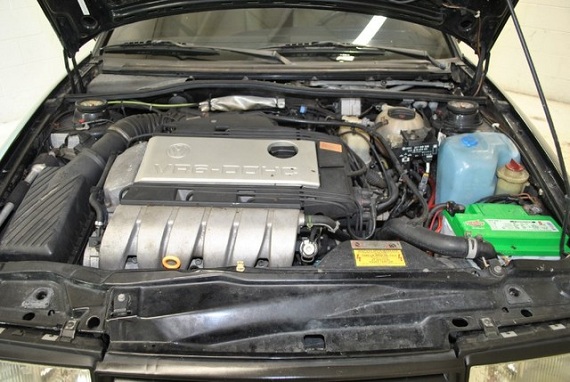 One of the biggest complaints we have about eBay dealers is that they typically don't know what they're talking about, hint at maintenance without disclosing it, and don't generally provide any useful information. Well, this Corrado thankfully answers those complaints with good photos, a useful description and apparently a dealer that took the time to fix the car. Maintenance has been performed, the car is clean, miles are in check and the modifications like the Euro-lights are perfect and exactly what I'd do. The original BBS wheels are there – not as good looking, in my opinion, as the Speedline option that came later, but I'm glad to see them nonetheless. The color combination is also perfect and both the exterior and leather look to be in good shape. Even the Alpine radio is something I could live with, though it's curious that there are no rear speakers. Downsides? None that I can really see, honestly – I would expect the reserve is set quite high though, since the seller clearly knows what they have. But, if there is a Corrado that should change hands for around $10,000, this may be it.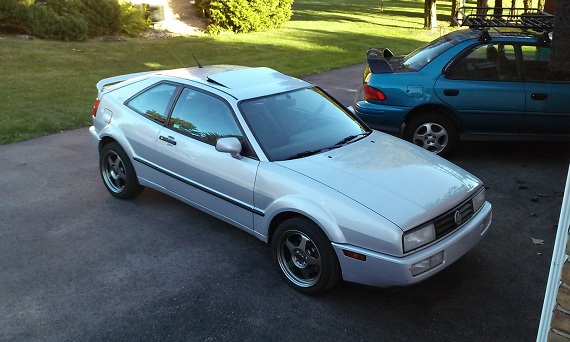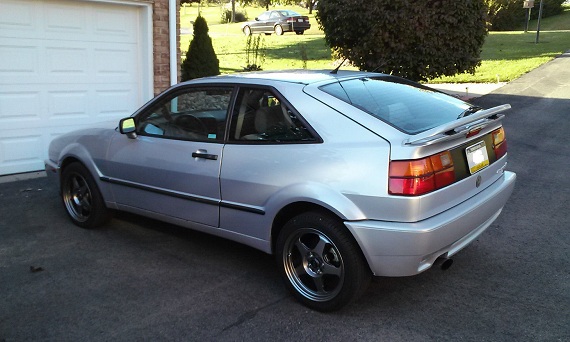 Year: 1993
Model: Corrado SLC VR6
Engine: 2.8 liter narrow-angle VR6
Transmission: 5-speed manual
Mileage: 128,105 mi
Price: Reserve Auction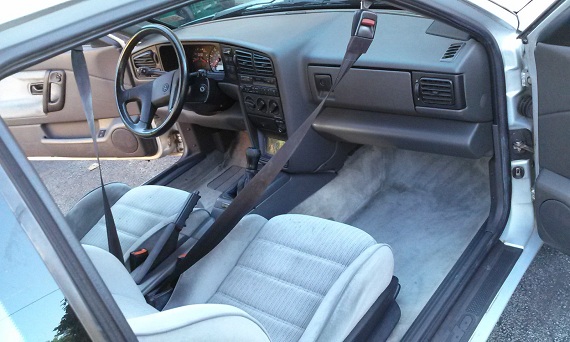 Hello!

This is my 1993 Volkswagen Corrado SLC – 5 Speed

I could type a huge description but I'd rather keep it simple and if you're interested please message me and I'll send you my Cell Number so that we can discuss any questions you may have 🙂

Great Shape…Runs Great! NO LEAKS

Lots of new parts ( radiator, oil pump, oil sending units, wheels & tires, etc…)

I also have around $20,000 in receipts from the previous owner for repairs and rebuilds such as:

— Entire engine rebuild – 2006 – Wiseco Forged Pistons (a few mm oversized)

— New windshield – 2012

a brand new factory ABS unit that ran a bill over $3,000 at a VW dealership!

The list goes on and on….

All Stock except for wheels and rear speakers…all functioning…Sunroof works…Motorized spoiler works…6 Disc factory CD Changer works…

The only thing i haven't used is the A/C and I think it needs charged but I assume that also functions.

There has been some paint work that has chipped at some edges (you'll see in the pics) but nothing major and a couple small dents (also pictured)

Small bit of rust starting under the rear windshield (pictured as well) – Clean undercarriage

FRESH PENNSYLVANIA INSPECTION!

That's the basics and anything else again…Please message me and I'll send you my number and we can chit chat about the odds and ends 🙂

Have A Great Day and Happy Bidding!

P.s. – Any pictures that are mentioned but not in the 24 ebay pictures I will load in a Picture account on the Web and Post a Link very soon….Sorry for any inconvenience…I also just want to be sure to say…personally I think this car is in amazing shape for the year…but with that in mind…it is an old car…and there are minor flaws here and there but nothing over the top…and if your seriously interested please speak with me and I will be as up front and honest as I possibly can…I want the new owner to know what they're getting and to be glad they purchased this Corrado 🙂 .. Thank You!

On Sep-22-14 at 12:50:08 PDT, seller added the following information:

P.P.S – Well..forgive me… I am having trouble loading pictures into my photobucket. Most flaws are pictured if you zoom in a bit on the photos and any other pictures you would like to see just contact me and I can attach them to my return message!….Thanks Again! Happy Bidding!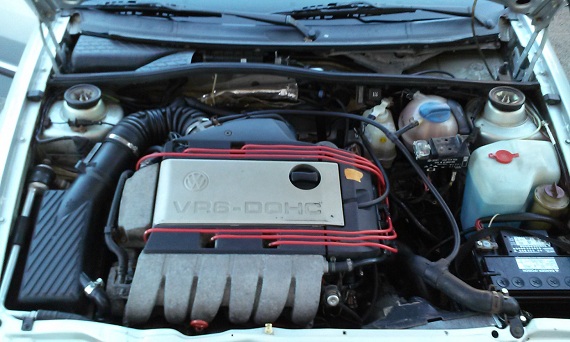 Having two maintained, mostly stock manual VR6 Corrados up for sale at the same time is a rarity, but this silver example looks quite nice overall too. A few items are missing – the "C" off the SLC badge, the front VR6 badge, and the original Speedline wheels. There are also some questions – for a rebuilt engine with custom pistons, for example, not much detail is provided. There's also the the typical "A/C needs a charge" line to cover what's probably a failing system. I also find it hard to believe that the ABS unit was really a $3,000 repair on its own – rebuilt units for the B5/B5.5 chassis run in the hundreds, but perhaps between diagnosis with an OEM part and labor that's accurate. But, outside of that everything is claimed to work and the car is in very good overall condition. Despite that it's not as nice as the black example with a few more miles and for most it's not as desirable a color combination, plus I'd guess most would prefer the leather interior over the cloth – so I'd expect this car to trade hands for a few thousand dollars less – perhaps $7,000 to at most $8,000.
Either one is still quite a deal relative to what that amount buys you in other German coupes. I'd prefer the better condition, clean mods and color combination of the 1992 black over tan example, but silver is pretty rare to see on the SLCs and it would be hard to claim you went wrong with that one if some of the question marks are answered.
-Carter