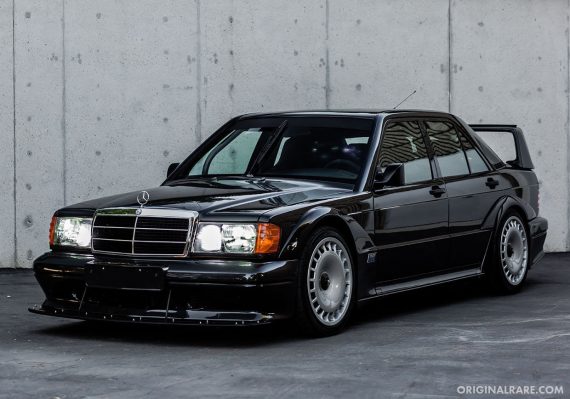 We've featured the 190E 2.5-16 Evolution II a few times in the past couple months. Today we have another one that takes an already pretty bonkers car and turns the dial up a few more notches. This Evo II in California is another one of the 502 made that found it's way stateside and of course, carries a mid-six figure price tag. But like I hinted at, this one has a few extras that turns the car into a pseudo DTM car for the streets. So let's check this rare W201 with a little extra something out.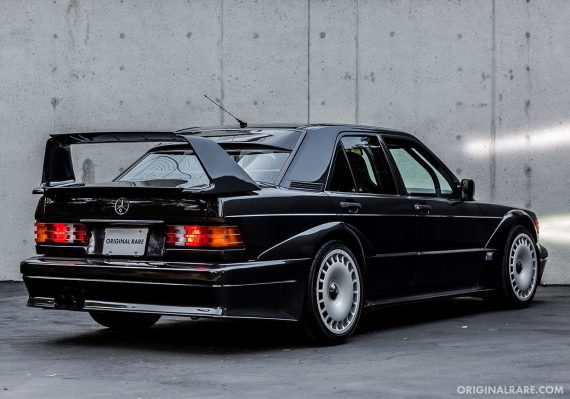 Year: 1990
Model: 190E 2.5-16 Evolution II
Engine:Â 2.5Â liter inline-4
Transmission:Â 5-speed manual
Mileage: 3,021Â mi
Price:Â $289,000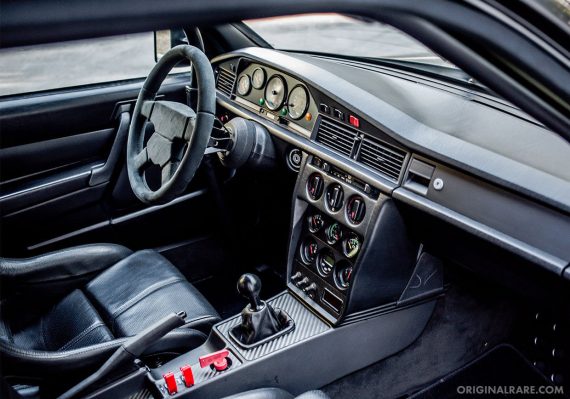 he motorsport rivalry between Mercedes-Benz and BMW in the late 1980's and early 1990's culminated in to what we call a legend today, the 190E 2.5-16 Evolution II or better known as the "Evo II." In 1984, Mercedes introduced the 190E 2.3-16, which was an innovative compact premium sport sedan for its time. The 190E 2.3-16 dominated the segment it introduced for two years until BMW answered with the E30 3-series based M3 in 1986. In 1988, Mercedes upgraded the 2.3-16 to 2.5-16, but the increased performance was still not enough to challenge the BMW M3. In 1989, Mercedes introduced the "Evo I" with further refinement of the previous motor and chassis but still could not clinch the German Touring Car Masters (DTM).

In 1990, Mercedes-Benz unveiled the 190E 2.5-16 Evolution II to incredible fan fare at the 1990 Geneva International Motor show. Building upon the "Evo I" from the previous year, the "Evo II" received drastic aerodynamics upgrades—widened fenders, aggressive side skirts, a large adjustable rear wing, and a rear window spoiler. The body kit was shaped by Dr. Richard Eppler of Stuttgart University, who was an expert in aerodynamics. Dr. Eppler wind tunnel tested his design and was able to increase downforce and lower the drag coefficient to 0.29.

The heart of the car is the engine and it was developed in collaboration with Cosworth and AMG. The "Evo II" engine was based on an even shorter stroke unit of the previous "Evo I" engine and included the AMG PowerPack option. The PowerPack option came with hotter camshafts, a larger diameter throttle body, more aggressive ignition and fuel management as well as optimization of the intake and exhaust systems. Power output increased from 197 hp to 235 hp, the redline increased from 7,250 rpm to 7,700 rpm, and torque increased from 176 lb ft to 181 lb ft. The same full SLS suspension found in the "Evo I" that allowed the vehicle ride height to be adjusted from an interior switch was also fitted to the "Evo II."

Only 502 examples of the "Evo II" were produced for homologation in compliance with Group A racing in the DTM. 500 of these examples were painted exclusively in blue black metallic with the production number indicated on the shift knob. The remaining two factory cars, number 501 and 502, were painted astral silver. Experts says that all 500 examples were sold before its unveil at the Geneva Motor Show.

The "Evo II" had its DTM racing debut on the North Loop of the Nürburgring in June 1990. After 6 years of being overshadowed by BMW, Audi, and Ford in DTM racing; Mercedes finally found success with the "Evo II" with driver Kurt Thiim winning third place in the 1990 DTM championship. In 1991, Mercedes continued their success with the "Evo II" by winning the manufacturer title. In 1992, Mercedes went on to sweep the manufacturer and drivers titles by winning a total of 16 races. Kalus Ludwig won the 1992 DTM Championship ahead of Kurt Thiim and Bernd Schneide—all three driving a 190 E 2.5-16 Evolution II.

WDB2010361F734005:

The "Evo II" really lives up to its namesake; starting with the 2.3-16 evolving into the Evolution I and eventually evolving into the championship winning Evolution II. It was Mercedes' desire to evolve that produced such an iconic and beautiful machine we now admire and love today.

A Japanese collector purchased this car back in the 90's but felt he needed to continue the same spirit of evolution that Mercedes started. A regular "Evo II"s performance was not enough for this wealthy individual, and since money was not an issue he commissioned to build an "Evo II" DTM spec race car for the road.

Pictures do not do this car justice as the attention to detail is meticulous when inspected in person. To increase the engine performance, he opted for upgrades like custom exhaust manifold, custom full exhaust, custom intake manifold, custom header tank, custom aluminum surge tank, individual throttle bodies, larger injectors, lightweight aluminum pulley, fuel cell system, and a Motec engine management system. The interior was transformed to a more race car appropriate setting with a roll cage, Recaro racing seats, kill switches, new gauges, and a quick release AMG steering wheel.

The suspension and brakes were also upgraded to increase handling performance. Brembo Monobloc 6 piston brakes are fitted in the front and 4 piston brakes and fitted in the rear for incredible stopping performance. The chassis is stiffened with an underbody brace in the front, driver side, and passenger side. Larger metal suspension links were added to the front and rear. The iconic OZ Racing wheels are authentic and come in a staggered setup of 18×8.5 in the front and 18×10 in the rear.

Additional details of the car include a DTM style mono windshield wiper, deleted fuel door, deleted sunroof, battery relocated to the trunk, and HID headlights. The "Evo II" is already a rare car with only 502 examples produced, but this 1 of 1 custom "Evo II" DTM spec race car for the road is truly a Mercedes collectors holy grail.

List of DTM spec upgrades:

Engine:

Motec Engine Management System
Larger Injector System
Aluminum Injection Bracket
Custom Exhaust Manifold
Custom Full Exhaust
Individual Throttle Bodies
Custom Intake Manifold
Custom Aluminum Large Size Surge Tank
Custom Header Tank
Custom Aluminum Radiator
Aluminum Pulley
Larger Dual Cooling Fans
Fuel Cell System
Interior:

Front Leather Recaro Pole Position SPG Racing Seats
Rear Leather Recaro Sport Seats
Willans Racing Harness
AMG Racing Suede Steering Wheel with Quick Release
Roll Cage
Suspension & Brakes:

Brembo Monobloc 6 Piston Front and 4 Piston Rear Big Brake Kit
Larger Metal Suspension Links
Driver Side and Passenger Side Under-Body Braces
Front Under-Body Brace
Wheels & Tires:

Authentic OZ Racing Wheels (18×8.5 Fronts / 18×10 Rears)
Advan Neova Tires
Additional Upgrades:

DTM Style Mono Windshield Wiper
Deleted Fuel Door
Deleted Sunroof
Custom Driver and Passenger Side Mirrors
Battery Relocated to the Trunk
HID Headlights
Serious Inquiries Only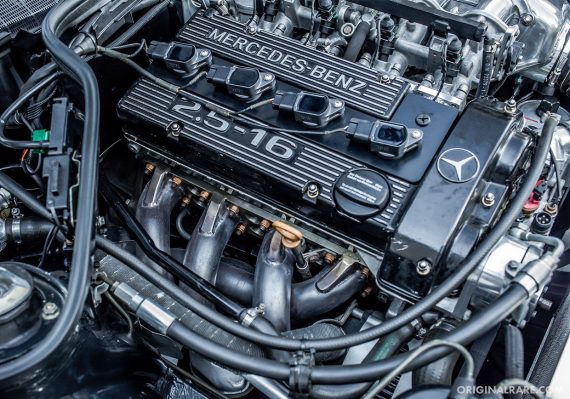 The modification list on this car is pretty exhausting for a car that was damn good when it left the factory. The (very wealthy) owner who did these tweaks must of had a pretty strong passion to own a DTM car that you could run on the street. Nothing was left untouched on this car but at first glance you'd never really know it aside from the giant DTM inspired wheels. But once you really start poking around you see this car has a whole other level to it. I'm seriously impressed how well everything was modified and the level of detail that went into it. The only thing I don't love is the full roll cage because that means any kind of driving over 10 mph will have you throwing a full helmet on so it kind of takes all the fun out of a street legal DTM car. Otherwise, the suspension, brakes, extensive engine modification, everything on this car is really well done.
So the price is $289,000. And this might sound nuts, but it's a really good number seeing as what others are asking for these cars that don't have a fraction of the money sunk into it. Unless the owner bought this car new, he's probably taking a loss on it given the amount of parts and their cost. So if you are looking for a DTM play toy, this is probably your best option — if you can spend almost $300,000 without feeling it.
– Andrew