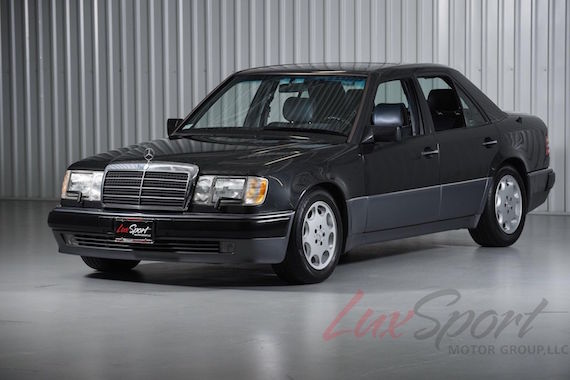 As followers of my posts will know, I love cars that conceal their heightened performance behind austere exterior styling. The 500E is a particular favorite of mine. Around 1,500 of these were imported to the US between 1991 and 1994. Based on the W124 chassis E-class, the "wolf in sheep's clothing" was the product of a joint venture between Mercedes-Benz and Porsche. The chassis would pass back and forth between the two manufacturers as it was assembled: the car got beefier brakes from the SL, upgraded suspension, a wider track and a glorious 5.0 liter V8 motor. A 0-60 MPH sprint time of about 5.5 seconds, top speed of 160 MPH and total power output of around 322 hp might not sound all that impressive now. But those were very respectable numbers for the time, especially for such a large sedan. By the mid-2000s, the 500E had become somewhat overlooked, passed over by many in favor of the BMW M5. But in the last five years there has been a resurgence of interest in these cars. Values have begun to climb as a result.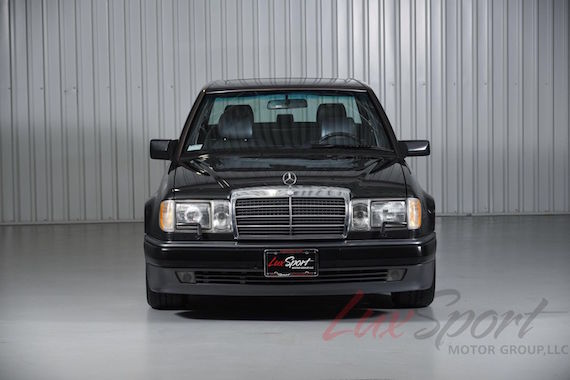 Year: 1993
Model: 500E
Engine: 5.0 liter V8
Transmission: 4-speed automatic
Mileage: 92,000 mi
Price: Reserve auction with $29,995 Buy It Now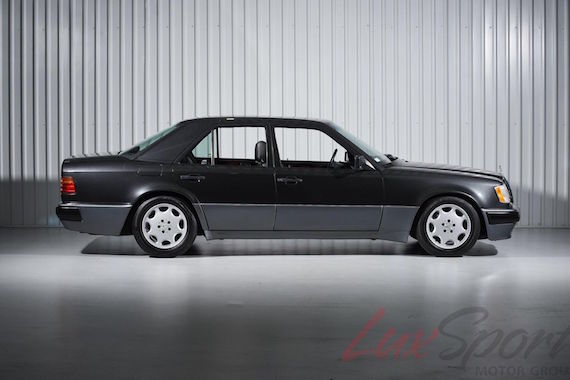 1993 MERCEDES BENZ 500E IN BEAUTIFUL TECHTITE GRAY METALLIC PAINT ON BLACK LEATHER WITH ONLY 93,000 ORIGINAL MILES, FRESHLY SERVICED AND ALL ORIGINAL PAINT. RARE HANDBUILT CAR BUILT BY MERCEDES BENZ AND PORSCHE!!!

LUXSPORT MOTORR GROUP, LLC IS EXTREMELY PLEASED TO PRESENT THIS ABSOLUTELY THIS STUNNING AND EXTREMELY RARE 1993 MERCEDES BENZ 500E HIGH PERFORMANCE LUXURY SUPERCAR IN SPECIALLY ORDERED AND ABSOLUTELY STUNNING TECHTITE GRAY METALLIC PAINT ON BLACK LEATHER INTERIOR. THE 500E CALLED THE WOLF IN SHEEPS CLOTHING BY THE PRESS IN 1992. PERFORMANCE TESTS OF THE DAY YEILDED IMPRESSIVE RESULTS 0-60 MPH TIMES OF 5.5 SECONDS AND A TOP SPEED OF 170 MPH.THE 500E WAS A SPECIAL COLLABERATION BETWEEN MERCEDES BENZ AND PORSCHE, AND WERE SPECIALLY HAND BUILT IN STUGGART. THE 500E WENT DOWN THE ASSEMBLY LINE SIDE BY SIDE WITH THE PORSCHE 911. WITH ITS AGGRESSIVE STANCE (1.5 INCHES WIDER TRACK, 0.9 LINCH LOWER PROFILE, FLARED FRONT FENDERS TO ACCOMMODATE THE MASSIVE 5.0L 322HP ENGINE, SIDE SKIRTS, FRONT AIR DAM AND WIDE TIRES, THE 500E HAS A VERY AGGRESSIVE STANCE OVER THE STANDARD E-CLASS MODELS. BECAUSE OF ITS LOOK, LIMITED PRODUCTION NUMBERS, HAND-BUILT CONSTRUCTION, AND UNIQUE PEDIGREE, THE 500E IS ALREADY CONSIDERED A CLASSIC, EVEN WITHIN DISTINGUISHED MERCEDES BENZ CIRCLES. WITH ONLY 1,500 MODELS PRODUCED FOR THE US MARKET BETWEEN 1992 1994 THIS IS A HEAVILY SOUGHT AFTER AND MUCH DESIRED CAR.

THIS MERCEDES BENZ 500E IS LOADED WITH OPTIONS AND FACTORY FEATURES. THE PAINT APPEARS TO BE ALL-ORIGINAL, AND THE CAR IS COMPLETELY STOCK FROM THE FACTORY WITH THE EXCEPTION OFA N UPDATED CD PLAYER IN THE DASH. THE FACTORY WOOD INTERIOR TRIM IS IN GOOD CONDITION; THE SEATS ARE AS CLOSE TO PERFECT AS POSSIBLE AS IS THE PAINT, LEATHER AND CARPETING. WITH THE PERFECT BALANCE OF LUXURY, PERFORMANCE AND HANDLING THE 500E WAS WAY AHEAD OF ITS TIME. PREVIOUSLY OWNED AN BY A MATURE ENTHUIAST WHO SERVICED THE CAR RELIGIOUSLY BY A MERCEDES BENZ SPECIALIST. THE CAR WAS JUST SERVICED THAT INCLUDED A NEW WATER PUMP, OIL AND FLUID CHANGE, NEW SHOCKS AND A/C RECHARGE. ALL SERVICE WORK HAS REGULARLY BEEN PERFORMED AND ONT TIME. THE FACTORY OEM MERCEDES WHEELS WERE JUST PROFESSIONALLY REFINISHED. THE CAR IS FREE OF DOOR DINGS, SCRATCHES, OR STONE CHIPS. ORIGINAL OWNERS MANUALS, BOOKS, KEYS, WILL BE INCLUDED IN THE SALE. THIS IS THE FINEST EXAMPLE OF A 500E ANYWHERE ON THE MARKET. THIS IS EXTREMELY HARD TO FIND ANDA SURE TO BE FUTURE CLASSIC!!!

FACTORY OPTIONS AND FACTORY FEATURES INCLUDE:

SPECIAL ORDERED TECHTITE GRAY METALLIC PAINT
BLACK LEATHER INTERIOR
FACTORY SUNROOF

1 OF 1,500 HAND BUILT MODEL
5.0L V8 ENGINE PRODUCING 322HP
TOP SPEED OF 170 MPH

WE ACCEPT TRADE-INS, OFFER COMPETITIVE FINANCING AND LEASING OPTIONS AND OFFER WHITE GLOVE WORLDWIDE INTERNATIONAL SHIPPING!!!

PLEASE CONTACT US DIRECTLY AT LUXSPORT MOTOR GROUP, LLC AT 516-962-2443
EMAIL US AT FOR MORE INFORMATION.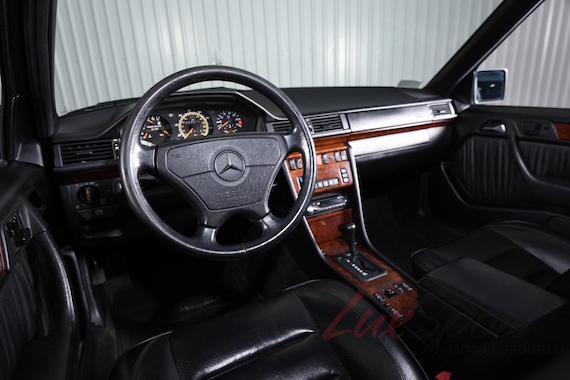 This '93 example presents very nicely in 199 Pearl Black over an anthracite black leather interior. There are no pictures in natural light to scrutinize, but the showroom images indicate a very clean body with no apparent flaws and an immaculate interior that looks barely used. The car appears to be completely stock apart from an aftermarket radio and shows a modest 92,000 miles on the odometer.
A google of the car's VIN brings up this thread over at the ever-dependable 500E Board. It looks like the car has been advertised for sale a few times over the last decade, and has now ended up in the hands of a consignment dealer hoping to flip it for a profit. That's a shame really: a shrewd buyer could probably have picked this up not too long ago for less than the seller is asking.
The current price of $29,995 is about what you'd expect a dealer to charge for a car of this sort, assuming it is as good in person as it looks online. As ever, a PPI is a must. Judging from the comments in that thread, it sounds like at least one recent owner took very good care of the car. And that is reassuring.
– Craig