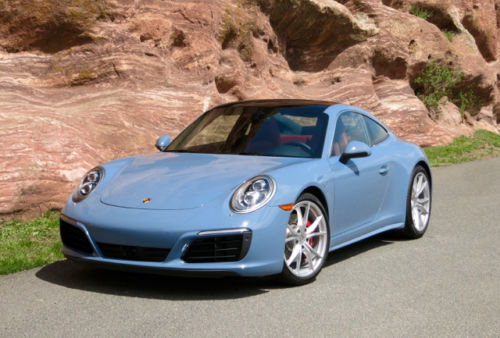 I believe this will be the first of the new turbocharged 911s we will have featured here at GCFSB. Newer models aren't featured all that often here, mostly because they tend to be readily available, but sometimes we come across one that is worthwhile. I think this 911 fits that bill. Here we have a paint-to-sample Aetna Blue 2017 Porsche 911 Carrera 4S Coupe, located in Denver, with Black/Bordeaux leather interior and only 1,345 miles on it. Aetna Blue is both an old and new color from Porsche, having first been introduced as a color for the 356. The new version is a slightly different shade so I'd be curious which of the two they went with here. Both are attractive colors, but obviously there's additional historicity associated with the earlier version. That unique color is part of the allure of this 911. The other part is quite simple: this is basically a new car, but with around a $20K savings. Of course, you'd have to want all of these options for that savings to be fully realized, but it's still a good chance to let the original owner absorb a good chunk of depreciation, while you take home a nearly new car.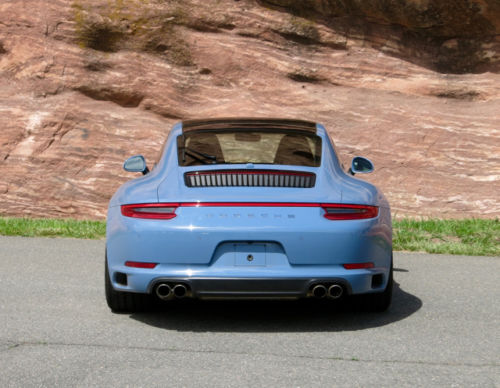 Year: 2017
Model: 911 Carrera 4S
Engine: 3.0 liter twin-turbocharged flat-6
Transmission: 7-speed automatic
Mileage: 1,345 mi
Price: Reserve Auction ($136,900 Buy It Now)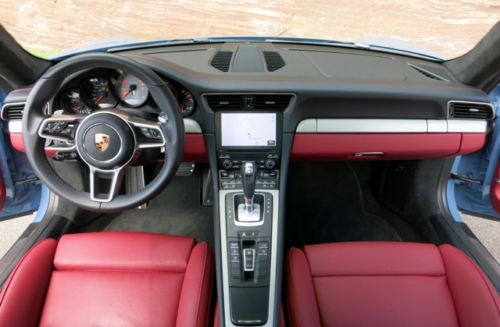 This Paint to Sample, loaded 911.2 Carrera 4S is finished in historic Aetna Blau (Etna Blue) and has only 1,350 miles on it. It offers incredible value; its original MSPR was $153,265. It has been completely ceramic coated and the front has been clear wrapped for paint protection. Options are very extensive: Black/Bordeaux full leather interior, PDK, Adaptive cruise and Lane Change Assist, Rear Axle Steering, heated multifunction wheel, high-gloss window trim, glass roof, Burmester sound, 18-way Adaptive Sports Seats with leather shells, Premium Package (inc. LED lights, heated and cooled seats and more) and many others. We ordered it new for its owner, who is replacing it with another Porsche after thoroughly enjoying its many charms. It has never been in an accident or had any other cosmetic work, and is fully covered by Porsche factory warranty. This is an opportunity to save tens of thousands on a like-new 991.2 and avoid the long wait for paint to sample orders. Bespoke Auto's focus is on "tailoring" just the right vehicle to our clients' needs, something we have done for over 25 years for over 1,200 loyal people. We live by our reputation and have worked very hard to make sure we actually do save people time, money and hassle. Please note that we have no dealer handling or other hidden fees. For more information or to arrange a test drive, contact Isaac Bouchard at Bespoke Autos.

303-475-1462 direct

Isaac@Bespokeautos.com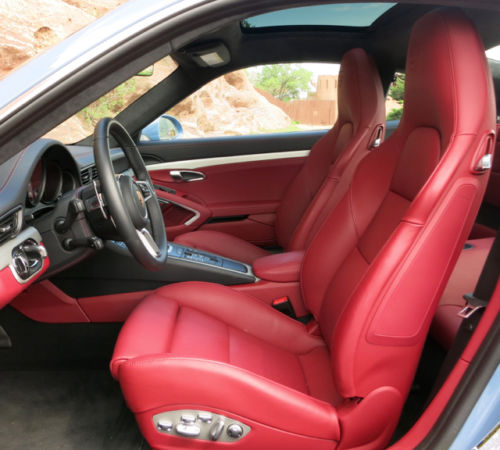 For those who might have found the Lobster Red interior of the '86 930 featured earlier this week to be a bit too garish, this Black over Bordeaux contrast brings with it a lot more elegance. It's a really attractive interior and makes for an interesting contrast to the Aetna Blue. I don't know that I'd have necessarily thought to combine these two colors, but they work well together. I'd prefer it were equipped with a manual transmission rather than PDK, but this 911 pretty clearly has been spec'd more as a refined sports coupe than as a back-road burner and the PDK does fit that ethos a bit better.
Much has been made of Porsche's decision to switch to turbocharging for nearly the entire 911 line, but performance remains stellar and appears to have continued its evolution from earlier 991 models. While surely some buyers will care about the switch, the continued success of the 911 Turbo suggests turbocharging itself may be of little issue. If you happen to be one of those who desires one of these new 911s and also wanted a color that would stand apart from all of the rest, this Carrera 4S provides a decent bit of value. It's certainly worth the time for further investigation.
-Rob