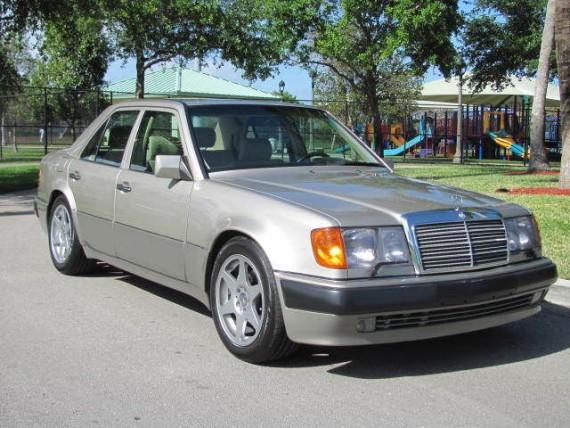 For all my talk of fandom concerning older Mercedes models, there aren't many that I would actually pony up the dough for. Sure I appreciate the W123 for the road warrior that it is and I've often day dreamed about enjoying a summer cruise in a Blue over White Leather W124 convertible but neither would satisfy my craving for speed and handling capability. My love of technical canyon roads and aggressive cornering is probably why I've always been more attracted to BMW than Mercedes and my fiscal responsibility is probably why I ended up in the middle with Audi. As much as I love brute power, I've grown fond of driving a slow car fast rather than a fast car slow up in the twisties. Bottom line is you can only do so many 80-140 mph pulls before the experience becomes boring or you get yourself locked up for reckless driving. But if ever there was a Mercedes that would pull me away from Quattro and Efficient Dynamics and manual transmissions, it would be the 500E.
To me, the rarity of this car is one of the most attractive things about it, only 1,528 were imported to the U.S. during its run. Equally as attractive is its ultimate Q-Ship status, as far as I'm concerned it is the finest example of a factory produced sleeper. Of course that makes sense given that the car was hand built by two of the world's most respected automakers. Today it's hard to fathom Mercedes collaborating with Porsche but back in the early 90's it made a great deal of sense. Mercedes wanted a car to beat the M5 and V8 Quattro, Porsche wanted to show their engineered prowess could be applied to a four door sedan. Yes, I'm drastically over simplifying the whole project but there are those far more knowledgeable on the subject than I who've written about the car at great length. I am more than comfortable saying that this example appears to be an absolute peach.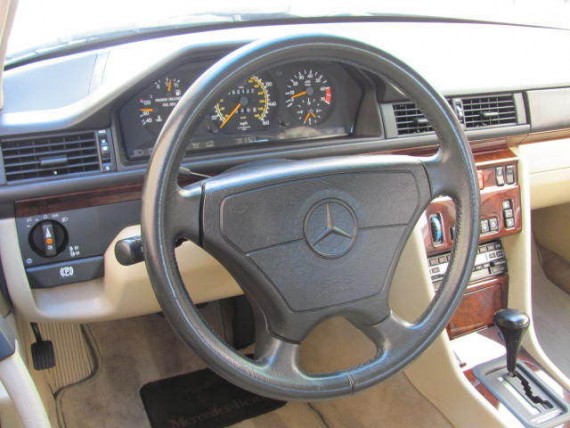 Year: 1993
Model: 5003
Engine: 5.0 liter V-8
Transmission: 5-speed automatic
Mileage: 52,100 mi
Price: Reserve Auction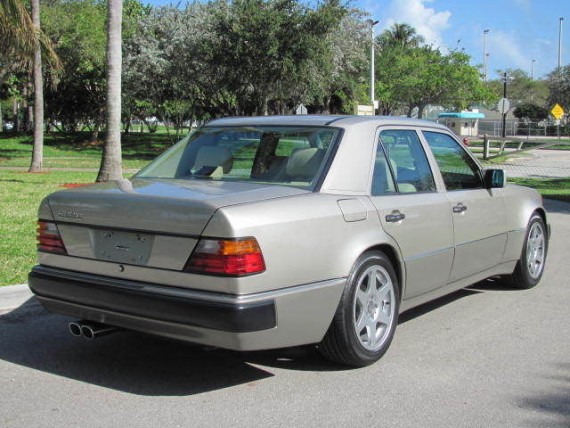 If you are a Mercedes enthusiast, you know exactly what you are looking at and this might be one of the best examples available! These 500E Sedans were hand-built at Porsche with special flared bodywork, modified SL suspension, SL brakes, Recaro Seats and powered by a naturally-aspirated, all aluminum 5.0L V8 producing 322 Horsepower. I assure you, you've just found a beautiful collectors car!

Smoke Silver Metallic with Cream Beige Leather Seats, 5.0L V8 Engine, Wood Trim, Chrome Exhaust Tips, New 17 inch MB Factory EVO II Wheels with Michelin Pilot Sport Tires ($3,400), Sunroof, Mercedes Factory AM/FM Stereo, Rear Shade, Heated Seats, Memory Seats, Cup Holders, Power Windows, Seats and Locks.

Only 52,100 miles! Clean Carfax. Clean Autocheck. Original Paint with No Accident History. A California Car most all of her life. We have SERVICE RECORDS SINCE NEW! The Paint and Body is in Excellent Condition. The Interior is Beautiful. Leather, Dash and Wood Trim look Terrific. All Keys, Complete Set of Books, Tool Kit and New Floor Mats. Second Set of New Mats included. I can't imagine many nicer.

Dustin Phillips, Progressive Motors, 200 South Federal Highway, Pompano Beach, FL 33062, 954-785-8600 / 954-663-3925. Family owned and operated. Celebrating 30 years in the same location! We must be doing something right.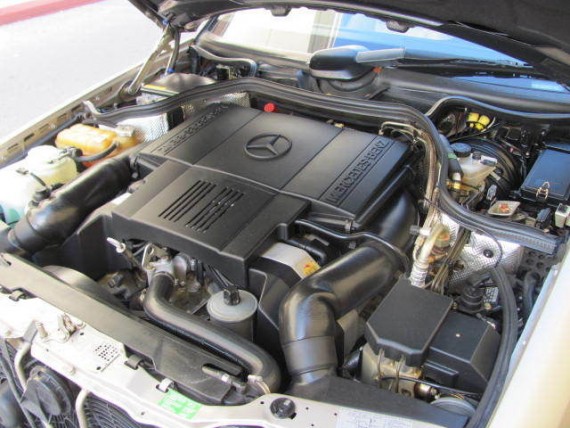 I love the EVO II wheels, much more of a tan of the star look than the big AMG style block wheels and the fact that they're wrapped in Pilot Sports is a big plus in the handling department. Silver over Tan wouldn't be my first choice for any car let alone a fast Benz but it only further adds to the sleepiness, especially without tinted windows. Also this being a 1993 model means that it has the 320mm disc brakes up front, hardware borrowed from the 600SL. The rear brakes on all years were from the 500SL and were only 278mm, only. If you're breathing then you should know that the car is powered by the formidable M119 5.0L V8 and was capable of getting the car up to 60 mph in about the time it takes a Daewoo to fall apart. With a tune and a supercharger you could easily get the car to do the sprint even quicker, like Triumph electrical failure quick.
Inside this example looks pretty damn clean but only because someone has done a nice job vacuuming it. The seats are showing their age, not with tears or rips but with discoloration. This is why I'm an advocate for 30% window tint, save the leather, car looks cooler, you're physically cooler, I don't see a downside. One of my favorite things about this car is that it hasn't been saddled with an awful aftermarket radio nor was the CD player option box ticked. It has the original Becker radio with tape deck, I love me a good tape deck in my classic cars, no need for Bluetooth, just a 3.5mm adapter. Of course one doesn't really need to listen to music in these cars anyway, just the soundtrack provided by the tubing beneath you. It will be interesting to see what this car ends up going for, hard to say what they might have the reserve set at. With only 52k on the clock I'd imagine they're hoping to see big money out of this auction, similar examples have sold for above $30k. Prior to being for sale on eBay this car was listen on the 500EBoard classifieds for $50k with a few thousand fewer miles. I have to wonder what the current seller got it for and what they're hoping to get out of it. Regardless of what it sells for, whoever takes on the job of caring for it will have a hell of an automobile on their hands, one that I would proudly take to Cars & Coffee or the grocery store.
Cheers,
-Andrew