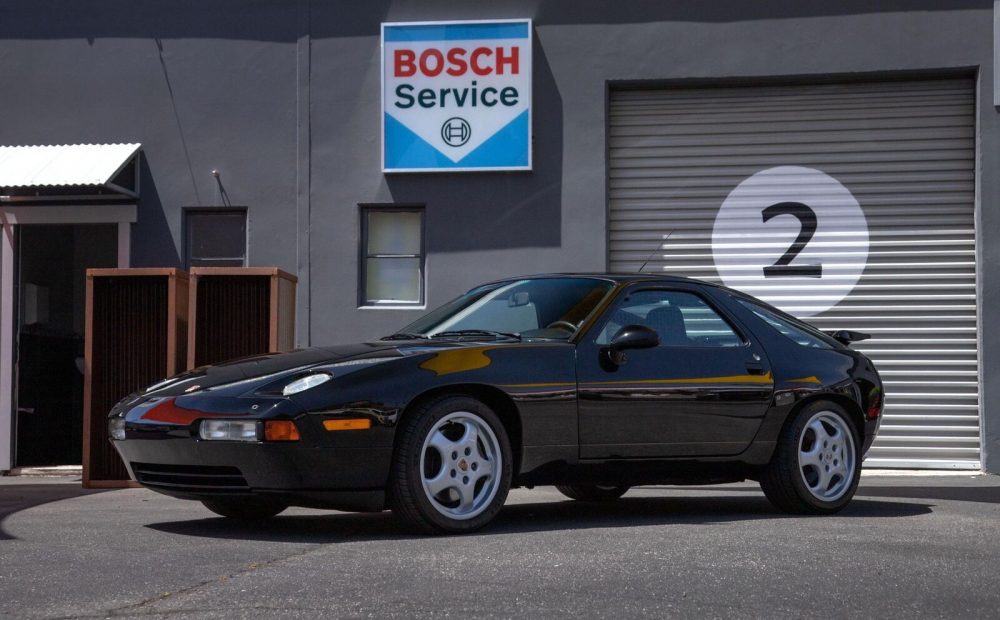 I hope I have the longevity of the Porsche 928. This is a car that ran from 1977 all the way to 1995 with basically the same formula, same body shell, and roughly the same M28 V8 in varying displacements. Much like all of us, the early years were a slim and simple body but slowly morphed into a larger and more comfortable shape until the end of production in 1995. To top it all off, the GTS debuted with a giant price tag but also the power to back it up – 345 horsepower, to be exact. It also had some cool bodywork and the also-great 17″ Cup wheels. Only 406 examples made it to the US in a mix of automatic and five-speed manual gearboxes, and you can guess which is the more desirable one to buy today.
This 1993 928 GTS up for sale in California is no lost cause in need of attention. No, this one is fully sorted and comes with just under 44,000 miles. The price? Well, you can probably guess…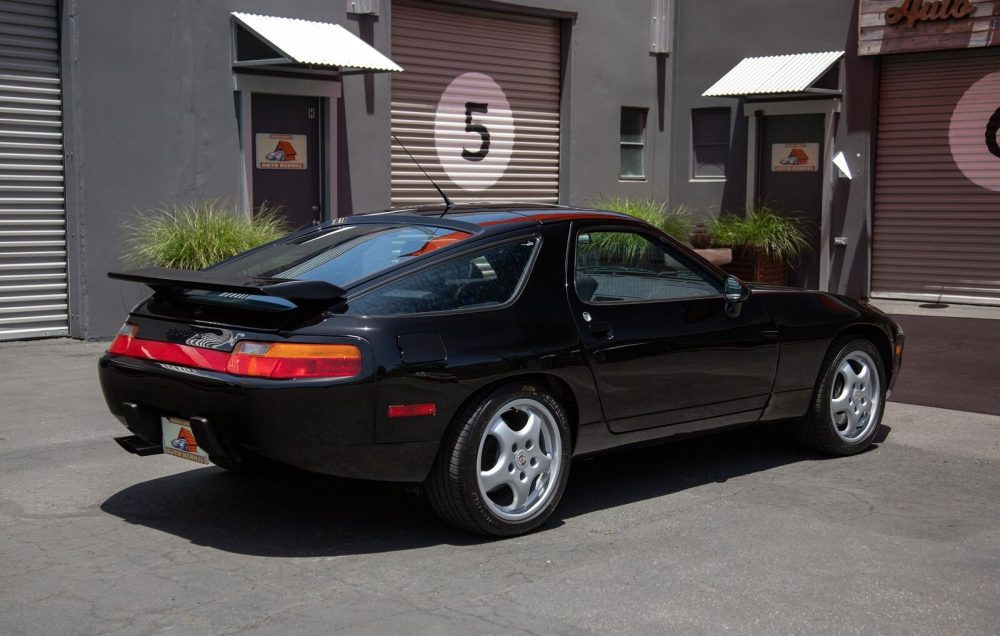 Year: 1993
Model: 928 GTS
VIN: WP0AA2928PS820097
Engine: 5.4 liter V8
Transmission: 5-speed manual
Mileage: 43,700 mi
Location: Costa Mesa, California
Price: $104,990 Buy It Now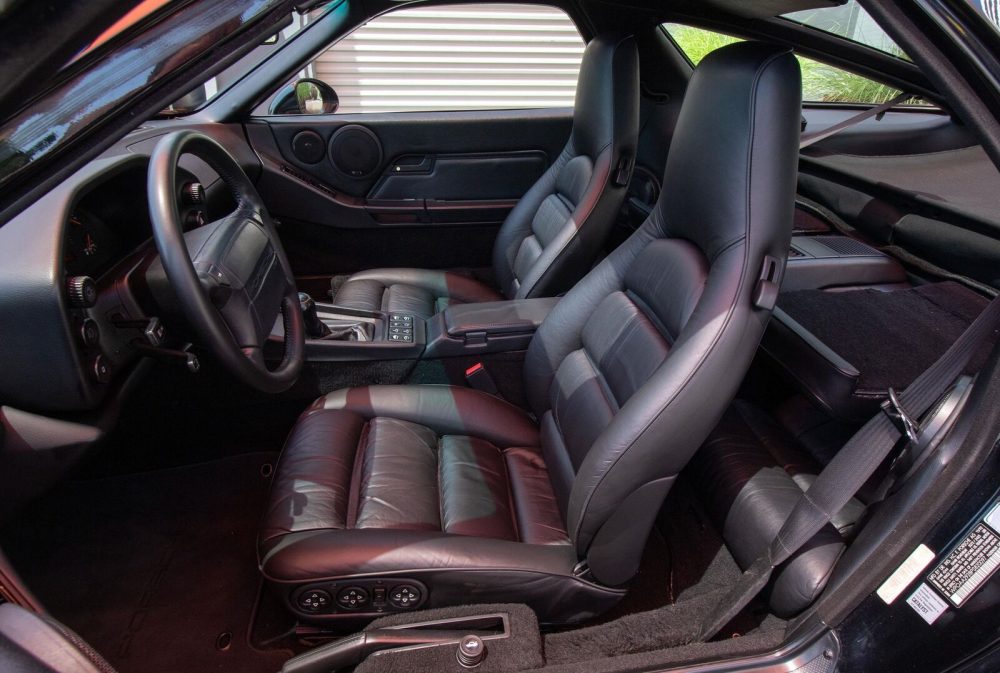 1993 Porsche 928 GTS Coupe
5-Speed Manual / NO Side Moldings
Sport Shocks / Increased Air Conditioning
Recent Timing Belt and Water Pump Service
A/C service / New Michelin 4S Tires
$26k of Recent Services and Repairs

Numbers Matching
43,700 Miles
Black (A1) on Black Leather (VN)
5-Speed Manual
Clean and Clear California Title
PCA (Porsche Club of America) Member Owned
Original Porsche Press Release Documents
Certificate of Authenticity

This 928 GTS was built on November 19th, 1992 and was ordered with the following factory options:

US Standard Emissions
AM/FM radio w/cassette
Sport Shock Absorbers
Remote CD Changer
Electric sliding sunroof
Increased air conditioning (rear unit)
Supple Leather Seats
Black floor mats
Bridgestone
8-way Heated Power Seats with Lumbar

This 928 was delivered new in June of 1994 by a California Porsche dealer. The first owner moved to Massachusetts in 1998 and took the car with him. He kept it until 2003. During his 10-year ownership, he drove it just over 20k miles before selling it to an enthusiast from Irving, Texas. This Texas owner kept it for just over 10 years as well before selling it in September of 2012 with 38,905 miles to a dentist from Palo Alto, California. This 3rd owner had already owned 3 other 928s and was a fan. However, he only drove it a couple hundred miles and it spent the majority of the next 9-years in storage.

The current owner lives in San Francisco, California. He found an advertisement for the car over 2 years ago. He tried buying it, but the dentist changed his mind and took it off the market. The current owner kept calling the dentist until he finally did sell him this GTS in June of 2021 with 39,100 miles. For the last year, he's added another 4,500 miles of driving with two trips to Southern California and a trip to Lake Tahoe. On all long trips, the car performed great with no issues. This owner loves the process of buying one of his childhood dream cars, getting it sorted and ready to enjoy. He usually keeps them about a year or until he finishes sorting. Services and repairs this owner has completed in the last year include the following:

Covercraft Custom UVS100 Premier Series Windshield Cover
Remove old window tint
New battery
Installed new PCCM Classic Radio with Apple CarPlay
Replaced rear hatch/trunk struts
Correct Porsche 928 5.5″ x 15″ Spacesaver Spare Tire
OEM Porsche 928 wheel lug nut lock set
NOS Porsche Factory Tire Air Compressor Inflator
OEM Porsche 928 Floor Jack Lift with pouch/case
OEM Porsche 928 spark plug wrench and lug wrench to complete tool kit
Sales brochures, 928 GTS press release media kit, 928 GTS hardcover sales book
1993 Porsche 928 GTS owner's manual (factory reprint) with embossed cover
Replaced body seals with OEM factory rubber
Door seal (left and right)
Front hood seal
Front bumper to body beading (left and right)
Rear bumper to body beading (left and right)
928 rubber seal strip
Realign bumpers after installing new rubber
Paint correction/1 layer of Ceramic Pro 9H/1 layer of Ceramic Pro Top Coat Light
New Porsche OEM floor mats
Michelin Pilot Sport 4S tires
Regular services:
All belts replaced
Taillight bulbs
Motor and gear oil changed
Brake fluid flush
Replace air and fuel filter
Timing belt service
Timing belt
Roller and tensioner
Air injection filter
Water pump
Cam belt
Distributor cap/rotor
Repair PSD error light
Replace driver's side exterior door handle
Adjust hood alignment
New OEM air intake hoses
Remove/replace hose for clutch master cylinder
Cargo Hatch Luggage Compartment Boot Cover
OEM locking fuel gas cap
New fuel tank sending unit seal/O-ring
New cover for fuel tank sending unit
New trunk sound deadener heat shield firewall
New trunk/cargo carpet mat
Rear deck/trunk insulation pads
Replace/repair hard fuel line from fuel pump
Adjust ride height to factory Euro spec
New front hood rubber stops
Replace airbag sensor/airbag light reset
AC service/recharge
Coolant pressure switch replaced/leak repaired
Gas tank repaired
Recent oil leak repairs
Replace valve cover gaskets
Replace engine oil cooler (we just replaced with new factory unit)
Fabricate cooler bracket
Replace alternator cooling hose
New shift coupler and set bolt
Restore original Cup 1 wheels
New A/C compressor, drier, and service/recharge

In total, this owner invested over $26,000 bringing this GTS to the next level.

The exterior of this GTS is in very good shape with no significant blemishes. There were some rock chips on the front nose that we had professionally touched up. An accident from 1999 is reported on Carfax®, but not AutoCheck®. Possibly as a result, there was paintwork and repairs on the right rear fender near the passenger door with blending into the front right fender. The hood and front bumper were also repainted at some time most likely due to rock chips. The rest of the paint is original and verified with a paint meter. The vehicle has been thoroughly inspected and there are no signs beyond the superficial repairs. There is a slight difference in paint texture near right rear quarter window. The Trim is in good condition as well. There is a small superficial crack on the right rear taillight and the rear center reflector appears to fit slightly proud. All the exterior lights work. The original factory Cup 1 wheels have just been restored and are wrapped in near new Michelin Pilot Sport 4S tires that were installed within the last year and have over 75% life remaining. The front brakes appear to have just under half-life remaining and the rear pads are at about a third life remaining. All the glass is correct, including the windshield, and wearing the proper factory stampings. There are no major chips or scratches.

The interior is equally nice and indicative of a low-mile and well-preserved example. The supple leather seats are in great shape with no tears or rips. There was some light wear on the driver exit bolster that we had lightly re-dyed. Of course, the rear seats look like new. The headliner has no rips or sagging issues. The door panels are also in good shape with no warping. The carpet has no stains or signs of heavy use, which is also indicative of a low mile example. The dash is in great shape with no major cracks or warping. There is a 1/16″ hairline crack off of the passenger airbag. All the gauges work, including the digital clock with no LCD bleeding. The pixels on the instrument display are perfect and all work. The A/C system blows very cold and the rear unit works as well. The upgraded Porsche Classic radio with Apple Carplay and Bluetooth works/sounds great. The speakers were upgraded a long time ago with MBQuartz in the front and ADS units in the rear. The power functions including the mirrors, windows, seats, and sunroof all work properly.

This 928 GTS drives great. It starts easily and holds an even idle. The power is strong, especially on the low end and it builds revs evenly across the range. The transmission shifts smoothly with no grinding or slipping. The clutch engages properly. The brakes are fantastic and easy to modulate with linear stopping power. This GTS could easily be used daily while looking great at any vintage event.

California registration is current to October of 2022 and it passes California's strict smog test.

This Porsche comes with 4 main keys, owner's manuals with a vinyl cover, maintenance booklet, Porsche COA (certificate of authenticity), windshield sunshade, set of floor mats, in-period car magazine reviews, PCNA period press release packet, 928 hardback sales book, partial tool kit, jack, space saver spare, air compressor, spreadsheet of recent repairs, factory touch-up paint, recent service receipts, and brand new/never used Covercraft custom WeatherSheild HP car cover ($540).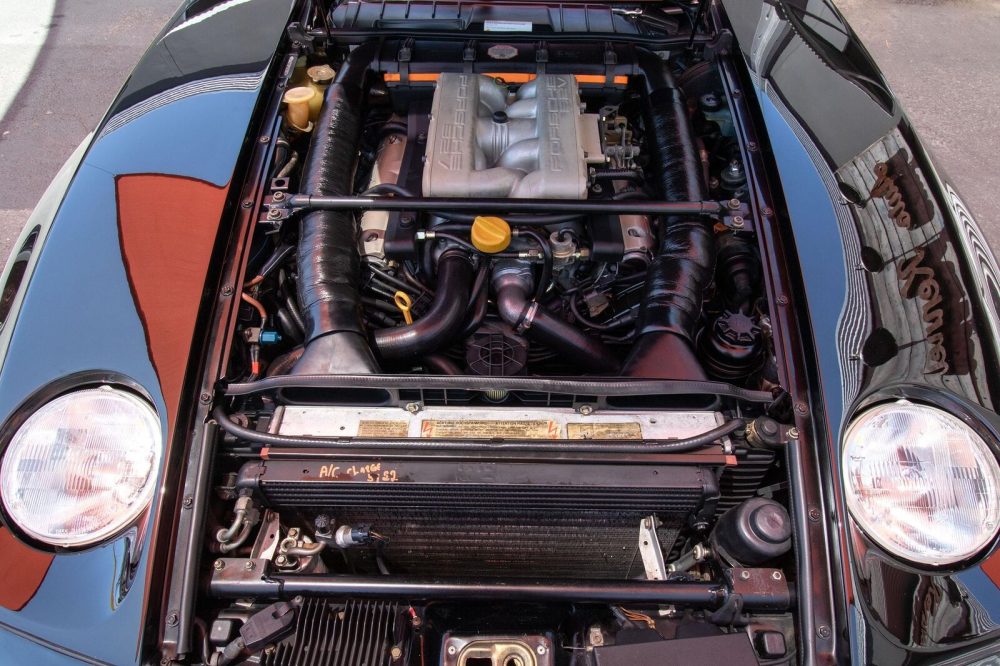 The values on the 928 GTS can vary wildly depending on the gearbox, mileage, and condition. I am talking about you can grab one for $35,000 and all the way up to well over $100,000. While a $35,000 example might be tempting, the 928 is notorious for expensive parts and less than easy servicing that can turn what you might think is a routine service into a real hurt on the wallet.
This example looks to be fully sorted with 44,000 miles and a five-speed gearbox, so you can see why it has an asking price of $105,000. Do I think these are six-figure cars? For me, no – I think I'd be happy in an example for half that price. However, if the 928 is your ultimate car, this is probably one of the best out there.
– Andrew