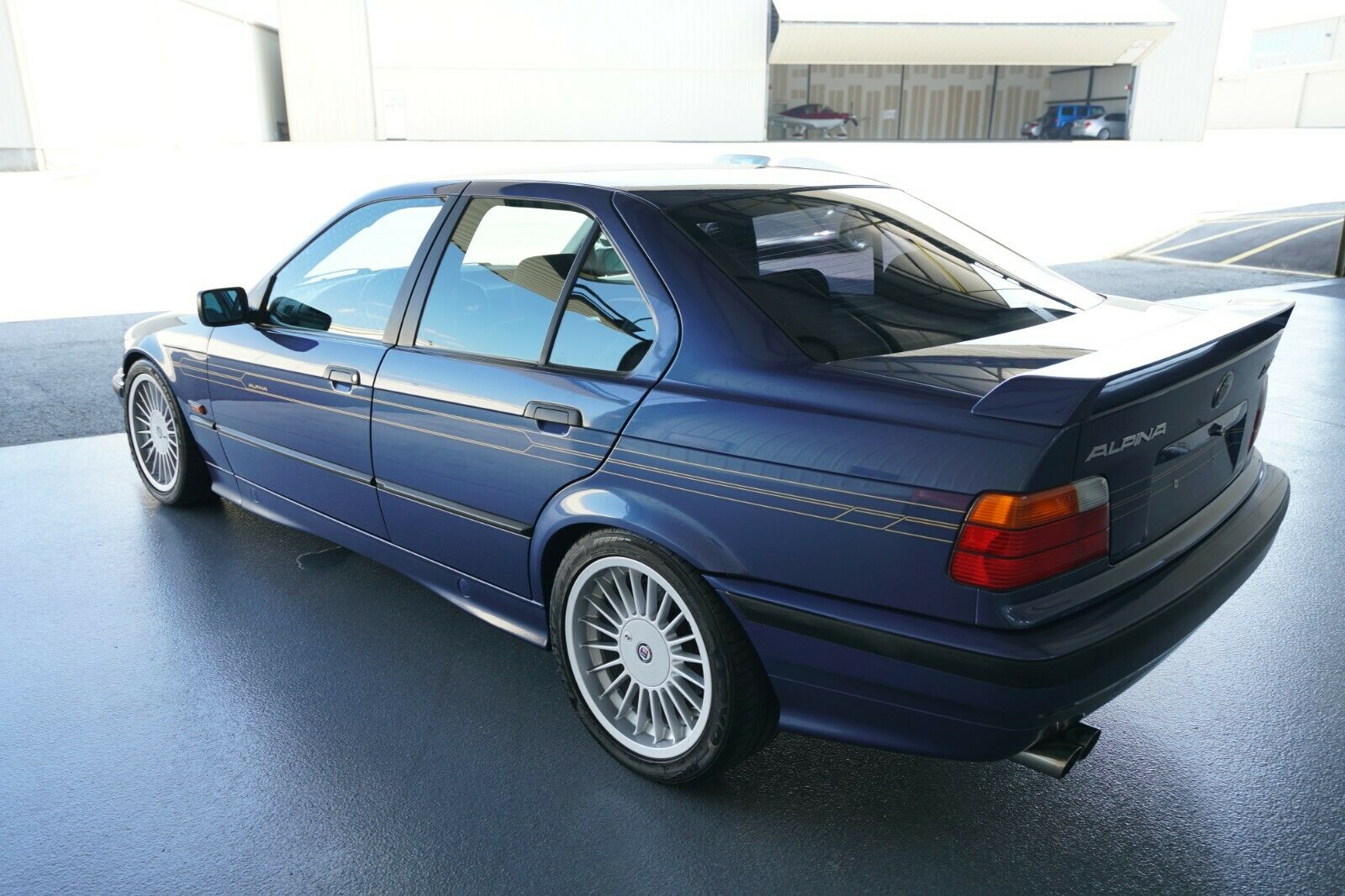 When BMW upped its game in the E36 chassis with the introduction of the M3, specialty tuner Alpina answered with the B3 3.0 and later 3.2 in step with BMW. The successor of the slightly less powerful B6 model, the B3 kept many of the same improvements to the E36 chassis – unique stabilizers, springs and shocks, and larger brakes. Inside the B3 received the normal Alpina-style shift knob, steering wheel and seats, and in their typical style Alpina provided unique front and rear spoilers along with their own badging. Of course, the package was rounded out by some of the best looking wheels ever fit to a BMW. While the B3 was down on power to the European M3 3.2, it wasn't really much slower – again in typical Alpina fashion, the car was tuned to make the most of the power that was available rather than just provide a shockingly high output number. A reported 1,000 of these ultra-exclusive B3s were produced, with about 2/3rds of those being the earlier 3.0 model, and in four different configurations – Coupe, Cabriolet, Touring and Sedan. This is one of the 741 3.0s made of which 339 were sedans, and it poses the interesting question – would you rather have this or the European-spec M3 I just looked at?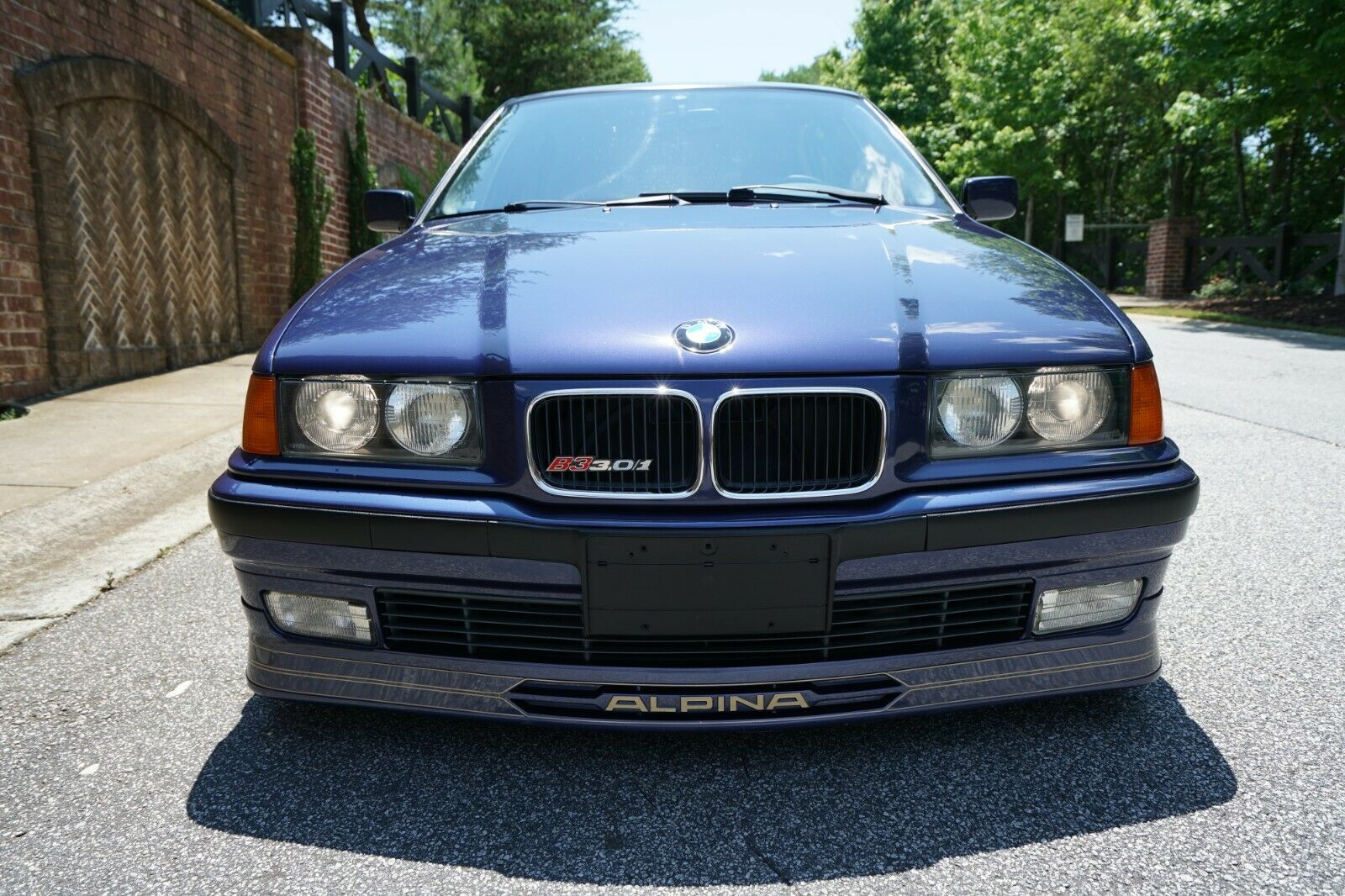 Year: 1994
Model: B3 3.0
VIN: WAPB330L04E300110
Engine: 3.0 liter inline-6
Transmission: 5-speed automatic
Mileage: 23,699 km (14,725 mi)
Location: Marietta, Georgia
Price: $38,960 Buy It Now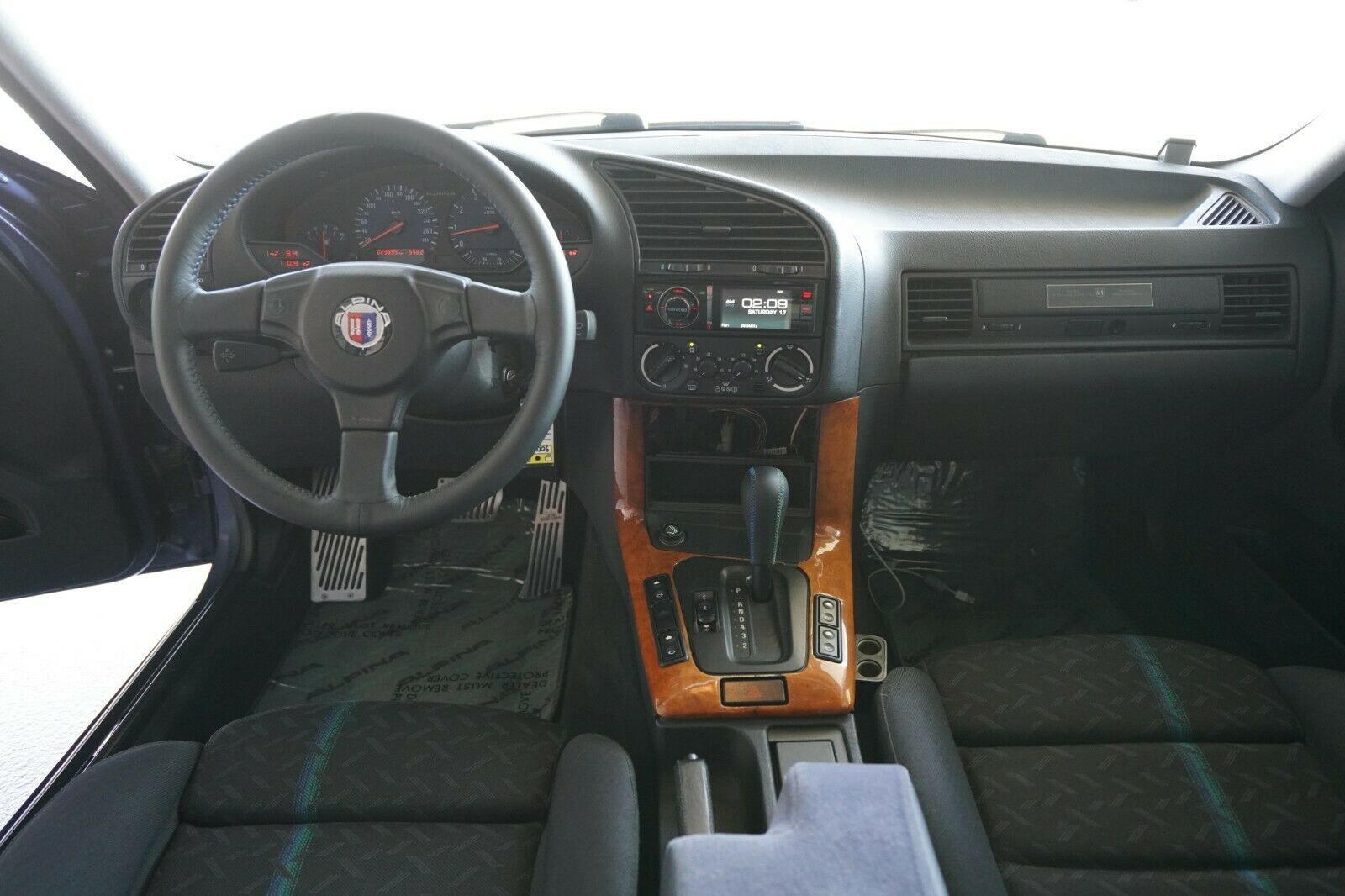 The Actual VIN is: WAPB330L04E300110 (ebay's logic does not recognize this vehicles Japanese VIN)

Reportedly there were only 359 BMW ALPINA B3 3.0 Saloon's built from 04/93 thru 02/96. This vehicle is Chassis # 0110

This very rare collector condition 1994 Alpina B3 3.0/1 was sold new in Japan and was recently imported it into the United States.

Power is from an Alpina-modified 3.0-liter inline-six mated to a 5-speed automatic transmission and a limited-slip differential, while other Alpina features include metallic blue paint with exterior graphics, front and rear spoilers, 18? wheels, themed fabric upholstery, and more.

Modifications consist of Bilstein coilovers with adjustable camber plates, a Kenwood stereo, and aftermarket speakers. The front control arms and spark plugs were replaced and an oil change was performed in preparation for the sale. This E36 is offered with an Alpina Delivery Confirmation, Original Books, 2 Keys, purchase invoice, and clean title and registration.

The car is finished in Alpina Blue Metallic (492). Alpina-specific additions consist of a deck lid spoiler, front air dam, gold graphics, and special badging.

The original Alpina 18? wheels are in excellent condition and they wear Toyo Proxes tires all around. Tires are approx 80% new.

The manually-adjustable sport seats are trimmed in Alpina upholstery, and other B3 features include an Alpina/MOMO steering wheel, Alpina-branded floor mats, blue gauges, and wood trim on the center console, dash, and door panels. A Kenwood stereo with USB and aftermarket speakers have replaced the original audio equipment.

A plaque above the glovebox states that this B3 is numbered 0110. The odometer shows approximately 23k kilometers (~14k miles). Having been imported from Japan to Canada and from Canada to the US I am unable to verify the mileage. I can tell you that the condition is immaculate in every way and would be consistent with the mileage shown.

The Alpina-modified DOHC inline-six displaces 3.0 liters and was factory rated at 250 horsepower with 236 lb-ft of torque when new. Power is sent to the rear wheels through a 5-speed Switch-tronic automatic transmission and a 3.73:1 ratio limited-slip rear end. 5-speed automatic with Switch-Tronic manual shift mode powertrain for Europe which is unique and believed to be the first Steering wheel mounted shift buttons.

Specifications per Alpina website:

Based on BMW:
325i (E36) 2-, 4-door, Convertible, Touring

Engine:
ALPINA engine typ E3
Cylinder 6
Capacity cm³ 2997
Max output kW/hp 184 / 250
Max torque Nm 320

Performance*:
Acceleration 0-100 km/h s 6.1 (6.8 / 6.2)
Top speed km/h over 255 (250 / 250)

Fuel consumption*:

at 90 km/h l/100 km 6.9 (7.1 / 7.2)
at 120 km/h l/100 km 8.2 (8.5 / 8.4)
Urban l/100 km 13.2 (13.4 / 13.2)

* Data in ( ) for Convertible / Touring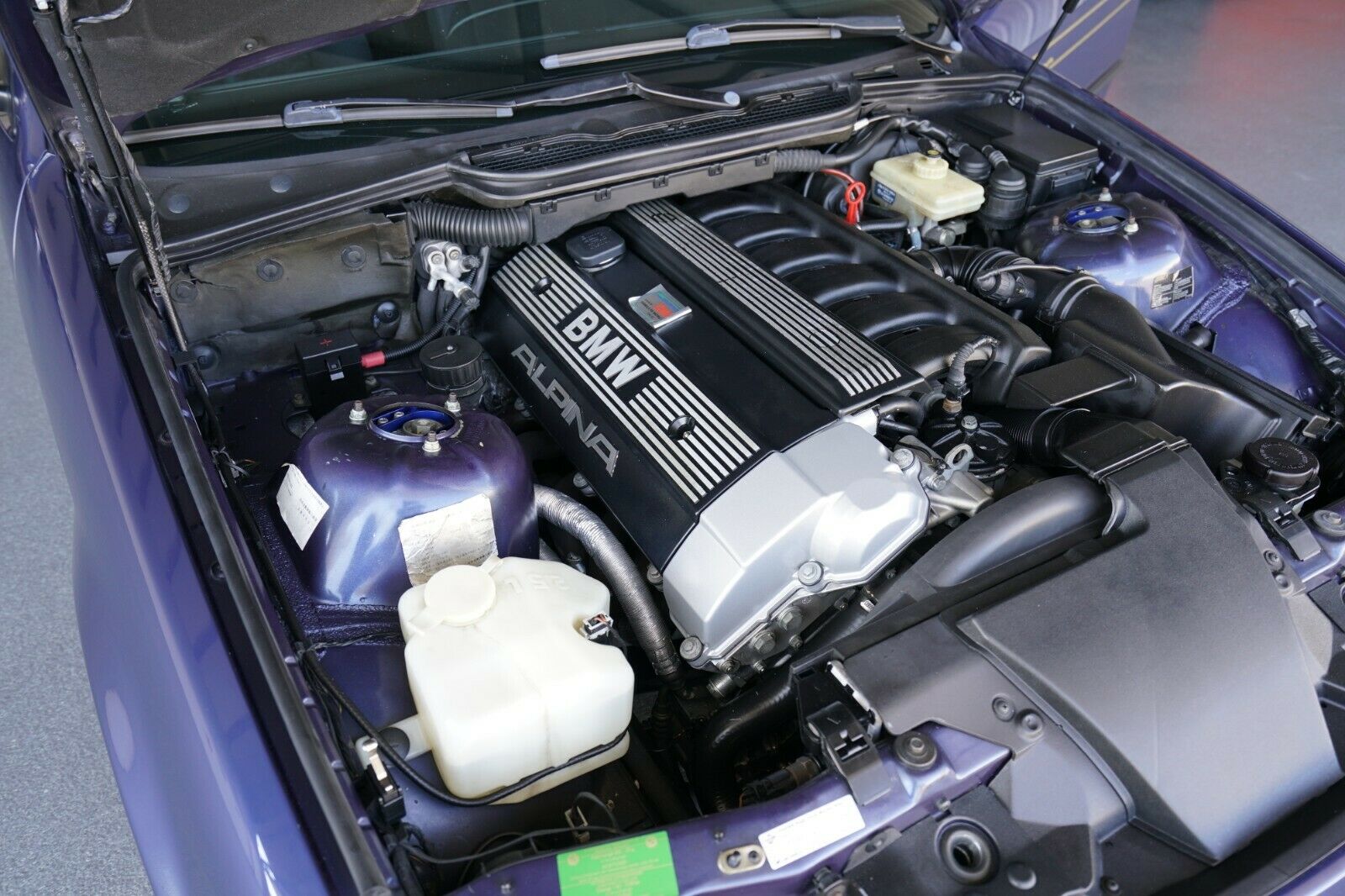 There are a few interesting things about this car, and it was an odd one that caught my eye. It's the badges, front and rear. Alpina lists this car as the B3 3.0 or 3.2, not 3.0/1 (like some of the earlier B10 models, and in fact like the B6 2.8/2 from the E36 line). Beyond that, I can't find another that wears the front badge, including examples from Japan. Weird? Yep. My first thought was the badge was replaced from another model, yet there was only one B3 3.0. But this example does appear in the archives, and there are a few others that wear the B3 3.0/1 rear badge. From what I can tell, it looks like European delivery 3.0s did not have the /1 designation, while Japanese examples did.
Badge oddities aside, there's little to complain about here other than, like many Japanese-market Alpinas, this one came with the Switchtronic transmission. The radio looks a bit out of place and, from a collector standpoint, it's unfortunate that the suspension has been swapped. Previous Alpinas I've seen have also had a full-sized and correct spare, not the original BMW alloy. Miles are super low, condition appears to be top and original, and it's a beautiful color combination. Overall, this is simply a stunning E36 in a very rare configuration. The $30,000 range isn't unheard of territory for the E36; outside of the crazy Lightweight pricing, a few nice M3s have broken that $30,000 barrier recently. If you're looking for a collector-grade car that will seriously impress at shows, this one is poised to strike.
-Carter