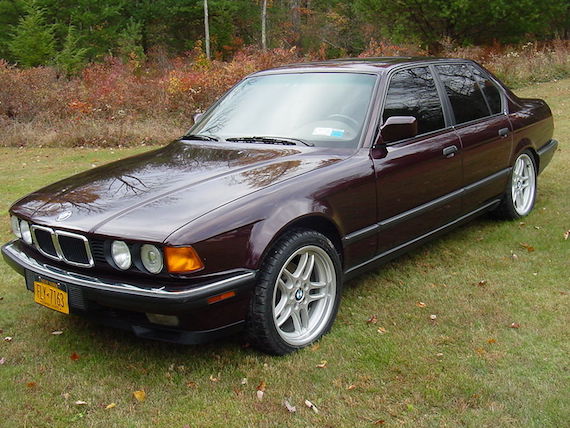 The E32 7-series is a rare sight on today's roads. And that's a shame. These big-body behemoths from Bavaria exemplify a design language that's now firmly in BMW's past: menacing yet restrained, large but well proportioned, mixing brawny lines with classic cues like round headlights, angular kidneys and the Hoffmeister kink. On Friday, Carter wrote up a 735i. It was, he admitted, a bit sad, with oversized wheels and a tired look. While the 5-speed manual transmission made it tempting, I'm not sure it was enough to redeem the car, especially given the asking price. A neat alternative would be a clean, late model, bone stock V8 740i, if you can find one. The 4.0 liter M60 engine is relatively stout (apart from the Nikasil problem, which by now is unlikely to be an issue) and, putting out about 282 hp, sufficient to propel the car quite nicely to cruising speeds. While it may not give you the bragging rights associated with the V12 in the 750, it's generally less of a headache to maintain.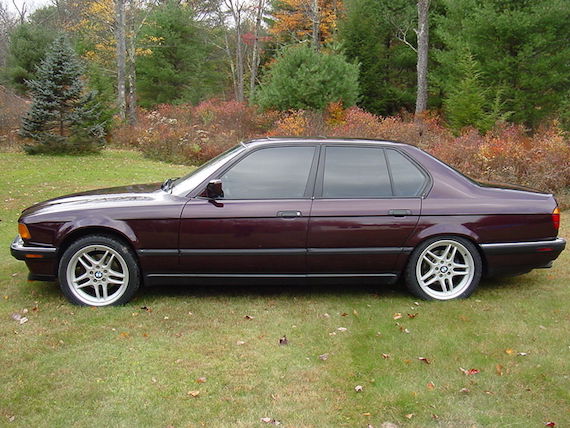 Year: 1994
Model: 740i
Engine: 4.0 liter V8
Transmission: 5-speed automatic
Mileage: 113,000 mi
Price: No reserve auction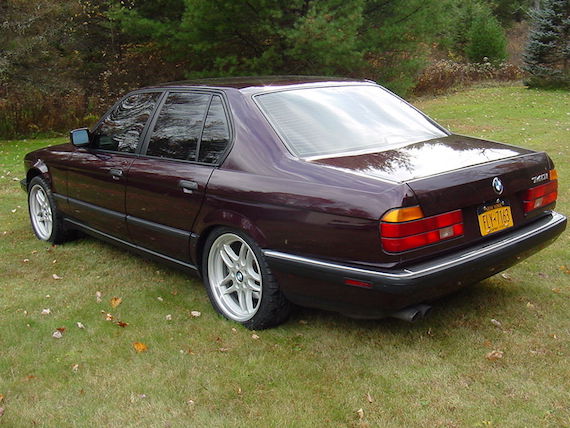 Hello, Up for sale is my 1994 BMW 740i. It is designated E32 with V8 4.0 liter, Auto, RWD, A/C, Power Windows, Power and Remote door locks, Cruise Control, Telescoping steering wheel, Dual air bags, Dual power seats, Leather interior, Power sun roof, M- Paralell 18″ wheels with brand new tires, ASC (Automatic Stability Control), 5 speed automatic transmission, Climate control, Factory alarm, Power & memory exterior rearview mirrors, LCD on board, computer display scrolls through – time, temp, mileage, etc. Color is Brokatrot metallic, 2 keys with remotes (FOB), Owners Manual, Bentley Service Manual, Brand new rear shocks, front struts, plugs, air filter. Garage Kept. Transmission has modes for economy, sport, and winter shift. There is no rust on this BMW its very clean all around. This BMW rides very smooth and quiet with lots of power to spare. Engine and transmission run and work perfect.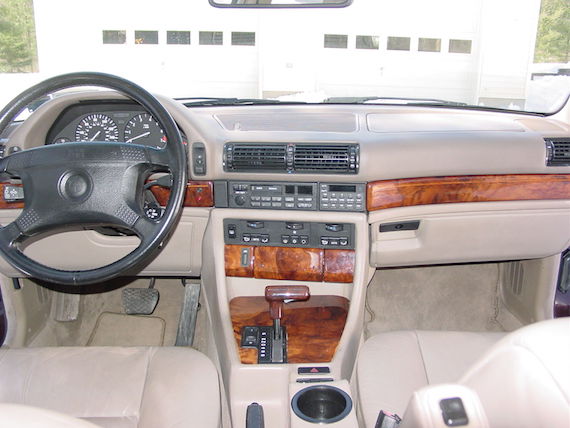 There are three things that make this example stand out: the highly uncommon Brokatrot (Brocade Red) Metallic paint, the 18″ M-Parallel wheels and the window tint (not to everyone's tastes, I know). Taken together, I think they make for a mean, compelling package: refined but with a slightly aggressive edge. I would prefer black leather on the inside, but the beige is tolerable. The interior looks to be in very good shape, quite an achievement for a 90s BMW. The dash wood is glossy, the door cards are intact and the headliner isn't sagging, all good signs.
Miles are relatively modest at 113k and the car is said to have been garaged. It certainly looks it. Described as rust free, there are no body or mechanical flaws noted in the ad. The seller reports that the rear shocks, front struts, plugs and air filter have recently been replaced. The only red flag I see is a mileage discrepancy reported in the AutoCheck report. Potential buyer's will want to chase that up with the seller.
It's hard to put a price on this car since E32s don't show up for sale very often, especially in this kind of condition. There was a nice '93 740iL I wrote up in September that sold for about $6.5k. I expect this will end up going for something similar.
– Craig