Warning!
This post is in our archives. Links in this post may have been updated to point to similar cars available to bid on eBay.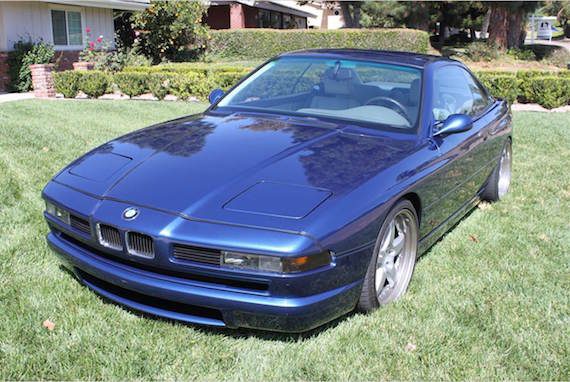 The E31 8-series (1989-1999) was available in 840Ci, 850Ci and 850CSi guises. The 840 came with a 4.0 liter V8 (later upgraded to 4.4 liters), while the 850 was powered by a 5.0 liter V12 motor. This engine was bored out to 5.6 liters for the range-topping CSi version. (The cousin of an abandoned project to build an M8, the CSi also came with a 6-speed manual gearbox, stiffer steering and suspension, and a model-specific bodykit.) Low slung and sleek, with pop up headlights, no B-pillars and a wedge-shaped profile, the 8-series was undeniably gorgeous. It was also incredibly expensive, both to buy and to repair, and a little underwhelming, particularly in entry level form, where the car's performance never really matched the highly exotic exterior. That last criticism now seems a little unfair, since these cars were sold as grand tourers, not out-and-out sports cars. Still, the 8-series has remained somewhat under appreciated. As a result, entry level models can be found for a fraction of their original cost. This car is indeed a base model 840Ci, but it's definitely not cheap. That's because it carries a number of desirable features and upgrades, including some more usually found on the CSi model.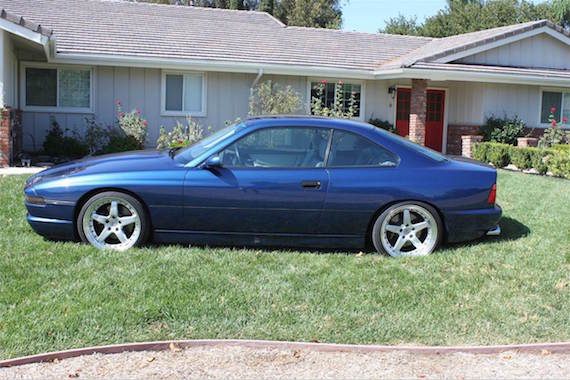 Year: 1994
Model: 840Ci
Engine: 4.4 liter V8
Transmission: 6-speed manual
Mileage: 118,000 mi
Price: $30,000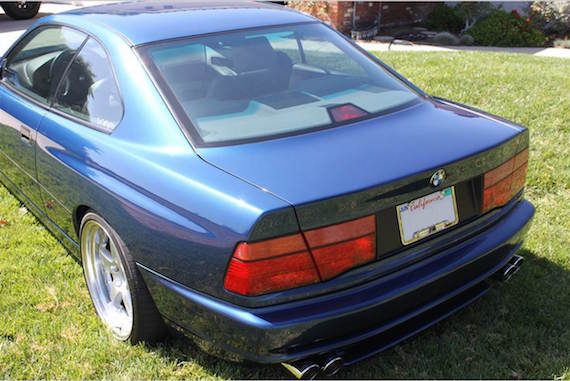 94 840 Ci – Avus Blue – M62 – 6 Speed – CSI out of reach? Check this out!

1994 BMW 840Ci
(Individual)
One only USA Avus Blue!

850 Csi out of reach? If BMW produced an 840 Csi, this may have been it!

History –
Production Date 12/93
Originally Sold 02/1994 at Park Ave BMW, Rochelle Park, NJ
Vehicle History Report:
The Color Code: 276 ( AVUS BLUE METALLIC) the only e31 imported to the North American in this color during the entire model run
Trim Code: 0353 (L Silver/Silver)
Vehicle Options Included: Code 0089 Full VPC-850, Code 0205 Automatic Transmission, Code 0230 80CIA Pack, Code 0061 Special Body Paint, BMW Individual

Body –
CSI Body Kit, Front and Rear valance and Euro Mirrors installed by MK Detail, Ontario, CA
Full Respray (01/2001) Arrow Glen Collision @ Savage BMW, Ontario, CA.

Under the Hood –
M62 and 6 speed Conversion done at Coast Motor Werk, Huntington Beach, CA
Body Off conversion (01/2008)
M62 engine from a 70k miles 1996 840Ci
New OEM motor mounts, hoses, clutch kit, flywheel etc., etc.
Freshly powder coated valve covers
Used OEM 6 speed
Used OEM 3.15 LS rear end, Original was 2.93
New OEM radiator
New OEM pedal set, shift lever, shift arm, shift handle w/boot
Clutch master cylinder, clutch slave cylinder and various related parts
Remanufactured driveshaft
New all metal cats.(Bassani)
Supersprint exhaust installed at D2 Technik.
POWERCHIP. Purchased and installed at POWERCHIP, Santa Monica, CA.
New Timing Chain Tensioner

On the Ground –
Complete rebuild of suspension, including new OEM 850CSi front and rear sway bars. Bilstein sport shocks
AC Schnitzer lowering springs. Purchased and installed at CEC, Santa Monica, CA.
19? Hamann PG3?s. He purchased and installed at D2 Technik, Alhambra, CA. The fenders were also rolled in the rear at D2 Technik.
Bridgestone Potenza S04 – Tire Size Front: 245 35 19 – Tire Size Rear: 285 30 19

Miscellaneous –
Xenon HID headlamps
Euro OEM fog / turn signal assemblies
Removed resonators, which combined with the Supersprint exhaust really gives the car a nice sound
New OEM General Module and programming
e36 Sport type steering wheel. This common 8 series improvement really makes a difference
New OEM under hood pad
New Windshield after receiving chip

Current –
3rd Owner
118k miles
Driven weekends and BMW Events

SoCal 8s – Dec 2012 Car of the Month – http://socaleights.com/wp-content/up…ember_2012.pdf

Asking $30k (half the price of an 850 Csi, currently selling in the $60k range)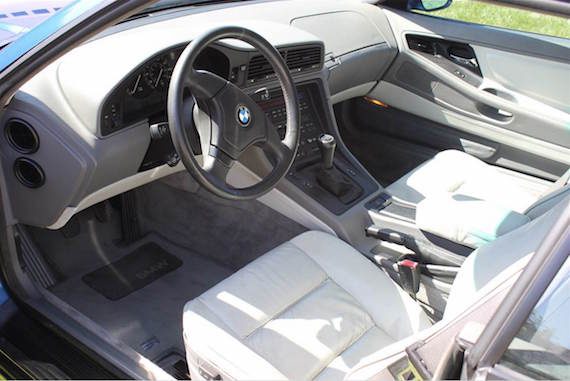 This car looks fantastic in Avus Blue over a light silver leather interior.  A relative of mine used to have an E39 in this color, and I always greatly admired it. It suits the E31 body shape very well. The car also has an OEM CSi bodykit, a 4.4 liter motor donated from a later model car, and a 6-speed manual transmission conversion. These upgrades – the gearbox in particular – should give the car a bit more oomph to match the more aggressive exterior look. I'm not a fan of the aftermarket wheels, but that can be easily remedied. A set of M-Parallels would, I think, do the trick. If you click the link to the PDF in the ad, you'll find some awesome pictures and an account of the work done on this car. It has clearly been doted over by a loving owner.
With a price tag of $30k, this 840Ci is a very expensive car. As the seller points out, that's certainly a lot cheaper than the cost of the more desirable CSi version, which sells for a huge premium when it can be found. But I'm not sure the comparison is all that apt, given that this car still has a V8 rather than a V12 sitting under the hood. In March, Paul wrote up another 840 priced about the same, but it was an ultra-low mileage version. As nice as this looks, I think it well sell for under the asking price.
– Craig