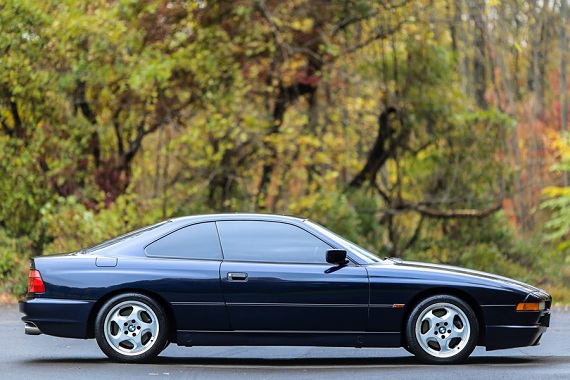 The 850CSi is one of those cars that both suffered from enthusiasts' massive expectations; I have to admit, I'm one of the guilty. Why? I remember well the launch of this car – I studied the development and eagerly awaited the arrival of the M-powered coupe. I even remember my excitement the first time I saw one; Fall, 1994 at Lime Rock Park in Connecticut at a BMW event. I had passed by all of the E30 M3s, E28 and E34 M5s and countless other neat BMWs to stare at a midnight blue over tan leather 6-speed coupe. Then I ran towards the tower as the CSi went out on track; I even had a small video camera to document the event. Those were the days that you could get all the way out to the flagging station at start finish. With the CSi visible in the downhill, I clicked "record" and waited for the impending rush of noise and wind, for my mind to be blown by the vigorous display of speed. Instead, what I witnessed was a subtle BMW rolling near-silent by at highway speed. I was massively deflated.
Fast forward two decades, and it makes much more sense to me now. The CSi wasn't a track monster and still isn't. This car was aimed at executives who wanted a big, V12 coupe that could take on the 928 GTS, Aston Martins and even the odd Ferrari. They wanted to insert effortless speed into big luxury. Their owners were never going to be the folks doing smokey burnouts, sliding the car up mountain passes. And as a result, today we get to see these come up for sale in near perfect condition, such as today's example: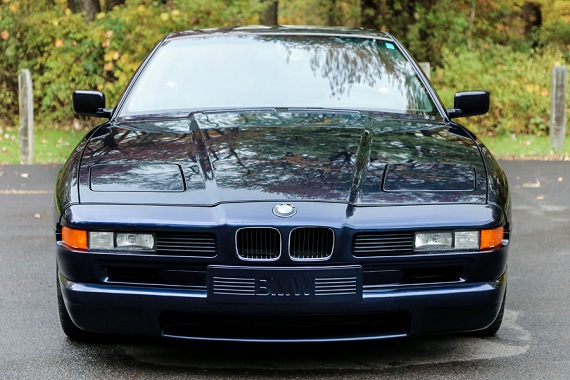 Year: 1994
Model: 850CSi
Engine: 5.6 liter V12
Transmission: 6-speed manual
Mileage: 70,000 mi
Price: $59,950 Buy It Now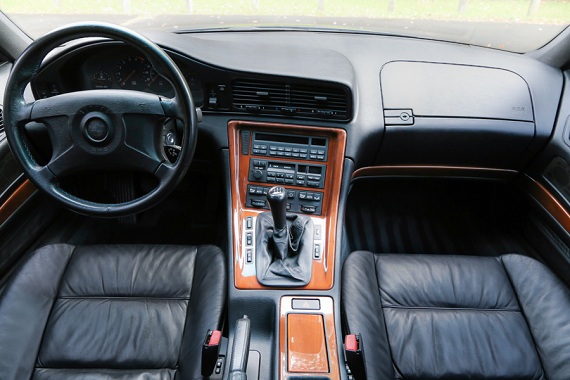 1 of 255 units ever produced for the US market!

ONE OF 1510 UNITS EVER PRODUCED!

6-speed manual!
Final drive ratio 2.93:1
Stiffer suspension!
Chassis lowered 15mm
Servotronic, motorsport specific
Limited slip differential
Automatic Stability Control + Traction (ASC+T)
Aluminium wheels with brake ventilation
Electric steering wheel adjustment
Stronger brakes
Upgraded front and rear spoiler
Dashboard with red pointers and different looks
850CSi-badge
Folding rear seat backs and ski bag
Leather seats
'BMW Motorsport' written on doorhandles
///M emblem embossed in lower door frame
CARFAX CERTIFIED!
ALL BOOKS, MANUALS AND RECEIPTS!
As a top-of-the-range sports tourer, the 850CSi took over from the prototype M8. The 850CSi used the same engine as the 850i, which was tuned so significantly that BMW assigned it a new engine code: S70B56. The modifications included a capacity increase to 5.6 liters and power increase to 380 PS (279 kW; 375 hp).

The 850CSi's modified suspension included stiffer springs and dampers and reduced the car's ride height. The recirculating ball steering ratio was dropped 15% over the stock E31 setup. The model also sported wider wheels, with the option of forged alloys. The front and rear bumpers were reshaped for improved aerodynamic performance. Four round stainless steel exhaust tips replaced the square tips found on other models. The 6-speed manual gearbox was the only transmission option.

As expected, the 850CSi makes no exception in having several names. In this case, the term M8 is mentionned on and on again. And it's correct. The 850CSi is a real M-car. It does not only have an M-bred engine (type S70, the S indicates M-origin) but has been manufactured by BMW M as well, according to the VIN which starts with WBS (BMW Motorsport) instead of WBA (BMW AG). This is mentionned in the papers as well. But although the papers say that the correct model name is BMW M8, the car has been enhanced only moderately by the M-Division, compared to the real M8, which remained a prototype only.

THIS VIHICLE HAS SPENT ITS WHOLE LIFE IN SOUTHERN STATES!
It has been serviced by bmw dealers and it is in great shape.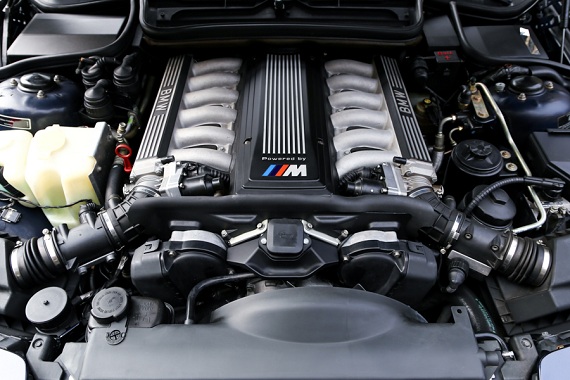 The condition this car appears in is certainly impressive, and points towards my earlier disappointment that these cars weren't abused but pampered by their well-to-do owners. Were I not to know better, these photos could easily be passed off as press-release photos from the original launch. I struggle to find anything wrong with this car. And yet, that incredible motor attached to this wicked grand tourer is available just below $60,000. If that seems like a lot of money, in my mind it's not. Compare that price to a 928GTS – there are currently three nice examples of Ebay, all asking a still $80,000 plus. How about 911s? This money wouldn't get you into much of a 964 chassis 911 Turbo, either – most are at or above this asking price. To me, honestly, the natural competition for this model is really the Ferrari 550 Maranello – and while you can get one of those close to the asking price of this car the reality is that you don't want to buy a cheap Ferrari. I'd love to have the means to pick up one of these very special cars, but my dream is no longer to take it to the track to beat up on all of the lesser BMW models. No, in that capacity it would fail miserably. Instead, I'd rather have it as a car that would make me feel very special driving the family to some secluded vacation spot and parking the car within eyeshot so I could take a peek every once in a while and remind myself what a very neat car this is.
-Carter