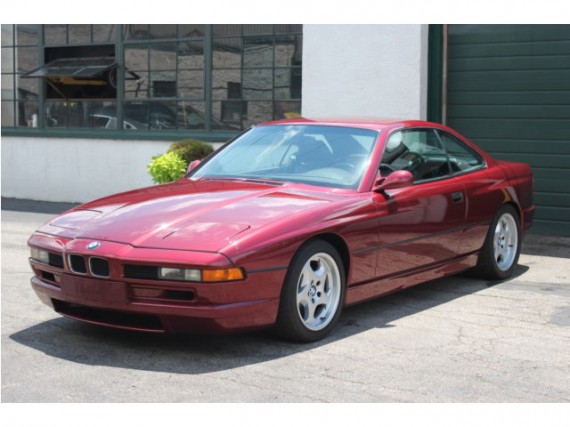 A friendly automotive blog recently asked on Facebook if the E31 was already a classic, a future classic, or a car forever undeserving of that title. To me, it is nearing classic status, and when seen in comparison to the big BMW coupes of the last 10 years, it is a lithe and lustworthy piece of badass machinery. The 850CSi is the grandaddy of them all, an ///M-car all the way down to the engine serial number but lacking the name and badges. There are enough plain, modern mass-market Bimmers carrying more M badges than passengers to effectively kill the badge's coolness, while the CSi badge provides a link to some of BMW's greatest classic coupes. An M-tuned V12 is enough to get the mouth watering and the pants a little tighter, so when you add in low, clean lines and some flared fenders you've got what I consider the makings of a classic. This example has covered almost 100k miles, but the auction is starting refreshingly low after we've seen some 850CSi going for well above $60k.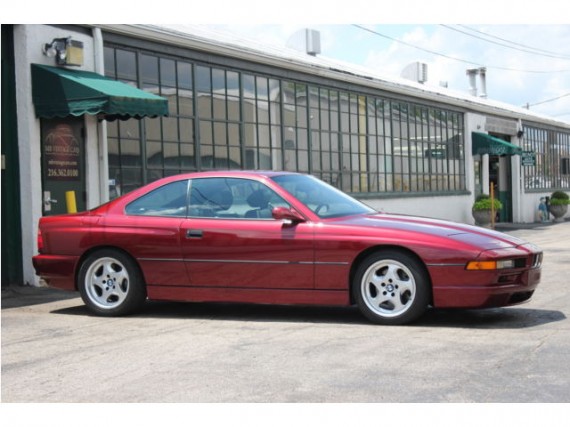 Year: 1994
Model: 850CSi
Engine: S70 5.6 liter V12
Transmission: 6-speed manual
Mileage: 97,768 mi
Price: Reserve auction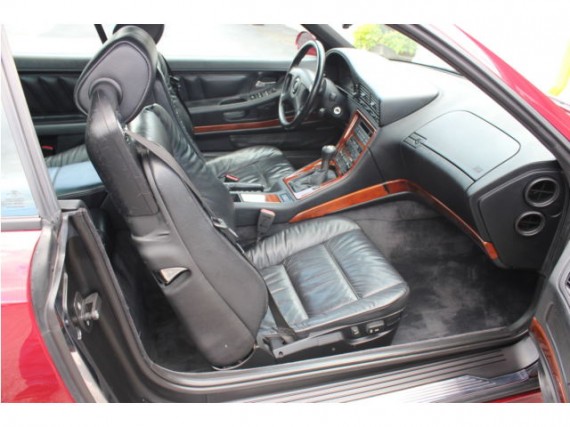 1994 BMW 850CSi VIN: WBSEG9324RCD00022

BMW Motorsports' highly developed Performer – 1 of Only 225 Examples • Two-Owners from New – Exceptional Clean CarFax Example • Formerly part of a renowned BMW only collection • Preserved & Unmodified – Complete with ALL original Factory Accessories •

A manual transmission example Although not badged as an M-series, the 850CSi was developed by BMW Motorsport as the ultimate luxurious performer of the decade. The 850CSi used the same engine as the 850i, which in turn was tuned so significantly that BMW assigned it a new engine code: S70B56 – paired to 6-speed manual gearbox. The CSi's modified suspension and steering included stiffer springs and dampers and reduced the car's ride height. As the exterior is distinguished by a unique front fascia that includes a deeper front airdam and air intake, more pronounced side sills and four round exhaust tips, two pairs on either side of a "diffuser" panel under the bumper; with U.S.-spec cars having unique door handles embossed with "BMW Motorsport" script among others. Sold new on December 7, 1993 to Source, Inc. in Dallas Texas, this 850CSi wearing Calypso Red over Black Leather trim is considered the ultimate and most exclusive BMW sportscar of the mid-1990's.

The CSi comes fully loaded with all of BMW's era performance and technology, and total period development costs of 1.5 billion Deutschemark to create this radical model. As one of only 225 examples produced for the North American Market, this particular car was cherished by the original owner in Texas until it was acquired by its second caretaker in 2001, joining one the most significant private BMW collections in North America. The 850 has been kept incredibly original over the past 20 years, down to the M-Technique alloy wheels, supple leather interior and ALL factory accessories. This includes, tools, factory audio with disc changer, jack and spare assembly, spare oil pouch, books and manuals, first aid kit, rechargeable glove box flashlight, and rear ski bag. Upon closer inspection all electrical, audio and mechanical systems remain in proper working condition, including cold air conditioning. Remaining BMW 850CSis are few and far between, while rarely surfacing to market. Here is a lovingly preserved and authentic example of BMW's lavish supercar, fully accessorized.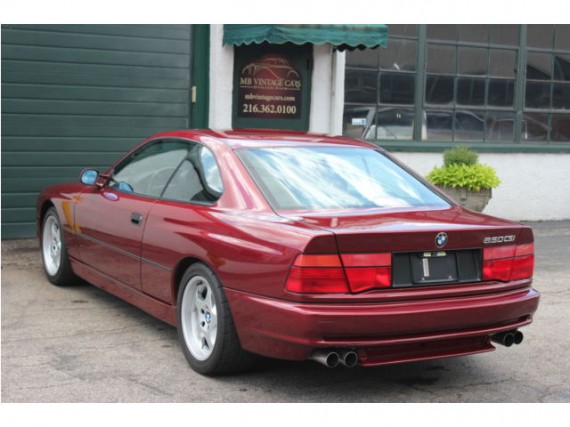 The 225 number looms large over any 850CSi sale, but the mileage could help this E31 go for less than a well-equipped modern 3- (or *blerg* 4-) series. It does appear well cared for and loved by its two owners, the most recent apparently a serious BMW collector. I think a few more years are necessary before the final judgement on "classic or not" is really made, but there's little question that the CSi will forever be highly sought after.
-NR