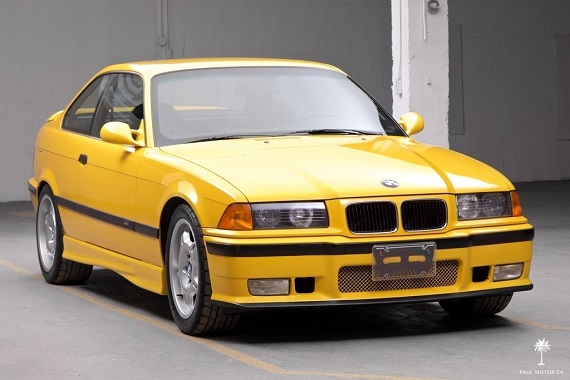 You're not going to buy this M3. It's not because of lack of desire; certainly, a limited run European-specification Canadian Edition M3 is already a very hot commodity. Further upping the ante was the BMW Individual "Giallo" yellow color, slightly different than the standard specification Dakar Yellow. While that may seem like a strange choice, it was what the original buyer of this already very expensive ($60,000 in 1994, about $90,000 today) ordered – and that choice made this particular car the only out of production color in the run of 45. Obviously, since they cared a lot about their prized Euro M3, miles are super low and condition is effectively near perfect. But you're not going to purchase this car, not because of the colors, or the miles, or the low production number, or even because it's a Euro car. You're not going to buy this E36 because the asking price is $65,000: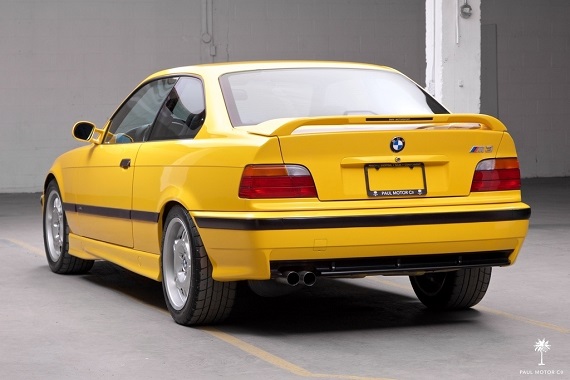 Year: 1994
Model: M3 Canadian Edition Individual
Engine: 3.0 liter inline-6
Transmission: 5-speed manual
Mileage: 29,574 mi
Price: $64,900 Buy It Now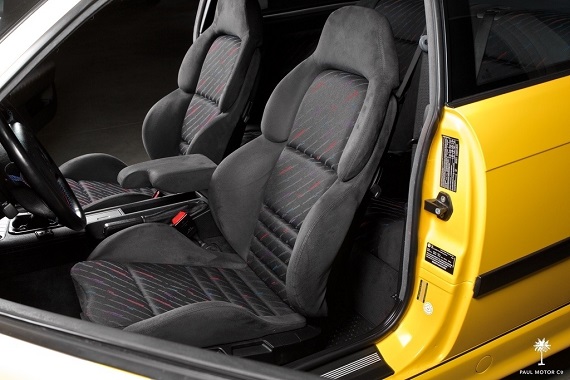 1994 BMW M3 Euro-Spec (E36)

29,574 miles / #24 of 45 / 2 Owners / Special Order Paint

This Euro-Spec 1994 BMW M3 (E36) is as exciting as it is rare. This car is one of only 45 European specification E36 M3s that were delivered to North America due to a special agreement* between Canada and Europe in the mid-90s. It is car #24 of the 45 numbered cars.

The M3 is finished in a yellow special order paint (referred to as "Sonderlack" in German) that the original buyer chose for this special model.

*Origin & History / #24 of 45

In 1994, various agreements existed between Canada and several European countries which allowed any car authorized in one participating country to legally be sold in any of the others.

BMW unveiled its E36 generation M3 in Europe in 1992 but felt that the car would need to be priced much higher in North America than the market would have allowed for. While engineers worked on a less expensive North American version of the E36 M3 to export, BMW Canada seized this window of opportunity and brought in 45 numbered European specification M3 coupes that were specially produced and imported into Canada.

Each one of these 45 cars has a numbered engraved plaque in both the glovebox and the custom leather case which holds the owners manuals. Despite its relatively high starting price of $59,900, all 45 units were sold within 3 days. Unlike other special versions of the E36 M3, orignal buyers were free to choose any colors and options they wanted on their particular car.

Features & Options

The vehicle has a 3.0L inline 6-cylinder engine producing 282 hp, vented brakes with floating rotors, glass headlights and other European standard equipment. It features a 5-speed manual transmission, a special "Motorsport" interior option, 17" forged BMW Motorsport wheels, power sport seats, an electric sunroof, a premium stereo, a multi-CD changer, air conditioning, power windows and much more.

Although BMW eventually brought the E36 M3 to the United States, the North American-spec car featured a less powerful engine (S50B30US) with 40 hp less. The European specification M3 also had superior floating rotor brakes, better glass headlights, lower and stiffer suspension and some interesting interior options.

The vehicle was originally delivered in March 1994 and remained in the first owner's possession until June 2007 when it was acquired by its second and current owner. The car's current owner has loved every minute of ownership but has decided to part ways with this gem.

Impeccable CarFax report, only 2 previous owners and no accidents. Comes with 2 master keys and all owner's manuals.

———

Paul Motor Company provides a comprehensive turnkey service for its customers. The vehicle will be shipped to your door with a US title. Every aspect of the transaction will be facilitated and completed by Paul Motor Company to provide our customers with complete peace of mind. There are absolutely no hidden fees.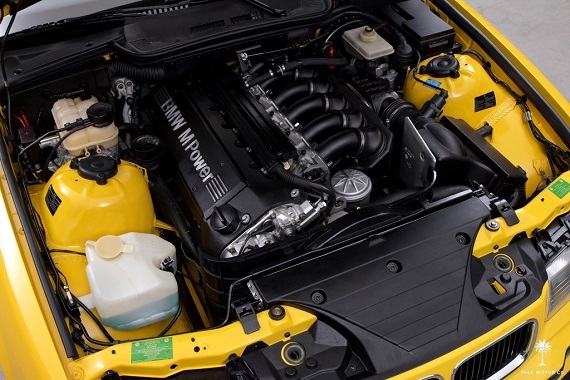 The presentation of the car is certainly impressive, though I'll admit I spent a fair amount of time staring at the screen trying to convince myself that indeed this wasn't Dakar Yellow. It's not and it's most definitely darker, as both the VIN check, the under-hood sticker and a further breakdown of what each of the each of the 45 were specified in on the M3 Forum. There, the claim that it is a Ferrari color is floated, but I can't find specific confirmation of that other than "Giallo" is specified as the name. The photography, though, doesn't really do the color its entire justice even though the pictures are high quality. Park this car next to a Dakar example and I bet it would be like night and day. Condition is outrageously good and near new. And there is no doubt that, as with all special edition M3s, there will be a collector market for these cars. It's certainly debatable if there is a more desirable and better condition example of the 45 out there, but I'd doubt it. Still, there's the price – $65,000 is some $30,000 more than the last Canadian Edition car I wrote up only a month ago – a car which quite a few already felt was overpriced. Now, that said, this car is more desirable, more original, and only has a quarter of the miles of the Mugello example. We've also seen asks for the M3 Lightweight with similar miles exceed this ask by a substantial amount. Is the E36 market on the verge of explosion? Probably not, but it certainly has been steadily creeping up for really good examples. Outstanding models, such as this one, are hard to peg in value since they're effectively irreplaceable. Does this car really do anything better than a 120,000 mile $14,000 U.S.-spec '98 Dakar Coupe when you're behind the wheel? No, but in terms of collector value they're not on the same page. It'll take someone with a fair chunk of disposable income to ante up for this stellar E36, but they'll be rewarded with one of the most unique examples out there. The bigger issue is that if it sells close to ask, it will help to pull the value of the rest of the run upwards – a time to rejoice if you're currently sitting in one, but for budget enthusiasts another toll of the unaffordability bell.
-Carter