Some of my favorite cars as one-off or special builds that you rarely ever see for one reason or another. These builds usually happen because of a special connection with the brand, most often thanks to spending a ton of money, that let you have certain modifications when ordering a car to be built. Some brands are pretty friendly and open with this kind of stuff while other brands will give you nothing and you'll like it. Mercedes-Benz has always been very hush-hush with their special requests for customers so most people usually turn to aftermarket turners like Brabus or Renntech if they want something really special. If you do somehow get some special treatment from Mercedes, it usually isn't found out about until the car comes up for sale because the kind of people who get special treatment from Mercedes don't post about it on internet forums or Instagram. Today's car, a 1994 E320 Cabriolet, is exactly that. Although this car has a long history with a little bit controversy as well. Get comfortable.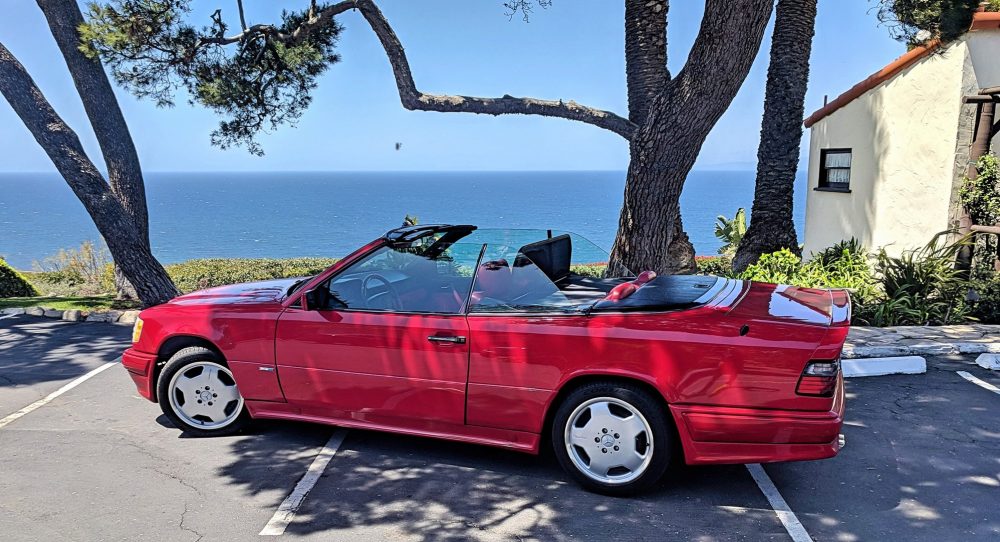 Year: 1994
Model: E320 Cabriolet
Engine: 3.2 liter inline-6
Transmission: 5-speed automatic
Mileage: 120,415 km (74,822 mi)
Price: $65,000 Buy It Now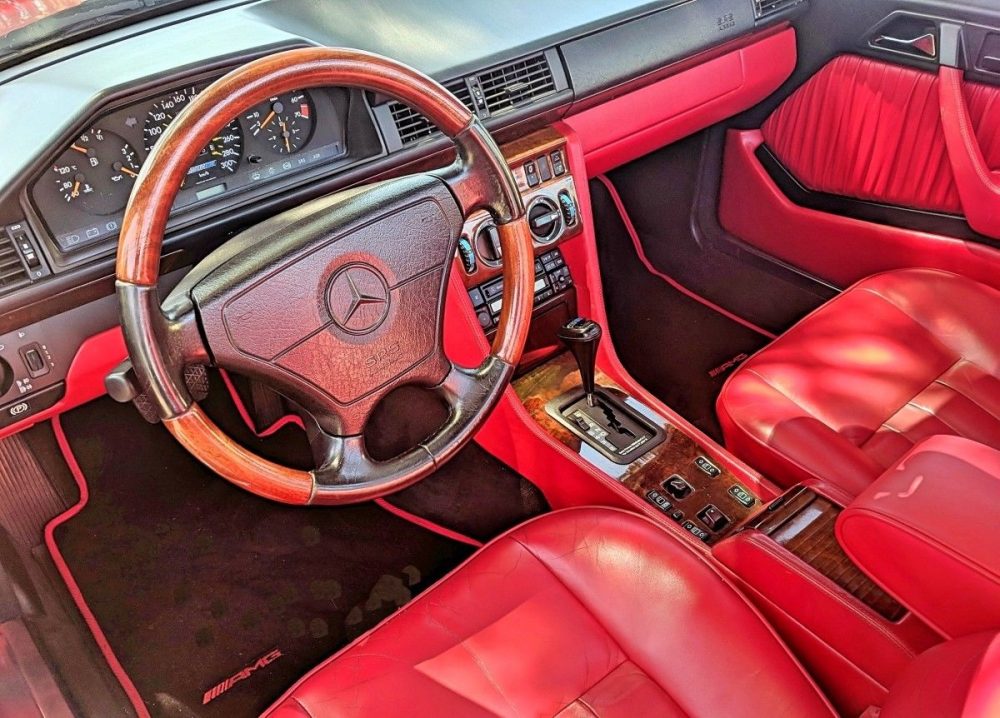 This 1994 Mercedes-Benz 320CE is a real factory-built Sportline/AMG A124 Cabriolet delivered Zurich Switzerland, November, 1993. It is the only one specifically ordered through Daimler AG with a rare combination of an S-class 722-5 automatic transmission; combined with a post-production modification through, then still independent AMG, Affalterbach, with an unprecedented 3:69 gear ratio ASR differential. This combination was never ordered for any other W124 chassis save for this one-off, hand-built cabriolet!

Other unique specially ordered features include the only one ordered matching Signal Red Recaro/Sportline leather interior, Sportline rally suspension, and AMG 2nd Generation aero-affects. Also ordered was an S-Class-only infrared-remote lock system with an unique Swiss Anti-theft Deterrent system, along with Mercedes's best available, top-of-the-line Becker 'Speciale', AM/FM, Cassette CD audio-receiver with RDS traffic-alert. A discrete digital integration module has been added for future convenience.

This stunning Sportline/AMG Cabriolet recently completed a three-plus year remanufacturing, solely under direction of Mercerdes-Benz USA; in collaboration with Mercedes-Benz Classic Center, Irvine, California USA and Daimler AG, Stuttgart Germany. This rare and stunning example has remained original, with every system and assembly repaired, replaced as-needed toward compliance with Mercedes-Benz factory certification of compliance. Specifically toward acquisition criteria expressed by curators with the Mercedes-Benz Museum, Stuttgart.

This specially commissioned, hand-built, one-of-a-kind cabriolet was imported into the United States in 1997 by the original owner, while she cared for her ailing sister. DOT allowed the vehicle into the U.S. unfederalized under the condition the owner took her car with her when she returned to Europe. The purchase price upon delivery was well North of 115,000. Euros. The car currently records 120415 kph(74,500 original miles). The present owner will consider offers beginning May 1st. After which, this rare 'rally' cabriolet will be available by appointment. Located conveniently near LAX or John Wayne International Airports, a scheduled business or personal visit to Los Angeles can easily accommodate a private viewing to experience this stunning example for your collection.

Additional sale features include all original accessories, factory-authorized restoration/repair receipts, original build sheet(s), and as well as, sales and operating manuals, wallets(2) and all supplements. Also included are all correct and complete tool, fuse, bulb, first aid and emergency kits, plus more. Sale includes Certificate of compliance from Daimler AG with an accompanying current title of remanufactured from Arizona.

NOTE: This unique automobile is offered exactly as delivered to Mme. Irene Dreyfus, at her villa, 18th of November, 1993 by her agent, Daimler-Schweiz AG, Zurich.

This one-of-a-kind cabriolet was conceived early August, 1993, within a period as the 300CE to E320 W124 platform was in transition. It includes a rare combination of early/late manufacturing features. With the inclusion of the newly developed S-Class 722-5 five speed automatic transmission, and highest 3:69 gear-ratio ASR differential available by Mercedes, this cabriolet obviously required no C36 package. The original owner desired only what was needed to transverse the Alps between Switzerland, Austria and the Riviera. Not the German autobahns. Of course, the cost savings did not go unrewarded and Daimler realized the owner desires that her new Mercedes be anything but "Ferrari Red" as she demanded!

Hence, the late three month delivery, which by fate forced this car to be one of the final five cars to leave AMG Affalterbach, where the car awaited the matching signal-red Sportline/Recaro leather interior to be fitted.

Vehicle is located in Los Angeles. World-wide shipping can be easily arranged.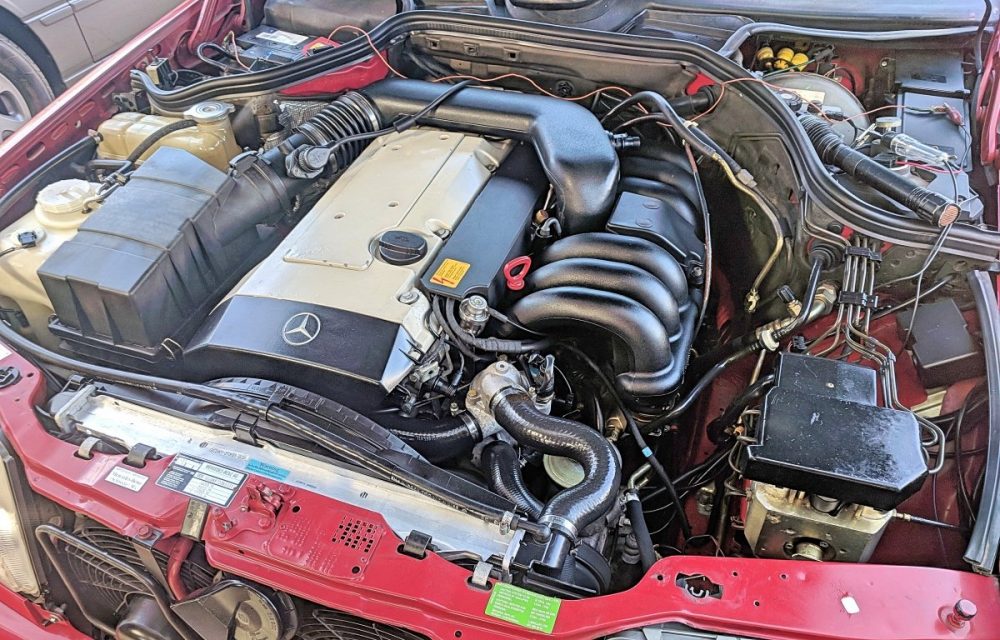 The seller does a good job of telling you about the history and specifications of this car, but there is more to the story here. The description lays out a bunch of "one-of-a-kind" and "one-off" marketing terms but in reality this is just a parts bin car like everything else. The 722.5 transmission and 3.69 rear end were available on European W124 Cabriolets, so yes, this might be very rare compared to all the other cars in North America, but it isn't exclusive just to this car. The AMG bits were added à la carte style from then-independent AMG and you might notice that is a bone-stock 3.2 liter M104 under the hood. A 3.6 M104 was available from AMG at the time, but this car wasn't outfitted with such. The other thing that is throwing up red flags for me are the seats. The seller says they are factory and I might have an objection here. The stitching pattern doesn't match any other W124 seat pattern that was produced. If Mercedes simply added red leather instead of their standard colors, the pattern would match all the other seats. I highly doubt they would make a one-off pattern for just one car. A quick check of the data card says the interior was "FABRIC "CHECK" – BLACK (371A)" as well, so draw your own conclusions on that one. Then there is the giant elephant in the room.
This a flood car. In 2012, this A124 was a victim of Hurricane Sandy. It was listed on eBay in 2013 where it was discovered to be flooded and even had photos sitting in an insurance auction lot with broken glass scattered about on those red leather seats. The car was also missing that Becker radio and wood steering wheel the seller goes on about. This explains why it underwent the "three-plus year remanufacturing" process and subsequent R-title. I guess that salt water is tough to remedy. Everything surely looks fine now, but that is something that will never leave this car even if the title somehow gets scrubbed over time because after all, the internet is undefeated.
So what does all this mean for the price? Well, the $65,000 is a hefty ask to say the least, but I don't know how you price something like this. Yes, it's rare and unique, but has a story a mile long with a bunch of unknowns thanks to a dousing of water. The A124 market is starting to soften just a little, but this car is as much as an outlier as I've seen for one of these. I think you have to look at it as it sits today and not try make a valuation from its past known and unknowns. Does it make you happy when looking at it and when you drive it? If so, try to put a number on that feeling. If you try to come up with all kind of formulas based on comparative cars I think it will get messy and you'll only get hurt when it comes to try to sell it again. Honestly, based on the sellers exceptions, I don't think it will go for any kind of reasonable price so I doubt we will see a quick sale — if any sale at all.
– Andrew