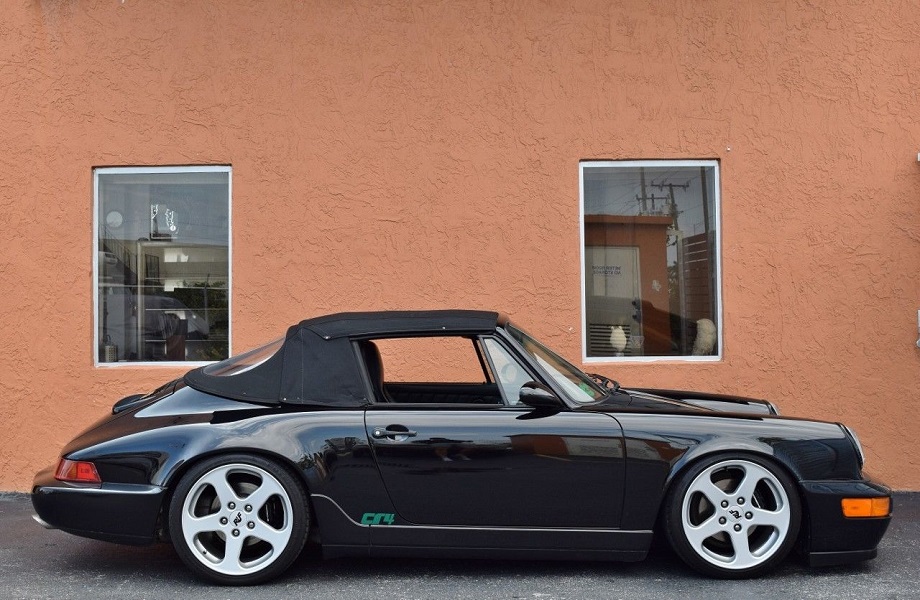 It's generally safe to say that we all like RUF. Their full builds can be spectacular both in appearance and performance, but almost any RUF to wear the badge, or simply share the name, possesses upgrades that make them very desirable. We very rarely see any related to the 964 so when we do come across one it's always worthwhile to pause and take a closer look.
This is a 1990 Porsche 911 Carrera 4 Cabriolet that was sent off to RUF for a "full" CR4 conversion perhaps around the year 2000. Like many conversions what exactly is meant by "full" might be a matter of debate, but in this case the engine does appear to have been blueprinted by RUF with horsepower now at 330. That engine likely represents what buyers will care most about. From the documentation it looks like the owners of this car purchased it from RUF in May 2000, but it's not clear when that means the conversion itself actually occurred. Maybe there is other documentation to support that. It then was imported into the U.S. where it has resided ever since.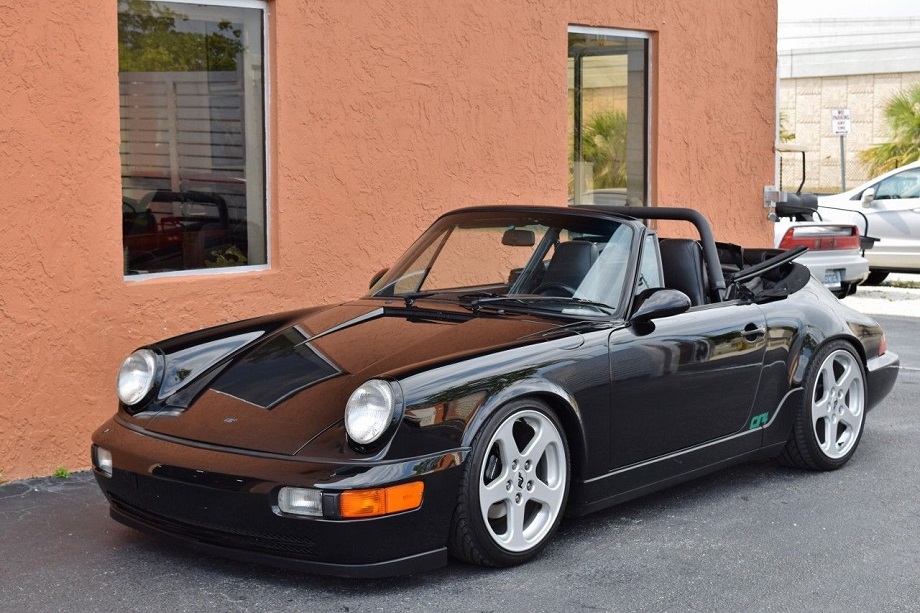 Year: 1990
Model: 911 Carrera 4 Cabriolet
Engine: 3.6 liter flat-6
Transmission: 5-speed manual
Mileage: 28,830 mi
Price: $94,900 Buy It Now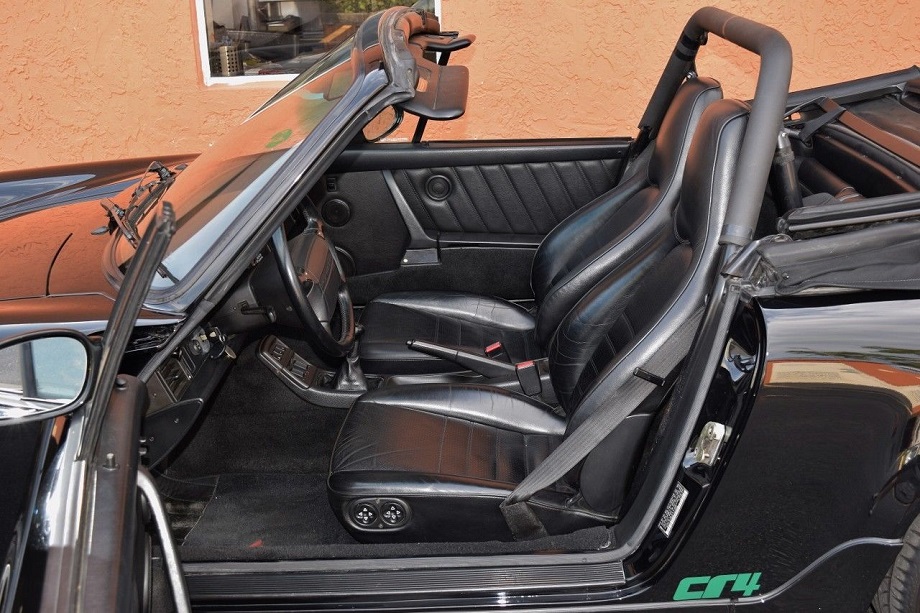 1990 Porsche 911 RUF CR4 Cabriolet Fully Documented by RUF in Germany

The ultimate 964 RUF Cab!

Possibly the only one in the USA, Purchased directly from RUF in Germany in the year 2000 with all the original paperwork
shipping docs, and receipts.

RUF full CR4 spec was the following:
RUF 330ps Blueprinted Engine
RUF Aero Mirrors
RUF Gauges
RUF Wheels
RUF Front Air Damn
RUF Badging
RUF Roll Bar
RUF Paint Job
RUF Front Mounted Oil Cooler
RUF Strut Brace
One owner since being shipped to the US, PCA member owned and showed annually at all Porsche occasions. Has remained indoors and out of any type of weather that would neglect its condition.
Only 26k miles have been added since full CR4 conversion, all maintenance history since imported is also associated with the car.

Exterior wise the body is in excellent condition 0 rust has never been in any accident. The Paint shows nicely has some paint protection film installed by RUF on the front clip and on the side mirrors which has done its job beautifully. The tail lights look like new which is quite rare on the 964 they usually are cracked faded and have corroded seals. The top is in good shape and is fully functional with no fading on the rear plastic

Interior is also in great shape considering it is a 28 year old car, The seats are not ripped or show excessive wear and function as they should.The dash is not cracked nor is it warping in anyway as the car has spent most of its time in a garage with climate control. A/C works well along with the rest of the electronics.

The engine was blueprinted (rebuilt) by RUF with receipts. All parts purchased and used on this car are documented by invoice and in German Car turns on dead cold start without blowing smoke idles perfectly and runs amazing. The G-50 transmission is flawless the gearbox shifts like butter.

Rides firm and the suspension is tight with no unusual noises.

RUF is the worlds leading and premier Porsche tuner, owning something that has been physically worked on by them and documented is very unique.

Serious Inquiries Call Eddie 786-377-4331 or Danny 786-291-3622

Follow us on Instagram for live updates! rmcmiami or rare rides
Can Ship (Insured) Anywhere Worldwide if Needed.
Located in Miami, Florida 33126
Financing Available with Approved Credit
Trades Always Welcomed (UP or DOWN)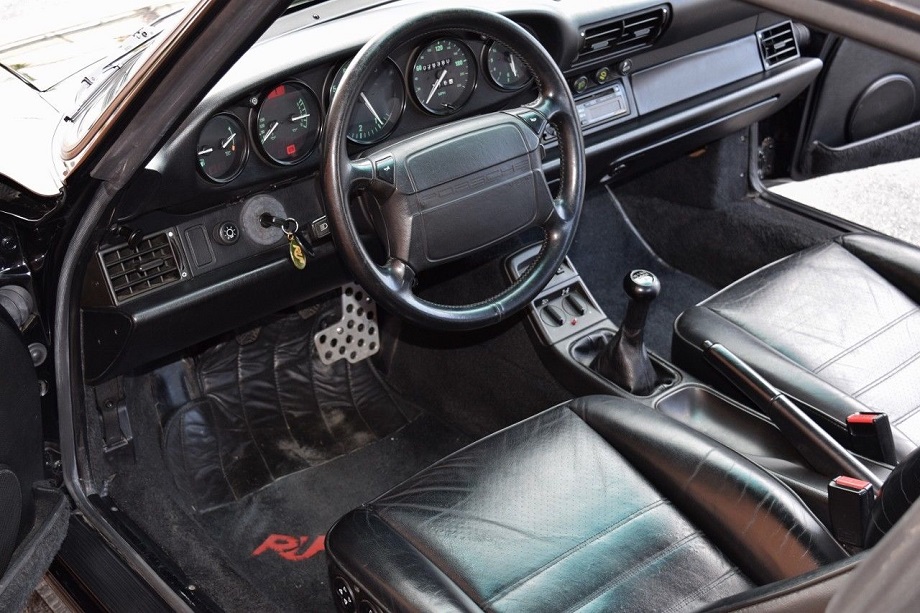 The first thing I noticed when I saw this listing is that this 964 is low. Very low. The ad doesn't say anything about the suspension being replaced so it may just be a matter of it being adjusted to a lower ride height. Perhaps not a big deal, but may be worth inquiring about. The rest of this 964 looks about how we'd expect. For whatever reason I'm always a little more captivated by a RUF Cabriolet versus a Coupe. That isn't necessarily because I think it's a better car, more so that the ideals seem somewhat at odds. And, we don't see nearly as many of them. That tends to grab my attention and this one is no different. On appearance this is fairly standard as far as a RUF goes, though granted a RUF isn't typically a wild looking machine. Other than the wheels there isn't too much to tell you what this is. The ad says the front air dam has come from RUF and I'm guessing in this case that just means the chin spoiler because this isn't a full RUF front end. The interior too has maintained most of its original appearance. There is the added roll bar, of course, and the always desirable green RUF gauges, but the rest is standard Porsche 964. The seats even are standard and that's kind of rare on a RUF.
Like any Porsche – though especially with a conversion – you'll want to see as much documentation as possible. Overall this looks like an interesting 964 that stands a little outside the norm. Conversions never really go for as much as a 911 with a RUF VIN and in that regard this one is priced kind of high. However, it's so uncommon to see one of these that it's hard to know what sort of price it could command. The seller wonders whether it might be 1 of 1. I don't know. You get a nice conversation starter and a nice looking 964 with a very desirable engine. Is that worth $95K? You decide.
-Rob