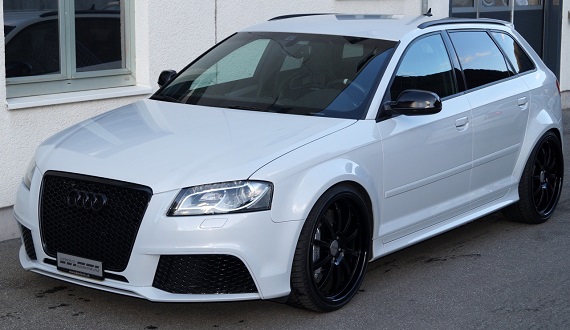 I've been taking a look overseas over the past few days at a few older treats that never came here, so today we'll look at a few newer Audi products that also were prohibited from U.S. shores. One of the biggest disappointments for many four ring enthusiasts was that the 8P RS3 model wasn't imported here. Basically a 5-door TT-RS, it was a Golf R on even more steroids – but today's example upped the power a full 200 more than stock to 550. Similarly, I have one of the 333 8X A1 quattro MTM models produced a few years ago, and while it doesn't share the monster performance of the RS3 it's sure an appealing package. Which would you love to have here on this Tuner Tuesday?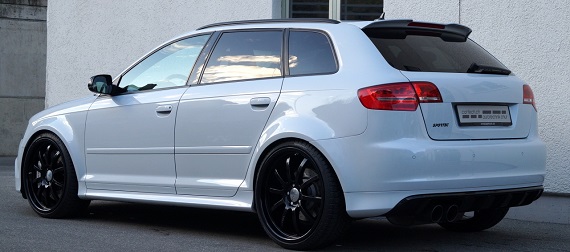 Year: 2012
Model: RS3
Engine: 2.5 liter turbocharged inline-5
Transmission: 7-speed dual-clutch semi-automatic
Mileage: 13,360 mi
Price: $135,087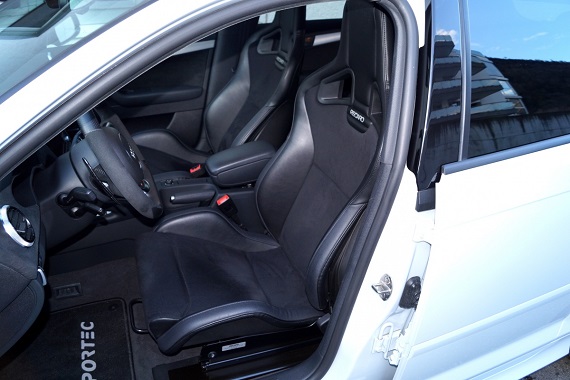 Wolf in sheep's clothing!! unique unique !!

Sportec complete reconstruction the end of 2014 , power level 4 ( 550hp / 650NM ) , incl . Sportec exhaust system with valve control , modified transmission software incl . launch control , large intercooler , Sportec turbocharger , modified wheel drive system adjustable , large brake system ( 370×35 / 6 – piston ) Bilstein sport suspension B16 PSS10 , spec. Antiroll bar kit front and rear, 20 " Sportec wheels ( Lightweight ) with winter tires Pirelli , 20 " Sportec wheels ( Lightweight ) with Conti summer tires , rear fender modified and widened ( 25mm per side ) , interior , div . Parts in Alcantara ( dashboard , door trim , steering wheel , etc. ) , esp. Recaro front seats incl . Heated seats and airbags , Sportec paddles Carbon , mats Sportec , Pedal Sportec , favorable financing on request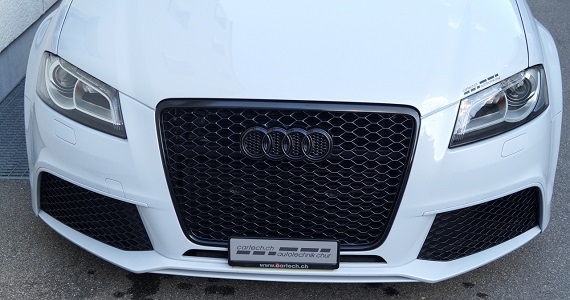 There have been some complaints that the performance of the much cheaper Golf R was precariously close to that of the standard Audi RS3 Sportback. However, with almost exactly double the horsepower of the standard previous generation Golf R that's less of a problem. What's particularly amazing about this performance is that it comes from Sportec based in Switzerland – a country notable for hating modified cars. They've done a pretty thorough job upgrading everything in this example, and if performance figures are to be believed this heavy hatch hustles from 0-60 in 3.4 seconds and doesn't slow down until it hits a limited top speed of 187. The price from Sportec of the engine modifications alone is a staggering $30,000, but it does give you supercar performance. Add in the expensive wheels, brakes, suspension upgrades, bodywork and everything else this basically new RS550 has and you begin to comprehend the $135,000 asking price. Still, it does seem awfully expensive for a tuned up Golf…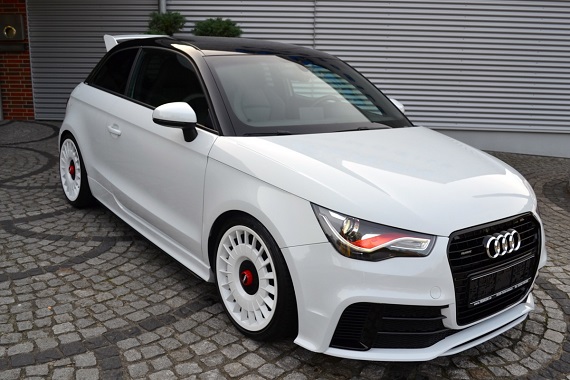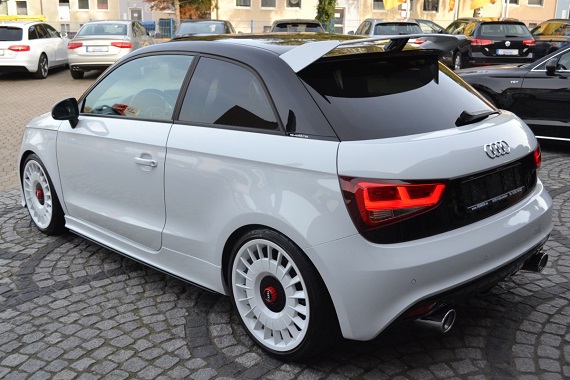 Year: 2013
Model: A1 quattro MTM
Engine: 2.0 liter turbocharged inline-4
Transmission: 6-speed manual
Mileage: 10,191 mi
Price: $49,648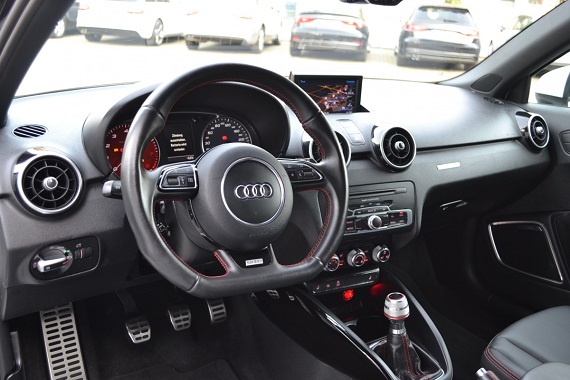 1 of 333 vehicles worldwide! " Wheel Bose Xenon Navi "

MTM conversion : MTM sport exhaust , adjustable sports suspension K & W , MTM tuning from 188 KW to 243 KW ( 330 hp ) Spacers front and rear 10mm , full refurbishment cost 11,000 , – EUR .
Four-wheel drive , leather upholstery , navigation system , automatic climate control , ESP , Freisprecheinrichung , Bluetooth , On-board computer , alloy wheels, multifunction steering wheel , seat heating , sport chassis , sport package , sports seats , cruise control , traction control , tuner , radio , xenon headlamps , CD player , electric windows, electric side mirrors , rear parking aid , Bose sound front – side and other airbags , alloy wheels 8J x 18 , tires 225/35 R 18 , etc.

Available immediately .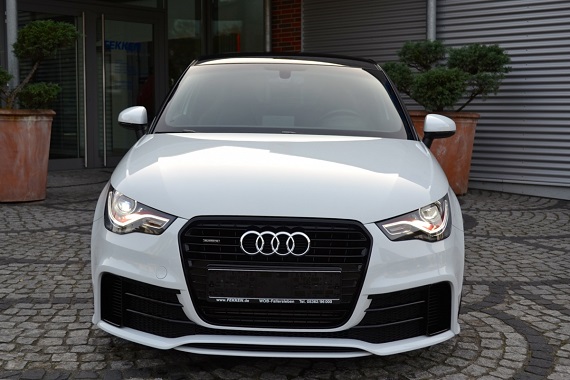 The A1 quattro is another in a long list of "they'll never make that"s from Audi, yet I've even seen a few floating around the delivery port in Rhode Island – perhaps an indication that VAG is going to try to capitalize on the mini-mania that struck the market over the past few years. MTM is one of the most storied tuners in the Audi world, having been founded by Roland Mayer who was one of original Quattro engineers. But unlike similar ex-Audi patriot Treser's somewhat odd designs, MTM's products have always been exquisitely tasteful and technically superior to everything else in the market. The A1 quattro MTM is no different, with some a rally-inspired feel and BBS turbo fan-look wheels, the performance isn't too shabby either. Granted, it's not the monster TT-RS motored Nardo car that MTM shocked the world with, but still it's got 330 horsepower from the 2.0T channeled through all four wheels and a six-speed manual. That power level is good for a 5 second sprint to 60 and a 160 m.p.h. top speed. Plus, it's nearly a third of the price of the RS3 and not much more than a new fully loaded Golf R. True, the new Golf will come with a warranty and offers more room – but it doesn't look like this car does.
For me, the A1 is the clear winner of these two. The RS3 generally is tastefully done and looks pretty slick, plus it would be awesome to dust off unsuspecting new 911 turbos in stoplight drag races. But you can't reasonably extract even 20% of the car's performance in normal driving, plus it's the same money as an Audi R8 V10 – which, even if it's slower, I'd rather have when push came to shove. For me, the A1 is the right balance of pretty nutty performance and it just looks spectacular, at least in my eyes. Which would you choose?
-Carter