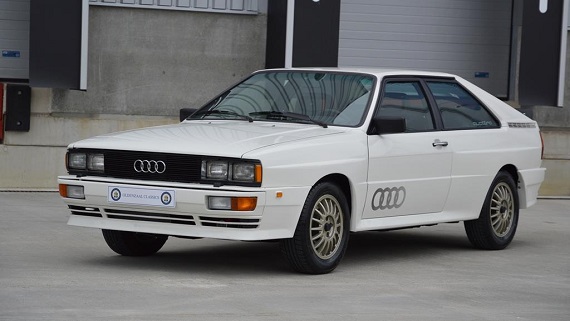 The same dealer who brought us the cool 2002tii Touring and M3 convertible has another European-specification treat that they're taunting us with. This time it's an original Audi Quattro, bucking the trend of these cars heading back to Europe. An early 1982 example, it's painted Alpine White like the factory rally cars were and features the early WR 2.1 liter inline-5 turbochanged motor and 6″ Ronals. Unlike U.S. spec cars, European models got the full-fat 200 horsepower, bringing performance more in line with equal priced contemporaries from Porsche. There are some other neat things to see – for example, it's a non-sunroof example – fairly rare among a group of cars that's already quite dear, and of course sports the better looking European bumpers with integrated headlight washers and foglights. With only 85,000 miles on the clock and in mostly original condition, does this one check the right box(flare)?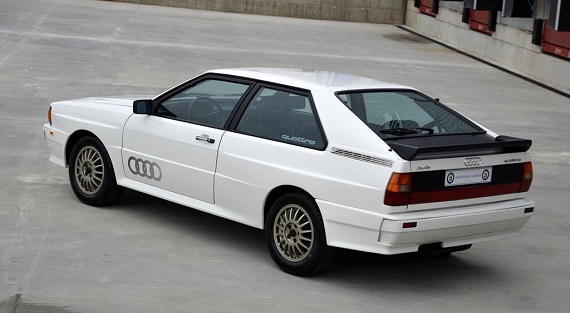 Year: 1982
Model: Quattro
Engine: 2.1 liter turbocharged inline-5
Transmission: 5-speed manual
Mileage: 85,048 mi
Price: Reserve Auction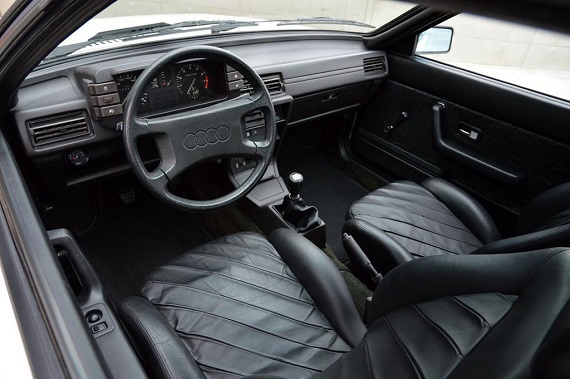 Unique!

Audi Quattro, First registered in 7/1982.

An Audi (Ur) Quattro, found by us in Spain, a very early 1982 model. A nice rustfree body, original color white. VIN numer: WAUZZZ85ZCA901202. Not the one mentioned above, Ebay didnt get my Audi VIN.

In Pontevedra, Spain we found the car by Mr. Felix Armada Maresca. And we found something unique. An original Quattro that was garage parked and was driven less frequent over the last years.

We have woken the car up and saw what we've found: the car amazing, we we're surprised how good and original this Quattro is. Original and never been messed with. No spoilers, not lowered, in the original colour and the original wheels. That's how we like our 80's sportscars.

The paint was partly faded/cracked due to the spanish sun and was'nt in s shape that this car deserves. We chose for a full respray. Done in a professional, european way with Glasurit paint in the correct color. This was done beautifully, the car is very straight and true and the paint looks perfect. No sanding marks, no orange peel, no overspray, a proper job.

The interior is still the original one, you'll see instantly that it didnt have a hard life. What else can you expect after only 85K miles? Carpetting, headliner, seats, doorcards etc. Everything is in a nice and honest shape.

The 5-cylinder engine with its mechanical fuel injection runs smooth and idles like it should. The turbo comes in and and the car drives lovely. The oil and filter have been changed, sparkplugs renewed. Battery replaced. It stands on 4 new tires, Brake cylinder and fluid have been changed.

We had a valuation rapport for the car made by the German classic car valuator Mr. Salco Hoogeweij (KFZ Oldtimer Sachverstaendiger Hoogewij, Google it, i may not place links). He is connected to Classic Data GmbH and does valuations and PPI's for oldtimers. He rated the car at €55.000 and at a 2+ Condition. Pictures/scans of the rapport are to be seen below. He is an official and proven valuator for cars.

The car comes with a Spanish title and it has been technically inspected by us.

Many pictures below!

The seller:

I'm selling the car through my company Oldenzaal Classics B.V, you can find me using Google, i can't place links due to Ebay Policy. I mainly specialize in Vintage BMW's

I'm a dutchman, my company is dutch. The car is located in Oldenzaal, The Netherlands. You can reach me on 0031 6 5521 2828 between 9:00 and 22:00, Dutch time. You can always contact me with questions about the car. Please mail me with any questions. I'll try to answer asap.

I have sold many cars in europe but to the USA as well. Ofcourse i will help in shipping and insuring the car in transport.

The buyer must contact me within 24 hours after end of auction. A deposit of 10% needs to be paid within 3 days via Banktransfer (No paypal). Then we'll discuss finalizing the deal.

For shipping qoutes just send me an email.

Examples below:

Jacksonville FL / Baltimore MD

All incl : ~1000 USD

Jacksonville FL / Baltimore MD / Brunswick GA

All incl : ~1200 USD

Houston TX

All incl : ~1300 USD

San Diego CA

All incl : ~1400 USD

Tacoma WA

All incl : ~2200 USD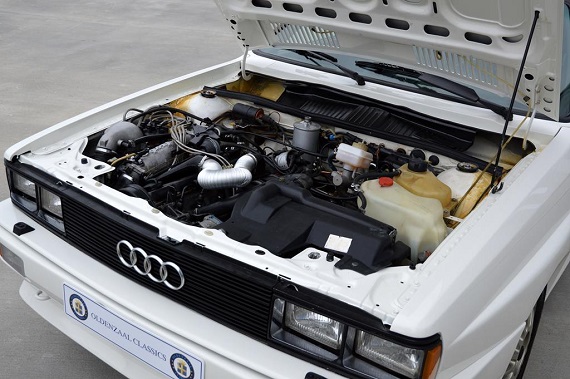 Our reader Npace chimed in on the 2002tii listing from the other day, commenting that the seller is a flipper and while that may not be a bad thing, a PPI is certainly in order. Good advice on any older car, frankly, these Audis have a fairly sizable list of difficult to get parts so a thorough check out is necessary. I'd be especially weary of the repaint; with the hood open, there's strong orange-red discoloration in the shock tower region. Now, my recent Alpine White coupe GT acquisition has some discoloration from factory applied undercoating in the drain area, but that turns more yellow than rust colored. It's especially a concern on a model notorious for rusting in the seams between the fender and the unibody since Quattros had no fender liners. For a top notch respray on a growing classic car, there's a glaring problem that's somewhat surprising – they chose to replace the original sticker model designation with later rear chromed post-1988 badges. Since the stickers – or, at very least reproductions of the originals, are still available, I'd want to look for other shortcuts. Inside there are other odd changes; the VW basic radio, for example, I'm pretty certain isn't right, and the car has a post 1985 steering wheel replacement – a budget one, too, as it appears all plastic unlike the higher-scale leather wrapped wheels featured on cars like the GT and 4000 quattro. Under the hood, there's also a budget injector cooler hose replacement and it appears to have the wrong brake fluid reservoir. Why get nit-picky about these details? Well, the asking price of the car is 45,000 Euros – the best part of $50,000 before shipping. That's close to top-dollar for these early cars, and while the condition of this example appears far above average and is more desirable because of the much better looking Euro bumpers and more powerful engine, I'm just not certain that it warrants quite such a strong price over examples that are already here. Perhaps if the reported lack of rust checks out, the other issues are fairly minor and this is a hard package to repeat – just be sure to do your homework.
-Carter