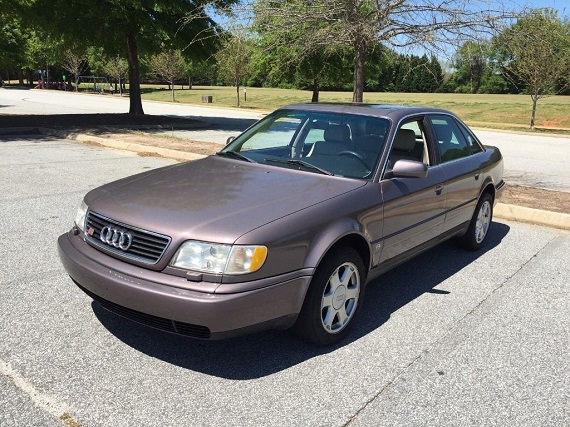 It's been quite a while since we looked at a nice C4 Audi, and this S6 fits the bill well. Presented in the more infrequently seen Cashmere Gray Pearl with Platinum leather, it's a nice original example of what was Audi's top-tier sedan in 1995. The '95.5 changes were pretty minor and there were some rolling alterations to the model; closed headrests and a switch to radio versus the earlier infrared central locking are some of the few visual clues, but also some early run S6s came with the forged Fuchs alloys found on the earlier S4 rather than the later Speedline-made Avus wheels seen here. Other changes were minor overall but significant to enthusiasts – good was the wider and reinforced first gear, but gone was the option to lock the rear differential as Audi began its run of electronic differential locking. For most that won't matter though, and what we have here is a pretty tidy example of an increasingly hard to find car: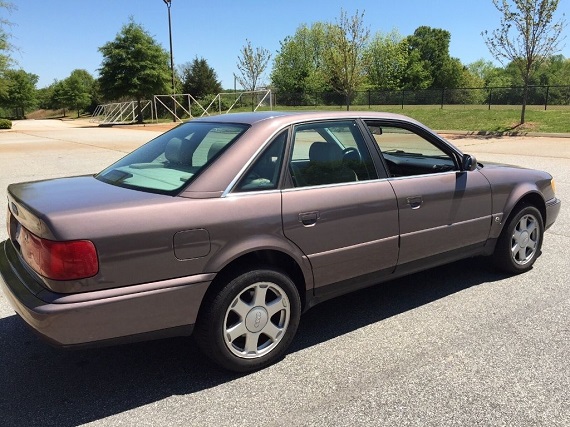 Year: 1995.5
Model: S6
Engine: 2.2 liter turbocharged inline-5
Transmission: 5-speed manual
Mileage: 187,000 mi
Price: Reserve Auction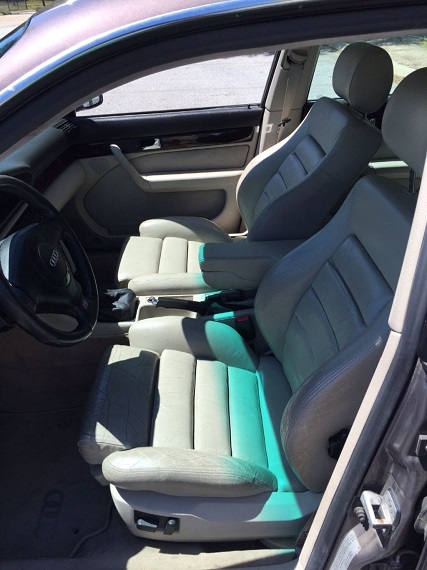 For your consideration is my awesome, very rare 1995.5 Audi S6 Quattro!!

This is one of the original UrS6 models which helped start the amazing S line of Audi's. This car runs and drives perfect and looks absolutely amazing for a car that's 21 years old. It was just recently repainted as close as you can get to it's original factory color of Cashmere Gray. You never see these cars in this color! I drive the car 100 miles a day to commute to Greenville, SC for work and the car is an absolute blast! It has around 187,000 miles on it and timing belt package was just done around 173,000 miles. This car will easily go another 100k or more! It is a 5 speed manual transmission with a turbo charged inline 5 cylinder engine. Quattro All wheel drive, power everything, heated front and rear seats, memory seat, telescoping/tilt wheel, moon roof, CD changer, you name it this car has it! All gauges work, AC blows cold, heated seats heat and cars is fast and shifts well!! As with any older Audi, this car is not perfect, but pretty darn close! Below are the minor issues that could be fixed if you desire:

Tires are pretty worn in spots (the car could use an alignment or maybe some new bushings), so replacements will be needed within maybe 5-10,000miles.
Cruise control and power mirrors do not work.
Brake pad sensor light is on and brakes squeak slightly when light braking, but pads seem to have plenty of life left (maybe sensor is bad and pads could us some silicone on the backs).
Stereo sounds absolutely amazing, but radio stations don't tune in too well and digital display is messed up.
CD changer works and plays fine!
Temperature gauge works, but doesn't illuminate, so hard to see at night.
Wheels have some curb rash from previous owner. Could probably get refinished.
Front air dam was missing a section, so I used gorilla tape to patch it (can be slightly seen in front facing photo, very low on car and not very noticeable as it sits).

That's about all I can think of for the "bad". Car seriously is great! This is your chance to own this very rare, piece of Audi history! I have most services records from day 1 back in 1995! I am the third owner, but just purchase the car a little over a month ago. I am only selling because I purchased this car as a commuter, but I would rather drive a TDI to get much better gas mileage. I don't want to rack up so many miles on the car and ruin it with my lengthy, mountain commute everyday. This car belongs to someone that will allow this car to last! Message me for details or to check it out. Thanks!

I reserve the right to end this auction early. Interested buyers are welcome and encouraged to come check out the car in person and verify the above information is correct prior to bidding. I've described the vehicle the best possible and keep in mind, this is a 21 year old car and will not be perfect. Thanks for viewing!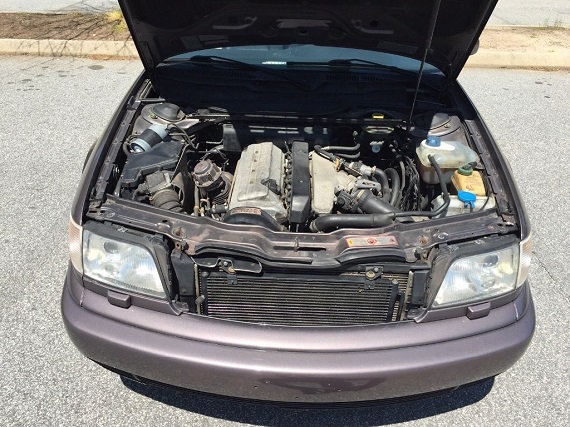 Expect that fixing the issues will take some time and a few thousand dollars; that excused, you're still in a much more reasonable pricing strata than the equivalent M5 or 500E. It's also hard to find original, unmolested examples like this – obviously, a car that was enjoyed by enthusiasts but not used up as some were. I wonder if there has been some work to the rear end, though – the paint appears to be a bit orange-peeled and the trunk is clearly out of alignment. Pricing on similar sedans usually falls in the $4,000 – $6,000 range depending on who is in the room; at only about 1/2 the rate of a Avant, if you don't need the extra space and every Volkswagen fan drooling on you at stoplights, the 4-door is a great way to get the legendary AAN turbocharged powerplant and C4 build quality without breaking the bank.
-Carter