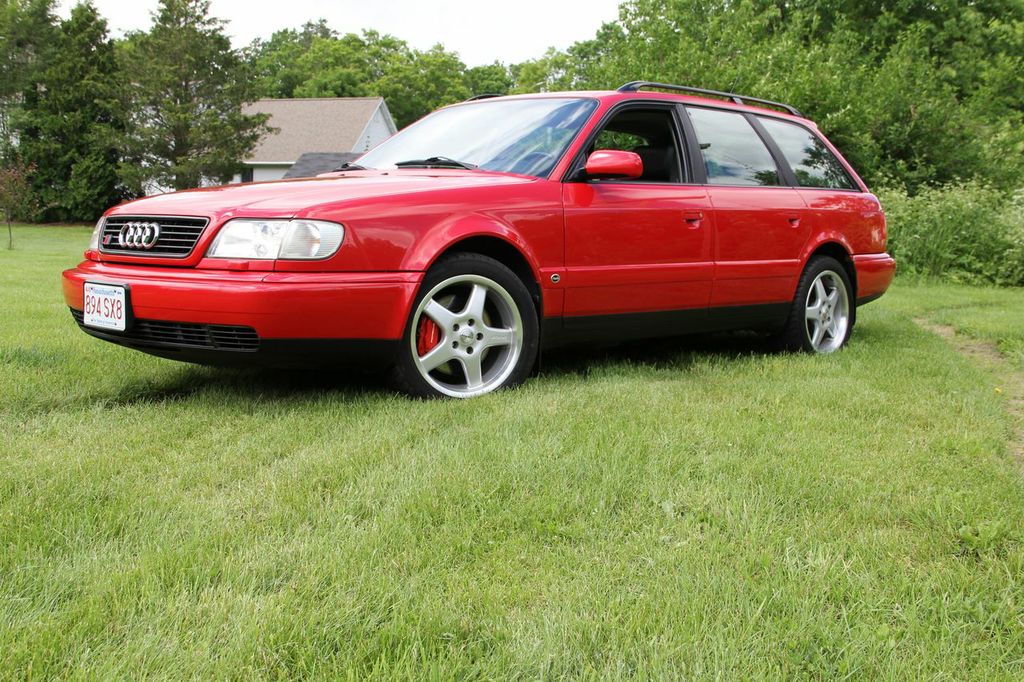 If you wanted a fast executive saloon in the U.S. in 1995, your options were running out. Economic conditions and more stringent emission regulations were taking their toll on sales. 1994 was the last year for the magical Porsche-built Mercedes-Benz 500E, and 1995 would be end of the run for the hand-built E34 M5. Audi, too, was redefining its model lineup, with 1995 ending the legendary 2.2 inline 5 20 valve turbo's run in the renamed S6. While most of the changes from the prior model year's S4 were minor, Audi's swan song for this model was something special and unique in the market – they brought back the fast wagon. While the S4 Avant had been available in Europe throughout the model's run, it was never imported to the U.S., meaning it had been four years since the very limited run 200 20V Turbo Quattro Avant had reached these shores. If you didn't plunk down the quite sizable sum for one of these gems, it would be another 5 years until Audi would bring back the fast wagon with the B5 S4. Like the earlier 200 20V Turbo Quattro Avant was to the Type 44 chassis, the S6 Avant is generally considered the most valuable and most desirable of the C4 chassis cars that came to the United States. Today's example is one of the few left in good condition:
Year: 1995.5
Model: S6 Avant
Engine: 2.2 liter turbocharged 20V inline-5
Transmission: 5-speed manual
Mileage: 135,000 miles
Price: $6,500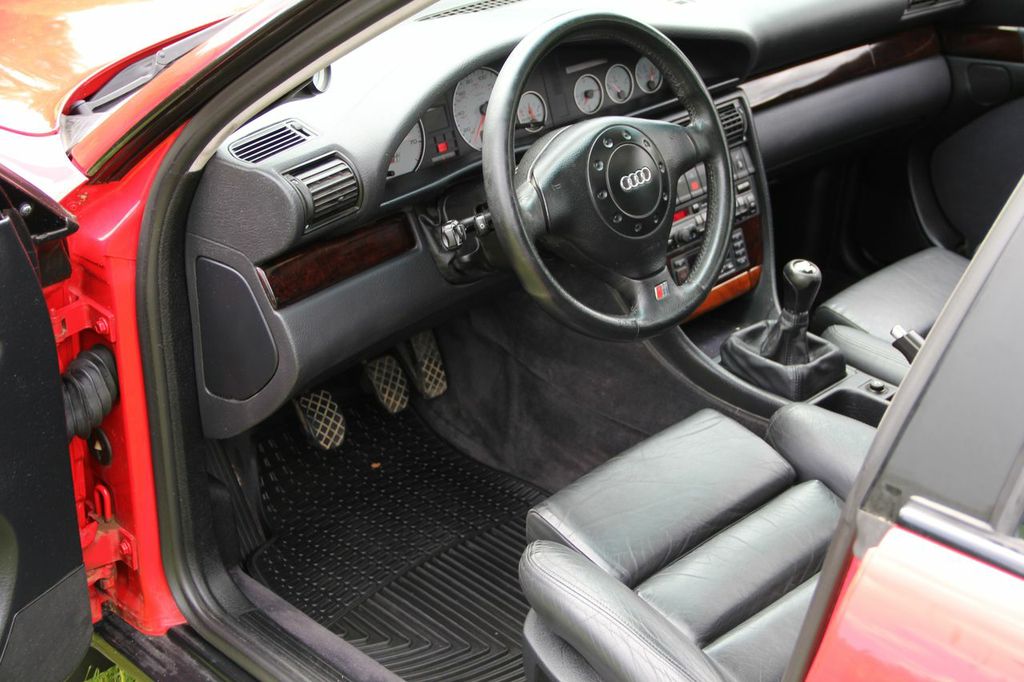 1995.5 UrS6 Avant 135K
Tornado Red
Black Leather, 7.5 out of 10 (it may be better, but don't want the interior police after me)
Third row seat

Major recent maintenance
Shocks and struts at 94k
Water pump, and timing belt at 119k
Pads and rotors(euro A8) at 125k

Primary mechanics
Jeff Skibik – Jeff's Foreign Car Service (RIP Jeff)
Greg Haymann- Autofirme

Modifications
MTM stage 1+
A piller boost gauge
Samco boost hoses
Porsche Big Red Brakes with Euro A8 rotors.
Stebro cat back, sounds awesome, comes with tail pipe resonators for inspection time.
Polished aluminum injector, air filter, and coil covers.
Hella Clear front corners
Euro S6 tails
Euro black front grill, and blacked out moldings and roof rails.
Weather Tech mats and cargo pan.
Trailer hitch, only used for bike rack.

Wheels and Tires
Borbet 17″x8″ Type E
Bridgestone Potenza with 90% life.

The Bad
Mainly rust issues. All four doors are rusted up under the moldings, and some rust is starting to bubble up on the two rear fender wells. Bruce Haymann of Karmann Auto Body Painted from bottom of the pillars down. Bruce's shop is top notch but just the NE salt sitting in some of these places will lead to these problems. I had planned on getting four rust free doors, and doing the work myself, but with two business and a new baby girl at home, I just have no time. Rear diff weeps a bit of oil. New E-brake cables have stretched, and need to be tightened up. I am sure there is a few other small things, but she is doing great for a 17 year old car.

I bought the car almost 2 years ago from a nuclear engineer, Audi car club member, lime rock track instructor (car was never tracked as he alway used used his coupe), Audi enthusiast. The car was his daily driver for almost 10 years and he was replacing it with a B8 S4. A maintenance folder came with the car that is one more then one inch thick (including original window sticker). For gods sake, he had the timing belt done 3 times! Maintenance was extremely important to him.

When I bought it I knew about the rust and knew that the car was in perfect mechanical shape, so I ended up paying a premium. It was worth it as I have never had an issue with the car. I believe that the price is more then fair judging its mechanical shape, and how nice the interior is. I know not everyone has access to bodywork tools, and the know how, but it will bet the right car for someone. If not, it will come of the road this fall and I will make time for it. My major incentive to sell is, if I buy my wife a TDI wagon, she will give me her Golf R, not a bad replacement in my eyes, doesn't have the same soul, but…

Price $6,500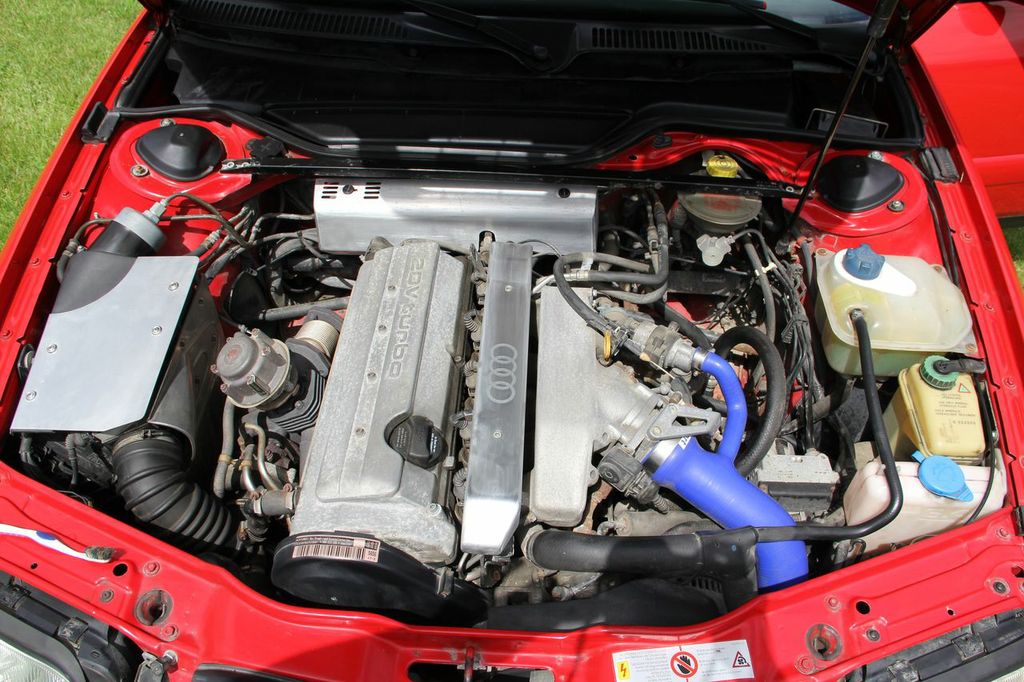 I know the original owner of the car, and how the seller describes him is very accurate – he was fastidious about the car, and it showed. However, as he recently said to me, New England winters have caught up with the car, and it's beginning to show the effects of that. Despite this, fewer and fewer of these cars remain in good condition. Like many of the fast executive cars, they quickly depreciated and fell into hands of owners who failed to maintain them properly. Many more suffered the ignominious fate of having their valuable 20V Turbo powerplant removed for transplant into other Audi models, such as replica S2s. Finally, many more have been modified and pushed to the extreme, and driven hard or have lots of miles. This car is a rare exception to these conditions and remains very presentable and mechanically well sorted.
I like that the seller is honest and upfront about the vehicle's needs, and he offers a large album of photos: https://www.dropbox.com/sh/tduqxiduy6dtxni/0otgebzoM_#/"title="here. If you're looking for a show car, this isn't it, and the price reflects that. Just consider what condition E34 M5 or 500E $6,500 buys you, though, and it puts this car's value into a much better perspective. The car has tasteful and desirable modifications that won't break the bank for future maintenance by pushing it too far, while making it considerably more fun to drive quickly. These cars are legendary in terms of longevity and reliability, with 300,000+ miles not unheard of. Sure, a bunch of small items will break along the way – there isn't any getting over that this car is 20 plus year old technology. But if you can put up with the small fixes it will throw at you, you'll have a fun car that is capable of carrying a massive load, getting up a snowy mountain road, and dusting off most sports cars. In my opinion, the price is spot on for a well presented car, even taking into account the need for future rust repairs.
-Carter