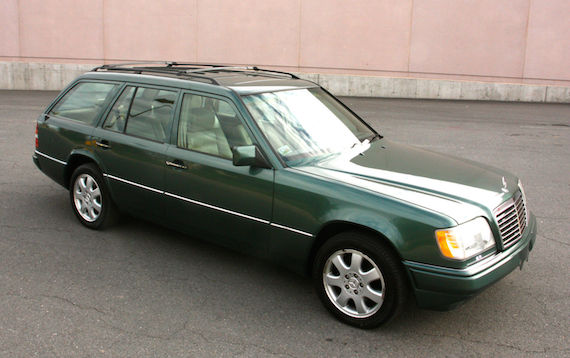 When I think German station wagon, one thing comes to mind for yours truly. Mercedes-Benz. Specifically, the E-class T-modell, as it is known in its native Germany. In the late 1970s, the W123 T-modell would be the first factory produced five-door and would prove to be a popular hauler stateside, with production lasting into 1985 and many of these cars still roaming the streets to this day. The W124 300 series would then succeed the W123, which would later be renamed the E-class for the 1994 model year. Thankfully, the E-class estate is still with us to this day in the US marketplace, available either in E350 4Matic form or in bonkersE63 AMG trim like the one we featured on Monday. So if an SUV doesn't float your boat, then you still have the option of going with a good, old-fashioned wagon. Provided you have the funds. If not, this 1995 E320 estate for sale in Quebec might be more up your alley. Originally a US car, this E320 was imported to Canada three years ago. Sure, it has 150,000 miles on the odometer, but this well-kept example has a lot more life left to give.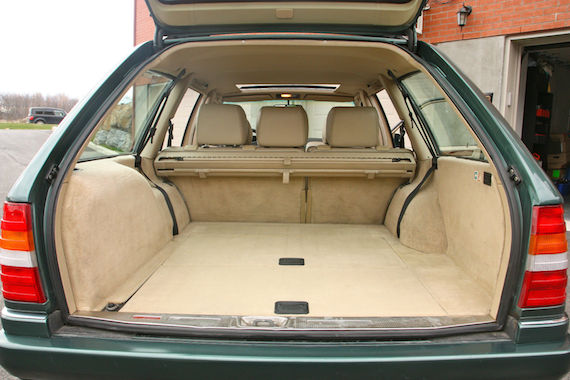 Year: 1995
Model: E320 Estate
Engine: 3.2 liter inline-6
Transmission: 4-speed automatic
Mileage: 151,480 mi
Price: Reserve auction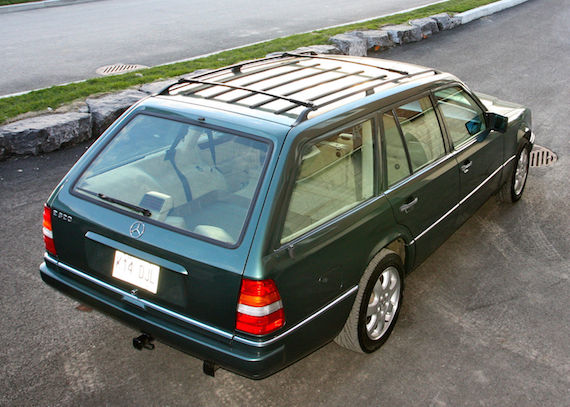 Life changes…. so does my car needs. Sadly, I reluctantly have to sell my beloved Mercedes wagon 🙁

This is no ordinary used car. It's the Station Wagon 7 seater version. Rare and sought after by knowledgeable enthusiasts, the chassis W124 is considered to be the last real 'over engineered' Mercedes-Benz exceeding in Quality, comfort and both active / passive safety. The station wagon is even more comfortable that a regular sedan or cabriolet. It was fitted with a Hydropneumatic self leveling rear suspension that makes the car glides over bumps and holes wether the car is empty or fully loaded. Ideal for long trips, I could drive many hours without stopping and yet feel fine. It's quiet and refined.

Being so popular, the amount of information online is simply phenomenal. I thoroughly enjoyed working on this car.

Imported in 2012 from the USA, the previous owner – a wealthy firm lawyer – kept it for 9 years and maintained it as it should sparing no cash and almost exclusively drove it long distance on highways. He was a member of the local Mercedes owner's club. I still have all his invoices as well as a CD-Rom for technical data. I kept on the good work and truly hope the next owner will take care of it as much as I did to keep this beauty on the road for as long as possible. I initially intended to drive this wagon on week ends and vacation only since I did not need a car on a daily basis. As a result, I only drove it for about 15k miles.

Due to a radiator leak which ran the coolant into the transmission, I had to have the Auto transmission rebuilt by a reputable specialist at La Prairie. Recently, the starter motor was showing sign of age and preventively changed it by a new one. I gave it two rust treatments too. I fitted a fully wired hitch to tow a small utility trailer or to carry my bicycles. In addition to this, I will also leave the OEM roof rack (beautifully designed…. no tools required!), The very few problems that are known to the post 1992 W124 chassis, have been addressed such as the engine wiring harness for instance. The joy of driving is up to what you'd expect from a classic Mercedes-Benz when they were worlds apart from the competition. The smooth 3.2l in-line 6 cylinders is all gentle under 3500rpm and truly wakes up past this mark and unleashes its 230'/lbs of torque and 217 bhp to provide some very contemporary performances, not to mention its delightful melody!

– Alpine sound system including iPod multi pin cable
– Incredible mono blade wiper covering 88% of the windshield,
– Memory electric heated front seats,
– Electric telescopic steering wheel,
– Electric and heated mirrors,
– Wired hitch & OEM roof rack,
– Protective rubber floor mat,
– Thermostatic A/C,
– 17″ MB CLC Mags,
– Excellent GoodYear tires,
– Winter set: 15″ Nokian Hakkapeliitta,
– New front brakes pad,
– New radiator,
– New starter motor,
– New drive shafts
– New Tailgate hidden gas struts
– New Spark plugs + HT leads
– Reconditioned heater controls
– New rear bearings
– New ignition key cylinder + OEM laser cut key (preventive)
– Reconditioned Central armrest upholstery and mechanism

My M-B wagon was evaluated $7,600 before I even had a chance to improve it.
I RESERVE THE RIGHT TO END THIS AUCTION EARLY DUE TO VEHICLE ADVERTISED LOCALLY.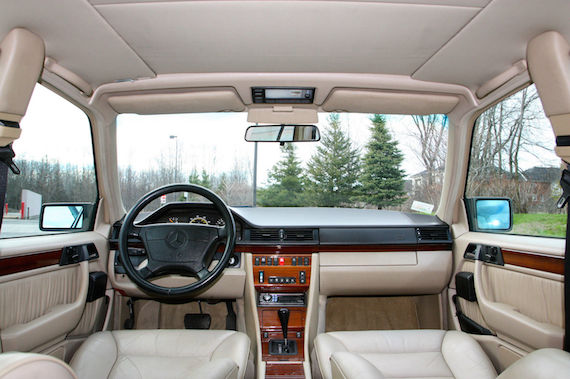 While 150,000 miles is a lot for some cars, it's mere child's play for a Mercedes W124. This one has had a lot of maintenance items addressed along with the well-known weakness of the wiring harness, so another 150,000 should be well within reason. Even though the wheels aren't stock, I don't find the CLK alloys too out of character for this car, given that they are OE Mercedes wheels and aren't oversized. One point the seller made that I wholeheartedly agree with is the windshield wiper. Having had several Mercedes-Benzes from the 1990s in my family, I can attest that the single, articulating windshield wiper Mercedes was known for did a spectacular job of clearing the windshield in even the heaviest of rain.
We saw a 1995 E320 Estate with 91k miles sell for $6,500 in March 2014. The seller's valuation of the car doesn't seem too far off, given that a well-maintained W124 estate can pull between $6,000 to $9,000 these days. With good W123 estates hovering in the $11,000 to $15,000 range, we'll probably keep seeing prices of the W124 estate rise over the next couple of years.
-Paul