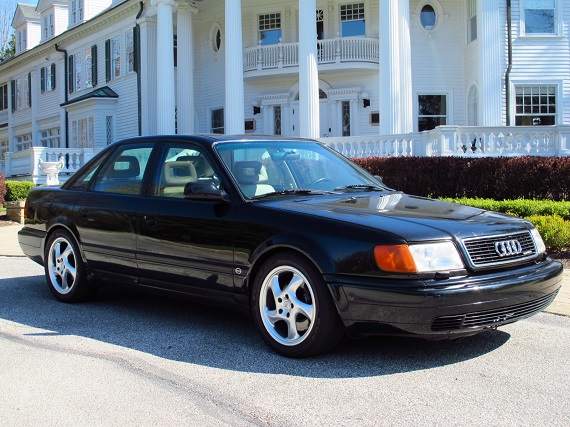 The 1993 Audi S4 we listed last month has been updated slightly; original orange corner lights have replaced the aftermarket clear corners and the seller has dropped the price to $5,500.
The below post originally appeared on our site April 10, 2015:
If you have followed my posts, you know that I'm a devoted Audi fan, having owned many from the 1980s and early 1990s. And given the rarity with which we see mid 1980s Audis – or even more rare, 1970s Audis – you'd be forgiven for thinking that those years were the leanest for Audi in the United States. But you'd be very wrong, because even while the 1970s saw the introduction of the brand to the United States and the 1980s saw the beginning of a new era with the Quattro, those were, in fact, relative boom times for Audi compared to the early 1990s. The reality is that the toughest time for Audi coincided with one of its masterpieces. From 1992 to 1994, Audi sold less than 30,000 cars total in the United States – less than the number of 1999 A4s alone they managed to shift only a few short years later. 1992-1994 also was the production run of the C4 S4 quattro, the Teutonic turbocharged sedan that competed against the more popular benchmark M5 and legendary 500E. And on paper, the S4 was the underdog compared to the other two; heavy and underpowered with less displacement and a forward weight bias, the S4 seemed outmatched. What history has taught us, though, was that the S4 offered something the other two had a hard time matching; potential. Upgrade the suspension, brakes, fit some larger rubber, turn the boost up and hang on – these cars were capable of churning out incredible power levels. How powerful? Only two years ago, a nearly stock looking 1992 model pushed 240 miles per an hour, a record for sedans. Two hundred and forty. Veyron numbers from a car that you can buy for under $10,000? That's some serious potential: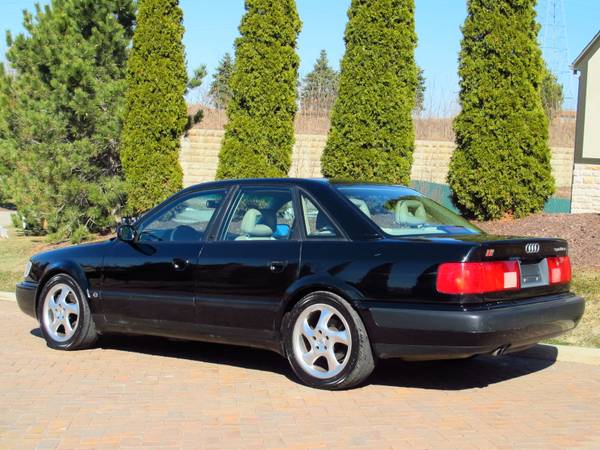 Year: 1993
Model: S4
Engine: 2.2 liter turbocharged inline-5
Transmission: 5-speed manual
Mileage: 155,000 mi
Price: $5,500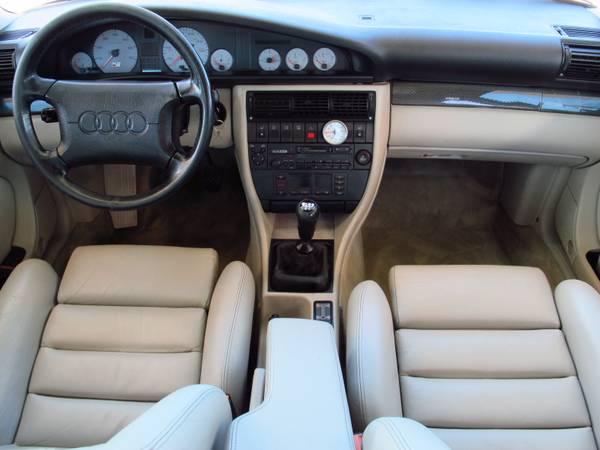 This is my 1993 Audi S4 Turbo Quattro AWD sedan with 155,000 miles.

This is a rare, high-performance Audi built in small numbers in the mid 90's. There were about 500 of them sold per year due to the $50,000 price tag.

These cars are rare, and becoming very sought-after and collectible in recent times.

These cars have huge aftermarket tuning potential, with many cars being tuned to 450 hp or more. The AAN engine is massively overbuilt and can put out double the stock horsepower ratings with ease.

This car is mechanically mostly stock, with a few minor modifications including the addition of a boost gauge, slight suspension lowering, Porsche front brakes, plus the addition of the Mille Miglia Porsche Turbo Twist-style 17″ wheels and tires.

This car was previously owned by a professional mechanic and he replaced both the timing belt and the clutch within the last few thousand miles.

This S4 runs and drives great. The engine, transmission, turbocharger, brakes, suspension, AWD, steering, etc are all working great with no issues or problems. There is no check engine, nor any other engine warning lights on. This is a fast, great-handling and fun-to-drive car that has huge upgrade potential.

The interior is clean and in nice condition. Typically the seats and leather upholstery are worn out, but the seats and leather on this car are in great shape for the age. The interior is in great condition and looks very presentable.

The exterior paint and body are clean, straight and in great shape. The paint is in good condition with none of the typical clear-coat flaking. The panels are clean and in very good condition. There are a few minor nicks, scratches and other small flaws as you might expect for the age. This body of this car is far above average condition, in my opinion.

This car has the following equipment and options:

-2.2L Inline-5 turbocharged engine (227 hp)
-5-speed manual transmission
-Quattro AWD with locking rear differential
-leather seats heated front and rear
-power moonroof
-ABS brakes
-power locks and windows
-cruise control
-automatic climate control

This car has a clean and clear title in hand and ready to transfer. No known previous accidents nor damage.

This car is kept in my heated garage near downtown Willoughby. Email me or call/text me at 440-339-4341 to make arrangements to see the car.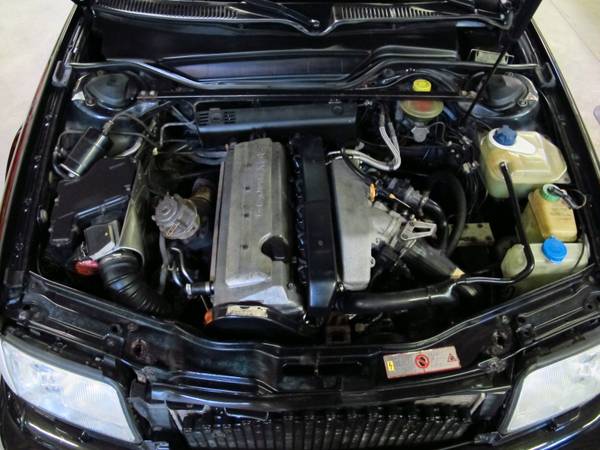 This is the third C4 we've seen from this seller, and this one is nearly the equal of the other two. It's not quite as original; the lowered suspension and Mille Miglia wheels hide Porsche brakes which are a welcome addition to the heavy sedan. There are a few small details that aren't original; it appears the front bumper has been resprayed – not uncommon given they usually are stone chipped, and the original front S4 badge is missing. The corner lights have been swapped for clear units, and the "quattro" badges present appear to be from a 100CS quattro rather than the original smaller S4 unit in the rear. But these are nit picks; overall, condition of this car is very good – certainly well above how they're normally seen. The modifications are both tastefully done and nice additions. Miles are below average and again the Ecru interior looks improbably good. Pro tip; if you own one of these, contact the owner and send him your car with some cash and get him to work his magic on the interior! As with the other two cars, the asking price is very reasonable given what you're buying: a clean, maintained example of a super sedan. Just because Audi didn't sell many doesn't mean this isn't one of the best all-around packages ever made – it just means it's hard to find them like this today.
You can contact the seller directly at camera411@gmail.com.
-Carter