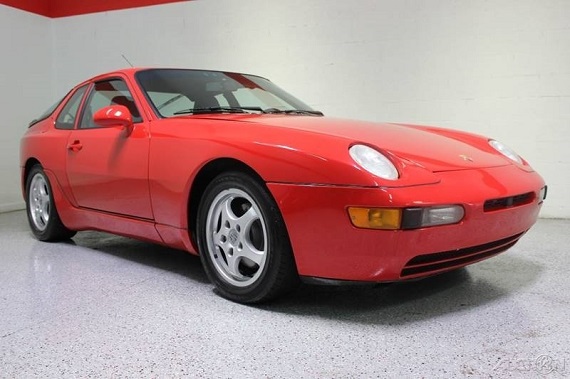 The Porsche 968 Coupe 6-speed is a fairly infrequently seen package, but one that is generally considered to be the "ultimate development" of the water-cooled transaxle 4-cylinder models. Only about half of the cars that were imported to the U.S. were Coupes (4,242 sent to North America, 2,234 of which were Coupes), and when equipped with the 6-speed manual the number dwindles to just 1,811. That puts production of these models on par with the E28 M5 in terms of rarity, and the group of enthusiasts who enjoy them are about as avid if not moreso. However, they also often overvalue their cars in the marketplace, making them expensive options relative to the performance on tap.
Today I have a group of no less than three 968 Coupe 6-speeds for sale – a rare Christmas treat to see. Which is the winner of the group?
Year: 1995
Model: 968 Coupe
Engine: 3.0 liter inline-4
Transmission: 6-speed manual
Mileage: 117,948 mi
Price: $13,900 Buy It Now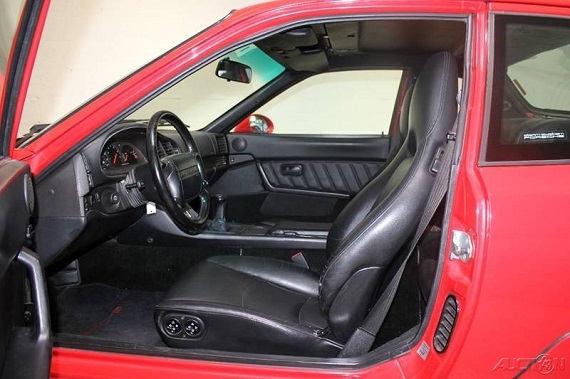 RUNS AND DRIVES VERY GOOD, CLEAN TITLE, CLEAN CARFAX. COLD A/C, POP UP SUNROOF, DRIVER SIDE AIR BAG. MUST SEE. FREE SHIPPING NATIONWIDE IS BASED ON FULL PRICE PURCHASE USING THE BUY NOW OPTION. CAR WILL BE SHIPPED AFTER ITS PAID IN FULL. PRIORITY SHIPPING CAN BE ARRANGED FOR AN EXTRA CHARGE THAT DIFFERENCE IN PRICE WILL BE RESPONSIBILITY OF BUYER.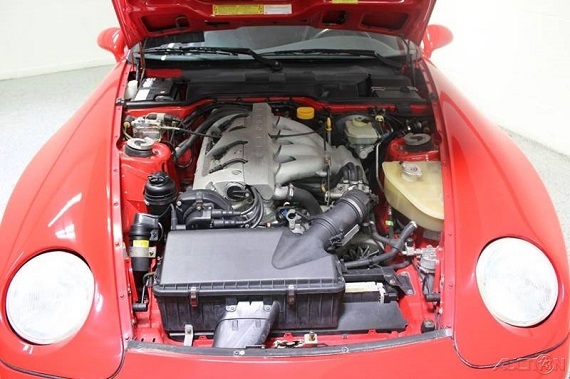 Like we've come to expect from internet dealers, there's very little information provided. Miles are not high but not too low, condition throughout looks decent but not spectacular, and no maintenance or history is offered. However, unlike what we've come to expect, the price seems quite reasonable for a 968 Coupe 6-speed, which infrequently tread below $15,000 these days. A PPI might reveal there to be a reason behind this, though. One thing of interest is that this car – serial number SS820213 – comes from the last roughly 100 968s produced for North America, as the '95 models are exceedingly rare. That may make investigation more worthwhile.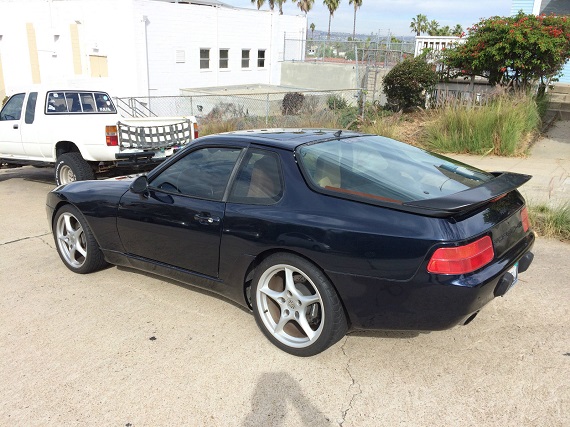 Year: 1994
Model: 968 Coupe
Engine: 3.0 liter inline-4
Transmission: 6-speed manual
Mileage: 153,000 mi
Price: $30,000 Buy It Now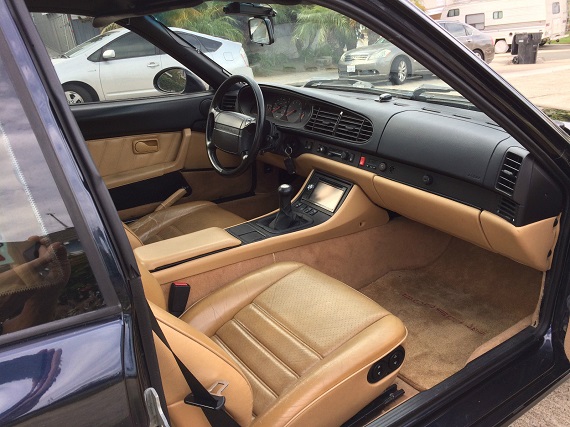 1994 Porsche 968
Engine: 3.0 Liter DOHC I4 (normally aspirated)
Transmission: 6 speed manual
Body: Midnight Blue/Tan leather
Performance: 245HP, 0-60 in 5.9 seconds, top speed 158MPH

Basically stock, with the following exceptions:
Panasonic Stereo with GPS map, Bluetooth phone, USB, SD card, etc.

Koni sport shocks
Porsche Carrera 18″ wheels with BF Goodrich G-force sport 255/35ZR18(rear) and 225/40ZR18(front) tires
DR1 front strut brace
Front /rear rotors (drilled/slotted) and performance pads

Maintenance since purchase from second owner (2011)
June 2011
Black Forest services San Diego, CA
Replaced Cam and balance shaft belts, all tensioners and rollers
Replaced Cam seals, balance shaft seals, oil pump seals, and both balance shaft front bearing case O-rings
Replaced Cam cover gaskets and buffers
Replaced water pump, thermostat, radiator hoses

July 2011
Reuben's Paint & Bodyworks, San Diego, CA
Repaint of roof, hood, front bumper and fenders due to peeling clear coat (no body damage).
Remainder of car is all original paint.

October 2011
Black Forest Services San Diego, CA
Replaced power steering rack assembly

November 2011
Black Forest Services San Diego, CA
Replaced Mass airflow sensor

January 2012
Rear hatch seal and door seals.
Replaced dashboard insert, and glove box hardware.

No need to explain the unique qualities and history of the 968 series here, as it can be researched through Google. In short, not many were built and very few examples were exported to the USA.

All maintenance records going back to 1993 original purchase invoice ($43k) and window sticker. Well maintained original car. See car fax
Seller can assist buyer with shipping as required. US buyers only please.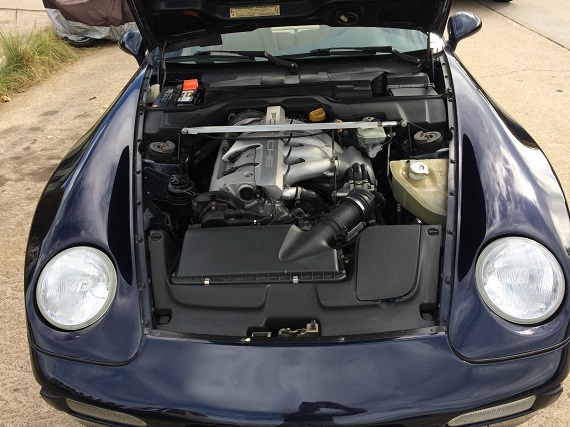 Here's what I've come to expect from a 968 for sale. The pictures aren't really great and don't do a fantastic job of selling the car. Nor do the miles or condition, as very obvious wear on the interior highlights the 153,000 miles covered. There are some upgrades which outside of the Koni suspension probably don't add much value to most (though the BBS-made 997 wheels look good!). The engine maintenance represents about $1,000 worth of work (plus or minus, depending on the mechanic) and none of it was very recent. Despite this, the asking price is a pretty astounding $30,000. Good luck.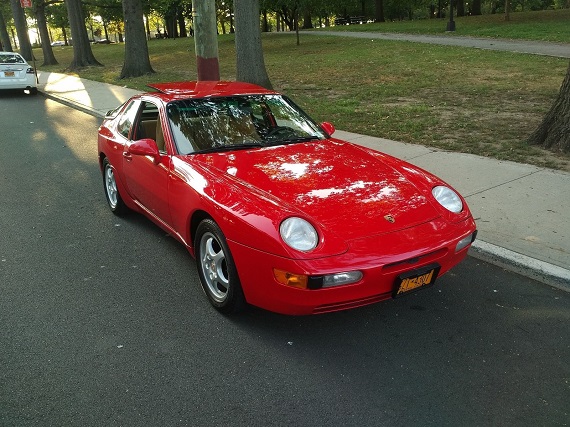 Year: 1994
Model: 968 Coupe
Engine: 3.0 liter inline-4
Transmission: 6-speed manual
Mileage: 55,971 mi
Price: $29,995 Buy It Now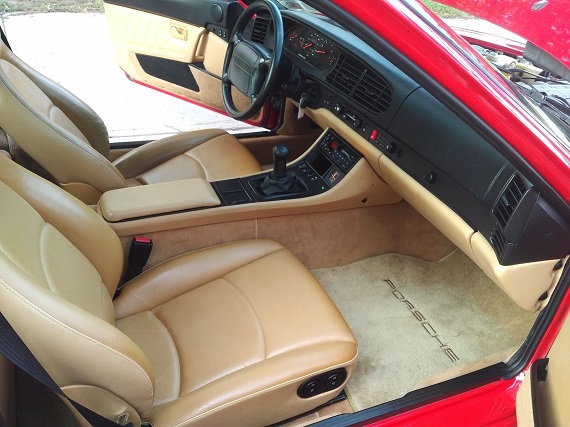 Up for sale is my 1994 Porsche 968 Guards Red Coupe with Light interior. It has never been painted, molested, or had an accident. Every screw, clip, sticker, etc is from how it can from the factory. It is museum quality. . I have all the paperwork, tools, compressor, owners manuals with this car. It sits in a climate controlled garage . The car has not been detailed or polished. If you have any questions please call or text me at 347-370-6063. -Adrian W. Please call and feel free to make appointment to come check it out!
Q: Hello I am very interested in car but am just waiting to see if my 2008 911 is sold yet. How is the service on car ? Clutch, etc. I'm in new Jersey and would pick car up if we made a deal and would like to know if anything needs attention. Thanks Dec-22-16
A: What color is your 911? I am selling this one to get into a 997. It is really like a brand new car, if you are close please come see it in person. You can call me at 347-370-6063. Thanks -Adrian
Q: Hello, I would like to ask the usual questions. Original paint? How many previous owners? Damage? Porsche invoices? Real mileage? I am from Belgium Europe. I don t know how to orginize things but I will follow the bidding. Thanks Jan De Jonghe Dec-20-16
A: Hi, 1.) Yes, it is all original paint, it has never been in an accident or ever painted. 2.) I bought from the owner who had it since 1995, I still have a copy of the 1995 title. 3.) Yes it is the real mileage, if you see the car in person, you will see it is like a time capsule. Everything is in amazing shape. It hasn't even been detailed or polished. It would look even better if it had been polished. 4.) You can call me at 1-718-416-4111 or my cell at 1-347-370-6063. Adrian W. Thanks
I say "Good Luck" mostly because while I think the Midnight Blue over tan is probably the prettier color combination, at the price and condition you're asking this Guards Red '94 is your competition. It's got 100,000 less miles and hasn't had a partial repaint. The interior looks just about flawless to match the pristine exterior. However, despite prodding from the peanut gallery, no maintenance was disclosed. Presume that you need to do a careful PPI, and this looks like it should be the winner in terms of condition overall in this group.
However, is it the one to get? If you're looking for a preservation-class car, perhaps it is. But if you're looking for a driver, the '95 represents a much better value overall. You'll have money left to do the maintenance neither the '94 or '95 disclose, and the miles aren't so low that you'd be afraid to add. Since either car needs a PPI to verify condition, I'd take more miles and less money to enjoy that 3-liter!
-Carter