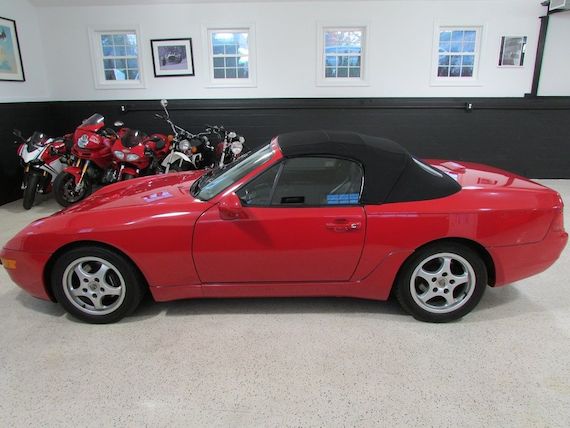 The late production Porsche 968 Cabriolet we featured in mid August is back up for sale, having no takers last time around. Ever wanted to own the ultimate expression of the front-engine, four cylinder Porsche? Here's your chance. Let our resident guru and fellow 968 Cabriolet owner, Pablo, walk you through the finer points.
The below post originally appeared on our site August 16, 2014: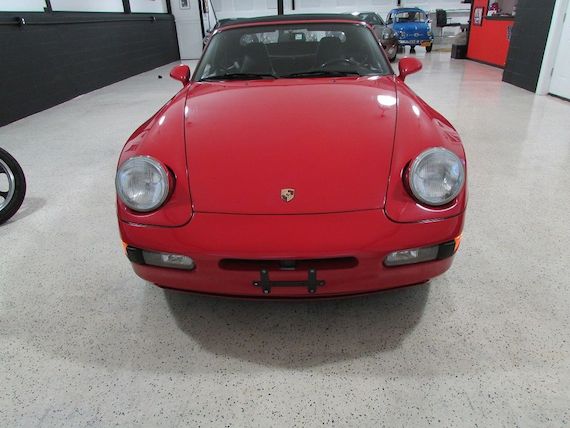 I like Guards Red on a 968 Cabriolet nearly as much as I like single-ply toilet paper, bus drivers, doilies, the German police, and I might've mentioned it offhand once, being licked by a cat.
I have nothing against the color, but does make me go a big rubbery one. My 911 is Guards Red, and it looks absolutely perfect on her voluptuous figure. In fact, it really flatters her beautiful, wide hips and accentuates the iconic swoop down her back. Not on a 968, the complete opposite happens as it tends to overbear the subtle creases and gentle bulges of her hips and shoulders…and it makes her rump look as attractive as an 87 year old in a thong.
But I'm digressing, I should be talking more about the car and less about my dislikes and Freudian connotations, both of which I'm sure you could care less about. So let's get to it then…
Now in case you know very little, or next to nothing, about the last evolution of the 924/944 family, I'll fill you in on what it was in a short paragraph.
The 968 became Porsche's last water-cooled four cylinder model. Made from 1992 through 1995, this was the replacement for both the 944 Turbo and 944 S2; a very tall order, yet one in which the 968 succeeded in with aplomb. There was talk in the boardrooms to call it the 944 S3, but as you read on, it'll be pretty clear why an entirely new model designation was used.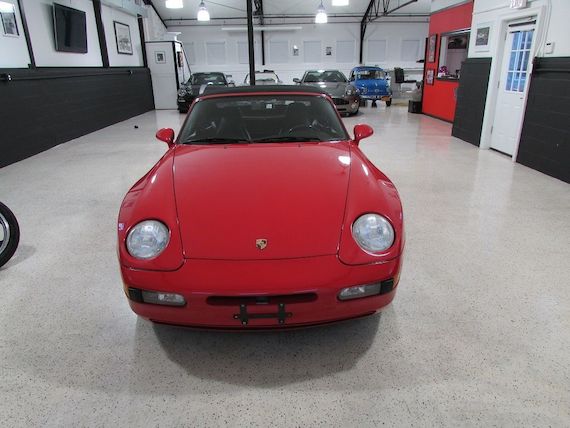 The early 90s were tough on Porsche. Sales in the American market had nose-dived, that the 944 and 928 were getting on in years and a bit long in the tooth didn't help matters either. Enthusiasts no longer saw the further evolution of these two models in the same light as the ageless 911. They pushed them as far as they could go and marketing was tired of coming up with anniversary editions, special editions, and club sport iterations of what essentially was last decade's mashed potatoes. The time was perfect to come up with something fresh, at least on the 944 side.
Harm Lagaay, better known for penning the Boxster, was responsible for the styling the 968 using the 944's platform. Announced in August of 1991, this was a car Porsche touted as being nearly 80% new or heavily revised was in fact, to the eyes of a cynic, just a re-styled 944. True, the interior changed little from the 944, in fact, to the unsophisticated, the only difference was the addition of an analog clock and turning the digital one into an outside temperature readout. But there were some really drastic changes elsewhere.
Beginning with the exterior, it took on a 928-esque look with its flush headlamps and polyurethane front and rear bumpers housing flush fog lamps and directional up front and wrap-around flush tail lamps at the back. The hood was long and tapered taking on a trapezoidal look joining with the elegantly swollen front fenders harmoniously. The coupe had a roof mounted aerial and bridge spoiler. The mirrors and door handles were like the ones on the 911 Turbo (965). It had a shape-accentuating polyurethane lower cladding joining up nicely with the rear bumper and it could be had with 17" wheels. Interestingly, lots of these styling cues would be seen in the upcoming 993.
The more revolutionary changes, however, lied underneath the dress.
Let's start with the engine. The massive 3-liter block with siamesed 104 mm bores of a "closed deck" design, and 88 mm stroke from the S2 was carried over, as was the 16-valve head design but the 968's engine had a trick up its sleeve…VarioCam.
This system, aside from being pure genius, transformed the world's largest four-cylinder into a torque monster with an impressively broad torque curve. It did so by using a three-position solenoid managed electronically via the Motronic system (the brain) to control the hydraulically operated chain tensioner by regulating the oil pressure to it. In simplest terms, a vertical piston inside the timing chain tensioner exerts upward pressure on the timing chain at around 1500 rpm acting on the intake camshaft (the exhaust camshaft is fixed because it's driven by the timing belt) causing the top part of the chain to lengthen. At the same time, the bottom part of the piston retracts causing the lower part of the chain to shorten; this turns the intake cam inwards, or counter-clockwise, in relation to the exhaust cam retarding the intake timing. This provided more torque at the lower end of the RPM range where it's needed increasing it as much as 6 lb ft.
As the RPMs increase, the opposite happens. The brain tells the solenoid to redirect oil pressure to the lower piston in the tensioner to push down on the chain increasing its length while the upper piston retracts from the top of the chain decreasing its length. This turns the intake cam clockwise which advances the timing by 15 degrees giving you more horsepower, about 5 more. Aside from making this engine extremely flexible throughout its power and torque range, it reduced hydrocarbon emissions by as much as 25%, NoX by 40%, and it improved fuel consumption by 4%.
How does all of this translate in numerals? Well, if we pin it against the 944 S2, the 968's engine Typ M44/43 for the manual and Typ M44/44 for the Tiptronic (automatic) produces 240 bhp (DIN) @ 6200 rpm, 29 more than the S2's 211 bhp @ 5800 revs, while putting out 225 lb ft of torque @ 4100 rpm against 207 lb ft @ 4000 for the S2. The compression ratio is a wee bit higher in the 968 too, 11.0:1 compared to 10.9:1.
If we compare the 968 to the Turbo, however, we see how the tables are turned…slightly. You see, the old Turbo packed 250 bhp @ 6500 rpm and 258 lb ft of torque @ 4000 revs. Both the 968 and Turbo hit around 153-156 mph against the S2's tested 146 mph…but, the Turbo's naught to 60 was 0.7 seconds faster doing it in 5.4 against the 968's 6.1 which, in turn, was 0.1 second slower than the S2 as tested. I also compared it with its stable mate, a 1992 964, in a separate article with some pretty impressive results:
http://flussigmagazine.com/1/post/2014/07/its-all-about-the-torque968-versus-964.html
The 968 did get some of the Turbo's best bits though, like the ABS assisted brakes with vented front discs and four piston calipers, the suspension was also carried over but with softer springs and stiffer Sachs dampers. When you got to the gearbox, though, the 968 demonstrated its sophistication…twice. Six speeds were offered for the first time in a front engined Porsche, a Getrag unit, Typ G44/00, developed in collaboration with Audi. The other option, a second generation four-speed Tiptronic (Typ A44/00) developed in conjunction with Bosch that featured five shift maps, compared to two in the first generation version in the 1989 Porsche 964, and was programmed to prevent shifting while cornering. Also, an optional 40% limited slip differential was offered for the manual; the ZF unit was available until 1993 when Porsche switched over to a Torsen unit (still 40% limited slip) option M220, until production ended in 1995.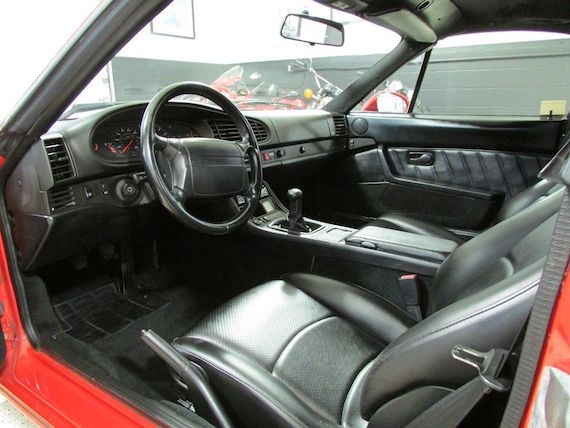 Year: 1995
Model: 968 Cabriolet
Engine: 3.0 liter inline-4
Transmission: 6-speed manual
Mileage: 60,105 mi
Price: $19,995 Buy It Now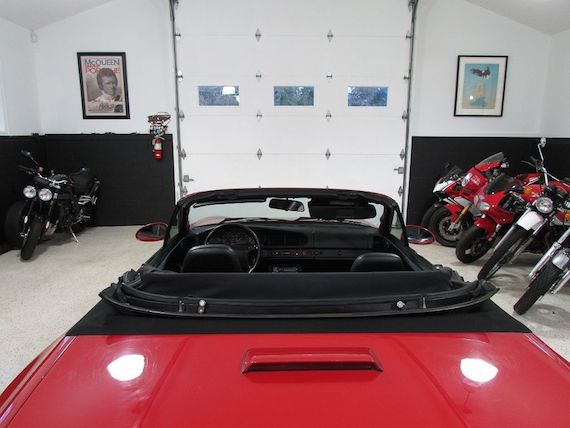 1995 Porsche 968 Convertible finished in Red/Black Leather Interior. Two careful previous owners, extensive Porsche service history. With only 60,105 miles traveled, this hand-built convertible has been kept in a garage all of it's life. This is a perfect classic Porsche. With a perfect weight distribution (50/50), six speed manual transmission, large bore 3.0 liter engine this 968 cabriolet is a dream to drive. This beautiful Red over Black leather convertible looks and drives great. The interior shows no wear at all, The A/C blows powerfully cold, everything works as it should. Recently had a Major Service at Porsche Main Dealer which included all the Belts, Water Pump and Service at a cost of $4800. This car needs nothing but a New Home.

GPC Cars go through a rigorous 150 point inspection. We strongly advice inspection of any vehicle before purchase. We have attempted to describe this vehicle in the best way we can. NO WARRANTIES OFFERED OR IMPLIED.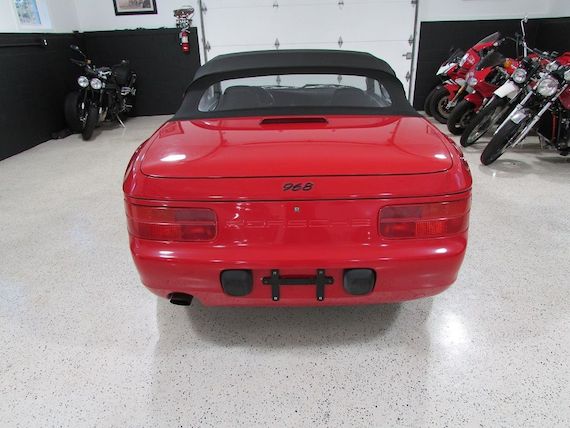 Right, now that you have a basic understanding of what the 968 is about; let's talk about this car, VIN: WP0CA2960SS840302.
If you were to call Porsche like I did and request a spec sheet on this baby, you'll immediately think the seller made a mistake on the fact that it's a '95 because the model year Porsche has is 1994. I'll tell you now that both Porsche and the seller are correct, let me explain. There's a code on the spec sheet that reads 718. When you look it up, it tells you this: S Programme VIN Change (USA and CANADA only)
What this means is that the factory used that code to signify a rollover of the VIN to the next model year. This was Porsche's way of dealing with inventory issues and cars that were "leftovers;" they'd essentially re-VIN it to be sold for the current model year. The only way to be sure what the true model year was is by looking at the 10th digit of the VIN which indicates the year of the car; N=1992, P=1993, R=1994, and S=1995 like this one. The 718 code would also be the case with 993s built in 1994.
And while we're on the subject of the VIN, the 11th digit signifies the manufacturing location. "S" in this case means Stuttgart; the 968 was no longer made at the Audi plant in Neckarsulm like the 924/944, they were made right alongside the 928s at Porsche's own plant.
Another peculiarity of this car's build is that it was offered with option code P07 GT Package. Apparently, no one knows exactly what the hell this code means…not even Porsche. I'm not kidding. When I called PCNA (Porsche Cars North America), a very nice woman name Margery told me, after about a 4 minute hold while she investigated, that this simply meant "adaptive sport seat." I don't buy it, see, because this code is also used in the 2014 991 GT3 which they also call out in German "Adaptive Sportsitze Plus." They also mention that they are 18-way electronically adjusted. Looking at the seats in this 968 in no way tells me that they're either. So I placed a call to Adam Blauer, who is the webmaster on Jeff Coe's the soon to be launched "Porsche 968 Register" (http://968register.org), and asked him if he had any info on this very elusive option code.
He told me that P07 for 968's translated to "Radio with Cassette Player and Amplifier for the Cabriolet." Interesting…what that has to do with GT Package is beyond me. Maybe good tunes are synonymous with Grand Touring?!
Oh, one more thing…someone took off the cool 17" Porsche Cup 2 design wheels. They're the same ones the 993 would use as an option. The build sheet indicates that these wheels, option M398, were ordered for this car, yet it has on a set of puny looking 16" wheels that were standard on the 968…take this up with the seller if you're considering the car as no one is mentioning this until I just did.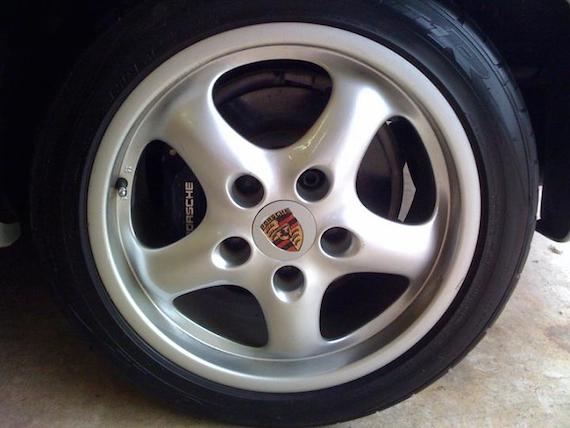 Other than those three things, everything else is pretty cut and dry. The engine Typ is an M44/43, serial number 42R02336 (3rd digit "R" tells us this engine was built in 1994) mated to gearbox Typ G44/00 serial number 1008465. The invoice date was June 24, 1994 leaving Zuffenhausen on Continental rubber. The exterior paint code for the Guards Red shade is G1V9, over a black interior code LT with partial leather bearing Interior Equipment and Seat Back Material code KL Leatherette and seat combination ATG with LED Leather as the seat cushion material paired with code LE leather side seat supports. All this over a black 5FV carpet color code.
The 2-year new car warranty took effect on March 25, 1995 and ended on the same day in 1997, that's when the varnish warranty began on March 25, 1997 ending on March 25, 1998. On that day, the corrosion warranty started and went on until March 25, 2005. Ten years for body imperfections is pretty generous and standard practice for Porsche. And finally the emission warranty that began on March 25, 1997 was extended until March 25, 2002 or 112,000 km; whichever came first.
Awesome…let's talk option codes:
M058 – Impact Absorbers Front and Rear
M130 – Control and Indications in English Lettering
M197 – Stronger Battery
M218 – License Plate Brackets Front and Rear
M219 – Differential
M231 – Change of Tire Manufacturer in Production Line
M273 – Outside Mirror, Electronically Adjustable and Heatable
M323 – Sticker, Without ESE Regulations
M331 – Radio Porsche CR-1
M379 – Series Seat, Left – Electric Vertical Adjustment
M380 – Series Seat, Right – Electric Vertical Adjustment
M398 – Cup Wheels 17"
M419 – Rear Luggage Dump
M423 – Box for Cassettes and Coins
M434 – Instructions for Export Market
M441 – Prepared for Radio
M454 – Automatic Speed Control
M455 – Wheel Locks
M480 – 6-Speed Manual Transmission
M484 – Symbols and Instrumentation Version for US
M534 – Alarm System
M548 – Fuel Filler Neck, Unleaded Fuel with Flap
M553 – Version for USA, Canada
M562 – Airbag Driver's side and Front Passenger Side
M573 – Air Conditioner
M602 – Araised Stop Lamp
M651 – Electric Window Opener
M655 – Folding Top Control, Electrical
M657 – Power Assisted Steering
M718 – S Programme VIN Change (USA and CANADA only)
M912 – Without Nameplate
P07 – GT Package
Nothing too exciting, but that's really not what this car's all about anyway. You'd be buying into exclusivity and that beats any option available in my book.
The demise of this model, along with the 928 in 1995 also signified the beginning of the end of, not only the front engine revolution, but also what I like to think of as the "Camelot" years at Porsche. When the last 993 rolled out of Zuffenhausen in 1998 and they introduced Toyota's Kaizen so that they no longer had to hand build their cars, Porsche's golden years were finished. They simply couldn't survive into the next millennium had they continued like they were.
That being said, I don't have to tell you how rare these cars really are. Only 12,776 968 Coupes and Cabs were ever made. According to Jeff Coe of the 968 Register, PCNA figures, which are the most accurate, gives us the following numbers; 4,039 were imported to the US of which only 1,944 were Cabs sold here. The last Cab ever has a VIN that ends in 0366, a Midnight Blue over Grey car; and since production of the Cabriolets ended in June of 1994, this Guards Red car 0302 is one of the last Cabs made that month…yep, my thoughts exactly. Coupe production, according to Adam Blauer, ended in October of 1994 without an official announcement from Porsche or its magazine Christophorus. It's as if they just disappeared. Incredible.
I've written far too much here…there's just so much to say about 968s. They really deserve their own book, which is why I won't get into what to look for when buying one. I will, however, give you a link to an article I wrote for my own magazine, flüssig, about how much I spent in bringing our '94 968 Cabriolet up to snuff right after we bought it, costing us twice the purchase price. I'm warning you now, this article is not for the meek.
http://flussigmagazine.com/12/post/2014/07/how-to-nearly-double-the-asking-price-of-a-968.html
Print this piece out and take it with you if you're looking at this car. You've got half of the information you already need. All you have to do is ask for the records and get a good PPI. I'll leave you with this great link to a 968 US Dealer Brochure and an old Top Gear video of Jeremy Clarkson reviewing the 968 Coupe.
http://coochas.com/brochures/968.html
*many thanks to Adam Blauer and Jeff Coe for the most precise and up to date options and production information on the 968.
highball!
-Pablo