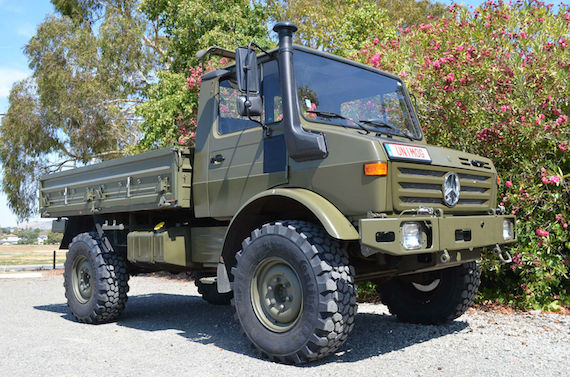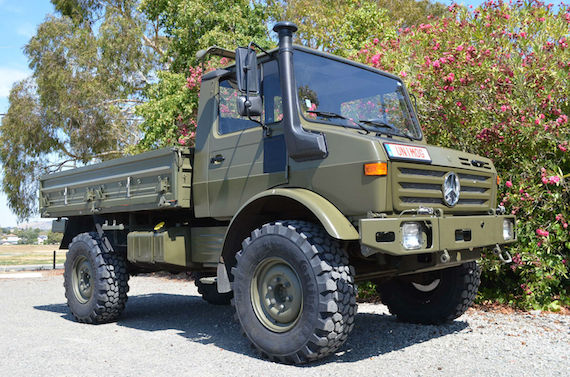 Most of the Unimogs we write up are from the 60s and 70s due to ease of import and cost. They're still capable but have interiors like the old Willys Jeep we used to have as an island bruiser. Fond memories of bouncing around and sore elbows indeed! Today's Mog has come a little ways inside and looks similar to all the other drab-green examples we've seen, but a slightly modernized grill hints at much newer running gear. Unfortunately, the cost for this newer 90s model is not just higher monetarily, but also brings the inability to register it for the road in the US. Canadians can rejoice or Americans can plan on having it as a badass farm vehicle, but part of the allure of the Mog for me would be to see the terrified looks on passing motorists' faces as I towered above them. Alas, the price demands this Unimog be seen as a useful truck as opposed to an awesome toy.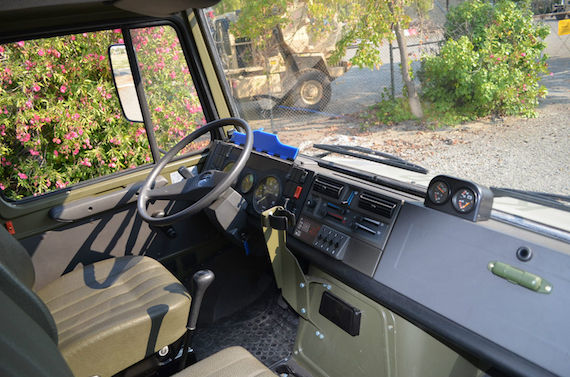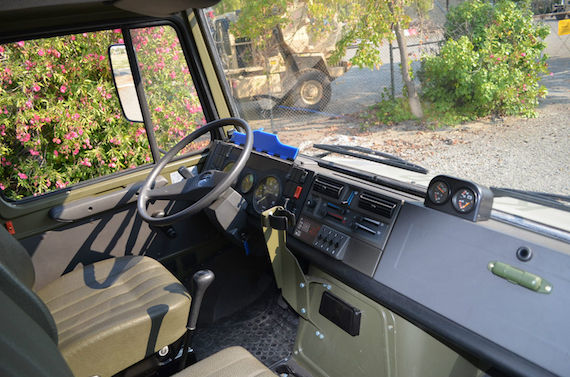 Year: 1996
Model: U1350L
Engine: 5.7 liter turbodiesel inline-6
Transmission: 8-speed manual forward/reverse
Mileage: 2,755 mi
Price: $54,000 Buy It Now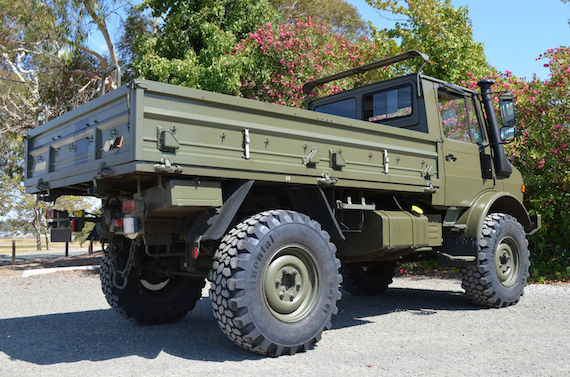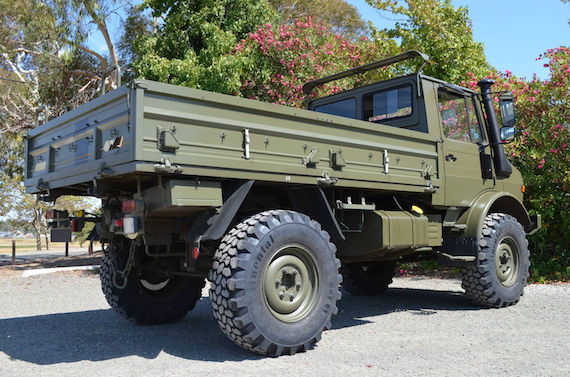 You are looking at an Excellent Condition U1350L Mercedes Benz Unimog. We currently have 3 of these units in stock starting at 50K. This unit is a 1996 with 2755 ORIGINAL DOCUMENTED MILES. These were Depot Reserve Unimogs that were never issued to an active unit and simply were moved from motor pool to motor pool having normal maintenance performed. The pictures speak for themselves in regards to condition.

We have added the newer style front Grill and New Continental MPT 81 Tires. In addition we have given this truck a 600 miles test drive and it performed flawlessly at the Northwest Mogfest in Sheridan Oregon.

Please Note: Ebay Motors does not recognize Unimog Vin #'s, as Unimogs Did Not Adhere to the International VIN Standards until the late 1990's. This Implement Carriers Actual Vin# WDB4371111W191268

These Unimogs have some unique features not found on the German Military Surplus units:

Intercooled 366LA Motor
Upgraded Transmission
Upgraded Axles
Sliding Rear Window in Cab
Square Roof Hatch
Updated Interior and Dash Assembly

These units will NOT be issued with a U.S. Title, and are not intended for road use. We can ship direct to Canada, or the East Coast with advance notice. Each unit delivered with a full service. EI has been importing Unimogs since 1993 and has extensive knowledge and a support structure in place to handle your long term needs.

Dimensions and Weights:

Width 2300 mm 90.6 inches
Length 5500 mm 216.7 inches
Height at cab 2625 mm 103.4 inches
Height at highest point 2875 mm 113.3 inches
Wheelbase 3250 mm 128 inches
Track 1860 mm 73.3 inches
Turning radius 14.1 meters 46 feet
Approach angle 46 Degrees
Departure Angle 51 Degrees
Ground clearance 440 mm 17.5 inches
Fording depth 1000 mm 3 1/2 feet
Curb Weight 4430 kg 9746 lbs
Gross Weight (GVW) 7490 kg 16,000 lbs
Top Speed 12.5×20 tires 77 kph (2600 rpm) 48 mph
Top Speed 14.5×20 tires 82 kph (2600 rpm) 51 mph
Top Speed 14.5×20 +fast axles (2600 rpm) 100 kph 62 mph
Top Speed 14.5×20+overdrive+fast axles (2600 rpm) 125 kph 72 mph
Fuel Economy U1300 17.5l – 19l / 100 km 12.5 – 14 mpg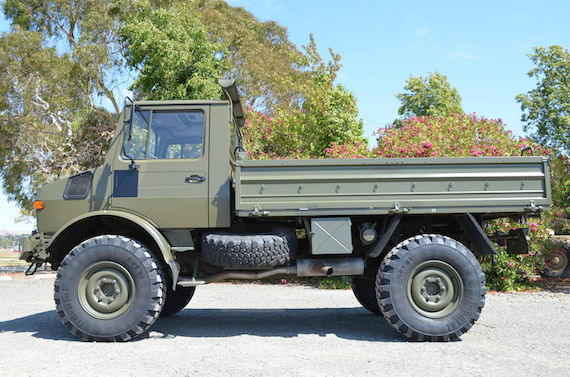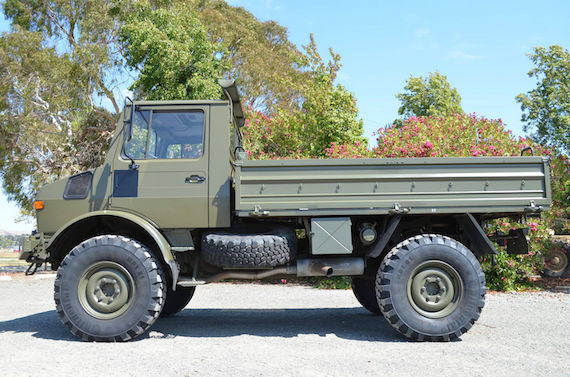 Apparently this one is for doing yoga on, which is not exactly how I'd use my Unimog. Quite a catch-22 that the Unimogs that can break 50mph are the ones you can't register. Considering so many models from 40-50 years ago are still running, I'd probably go the cheaper route and get one that costs 1/3 of this price, can drive on the road, and may be more simple to work on overall. The only people I've known to actually BUY a Unimog used it as their farm vehicle, but the occasional trip to the store was hilarious and well worth the (cheaper) price of admission.
-NR