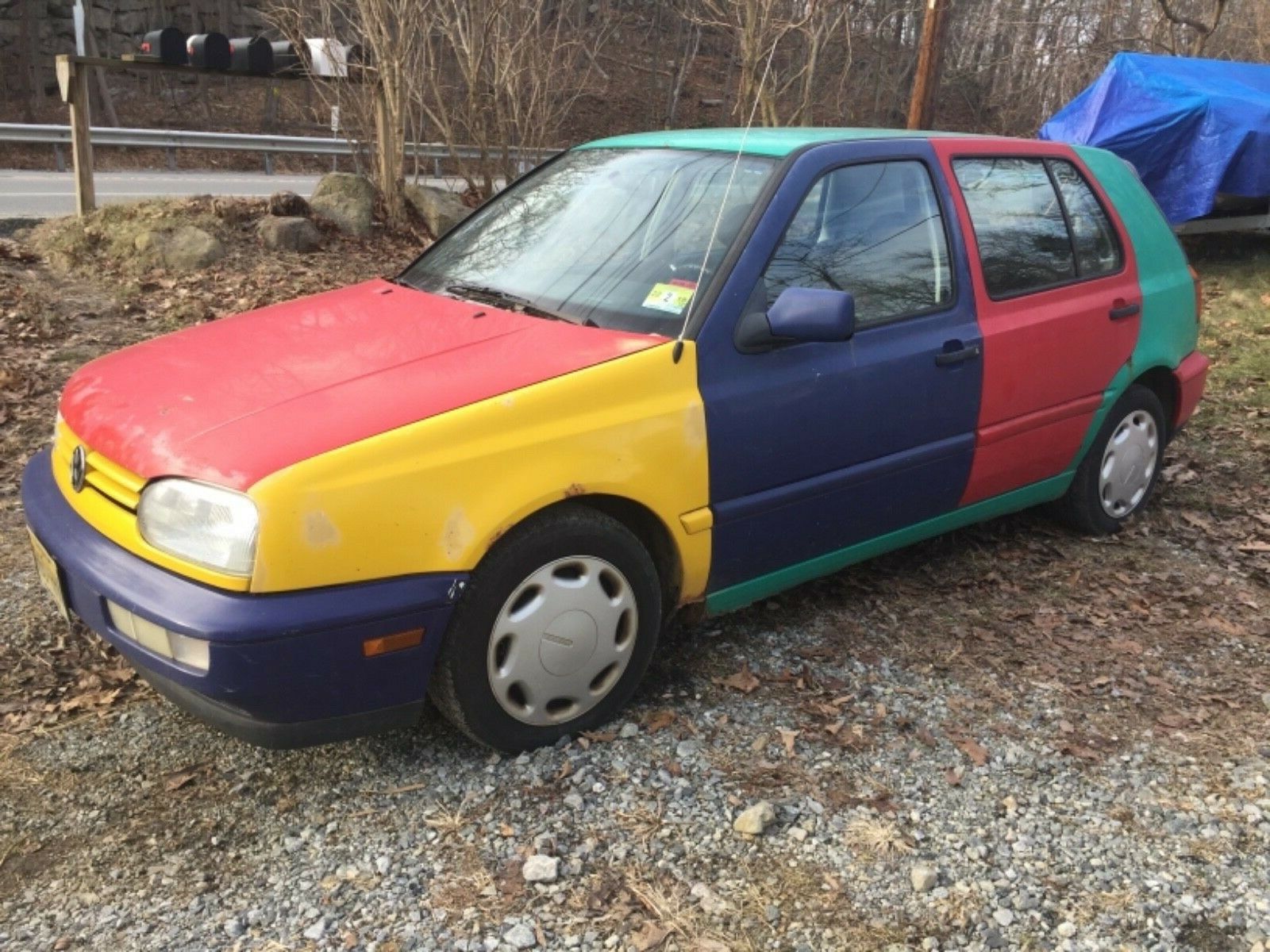 Update 3/25/19: This car appears to have sold at $5,000.
Update 3/1/19: Although it listed as sold for $3,050 in the auction which ended 2/22, this Harlequin is back and not joking around, with $5,000 worth of bids this time as of this morning.
So I'll start off by saying that we usually try to find the best examples of cars that we can. You don't need to be a rocket scientist, or even to have particularly good vision, to note that the Volkswagen Golf in the picture above is NOT the best example out there. In fact, we recently looked at what may be one of the best Mk.3s left out there – albeit an odd one – just a few weeks ago:
However, if you know anything about water-cooled VWs, you also know that the car above is quite special. It was not because it had the best spec, or the most power, or the highest price tag; in this case, it was all about the marketing and it's one of those cases where an oddball becomes incredibly endearing to a very small group of people. If you were to buy this car and turn up at a 'normal' automobile enthusiasts' home, they'd probably think you'd gone mental with your recent purchase. Full of rust and mis-matched panels, as well as likely a lot of miles and even more likely a ruined interior – not to mention what is sure to be a host of mechanical woes – this Golf probably looks to most like it's ready for the wrecking yard. But turn up at a VW show in this car even in its partially destroyed state and all eyes would be on you, because this is a Golf Harlequin, and in the world of water-cooled, that's a pretty special thing: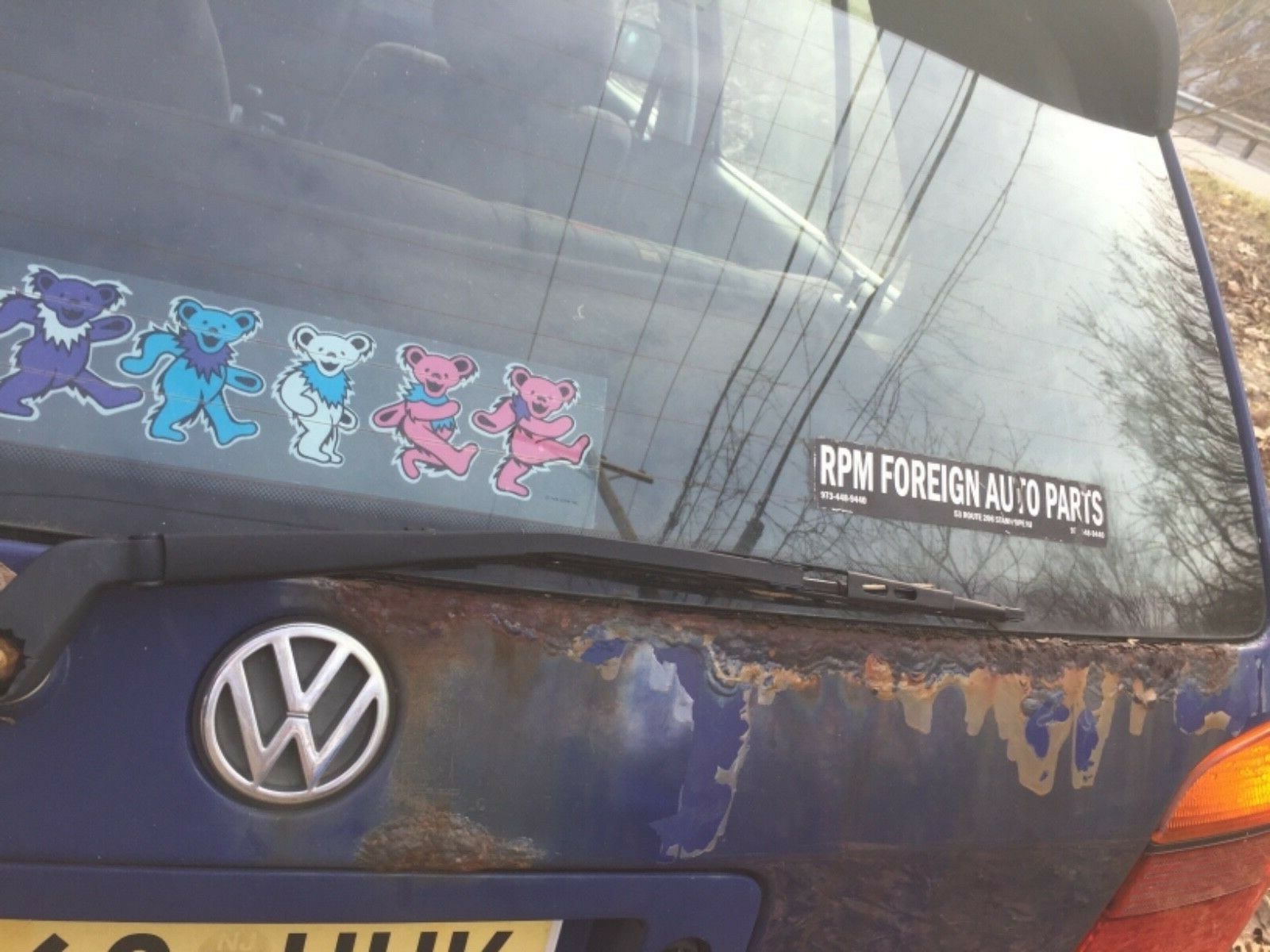 Year: 1996
Model: Golf Harlequin
VIN: 3VWFA81H2TM092687
Engine: 2.0 liter inline-4
Transmission: 5-speed manual
Mileage: '200,000' mi
Price: Reserve Auction
1996 VW Harliquin original paint and seats, ONLY 260 MADE! You will turn heads with this vehicle! Every one wants to talk to you about this car. This car was owned by an auto parts store for many years ,was used as a back up delivery vehicle so has lots of miles. It needs some body work and tlc, new starter just installed, needs cat conv. to pass NJ state inspection .
Chassis number 092687, this car was apparently produced in a line of other base Pistachio Green examples – 092684 and 092689 are also the same base, which meant Tornado Red rear doors, rear bumper and hood, Ginster Yellow front fenders and grill, and Chagall Blue front bumper, doors and hatch. While the production date of this car isn't given, the others in the run around the same number were March '96. This car is also listed as a manual, and it's right about there that the 'exciting' stuff ends.
Simply put, this car is pretty much ruined. If yesterday's Passat needed a bit of work to be roadworthy, this one looks Sisyphusian. Virtually every single panel which is shown contains some rust, and several panels contain a LOT of rust. Actual miles are not disclosed, but based upon the condition and the car's history as a parts runner, it's likely safe to say it's more than the '200,000' listed. It doesn't have the right wheel covers. There are no photos of the interior. There are no photos of the undercarriage. There are no photos under the hood. You can bet there's a reason for all of those things.
So what you have is a chassis number of one of the limited Harlequins on a car which needs, at the very least, a complete restoration to be at all presentable. In fact, you'll likely find yourself flat out replacing body panels rather than trying to restore them – and, at that point, doesn't this become the ship of Theseus? Yet despite all that I've said, go ahead and check out the bidding. At the time that I write this with a bit under a week remaining on the auction – the current price is $2,600 with the reserve still on. Bonkers. What a bonkers world.
-Carter