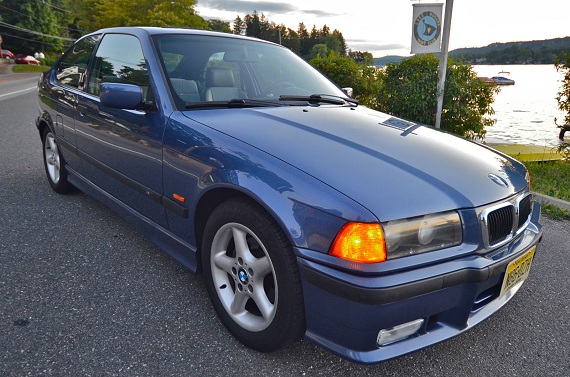 It seems like just yesterday I was writing up a clean 318ti M-sport. The condition was great on that particular example; miles were lower, it was all original and the color was nice. But there were several drawbacks, too – the California roof, while cool, was noted by one of our readers as a potential problem spot. Then there was the transmission; an automatic, it robbed a fair amount of the sport and fun out of the package. To top it off, there was the asking price – a staggering $13,000. As if to answer every single one of those points, another near-mint example of the rare to see M-Sport package has popped up this week; conventional sunroof, lower price and thank heavens a manual gearbox are the highlights here: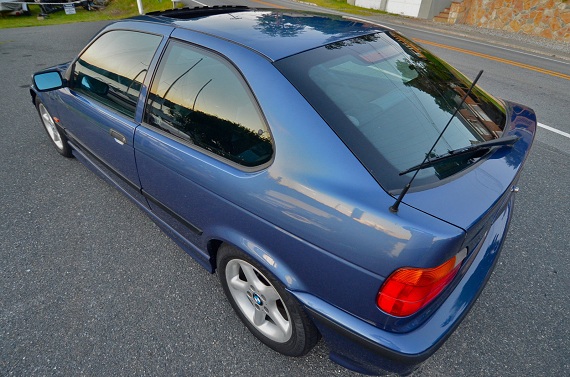 Year: 1997
Model: 318ti M-Sport
Engine: 1.9 liter inline-4
Transmission: 5-speed manual
Mileage: 158,000 mi
Price: $8,950 Buy It Now
An extremely rare and collectible 1997 BMW 318ti M-Sport E36 Compact – Finished in Alaska Blue Metallic with M-Sport Black Leather/ Millpoint Cloth Seat and Door Panel Inserts / Black Wool Headliner. First Owner Reported was as BMW Executive Car – Clean NO ACCIDENTS Carfax Documents Regular Servicing Since New – Fully Optioned with Heated Front Seats, Fold-Down Rear Seats, Tinted Glass, Cold A/C, Map Lights, Clock, Electric Mirrors, Electric 2 Position Sunroof, Front and Rear Defrosters, Electric Front Side Windows, M Sport Seats, M-Sport specific 15″ factory alloys, M3 style front and rear fascia, side rocker panels; integrated foglights, ASC ( Automatic Traction Control ), Driver & Passenger Front Airbags, M-Sport Factory suspension and sport shocks, Premium 10 Speaker Sound System. The E36 318ti Compact was briefly imported to the USA between 1995 and 1999 Model Years; The M-Sport was the top of the line model. While Luxury Performance hatchbacks were not well accepted in the 90's, they are extremely popular now – which why this rare car is appreciating with collectors, especially those looking for an ideal candidate to swap an M3 engine into them. The long wheelbase affords an excellent ride and with the wheels almost at the corners, provides the fun handling very similar to the 1970's BMW 2002tii. Although shorter in length than the e36 coupe and sedan, there is more interior room than either. This restoration is one of my projects for TheClassicCarFactory – the goal being to find the best example out there and bring it back to Daily Driver status by repairing/replacing anything that was broken, cracked, faded or non-functional. Everything works on this car. The Alaska Blue Metallic Paint shines beautifully showing only minor defects from tree sap, etc as would be expected. The interior is near flawless with only the bolsters on the drivers seat starting to age ( replacement Montana leather seatback AND seat cushion with PERFECT bolsters is included for your installation); The original cassette radio has been replaced with an in-dash BMW Business CD43; The car features a new windshield wiper cowl vent; All belts and hoses needing replacement have been; The original factory speakers in the kick panels and rear c pillar have been upgraded to JBL units; the components in the doors operate fine in this 10 speaker system. Almost all examples of the 318ti eventually suffer from out of track windows and bad door panels – and both issues have been remedied: both window regulators have been replaced, new switches added. Both door panels have been refurbished and reattached with the factory NUMBERED set of 10 specific door clips ( no longer made by BMW ) – They hold tight and are rattle free. The Black wool headliner is tight and perfectly fitted; New window seal and horizontal glass wipe rubber has been installed on both sides; new fog lights replace older clouded units in the front air dam; New exterior door handles and seals were added; New Goodyear Tires and Brakes/Calipers were installed approx 10,000 ago. This car gets nearly 30 mpg. A brand new waterproof/UV resistant fleece lined car cover is included. This vehicle spent most of its life in Virginia. There is NO RUST. This collectible will be delivered with a fresh oil and filter change and FIVE GREEN LIGHTS on the Service Indicator….it needs only the next collector to maintain its excellent current condition. Additional photos available. If you're looking for the best maintained factory stock 318ti out there – your search is over. Carfax available by PDF on request.E36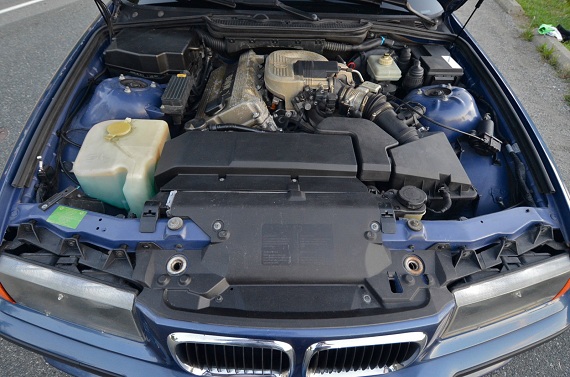 I really think the Alaska Blue Metallic is a fetching color on this example and really helps to set the M-Sport apart from the M3 crowd just a bit. The seller seems to have addressed some of the typical problems with interior and exterior materials, including door cards, seals and lights. The light mechanical and cosmetic freshening has left this example looking good. There are still fairly high miles, but they're not outrageous and if the car was cared for and rust free, it seems like a good example to consider. I still feel that the price is pretty high, though. Granted, there aren't a ton of good condition E36/5s floating around out there, but of course at $9,000 you can get into a decent E36 M3 with similar mileage – or if you must have a hatch, you can get into a nearly decade newer GTi 2.0T with much more performance and space. Even considering the recent maintenance and overhaul, I feel the sweet spot for this car is around $6,000 or so.
-Carter