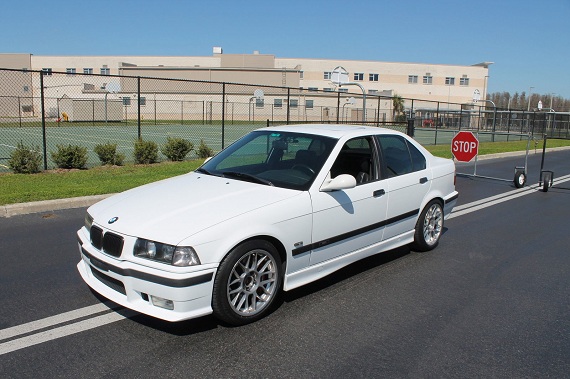 The other day, Paul wrote up a 1998 M3 Sedan being sold by the premium dealer Enthusiast Auto Group. This isn't that car, so if you're looking for the best sedan available you're better off looking at that post. However, if you're looking for the most bang for your buck, this sedan might fill the need. While the E36s didn't get the full-fat M motors that Europe saw, this particular example has rectified that motivational issue by replacing the venerable inline-6 with a Chevy 6.0 V8 hybrid and mated it to a Tremec 6-speed manual. Interested? I was: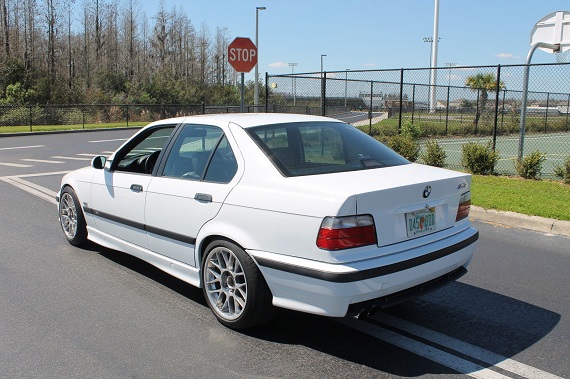 Year: 1997
Model: M3
Engine: 6.0 liter V8
Transmission: 6-speed manual
Mileage: 229,000 mi
Price: No Reserve Auction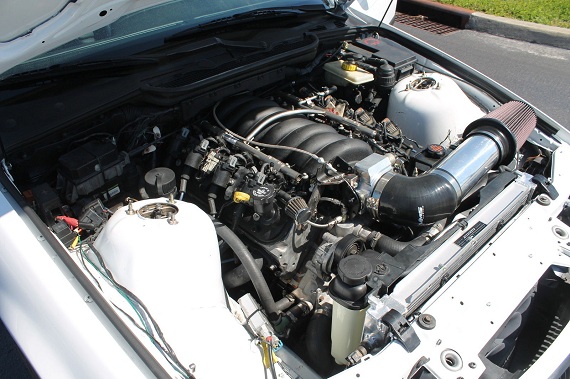 I have alot of money invested in the car, its the best of all worlds great e36 handling and looks with raw V8 torque and power. I do not want to sell the car but with my second son just being born on February 22 2014 My priorities and money are else where. If the car does not sell for my reserve price then I will be parking it until I can get around to fixing it back up to my standards.

This car is extremely clean, It turns heads everywhere I go. Its priceless to see peoples reaction to the cammed V8 rumble coming out of a M3. I recently did the l92/ls3 top end conversion on the lq4 and had it dyno tuned by a corvette specialist here in Tampa Florida. Most of the parts listed below have 1200 miles.

1997 BMW M3 LSX T56 6spd White/Black 427whp 411 torque chassis has 229k miles on it and is very clean.

Below is a list of modifications that I could think of off the top of my head, I am sure I am missing a lot of things, Feel free to ask any questions and I will be more then happy to answer. The whole build is documented with pictures and I have detailed wiring diagram and lsx swap info in a binder for the next owner. Makes it easy for anyone to get in and work on it. IF there is * next to the item they have been replaced recently and have less then 1200 miles on them

-2002 Chevy 2500hd truck bottom end 6.0L Lq4 block
-Speed pro pistons
-*Ported (bowl blend) milled .035 L92 cylinder heads
-*5 angle valve job
-*l92 rocker arms/stands
-*Brian tooley racing platinum dual valve springs .660" lift
-*Comp Camshaft 224/230 588/595 114+4
-*50lbs e85 compatible fuel injectors flow test and rebuilt by boostlab of tampa
-*Injector harness (plug and play)
-*Ls3 fuel rail
-*Ported Ls3 intake manifold
-*Ls3 valve covers
-*LS3 oil cap
-*LS3 relocated map sensor
-*92mm Cable throttle body
-*ARP head bolts
-*ARP balancer bolt
-*ls7 lifters
-*Ls7 clutch kit
-*Ls7 flywheel
-*New GM slave cylinder
-*Ls6 Oil pump
-*New timing chain and gears
-*New head gaskets
-*New thermostat assy
-*New oil pan gasket
-*New water pump and gaskets
-*Mishimoto aluminum radiator
-*Electric fan 16" pro air
-*Stainless steel -3 coolant lines
-*4" inch Intake
-*K&N Air filter
-02 f body PCM (Tuned with HP tuners)
-Chevy Thunder LSX wiring harness with relays and fuses (all connectors labeled for easy install)
-02 F body accessories
-02 F body oil pan
-Improved racing oil pan baffle
-Mercedes brake booster with JTR adapater
-JTR Headers 1 3/4" long tube, 3" v band flange
-JTR engine and transmission mount kit
-Relocated ABS
-Working GM cruise control
-Braap Clutch line fitting
-Hurst shifter
-*Tremec T56 stage 2 6spd transmission (fully rebuilt stage 2 kit from thegearbox.org) Upgraded 1-6 carbon fiber/Kevlar blocker/ synchronizer rings, reverse synchronizer ring, bronze fork pads 1-2 &3-4, billet keys, bronze shifter bushing/isolator cup, 1-2 syncro assy, 3-4 syncro assy, snap ring kit, 3-4 steel shift fork, stock 5-6 reverse ford pads, stock 5-6 reverse keys and springs, front and rear seals, New 2nd gear, new reverse gear
-BC coilovers
-*All new diff bushings
-Reinforced subframe with new bushings
-*3.38LSD differential
-Custom straight pipe exhaust with a Spintech muffler
-BBS Rc wheels 17×9 squared (center caps included)
-*4 brand new Continental tires
-Brembo big brake kit front
-Stainless steel brake lines
-Drilled/slotted rotors
-*ProSport gauges (battery, coolant temp, oil pressure)
-*3 pod guage holder for sunglass tray
-Alpine Head unit- Prewired for Subs
-*LED license plate lights
-*Euro clear taillights
-Smoked front turn signals
-Euro Glass ellipsoid headlights with 6k HIDs
-Yellow fog light bulbs
-s2000 push start
-E36 M3 3 spoke Euro Steering wheel with airbag
-Gauge cluster Rings
-Custom shift light integrated into factory cluster
-Smoked side markers
-*Upgraded 98 Door panels (airbag)
-E36 tilt steering added
-Viper Alarm and keyless entry
-*Fresh repaint (car was originally cosmos black) car was completely stripped down and painted GM white. Door jams, trunk, under the hood etc. High quality paint job)
-*All new rubber door gaskets, New window seals, new door handles, new sunroof seal, new weather gaskets, New hood latches, new hood cables.
This car is being sold As is, Car is located in the Tampa Bay Florida area.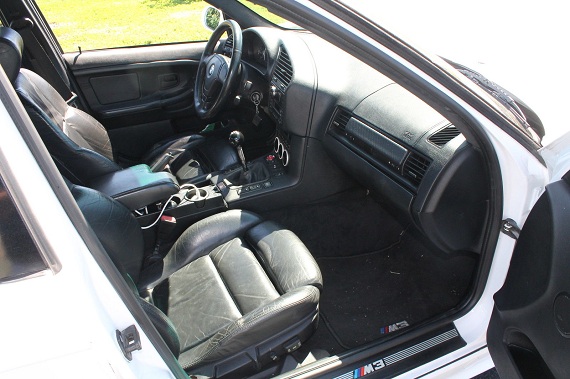 It seems like a pretty impressive build, and there is a lot to like here. If you're not a fan of the V8 swap into a BMW, you'll probably have looked away in disgust at this point anyway – but the truth is you can get a lot of power for less money out of the LS motors than you can out of the BMW motors. How much? 420-odd rear wheel horsepower in a fairly light E36 should be plenty for pretty much anyone on the planet. The car was repainted GM white (which, coincidentally looks a whole lot like BMW white) and the BBS RC wheels are a great addition. The Brembo big-brake kit will help brush some of that speed off, and the coilovers make the ride height adjustable if it's a little too low for you. The only thing I'm not fond of is the shifter, which looks a little hap-hazard in my mind. Otherwise, enjoy the burnouts and purists be damned!
-Carter