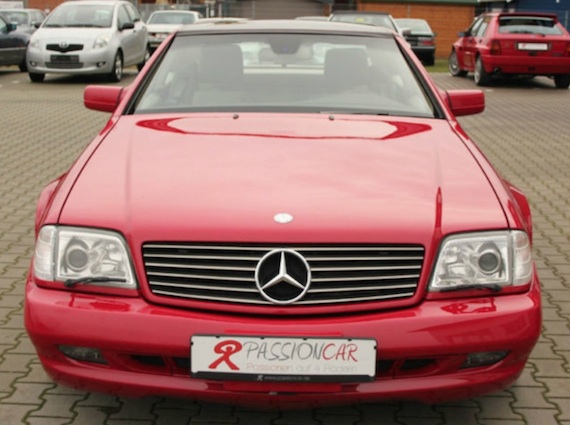 Last week we took a look at the big boy of the R129 Mercedes-Benz SL lineup, SL73 AMG. Sandwiched in between the first year the SL73 was offered and the last few years of its production is the SL70 AMG that we see here. As the badge denotes, this SL has a 7.0 liter engine under the hood, a V12 in this case, producing 490 horsepower. The SL70 AMG was a little more common than the SL73 AMG, but not by much, with only 150 produced over a two year production run.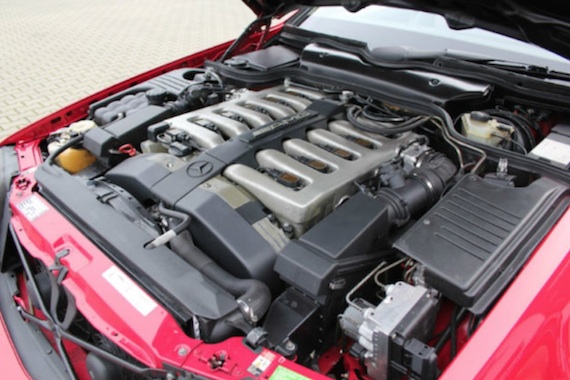 Year: 1997
Model: SL70
Engine: 7.0 liter V12
Transmission: 5-speed automatic
Mileage: 111,000 km (~ 68,972 mi)
Price: €59,900 (~ $65,734 USD)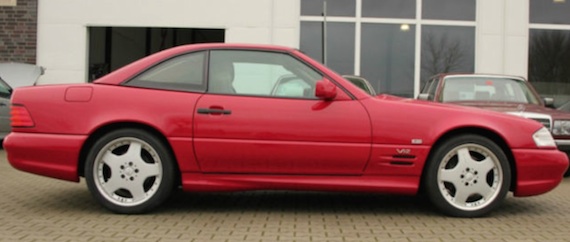 SL70 AMG, two owners,
Maintained service book
No maintenance storage
Damage free
Summer vehicle
No winter driving
First delivery in Germany
AMG certificate available
Letter copy and TÜV decrease from 1997 available
Original service book available (out gaps) with data card

This is not a converted SL600, but one of the few (about 150 pieces) "real" SL70 (AMG package and ROHBAU change on the data card or EPC)

496 (!) Horsepower from a naturally aspirated engine displacement demand!
7055 CCM has this.

150 units were built, here is one of them!
Factory price in 1997 was proud 330,000 DM

582 IMPERIALROT
565A LEATHER EXCLUSIVE CHAMPIGNON
746 top material 8023 DARK BROWN

309 cupholders
341 INDICATORS ADDITIONALLY
404 DRIVERS backrest ORTHOPAEDIC LINKS
405 DRIVERS backrest ORTHOPAEDIC RIGHT
415 GLASS ROOF (R 129) PANORAMAHARDTOP
551 anti-theft alarm system (ATA)
LIGHTING UNIT 612: xenon headlights
682 Fire Extinguisher
772 AMG styling package – front spoiler, side
774 ROHBAU change for AMG wheels
793 AMG wheels 8.5 x 18 ET 25 245/40 multipart
807 MODEL YEAR CHANGE
810 SOUND SYSTEM

More pictures at the following address:

http://s1113.photobucket.com/user/passioncar/slideshow/13113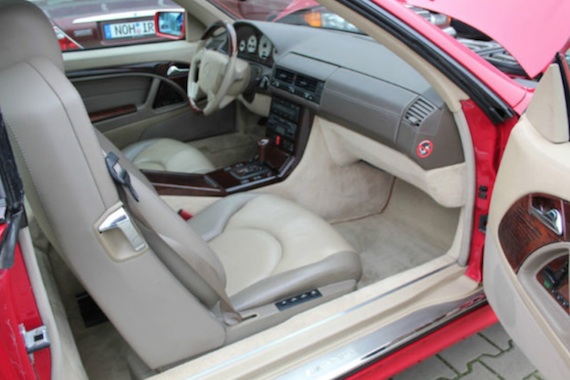 When the R107 SL debuted in the early 1970s, it moved this roadster into the territory of relaxed cruiser rather than "sport light." Subsequently, the car became quite popular with women. The R129 SL, especially in its later years, recaptured some of that masculine vibe, especially when it came to the more powerful AMG models. The SL73 AMG we saw last week was the highest asking price I've seen for an R129. This SL70 AMG is priced a bit cheaper, but the ask is still very strong. These are rare cars no matter how you slice it, but you have to really want an R129 considering other performance machines that are available at this price point.
-Paul