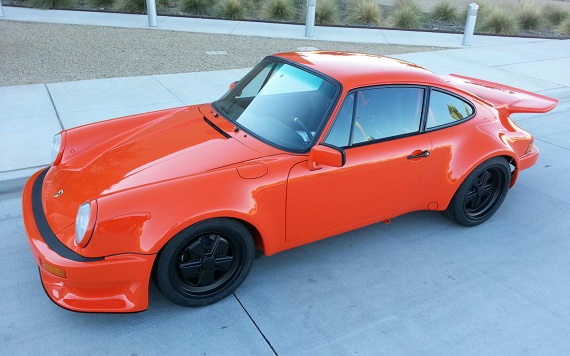 A friend of mine and I were sitting around recently, musing over what kind of 911 we'd own if we had the money. The genesis of this was his Porsche 911 ownership; he had a '85 911 cabriolet, and while he enjoyed the car it was a bit….well, basic in terms of creature comforts and ride quality compared to his current M3. There's some charm in that, but having driven both I'd agree that the M3 is the better day-to-day car in nearly every way. But both of us agree that, money no object, the idea behind the Singer 911s is pretty compelling; take a more modern 911 and give it the classic look, but keep most of the modern amenities plus the modern powertrain, brakes and handling. It's become quite a popular recipe, and with classic 911 values seemingly on an endlessly rising trajectory it's quite viable to restore or resto-mod a 911 into a dream ride and make your money back, if not then some. Today's example is pretty interesting and unique, though – I believe it's the first time I've seen someone take a 930 chassis and turn it into a "regular" 911. Backdating the late '70s look to the early 1970s and adding in some of the iconic IROC bits, the builders took modern Fuchs replicas and a built up 3.8 naturally aspirated motor and created one pretty awesome package: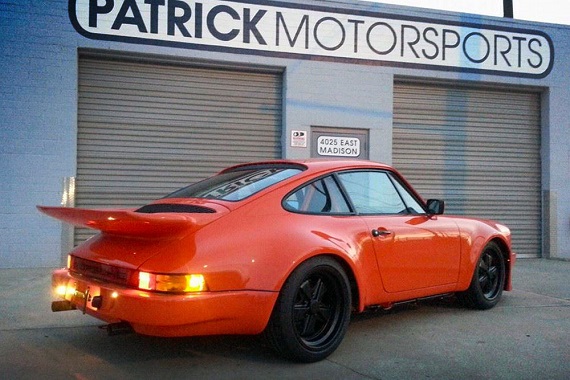 Year: 1979
Model: 911
Engine: 3.8 liter flat-6
Transmission: 5-speed manual
Mileage: "400" mi
Price: $185,000 Buy It Now
A FRESHLY COMPLETED PATRICK MOTORSPORTS ORIGINAL. This car featured and show in the 911 & PORSCHE World Magazine For August 2015 along with Feature Article on Patrick Motorsports.
This original 1979 930 chassis has been expertly converted to a lightweight 1974 911 RSR IROC inspired street racer! This chassis is fitted with a 1997, 993 Carrera 3.6L DME engine then converted to a high torque 3.8L displacement! Featuring hydraulic billet sport cams and married to a specially prepared, 1986 915 Euro transaxle gearbox with LSD and euro oil cooler system. Beautiful Stunning car. No overlooked details and ready for foreign or domestic sale.
Do not miss on this opportunity to own one exceptional backdated car! Please contact us for additional details and very serious inquiries. AVAILABLE LOCALLY AS WELL. WILL ACCOMMODATE ANY INTERNATIONAL SHIPPING NEEDS.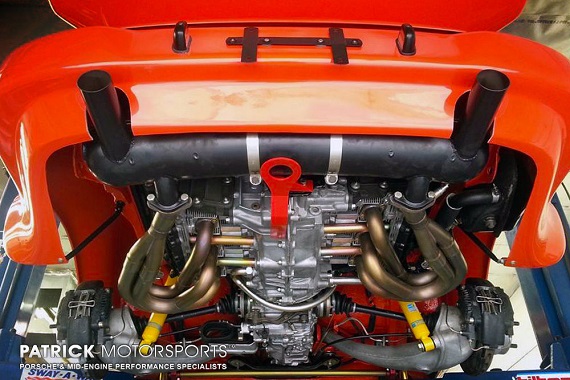 I wonder what the back story is behind the 930, since by itself they've become quite valuable. The look is spot on, and the IROC bits – while not always used – give the car a track-ready purposefulness. That's backed up by the integrated roll bar inside and some beefy – and awesomely upholstered in Houndstooth – Recaro seats. No stone was left unturned here, and the undercarriage shots along with the updated drivetrain tell the story of a thorough and expensive build. Impressive? Undoubtedly. Then, glance over at the price – $185,000. Now, granted that price is only about half the going rate for a Singer 911. But geez, it's sure a lot of money. Is this exactly how I'd build my 911? No, I think not. If I'm completely honest, I think I'd have preferred a stock 930 in a rare color for less, or for 20% of the price you could get a super nice 911SC. The number of cars, and the diverse garage I could envision building (including a nice 911) for the amount of this car just doesn't outweigh the impressive nature of the build. But perhaps for someone with a budget several hundred times mine, this is the ideal toy – a torque monster, stripped down and turned up 911 that would be as at home tearing up the track as it would with a crowd gathered around it at a show.
-Carter