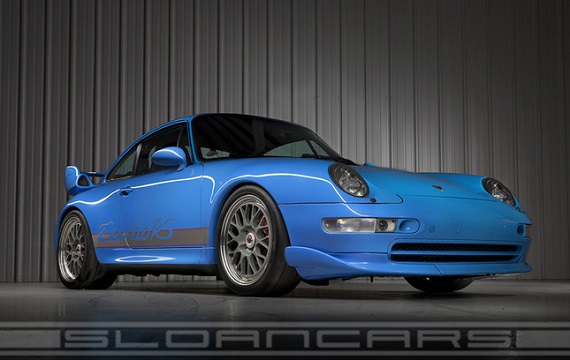 If the Speed Yellow C2S featured yesterday wasn't attention-grabbing enough, or you just find a standard Carrera to be a bit slow, then perhaps this car will suit your needs. This 1997 Porsche 993 Turbo is somewhat of a mutt, though I mean that in the most positive sense. The front spoiler and rear wing were grabbed from the GT2 and surround a tuned 993 Turbo S engine. The Turbo S was only produced during the final production year of the 993 and housed a 3.6 liter twin-turbocharged flat-six delivering 424 hp to all four wheels. These were then combined with a variety of other components from the Porsche parts bin and from the respective tuners to produce a car capable of 530hp. The total package is pretty stunning and sure to be one of the better looking and better performing tuned Porsches available.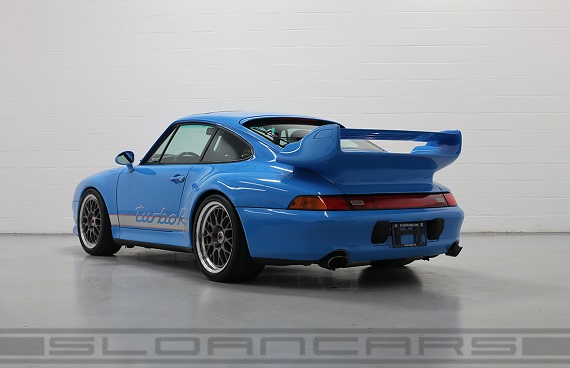 Year: 1997
Model: 993 Turbo
Engine: 3.6 liter twin turbocharged flat-6
Transmission: 6-speed manual
Mileage: 21,325 mi
Price: $150,000
This 100% street legal 1997 993 Twin Turbo rocket ship has only had two owners since new! Tastefully modified with no expense spared by two of the best performance shops in the country- Andial and Musante motorsports. The perfect blend of reliable performance and aesthetic upgrades.

• Original Riviera Blue: Not a color change
• Black Recaro sport topline leather seats w/lumbar
• 993 GT2 front and rear spoiler and bi-wing
• 21,325 miles original miles
• RUF gauges and boost control (hidden in ashtray)
• Two owners
• Andial converted the car to Turbo S specs
• Musante Motorsports made further improvements
• Factory Turbo S power kit (installed by Andial)
• 993RS camshafts
• Custom built turbochargers
• Sport intercooler
• Fabspeed cat bypass and exhaust pipes
• Custom ECU to run 93 to 100 Octance
• 530HP w/100 octane @ 1.2 bar
• 450HP w/93 octane @ .8 bar
• Lightweight clutch and flywheel
• 14″ Custom Brembo Brakes (front and rear)
• Fikse wheels
• Custom video cameras to record 2 hours of race footage
• Sunroof
• Air conditioning
• 100% street legal and passes emissions
• Offered at a fraction of the build cost
call 203-675-3235
email: info@sloancars.com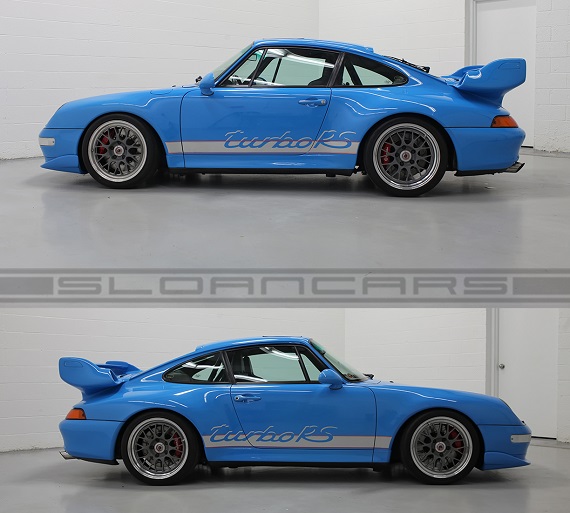 Obviously, a car such as this one will not be cheap, but like many tuner Porsches the cost here is quite a bit less than what it would cost to build this car, assuming you could even come across a 993 Turbo S at a lower cost. The 993 GT2 is one the best looking cars Porsche ever made. It's by no means subtle and in Riviera Blue you're even less likely to escape notice so this is clearly not a car for everyone. And while this car is likely a bit heavier than a GT2 it is still sure to provide its owners with a similar level of lively performance. Overall, this is a pretty unique car and something we're surely not going to come across everyday.
-Rob