Warning!
This post is in our archives. Links in this post have been updated to point to similar cars available to bid on eBay.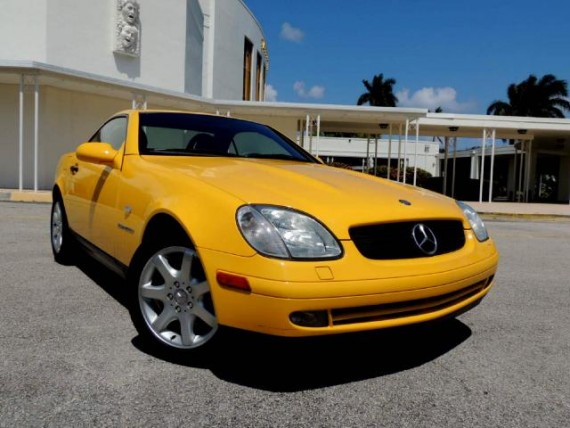 At age 10 I was really into collecting die-cast models from Maisto and I vividly remember picking up a 1/18 scale version of the car you see above. As a 10 year old a model of a bright yellow roadster with a functional folding top seems pretty damn cool but only a few short years later after seeing a real one I found myself thinking "that car is so lame." Of course it was completely due to the circumstances in which I saw the car (tacky retirees at the wheel) and the fact that my automotive tastes had begun to shift towards overwrought Japanese vehicles. If only I had realized in my youth what I have realized now, the R170 SLK is a pretty nifty little car and holds an important place in Mercedes Benz history.
With it's folding steel convertible top the first gen SLK was quite the head turner in it's debut year. Mercedes sold 55,000 of the retro-futuristic roadsters worldwide and it snagged the title of North American Car of the Year from Car & Driver in 1998. Weighing a respectable 3,036 lbs. and featuring a 185hp supercharged inline-4 engine, the SLK 230 Kompressor moved from naught to 60 in 7.2 seconds which for the olden days of the late '90s was pretty good. It marked Mercedes' return to making a light little roadster with a four cylinder engine, something they hadn't done since the glory days of the 190SL. I think it's safe to say that had the SLK not been successful, Mercedes may not have figured out that it's ok to put smaller motors in their cars when it suits the chassis.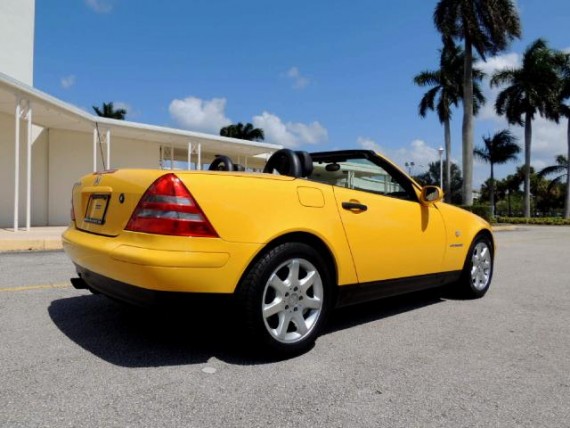 Year: 1998
Model: SLK230 Kompressor
Engine: 2.3 liter supercharged inline-4
Transmission: 5-speed automatic
Mileage: 39,316 mi
Price: $9,800 Buy It Now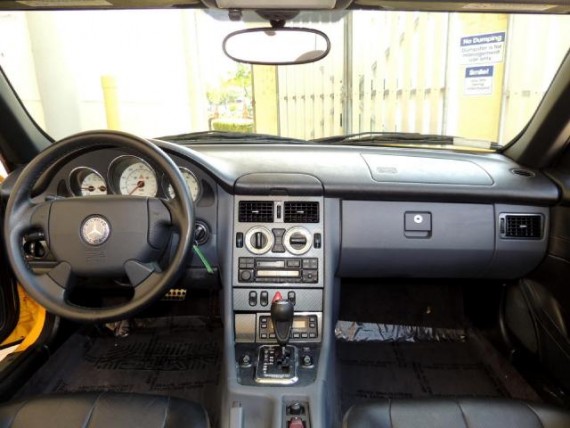 Hello and Thank You for viewing another listing from Mint Motorcars. Up next is a fabulous little roadster in the form of this 1998 Mercedes SLK Convertible. This SLK is in excellent condition in and out.  There are no major blemishes to speak of and it drives like new. Fifteen years ago this car featured Mercedes groundbreaking convertible metal hard top. Fifteen years later, it still holds up as one of the most striking vehicles ever produced. Its simplicity makes it not only fun to drive, but also relatively easy to maintain.

This particular example has the right colors, the right options, the right condition and a good maintenance history recorded on the CarFax Report. If you would like more information, call Tom at (954)461-1892 for more information. This is the preferred method of contact over email. Good Luck.

BEFORE ACCEPTING ANY OFFERS, WE MUST DISCUSS THE SMALL DETAILS LIKE PAYMENT OPTIONS, SHIPPING/DELIVERY/AIRPORT PICK-UP TIMES, ETC ETC. SO IF YOU ARE AN INTERESTED BUYER, PLEASE CALL US FIRST (954) 461-1892. NO BIDS WILL BE ACCEPTED BEFORE SUCH. THANKS.

We are a licensed and bonded dealership in Florida and can assist with nationwide shipping at GUARANTEED lowest rates. NOBODY can beat our shipping rates so call for an estimate. Sales tax and tag fees apply but ONLY to Florida residents (unless driven on a Florida road). Out of state buyers DO NOT owe us sales tax/tag fees. Our ebay feedback is 100% and for a good reason. We've been selling cars for 30 years, and on ebay for over 7 years. We've earned a solid reputation which we nurture with every car that we sell regardless of price. We finely pick our inventory and price cars reasonably. Due to our low overhead and company costs, we are able to provide our clients and friends the most competitive prices. No fancy marble floors and salesman in suits and ties. Just good quality cars stored safely and priced reasonably. – Mint Motorcars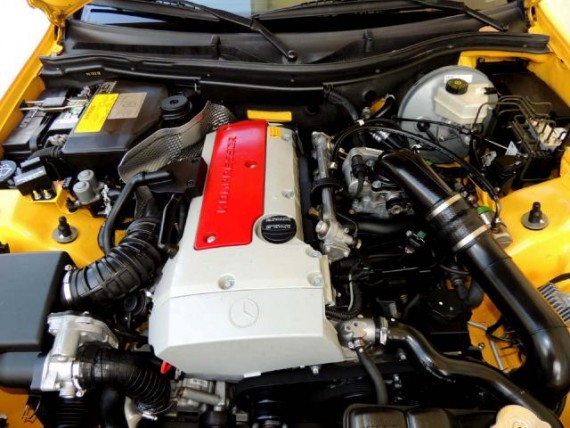 I've never driven one of these cars but after reading some old reviews of them and watching some YouTube clips, I think it's safe to say it's a damn enjoyable experience. Were I to find myself with some seatime in an SLK, one caveat I'd have would be that it was a '99 or later model because that's when Mercedes realized this car was meant to have 3 pedals. If there is one major drawback to this particular Sunburst Yellow model for sale down in the land of the leathery, it's that it's saddled with the only available transmission for 1998, a five speed automatic. Mercedes realized they'd dropped the ball by not allowing buyers the choice to row their own as you could with a Boxster or Z3, so they rectified their mistake and added a 5 speed manual option the following year.
So, were I in the market for a Clinton era roadster, would I plunk down my hard earned cash for one of these or would I look to it's rivals? Honestly of the three Deutschland made roadsters that breathed new life into a forgotten segment, I think the SLK was my least favorite as a youngster and remains so. The Boxster looked cooler and the Z3 had been driven by Bond. All the SLK had was a neat-o folding top and love em or hate em retro gauges that I happened to love. There's nothing about this car that's particularly striking or noteworthy but maybe that's the point. Maybe somebody out there wants a little runabout that will howl when you bury the right pedal and will stay level when tossed into a turn. Maybe somebody just wants a Benz with a cassette deck and the ability to turn a sunny day into an opportunity to feel like you're in a Sheryl Crow music video. Either way I'm sure that this car has its audience, it's just not me, especially not at $9,800. If you're going to spend that kind of dough on a used Benz with an automatic transmission it better come with those three magic letters affixed to the trunk, AMG.
-Andrew