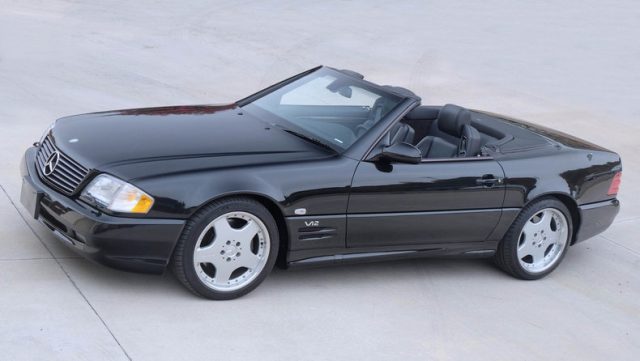 The mighty Mercedes-Benz SL73 AMG: A car that can't be mentioned without saying the word "Zonda" in the same sentence. Less than 100 of these monsters started life as a regular SL600 with the M120 6.0 liter V12 and were shipped up to the AMG factory for some special touches and an increased displacement to 7.3 liters good for over 540 horsepower. The eponymous 7.3 liters were so good that they made their way in the Pagani Zonda and the rest was history. With so few of these cars made, if they ever come up for sale, they usually don't go for cheap nor stay for sale long. Now that this 1999 is available for sale in California, it's time to take a close look at this thing while we can.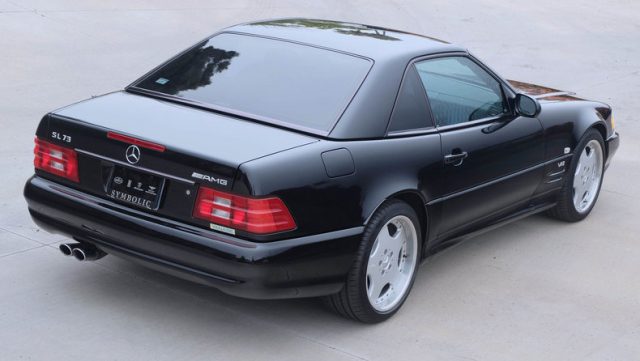 Year: 1999
Model: SL73
Engine: 7.3 liter V12
Transmission: 5-speed automatic
Mileage: 44,060 km (27,377 mi)
Price: Unlisted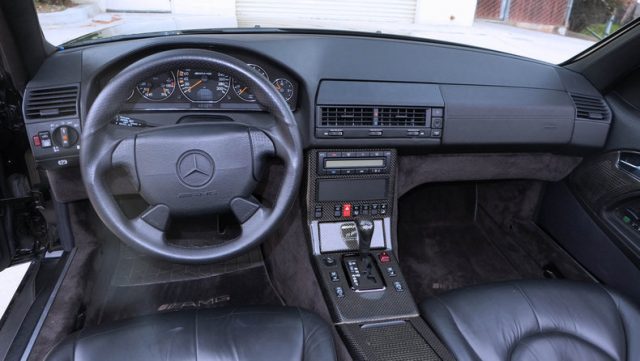 All original, Impossibly Perfect SL73 AMG! The Rarest of the Rare, One of Only 85 Examples Built! 7.3-liter 540bhp, V12!

The last of the hand-assembled AMGs built before their merger and eventual take-over by Mercedes Benz came about in 1995. Their extraordinarily rare SL72 was first offered that year and saw a total of just 35 examples being completed before the program came to an abrupt end. The initial SL72 model utilized an all-new M120-E72, 7.0-liter, 525bhp V12 engine. At the time, it offered the largest and most powerful V12 ever put into any road-going Mercedes Benz. Due to and incredible demand from enthusiasts, an updated version, now with 7.3-liter displacements and known as the SL73 was once again offered from 1998 to 2001. These second generation SL73s had their engines updated with larger displacement, improved bhp and torque and were designed to be more reliable. While quoted output was now claimed to be 540bhp but most sources were all well aware that power was now approaching 600bhp! The same 7.3-litre V12 found in the SL73s was later used by Pagani in their legendary Zonda SuperCar. A total of just 50 SL73 AMG roadsters were built. Now more than 15 years after the last example was built, most remain with their original owners as very few have ever traded hands on the secondary market.

WDB1290761F185887:
This particular SL73 AMG was special ordered new by YANASE in Japan on behalf of a favored client. It was one of the very last AMGs completed before the full take over by the Mercedes Factory of all AMG operations. This vehicle retains the original production records from the Mercedes Benz Factory and the original AMG documents. These provide a wealth of otherwise not easily known details on the vehicles construction. The Mercedes Factory Assembly Records provide the following information:

Order No 0 9 839 90203
Production No 3134095 3
Production Plant Code 0670 Bremen, Germany
Completed Last week May, 1999
Shipped June 1st, 1999

Chassis No WDB1290761F185887
Engine No 120 983 12 048929 / 129 983 12 050337
Gearbox No 722362 04 118606
Exterior Color Code 197 (Obsidian Black)
Interior Color Code 511A (Exclusive Black, Full Leather)

Option Code 216 ADS (Adaptive Active Suspension System)
Option Code 255 Special Radio MB Audio 30
Option Code 309 Cupholder
Option Code 498 Configuration to Japanese Market (Left-Hand-Drive)
Option Code 500 Outside Rear View Mirrors left & right Folding
Option Code 524 Special Paint Preservation
Option Code 617 Asymmetrical Xenon Headlamps
Option Code 644 Light Alloy 5-Spoke, 17-inch Rims
Option Code 668 Packing from Germany for Overseas Transport
Option Code 740 Folding Top Fabric color code 9001 in Black
Option Code 761 Radio with Special Tuning Package
Option Code 809 Change of Model Year for next year by special order
Option Code 810 Special Bose Sound Package System

Upon completion as noted above, this vehicle was delivered direct to AMG and given full configuration to "SL73 AMG" specifications that in addition to the 7.3-liter, 540bhp V12 and other standard features included the following special AMG options and upgrades:

-Full Carbon Fibre Treatment
-Special modular AMG wheels
-Special AMG brakes
-Special AMG exhaust
-Special Engine Tuning and Appearance Treatment.
-Special Removable Child Supplemental Rear Seats and Seatbelts

The AMG preparation to full SL73 configuration was done under a request and order from YANASE in Japan. The work to complete the vehicle in SL73 configuration took several months and was not finally finished until January of 2000 at which time it was shipped new to Japan and first road-registered on March 12th, 2000 on Japanese plates "301 7109." These Japanese road registration records confirm that the vehicle when new was fitted with the special AMG M120 E72 7.3-liter V12 engine. Additional Japanese road registration documents confirm mileage on December 24th, 2012 as being 26,100 kilometers and 41,300 kilometers on December 26th, 2014.

Our company was fortunate enough to purchase this rarest of the rare AMGs direct from her original and only owner. The car has been ultra-carefuly cared for, serviced and maintained faithfully without consideration for time and expense. Total mileage at the time of our purchase was just 44,060 kilometers (27,377 miles) from new. All original services records from new remain with this vehicle as do all of the original AMG delivery items such as special manuals, supplements and the original un-used tool and safety kits are complete as delivered new.

This is particular SL73, one of only 50 examples ever completed and one of just a handful to ever be available for purchase on the secondary market is the sole legally imported example in the United States. All services, safety checks and maintenance work has been completed and verified by Mercedes Benz. There are only a few kilometers of set up and sorting time on the vehicle since all work was completed.

Please email or call me if I can assist further with inspections, evaluation, test-drives and a potential purchase of this pristine AMG SL73!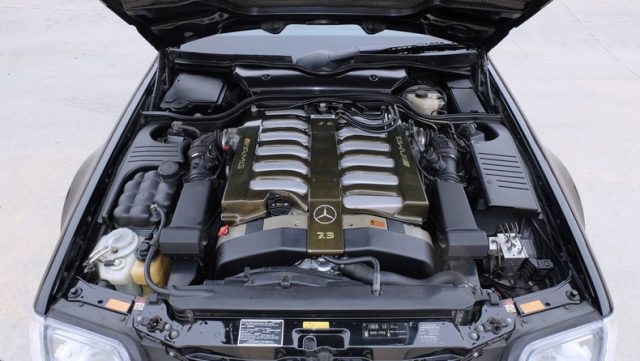 The ad description does a really nice job explaining everything about this car. This looks to be a real deal SL73 with all the proper documentation that the majority of the M120 conversions seem to be lacking or just generally glance over. It is a Japanese market build, which isn't a bad thing, it just seems that the overwhelming majority of pre-merger AMG cars that come to market are someway connected to Japan. The only odd thing about this car is that the build sheet says this car should have Xenons, but almost all of the photos show otherwise. But on the sellers website, there is a photo of the car with the Xenons, which has me assuming that the Xenons maybe didn't pass federalization when the car was imported.
With no price listed, you can bet this one is going to be expensive. My guess is that it is over $100,000 easily. That is of course a ton of money for a R129, but the way I look at it is you are buying the exclusivity of this car. How much does this exclusivity cost? Well, a really nice SL600 with lower miles can be had for $20,000 all day long, so you can do the math on this. Don't get me wrong, these are really unique, rare cars. But is a SL73 going to be worth $250,000 one day? I don't know. I guess the reality of the situation is that if you are in a position to buy a R129 for over $100,000, you aren't too worried about that. So if you are looking for a real deal SL73 that is already stateside, this might be the one — and maybe the only one.
– Andrew