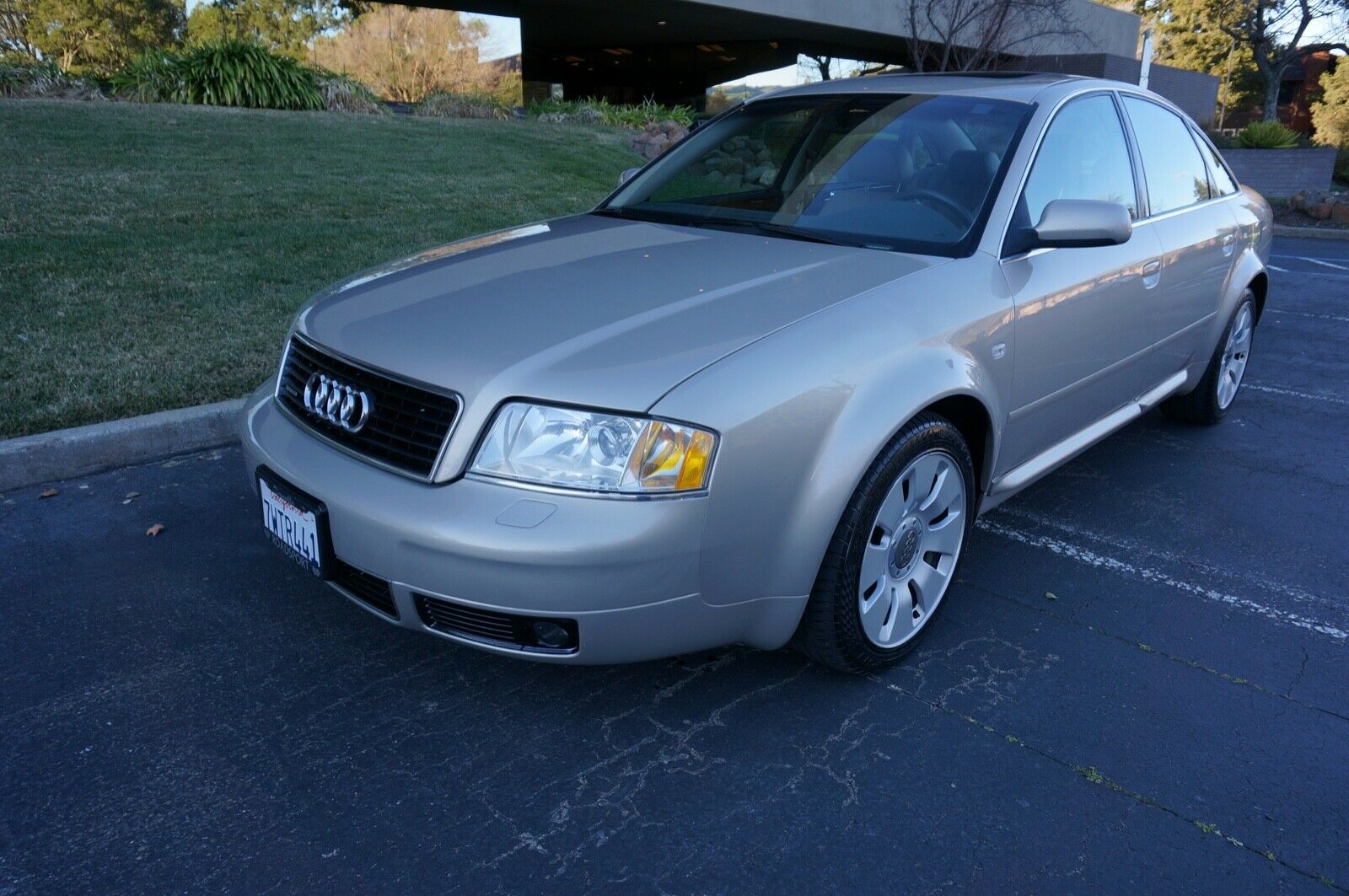 The A6 4.2 quattro falls into an unappreciated middle ground of typically unappreciated Audis. Unappreciated, that is, for everyone outside of the Vier Ringe, because the C5 has gone down as one of the most devoted fanbase Audi models I can remember, perhaps rivaled only by the B5. But while the cheap speed of the B5 attracted the Volkswagen and BMW crowd, the C5 fans seem to be more traditional Audi folk; offbeat, eclectic and fiercely loyal to their particular model.
Perhaps one of the reasons that the 4.2 gets so thoroughly overlooked by the market in general is due to the depth of the C5 lineup. On the performance end, you had the cool S6 Avant and the outrageous twin-turbocharged RS6. On the practicality end, the standard A6 2.8 and 3.0 models provided Mercedes-Benz like quality and adequate stateliness in both sedan and Avant bodylines. Outdoor adventures and tech-geeks loved the Allroad, which could be had with either a twin-turbocharged 6-speed or the subdued and upscale silky smooth 4.2 V8. And finally, for secret performance lovers, the twin-turbo'd V6 could be mated in narrow-body sedan with a 6-speed manual in the A6 2.7T quattro.
Frankly, it was hard for the 4.2 sedan to stand out in this crowd, yet it managed to appear quite special at the same time. This was the defacto S6 sedan, with aluminum front end and engine, along with wide flares and shark-fin door blades. It was longer, too, to accommodate the V8 tucked in the nose, giving a more menacing appearance overall. Special wider track was met with unique Speedline wheels (later replaced by the forged "Fat Fives") and meaty 255-40 section tires as an option. And with 300 horsepower, out of the box the 4.2 was the top trump for the 2000 model year in the C5 lineup and would remain so until the 2002 introduction of the S6.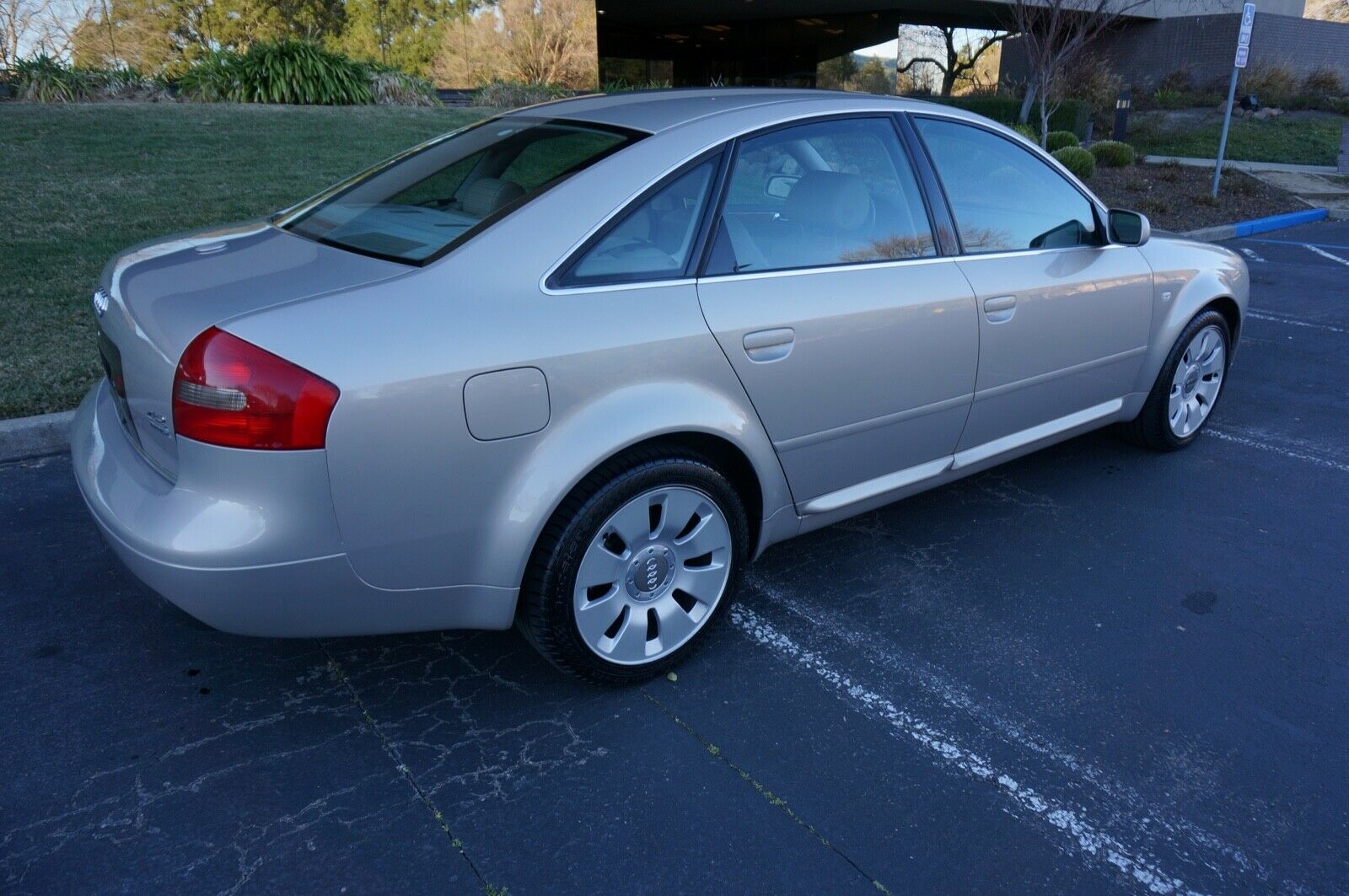 Year: 2000
Model: A6 4.2 quattro
VIN:WAUZl64B4YN057200
Engine: 4.2 liter V8
Transmission: 5-speed automatic
Mileage: "30,000" mi
Location: San Ramon, California
Price: $8,500 Buy It Now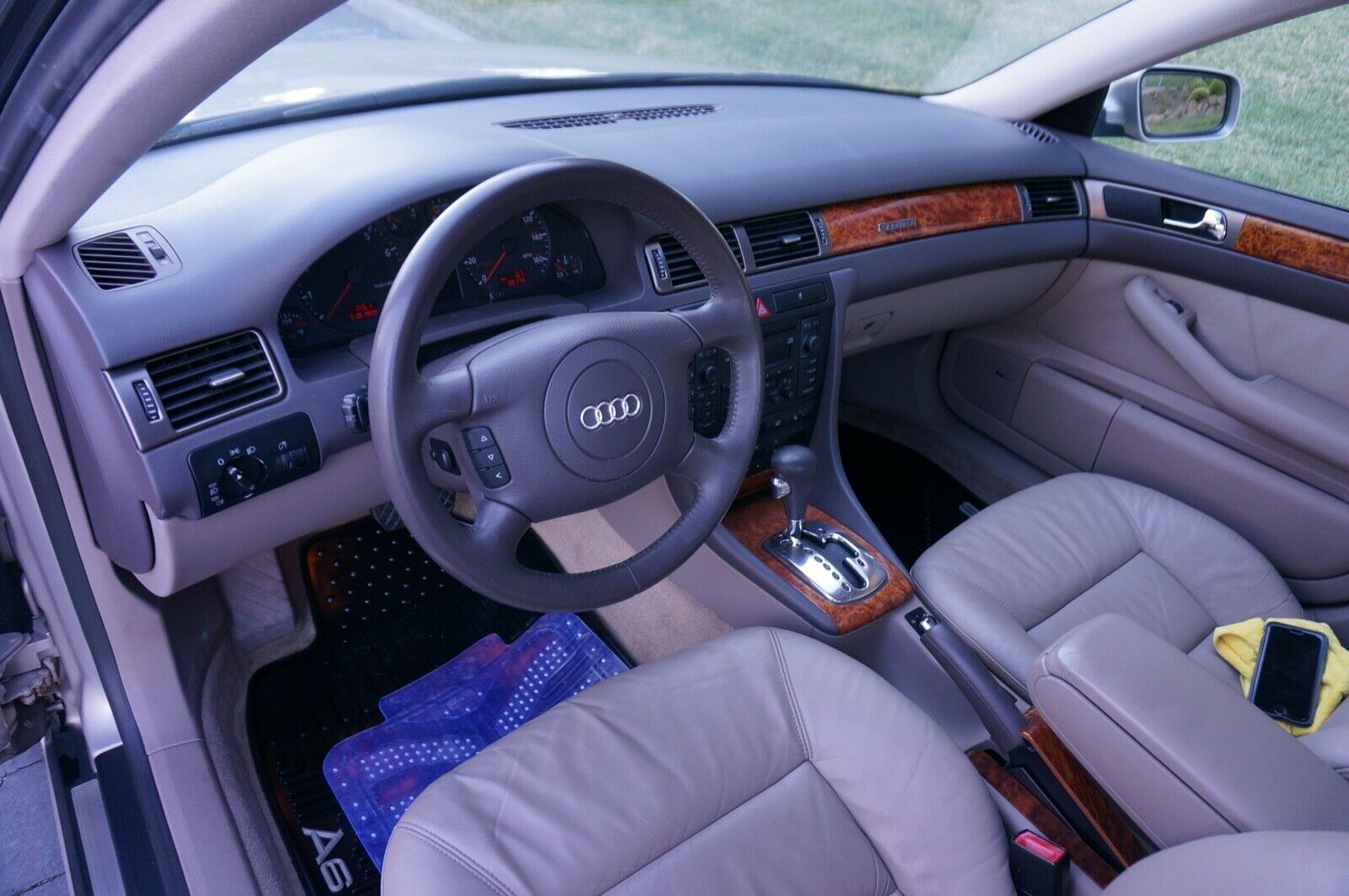 2000 Audi A6 4.2 V8 Quattro Sport

Garaged and pampered.

Light Silver Metallic exterior
Tungsten Gray Leather interior

Totally loaded!

A6 Sport Package – has the flared wheel wells like the RS6
High Performance 4.2 V8 5 valve
Quattro All Wheel Drive
Sport Suspension
Premium Package
Cold Weather Package
Warm Weather Package
Xenon Lighting Package
Dual Climate Control
Sport Contour Seats
Dual Memory Heated Front Seats
Rear Heated Seats
Safety Air Bags all around
Back Up Warning Sensors
BOSE Premium Sound System
NAVigation
Moonroof
Rear Power Sunshade
Side Sunshades
Homelink

Non smoker car

With Audi's famous Quattro All Wheel Drive this is the perfect car in any weather
Sure footed in the snow. Take it skiing with confidence and comfort.
When the sun is out you will be driving one of the best handling luxury sport sedans available.

AutoCheck/ Certified – No accidents or negative history.
Car is very straight. No dimples, dings or serious scratches. A few chips here and there from normal driving will be noticed.
The front and rear plastic bumpers were refinished. They had a bunch of small stone pecks from normal driving but now look like new.

Just passed California's strict emission test!
Just serviced which included normal routine maintenance.
The only other thing they found was a small leak on the power steering line
so the power steering line was replaced with new.

The car runs extremely well. The 4.2 liter V8 is very powerful and doesn't skip a beat.

I was told that this was a vacation home car in Co..
and that the owners lived in Southern Ca.

The odometer currently reads 30,320
and the Autocheck Vehicle History Report shows ONE Owner and confirms 30,320 miles.

But another history report indicates the cluster may have been replaced at 79k so I believe the current mileage is 109k.
The speedo/odometer light pixels on many Audi (and BMW as well) of this age have a tendency to go out and is fairly common..
(Check how many cluster/pixel repair services are offered for Audi and BMW on Ebay.)
I believe the cluster was replaced at around 79k miles.
The pixels on the new cluster odometer indicates 30k miles and work perfectly.

Buy it Now for $8500.

or submit your best offer!

This is a lot of car for the money. Over $54k MSRP

Call Roadsport at 925-323-5800

—————————————————————————–

Many of my auctions end with a simple phone call

Call now with an offer that I can't refuse and I will end this auction early!

Mike – 925-323-5800

Buyers are responsible for any fees or taxes that may be due in their home state.

Inspections during the auction are always welcome before the auction ends.

Remember you are bidding to own…..not to inspect with the option to own.

Please have all financial arrangements finalized before bidding.

Bank wire transfer is the easiest and safest way to send money.

A $2,000 deposit (PayPal ok) is due within 24 hours of close of the auction.

Final payment should be received within 7 days.

Car and Title can not be released until funds have cleared.

Transportation is the responsibility of the buyer.

Seller will be happy to arrange shipping at buyer's request.

Mileage may vary slightly due to test drives.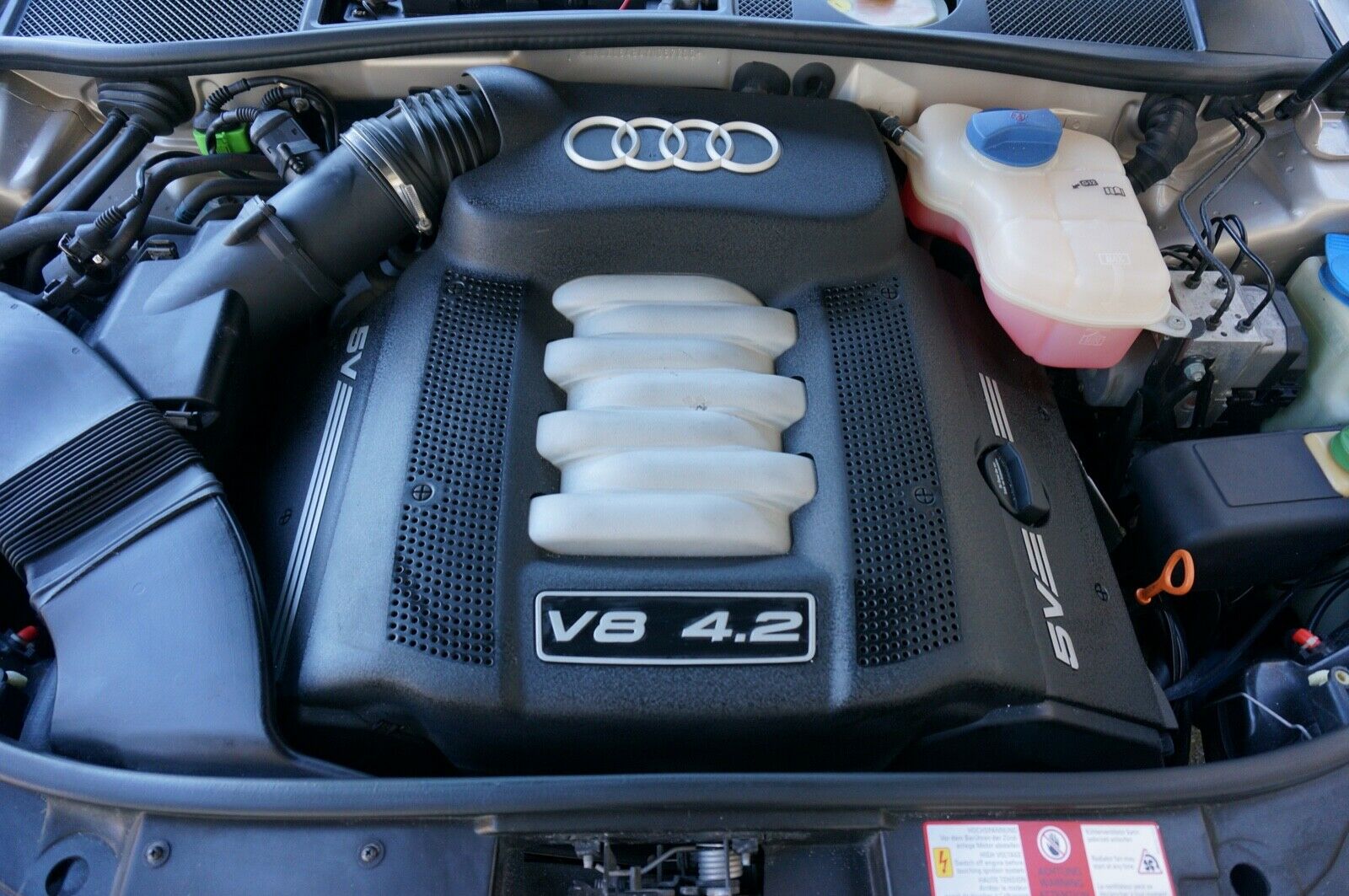 To me, this is an interesting counter point to the 540i. The Audi is a bit more powerful and a bit more understated, but also probably not quite as classic and, of course, you couldn't get the most powerful motors with an manual transmission – unlike over at BMW. This one is really nice overall; I'm personally a fan of the 17″ Speedline 'pie plate' wheels, and the silver over gray looks very nice. Condition is really pretty top, and this one has pretty much all of the options except for sport seats. Downsides? There's no indication the timing belt has been replaced, and there's a possible cluster replacement. But let's be honest, these aren't really collector cars – just a neat alternative to the normal family sedan. Pricing is probably aggressive at $8,500 with a potential odometer replacement and without the expensive timing belt service documented, never mind the propensity for these to eat transmissions. But if you could talk them down a bit, it's also a lot of car for under $10k.
-Carter