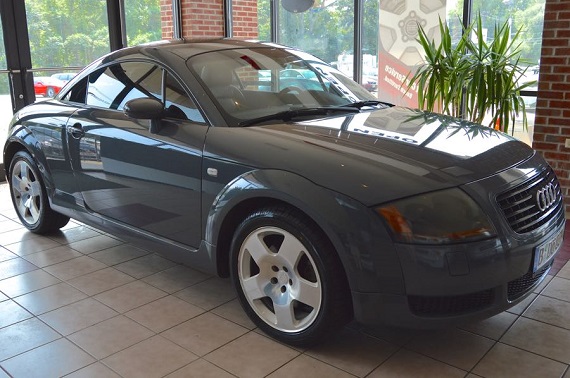 It's hard to fathom, but it's been a full 20 years since the launch of the TT Concept design in 1995. I remember thinking that, along with the Aluminum Space Frame concept car from the year prior, it was going to be fairly unlikely that we would ever receive a production version of the slinky coupe. Styling was inspired by pre-war Auto Union record setting race cars, and inside was a revolution that hinted at some of the stellar interiors that Audis would henceforth be equipped with. It was pretty shocking, then, in 1998 when Audi announced that you'd be able to buy nearly the identical car to the show version. Initially available pre-mass production through the Neiman Marcus catalog in Christmas of that year, the first 100 Audi TTs were all identical. They were 180 horsepower front drive 5-speeds all colored Nimbus Grey with Moccasin Red baseball leather interiors and chrome 6-spoke wheels. Mostly an appearance package with no performance changes, they were nonetheless immediately collectible and in hot demand as the first of a new generation of Audis that hinted at a paradigm shift in the company: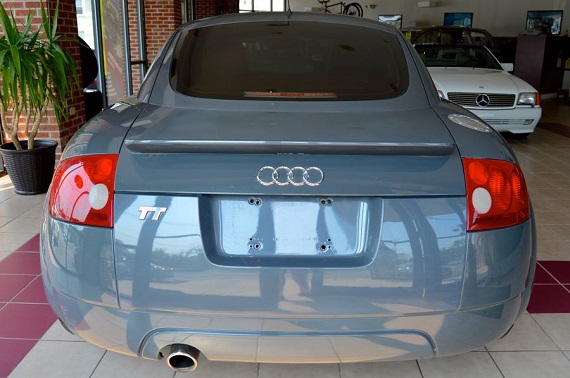 Year: 2000
Model: TT
Engine: 1.8 liter turbocharged inline-4
Transmission: 5-speed manual
Mileage: 117,932 mi
Price: $8,995 Buy It Now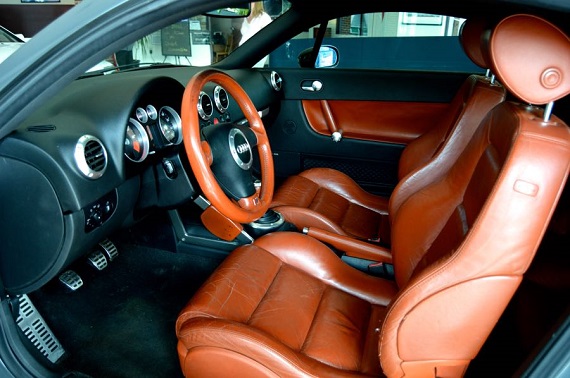 We are pleased to present this absolutely amazing 2000 Audi TT Neiman Marcus Edition for your consideration. Yes, that's a model name that's nothing short of a mouth full, and there's good reason. The TT Neiman Marcus, is an extremely special car with just 100 examples being produced and all were identically configured. They were the very first TTs made for the North American Market, and were only available for purchase through the 1998 Neiman Marcus Christmas Catalog. The lucky 100 people who purchased these cars were the first people in the USA to take delivery of their TTs. They were all painted an exclusive Nimbus Gray color which only came on the Neiman Marcus edition. It is similar to Dolphin Gray but is not metallic like Dolphin Gray is. It also has Moccasin Red silk nappa leather interior which is exclusive to the Neiman TT. In addition, they all are configured with every possible option including Xenon headlamps, a Bose sound system with 6 Disc CD changer, and much more. The 1.8 Liter Turbocharged 4 Cylinder engine combined with Audi's 5 Speed Manual transmission is a completely bulletproof combination. With just regular maintenance, these cars will run forever and ever.

The interior of this TT is in really nice condition. The interior is trimmed in black with a black dash, console, carpet and headliner. I personally love cars with black headliners because it's almost like you're in a cave while driving it. It's very cozy and it puts all of your attention on the road. Very sporty. The seats, door panel inserts, knee rests, and steering wheel are in the Neiman Marcus Edition are an exclusive moccasin red color. Only 100 TTs were made with this interior, and it's striking to say the least. The nappa leather seats are still very soft, and feel great. They're also heated for your comfort. The nappa leather wears like iron compared to standard leather. Everything in the interior works. The car has the bose stereo system that includes a a 6 Disc CD changer in the rear which sounds absolutely amazing. This TT has dual front airbags, as well as front side airbags. Because it has the climate package, it does have heated front seats, as well as heated exterior mirrors, heated windshield washer nozzles, and heated door lock cylinders. The rear seats do fold flat for hauling large cargo. It's amazing how huge the cargo area is with the seats folded flat. It's almost like a station wagon! The rear seats are recommended to be used for children only, so please keep that in mind. There isn't really enough space back there for a full-grown human. Even the carpet in the trunk is in great shape. The car has striking brushed aluminum trim including a beautiful aluminum door with the TT logo that closes in front of the audio system. You'll notice in the pictures that the handle for the glove box is missing. We are working on acquiring a replacement and it will be fixed for the buyer of the car.

The exterior of this TT is in exceptionally nice condition, and is Nimbus Gray in color. This color is exclusive to the 2000 TT Neiman Marcus and was put on no other Audi in North America. These are the only Audis sold in North America available in this striking color. It's simply a medium gray with no metallic. The outside of the car is actually quite free of dings and scratches. The paint is absolutely gorgeous except for some light haze at the top of the hatch area above the rear spoiler. It's hard to see, and was nearly impossible to get it to show up in photos. It has 17″ "fat five" forged alloy wheels from a later model TT 225. The original Neiman Marcus wheels were of a different style that was, in my opinion, fairly ugly. Many people replaced the wheels with over versions, and that is the case here. We do not have access to the original wheels. They did not come with the car when we acquired it. The windows are tinted and it is a very nice job.

The tires are all brand new and matching. The brakes are in good shape and the car stops as it should. The legendary 1.8 Liter Turbocharged 4 cylinder engine runs flawlessly and is very smooth. These engines are an incredible combination of power and efficiency. These cars can easily get over 30mpg with conservative driving. This is a perfect time to note that this car requires premium fuel. It simply cannot be run on regular. The transmission shifts through all 5 gears and reverse properly, and the clutch is excellent. We performed the clutch service and upgraded the car to a single mass flywheel all using OEM components. This was completed just 50 miles ago, and it operates properly. All of the car's accessories work including the power windows. As long as the oil is changed, and basic maintenance is performed, these cars rarely have major mechanical problems.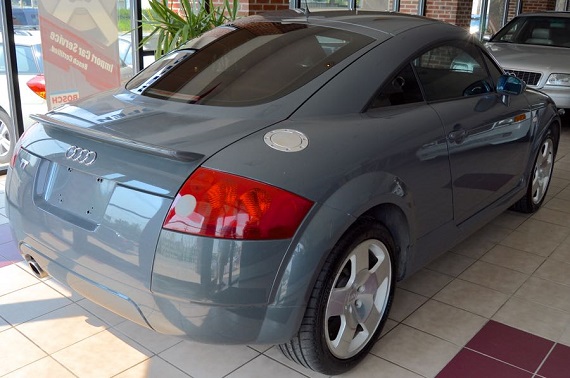 Upgrades to this example are pretty subtle and tasteful; the European plate is non-original and the "Fat Five" alloys weren't featured until later in the run. This color combination, too, would be available later on the standard production TTs. From a performance standpoint, the front-drive 180 horsepower models are probably the weakest in the run but let's not forget that underneath they're essentially a GTi, so they're not exactly slow. Originally, the Neiman Marcus like all the 180 TTs didn't have a rear spoiler, but notable high-speed crashes in Europe resulted in some minor revisions including suspension changes and the addition of a rear spoiler which may explain this one. Otherwise, the original clean looks are here and inside the car is in great shape with some minor wear expected from the nearly 120,000 covered miles. Pricing is towards the high end of the non-quattro models and probably a bit of a reach, but for under $9,000 this is a stylish and rarely seen variant of the TT that would give the prospective owner plenty of smiles for not much capital. I foresee a future of these TTs being more desirable, and as a special edition in limited numbers and excellent condition, this example may be a good value though it's not the most performance-oriented of the run.
-Carter