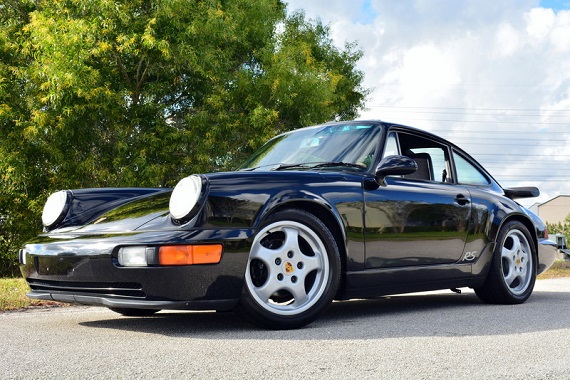 It's been a while since I featured a RS America so I thought it might be a decent time to take a look at one once again. As a somewhat pared down and lightened version of the standard Carrera 2, Porsche intended the RS America to fill the void in our market due to our lack of the 964 Carrera RS. It was never intended to be the full RS, but with less weight, sport suspension, and few available options they still provided a nice alternative for the 911 buyer seeking a more no-frills performance coupe. Even better, the RS America was the cheapest 911 available at the time. That fact alone means they could have made a good deal of sense at the time of their release, but on the current market the RS America tends to be a much tougher sell due to the premium attached to them. At least, for anyone other than a collector. For collectors they can make good sense. But, with the exception of the very best examples, the market for them has more or less plateaued after seeing a sharp increase more than a year ago. As some of the more rare air cooled 911s have started to again appreciate we may see the RS America do the same. The example we see here is a Black 1993 Porsche 911 RS America, located in Florida, with 64,976 miles and which came ordered with all four available options.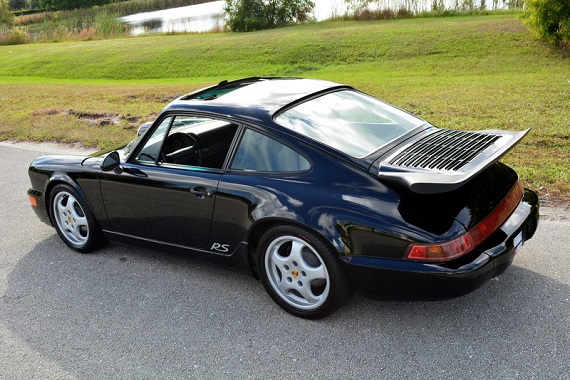 Year: 1993
Model: 911 RS America
Engine: 3.6 liter flat-6
Transmission: 5-speed manual
Mileage: 64,976 mi
Price: $109,964 Buy It Now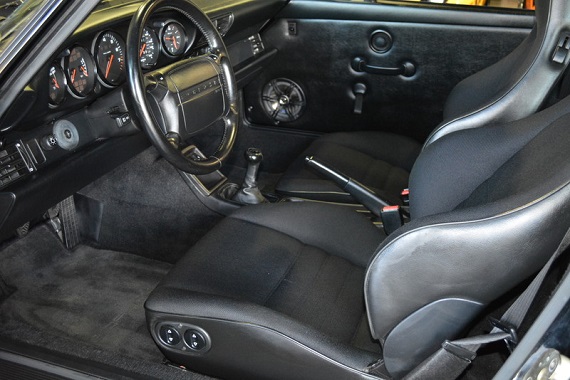 1993 Porsche 911 Carrera RS America
Description

Marino Performance Motors is thrilled to announce the arrival of this very rare 1 of 701 produced 1993 Porsche 911 RS America finished in Black and wrapped in Black Leather and Cord Fabric with built in March 1993 and only has 64,976 pampered miles!

In order to please devoted American 911 enthusiasts who wanted an RS model, Porsche produced the RS America. The RS America was produced as a model year 1993 and 1994 car based on the USA Carrera 2. The cars were offered in standard colors red, black and white and optional colors midnight blue metallic and polar silver.

The RS America is a lightened, limited edition, performance version of the venerable Porsche 911 Carrera made for the 1993 model year which according to Porsche both "commemorates the 20th Anniversary of", and "captures the spirit of" the original 1973 Carrera RS!

The RS America featured a distinctive "whale tail" spoiler, a partially stripped interior with flat door panels (from the European RS) and carpeting along with a luggage shelf replacing the rear seats. Cloth covered sports seats, 17 inch wheels and M030 Sports Suspension were fitted as standard. The logo "RS America" was written on the deck lid along with an "RS" logo in front of the rear wheels. Deleted to save weight were power steering, cruise control, powered side mirrors, air-conditioning, sunroof and radio, although the air-conditioning, sunroof and radio as well as a limited slip differential could be ordered as options.

The RS America was listed by Porsche as weighing 2,954 pounds, 77 pounds lighter than the weight listed for a stock Carrera 2. The standard USA Carrera 2 brakes, engine and gearbox were used.

Engine

Engine Design: Air-cooled or oil-cooled, horizontally opposed (flat), dry-sump lubrication, rear-mounted engine

Displacement: 3,600 cc (220 cu in)

Cylinders: Six

Bore and Stroke: 3.94 x 3.01 in (100.0 x 76.4 mm)

Compression ratio: 11.3 : 1

Fuel/Ignition: Electronic fuel injection, DME controller, twin-spark with knock regulation

Crankshaft: Forged, 8 main bearings

Block and heads: aluminum alloy

Valve Train: Overhead cam, one per bank, double chain drive

Power: 260 HP at 6,100 rpm

If you are looking for a rare collectible Porsche appreciating in value that is unique, look no further! Please contact Gil at 877-561-2121!

Options

This Porsche RS America is equipped with:

573 Factory Air

G50 Transmission

M64 Engine Number

220 Locking Differential

331 AM/FM Cassette w/2 Door Speakers

650 Sunroof6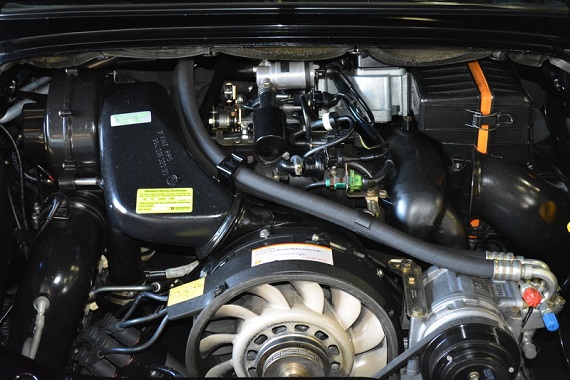 As with many cars of this type the highest prices will tend to go to the very best examples. In the case of the RS America that can many times mean simply an example that remains in its stock configuration. The example here fits that bill pretty well as the only non-original piece appears to be the radio and overall the condition looks quite good. It isn't in one of the more rare colors so it may fly under the radar some as we've seen a few RS Americas sit for sale for quite a while. This one is priced pretty reasonably though given the mileage so if everything checks out with it mechanically and it does in fact retain all of its original parts, then it could make for a pretty good opportunity. I certainly think it's well worth investigating further!
-Rob