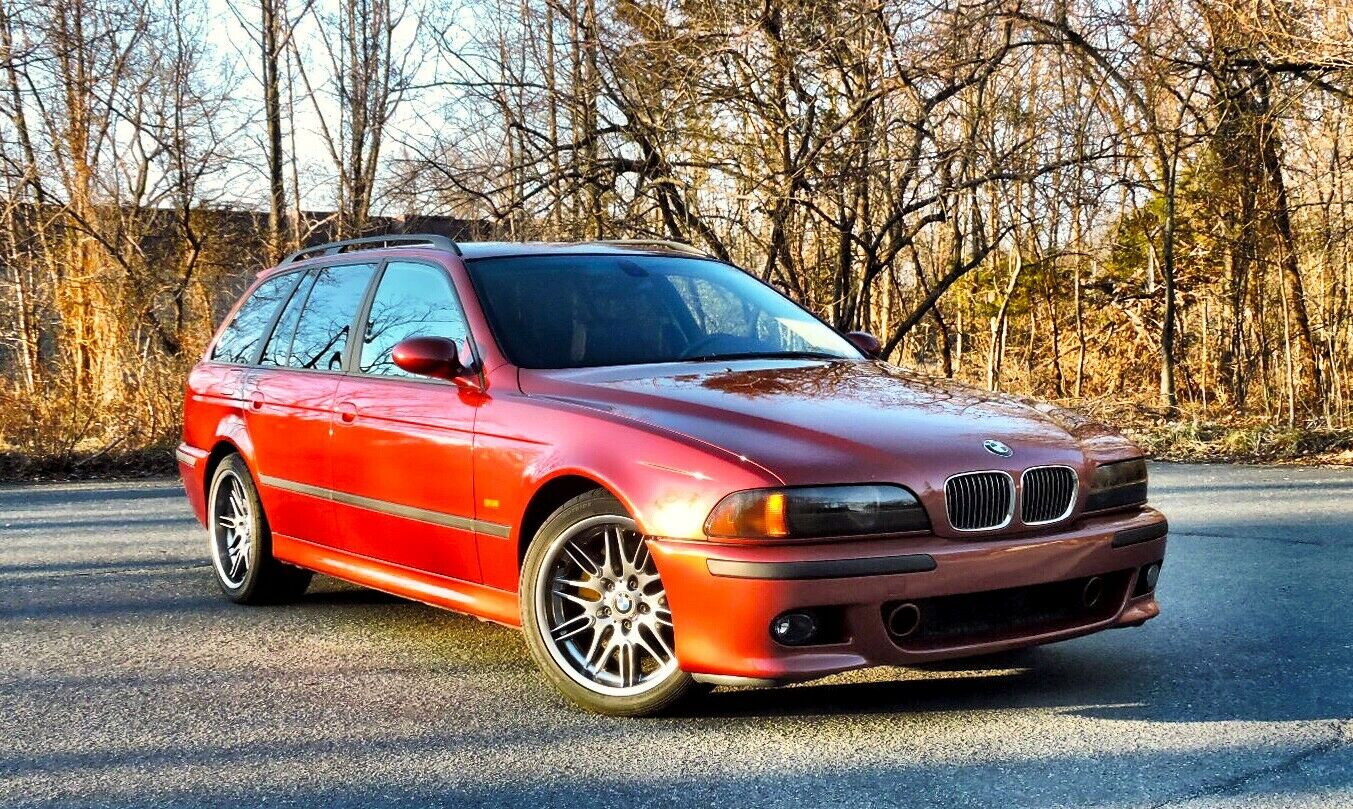 Are you a 'want your cake and eat it too' kind of person? If so, you probably appreciate performance wagons. And why not? They offer practicality, are (generally) much more affordable than sports cars, and can literally fly under the radar. With their numbers dwindling in the open market, it's always a great time to look at one from our past. Enter the E39 Touring.
There were several configurations that the 5-series Touring was available in over the years, but the 'big stick' was the 540i with its 286 horsepower M62. Sure, the N54-equipped E61 was faster and available as a manual. But if you wanted a really classic BMW setup, the 540iT was about as good as it got for US-bound BMW wagons. As a result, many have been turned up by their owners and drafted into M5 clones. Such is the case here, with this Sienna Red Metallic E39 sporting a host of Dinan bits, E39 M5 bits, and a 6-speed manual swap for good measure.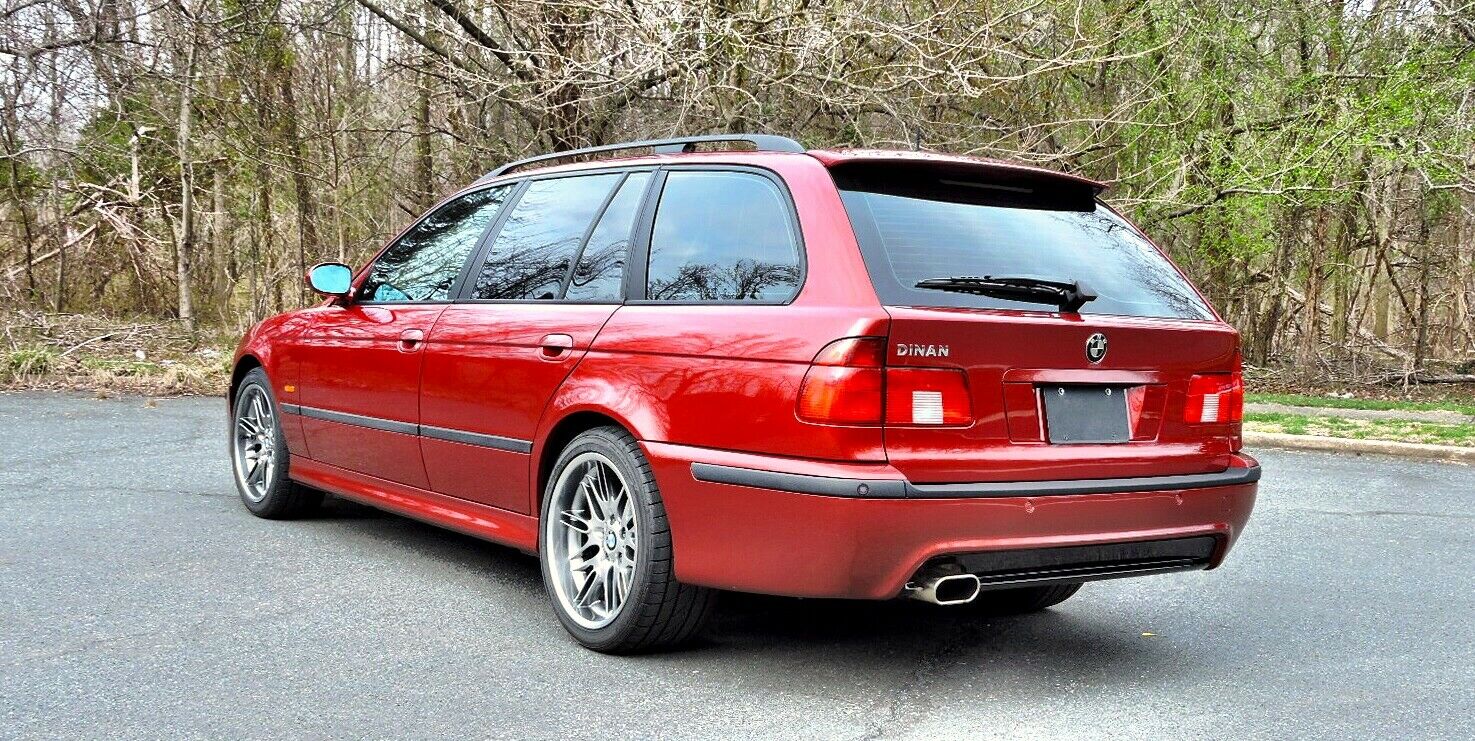 Year: 2000
Model: 540i Touring
VIN: WBADR6347YGN91520
Engine: 4.4 liter V8
Transmission: 6-speed manual
Mileage: 66,223 mi
Location: Cherry Hill, New Jersey
Price: No Reserve Auction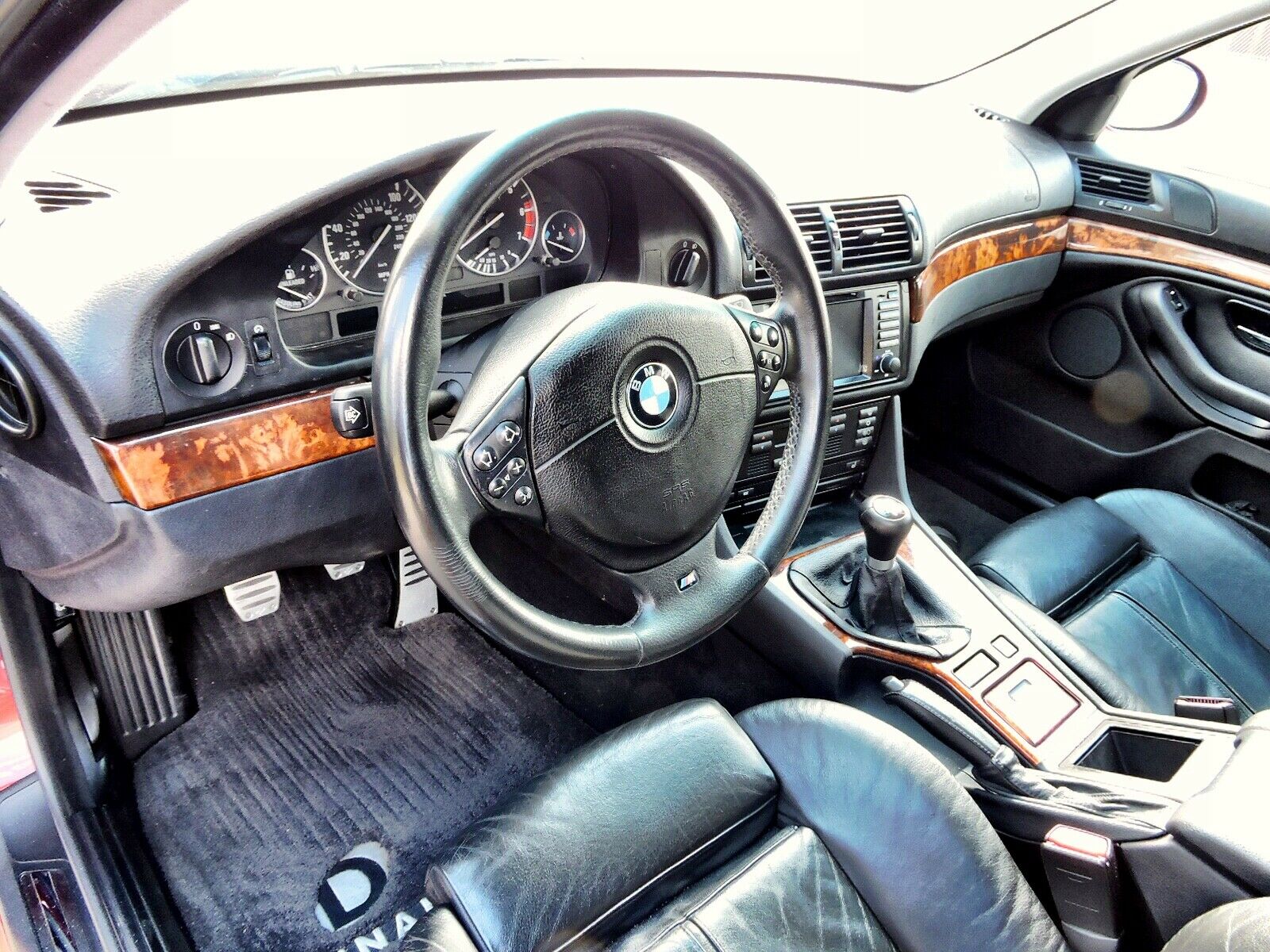 Extremely Rare and Coveted 2000 BMW 540i Touring 6-Speed Manual M-Sport DINAN High Performance German Sport Wagon. This is a Special Order Car, Factory made by the BMW with all the right options. This is an Enthusiast Owned Car with Full, Complete, Documented, and Transparent History and Evaluation. Very Clean Car Throughout. Please see below.

This very special and unique vehicle was built with in a Special Super-Rare BMW M-SPORT PACKAGE and a 6-Speed Overdrive Manual Transmission, Performance Brakes, M-Sport Seats and Interior Treatment, ect, Further improved upon by a Full DINAN Power Package, including Engine Upgrades, Performance Clutch, 3.15 LSD Differential, Performance Suspension, DINAN Interior Treatment, and much more. Configuration usually found only on the M5 Cars of the day, which were coincidentally never offered in a Touring Wagon Configuration. Furthermore this Car is loaded with virtually All Options Available at the time.

Notable options and Upgrades include:

Full M-Sport Package
6-Speed Manual Transmission
18″ Staggered BMW M5 Wheels
HID Headlights
Memory Leather M-Sport Seats
Modern Day Radio/Navigation/DVD/MP3/Bluetooth System Upgrade
Power Sunroof
Rear Parking Sensors
Performance Rear Air Suspension
Etc, etc, etc…

DINAN Features Include:

DINAN Engine Power Package

DINAN Performance Clutch

DINAN Performance 3.15 LSD Differential

DINAN Strut Tower Brace

DINAN / Bilstein Suspension

DINAN Front and Rear Performance Sway Bars

DINAN Interior Treatment

DINAN Badges

Etc, etc, etc…

This High Performance DINAN Sport Wagon remains in Great Condition Throughout. Looks, Smells, Runs, Drives, and Performs GREAT! Again, please see the Pictures and Video below. This is a very nice and solid car.

The following items had just been addressed and serviced:

Complete Engine-Out Service, including:

New Timing Chains and Chain Guides

New Water Pump

Complete VANOS Service

Head Gaskets Replaced

Full and Complete Tune-Up

Engine Completely Resealed, including New Rear Main Seal

New Motor Mounts

New Transmission Mounts

Premium Synthetic Mobil-1 Oil Change

New High-Performance Clutch

New High Performance Brakes All Around

Complete Suspension Service/Rejuvenation

Everything is completely and fully documented. Please see Pictures Below.

Coveted, Rare, and Highly Collectible BMW. A European Executive Hot Rod. Absolutely Stunning in BMW Siennarot (Sienna Red) over Black Sport Leather M-Sport Interior and further Accented by a full DINAN Treatment as well as BMW 18-inch M5 Staggered Wheels. Everything works like it should. Air Conditioning is Nice and Cold.

This car has always been owned by the BMW Enthusiasts, babied and always garaged throughout its life. Well-cared-for Southern (NC) car with Zero Rust noted.

This car has been kept in a Perfect and Unmolested Condition, down to the correct German Oil and Fuel Filters along with exclusive Mobil-1 Engine Oil and Red Line Gear Oil changes.

This 540i Sport Touring Wagon is in great condition throughout. Never smoked in. No kids and no pets ever. Completely, fully and thoroughly serviced. We would not hesitate to take it on a cross-country trip at the moments notice.

Vehicle History.: Long-Time Southern (NC) Ownership by a BMW Enthusiast and a BMWCCA Member. The car suffered a very minor Right Rear Damage and was subsequently written off by the insurance company due to the extremely limited availability of the New Factory OEM replacement parts, as requested for the repair by the owner. Please see the pictures below for the complete prior damage account. The car was subsequently acquired by a NJ BMW Enthusiast early in 2019, and had remained under his stuardship ever since. The car was completely and fully refurbished using a Low Mileage DINAN-5 donor vehicle in the early summer of last year, enjoyed throughout the last years' season, comprehensively serviced as stated, and is now ready to be passed on to a fellow BMW Enthusiast, who can ultimately understand and appreciate what a special and unique car it truly is.

***Please Scroll Down for a Full Set of High-Resolution Pictures and VIDEO Below***

This is a NO RESERVE auction, so please bid to own. Any and all inspections from bona-fide interested parties are welcomed, encouraged, and accommodated on individual appointment basis before the end of this auction. Please feel free to come and inspect this beautiful car prior to bidding. Thank you and HAPPY BIDDING!

Please absolutely no "Zero" or "Negative" feedback bidders (if you are one of them, you must contact me prior to bidding, or your bid will be cancelled). Non-paying bidders will be reported to eBay and collection agency.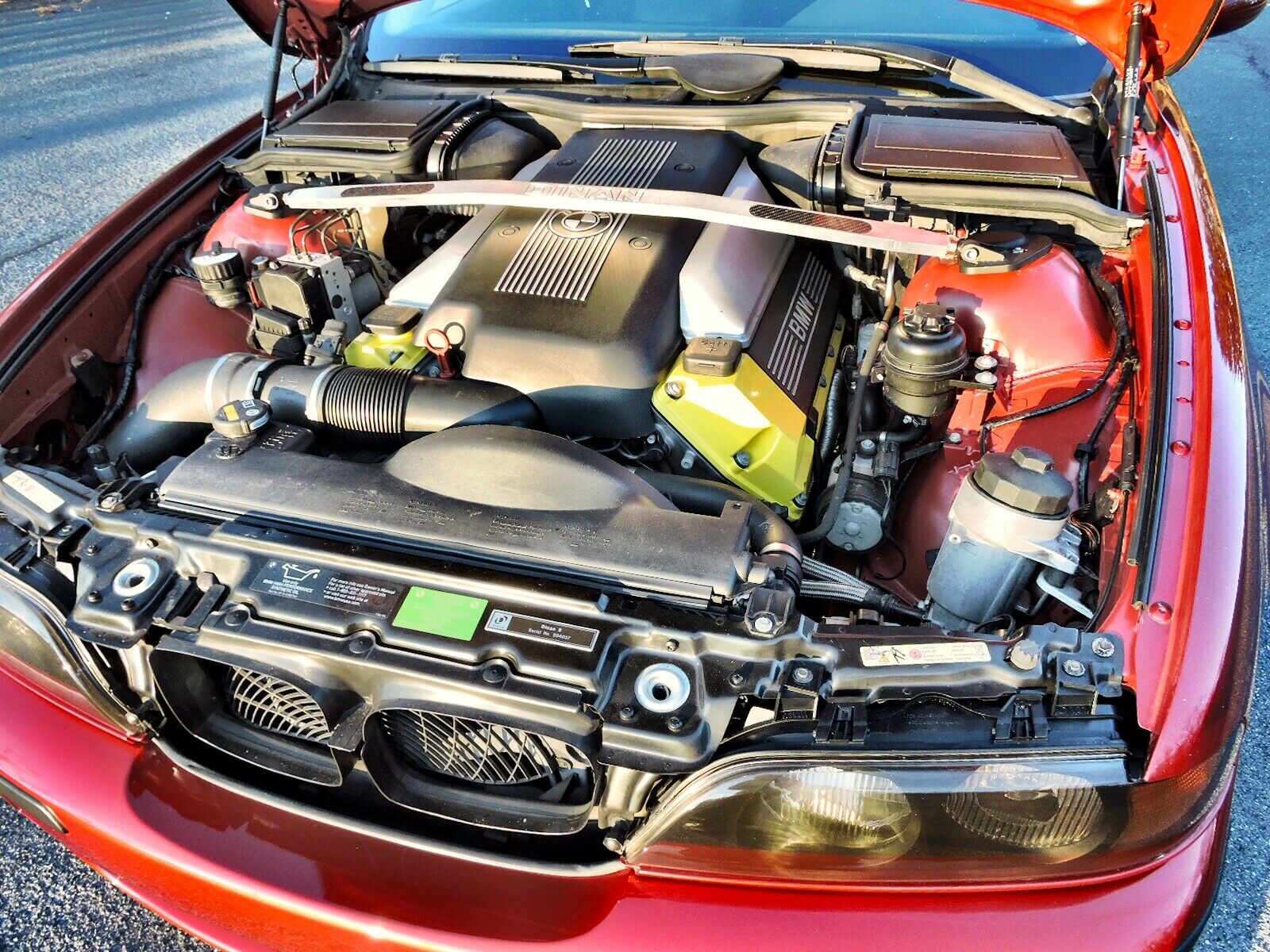 You'd be forgiven in thinking I looked at this car back in 2019, but in fact that was a different (and much cleaner) automatic Dinan supercharged example. This one looks a bit more rough and ready. Is it as described? No, it is not a true M Sport model, but it was equipped from the factory with sport seats, sport suspension, Shadowline trim, 17″ Style 32s, and an M steering wheel. Since then, it's gotten the aforementioned 6-speed manual swap, some 18″ Style 65 M5 wheels, a later set of M-Tech bumpers, blacked-out headlights, and a bunch of Dinan bits. I feel as thought the seller is misrepresenting the car as having left the factory in this way, which it clearly did not. In fact, you have to scroll to the end of the listing to find out it was totalled and subsequently rebuilt using a donor car.
Does that matter? At the end of the day it looks pretty good, the mods are nice, the color is great (though I like the tan with the Sienna more, if I'm honest, and the black headlights are horrid in my eyes), and the work performed should provide a semi-reliable older BMW wagon unlike most others. Bids have reacted, too – the last Dinan wagon sold at $11k, and this one is already over $14,000 with several days to go. It'll be interesting to see the final number.
-Carter