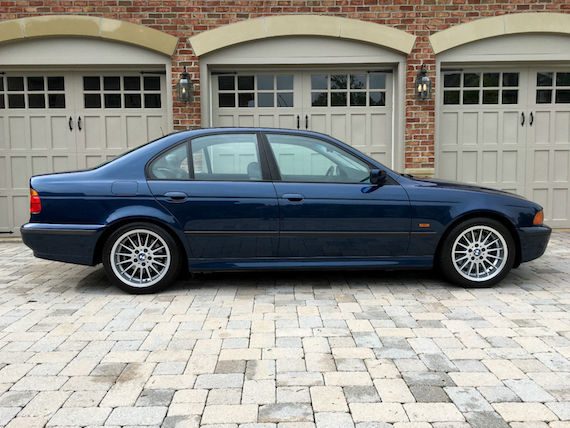 You've probably all read Tavarish's Jalopnik article, "Four Reasons Why You Need To Buy A BMW E39 540i Right Now." By this point, the E39 540i is the worst kept secret in the German car world. Offering something approaching the performance of an M5, but with much lower maintenance costs, these cars make for fantastically involving daily drivers and can be had for not a lot of money. The taut and communicative chassis is well served by the torquey V8 motor and, when combined with a manual gearbox, just begs to be put through its paces on a drive through the twisties. Hailing from the pre-Bangle era of BMW design, the E39 is also an attractive car. Its sophisticated and somewhat conservative lines have aged well, with the result that these cars look equally classy and at home whether parked at the shopping mall or the country club.
This 540i for sale in Maryland is a "sport" rather than an "M-sport" model. While it therefore lacks the full M-tech bodykit offered on later cars, the manual transmission and attractive wheel and color combination arguably make up for it and add to the car's Q-ship appeal.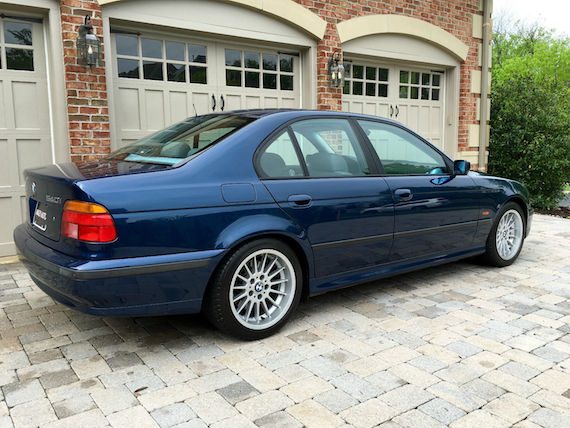 Year: 2000
Model: 540i
Engine: 4.4 liter V8
Transmission: 6-speed manual
Mileage: 65,449 mi
Price: $16,990 Buy It Now or Make Offer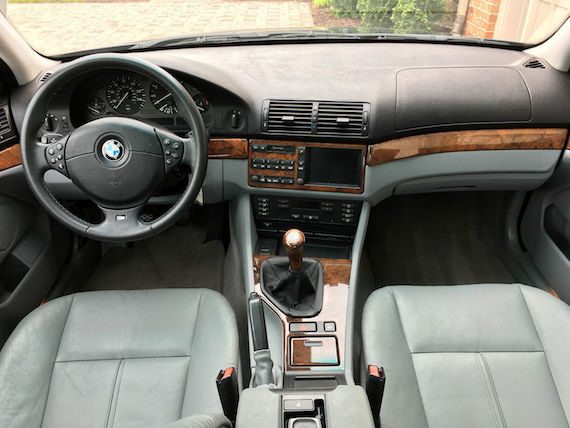 Very rare Biarritz Blue Metallic 540i 6 speed manual with only 65k miles. Call for more information.

All original example.

Recent service to include:

New Valve Cover Gaskets
Brake Flush
Differential Flush
Cooling system flush
Manual Transmission Flush
Recent Brake pads and rotors
Recent Michelin tires.

Everything is in good order and turn-key.

Please call 202-258-2428 if you have any specific questions etc.

Thanks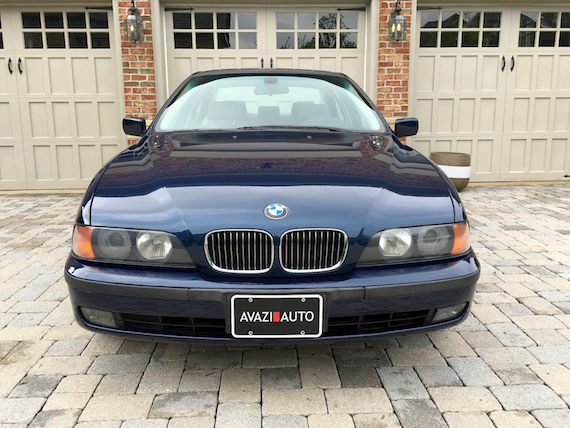 This low mileage example, which looks lovely in the rare color of Biarritz Blue Metallic, sits upon handsome Style 32 multispoke alloy wheels (among the best looking wheels BMW have ever made, in my opinion). Both the interior and exterior look to be in great condition: the (non-sport) gray leather seats look largely free from wear, with the exception of a small amount on the driver's seat, as does the dash and wood trim, and the paint shines well in the photos. This car is powered by the 4.4 liter M62TUB44 V8, good for about 286 hp and 325 lb·ft of torque at 3,600 rpm. Some maintenance history is given in the ad, though potential buyers would want to press for more details, particularly to see if there are any rattling sounds upon startup that might indicate a failing timing chain tensioner (a common fault on these engines).
Because this is a pre-facelift car, it doesn't have the angel eye headlights, LED taillights, clear turn signals or the widescreen navigation unit of the later models. All of these accessories could, of course, be added to the car if one were so inclined. Perhaps more sorely lacking are the highly sought after M-tech bodykit and M-Parallel wheels that would arrive as part of the the "M-Sport" package in 2003. The car does, however, have Xenons, shadowline trim, M-sport suspension and an M-sport steering wheel. This relatively spartan specification could ultimately prove a problem for the seller: the asking price is high and is really only premised upon the low miles and unusual color. While those are nice features, for $17k one could certainly find a newer and better specified car, albeit one with more miles, probably even a later, full "M-sport" model. As a result, I suspect this car will sit for a while and ultimately go for several thousand under the asking price.
– Craig